If I were to ask you (or your students, for that matter) what the five steps of the writing process are, I'm pretty sure they would be able to tell me: brainstorm, draft, revise, edit, publish.
But I'm wondering if they can also tell me the five steps of the reading process?
If you think about it, the writing process is a process that we teach our students as early as kindergarten, and they follow the same writing routine all the way through to their college years… and even beyond. Most adults who engage in any form of writing will use this tried and true writing process.
We have a process for writing because it gives students a step-by-step framework that will help them become successful writers.
This has me thinking…why don't we have a process to help students become successful readers?
When students are given a step-by-step reading process to follow they are more likely to experience success. A process gives them a starting point and a roadmap to follow when they get stuck.
In my mind, it only makes sense that we give our students a clearly defined process for reading as well.
The good news is that there IS a reading process! You just might not be aware of it or explicitly teaching it to your students. But after you read this blog post you'll be all set to teach your students the five steps to the reading process.
The Reading Process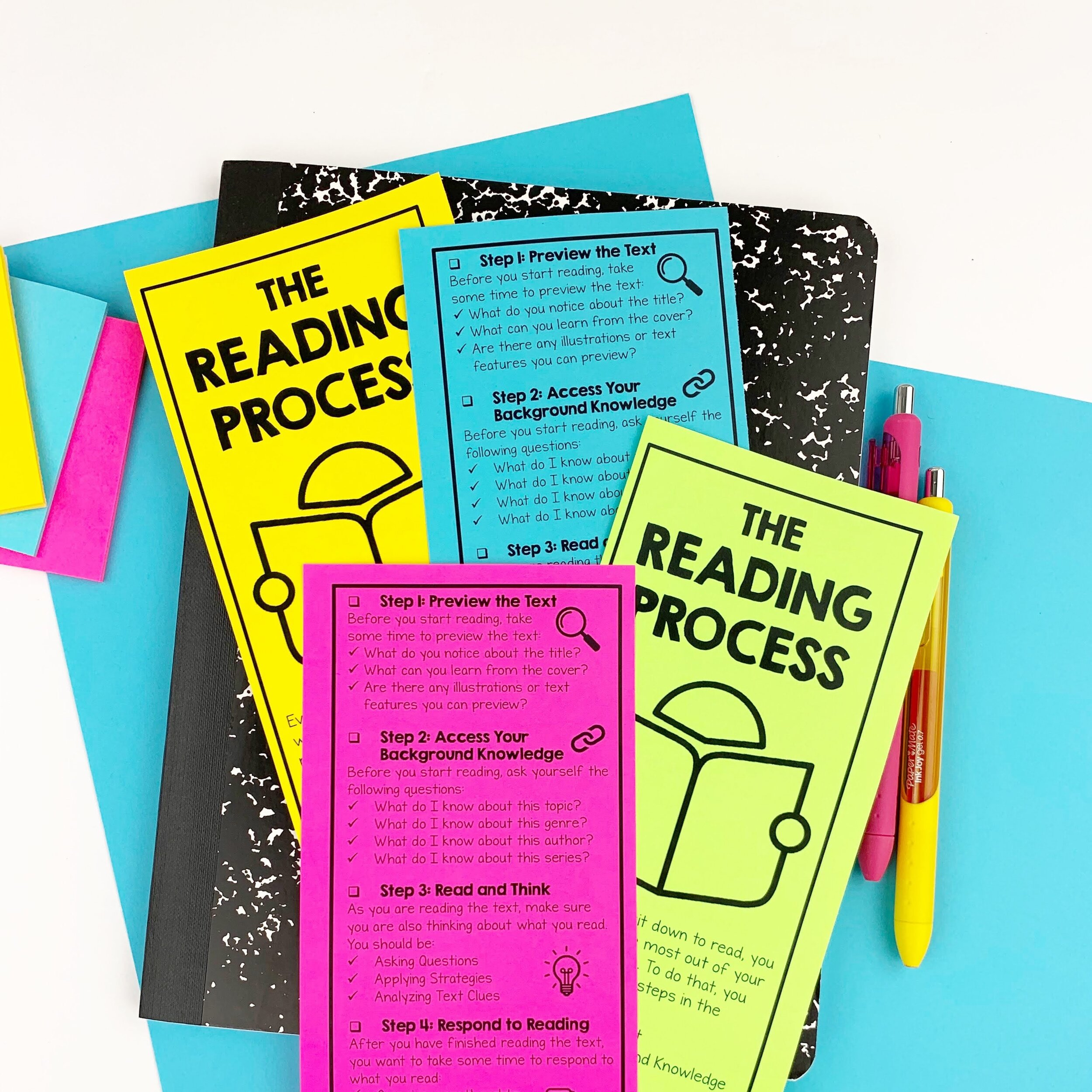 Step 1: Preview the Text
The first thing we want to train our students to do is to preview the text BEFORE they start reading. When they take time to preview the text it warms up their brains and gets them thinking about what they will experience while they are reading… We want our students to know that no matter what type of text they are reading, they should take a few minutes to do the following:
Notice the title (what is this text about? what might I learn in this text?)
Study the cover and the illustrations (what clues might the author be giving me? what might I expect or anticipate to happen?)
Look for illustrations or text-features in the text (can I start thinking about this topic or this story in a way that will help me understand it better?
Is there a description written on the back of the book or an excerpt written at the top of the article? (are there any clues the author is leaving me that will help me understand the text on a deeper level?)
Why is this step important?
When we take time to preview the text, it gives us time to notice small details, make connections, and in general warm up our brain to get the most out of our reading experience. Previewing the text gives you the information you need to make an informed prediction, which helps your brain get ready to read the text. AND this is usually a step that all students can be successful with and we want them to feel confident when they sit down and start reading.
Step 2: Access Background Knowledge
Accessing background knowledge is simply thinking about any previous knowledge or experience that we can connect the text to. We want our students to access ALL of their background knowledge before they begin reading because it will help lay the foundation for this reading experience. If students have SOME background knowledge they can apply to a reading experience, they will be a lot more likely to understand and enjoy what they are reading.
Now, a lot of times we think of background knowledge as just the facts or details we know about specific topic, but really, background knowledge can be so much more than that!
When your students are thinking about their background knowledge, prompt them with the following questions:
What do I know about this topic?
What do you know about this genre?
What do you know about this author?
What do I know about this series?
What do I know about this character?
What do I know about the title?
Thinking about all of these things will help students tap into everything they know that will help them with their reading experience.
Why is this step important?
Our background knowledge is the foundation upon which we build reading upon. If our students have absolutely no background knowledge that they can connect a reading experience to, they will probably be disengaged, and won't comprehend what they read. If we want our students to become life-long readers, they need to know how to access ALL parts of their background knowledge in order to enjoy what they read.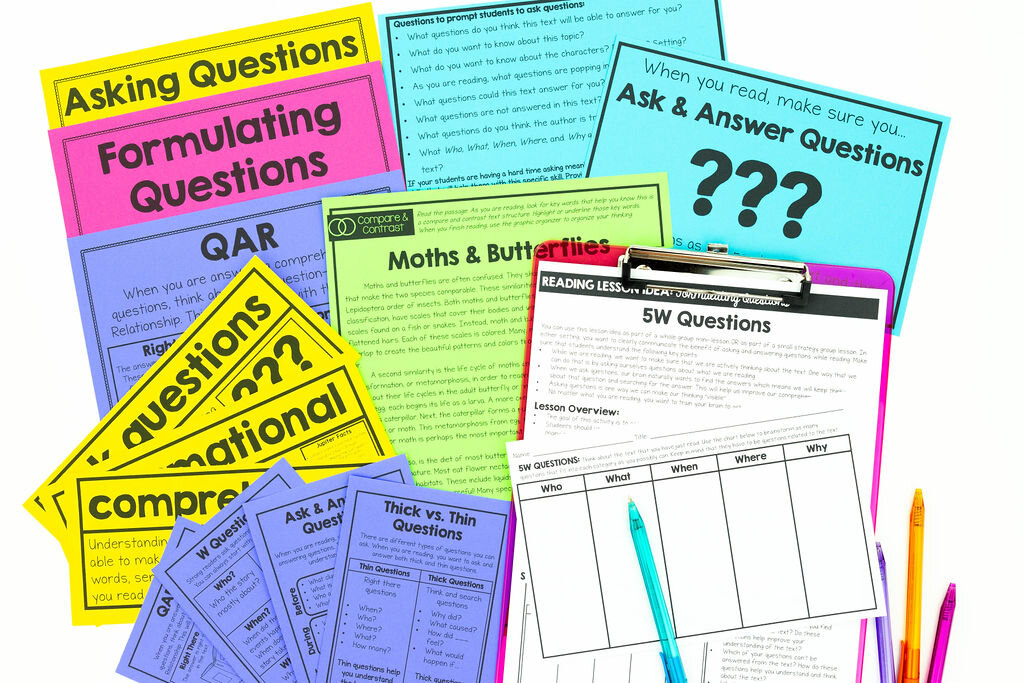 Step 3: Read and Think
This is the bulk of the reading process. Students should spend most of the time reading, but we also need to make sure that students know that reading is thinking, and both should be happening simultaneously. It's not uncommon for students to read… and then forget everything they read. This is why it's important that they understand reading and thinking go hand in hand. It can be helpful to give students an idea of the type of thinking they should be doing while reading. I typically encourage my students to do the following while they are reading:
Ask Questions
Apply Strategies
Analyze Text Clues
Obviously, there is A LOT that happens during the reading and think portion of the reading process, but when you break it up into these three categories, it gives students the freedom and choice to self-select the strategies that will help them be successful readers.
Why is this step important?
This step is arguably the most important. This is the equivalent to the drafting part of the writing process… This is where a lot of the heavy lifting is done, but if students are just reading the text (even if they are applying comprehension skills), they still won't have a complete reading experience. So, we want to emphasize the metacognitive part of this step as much as we do the reading!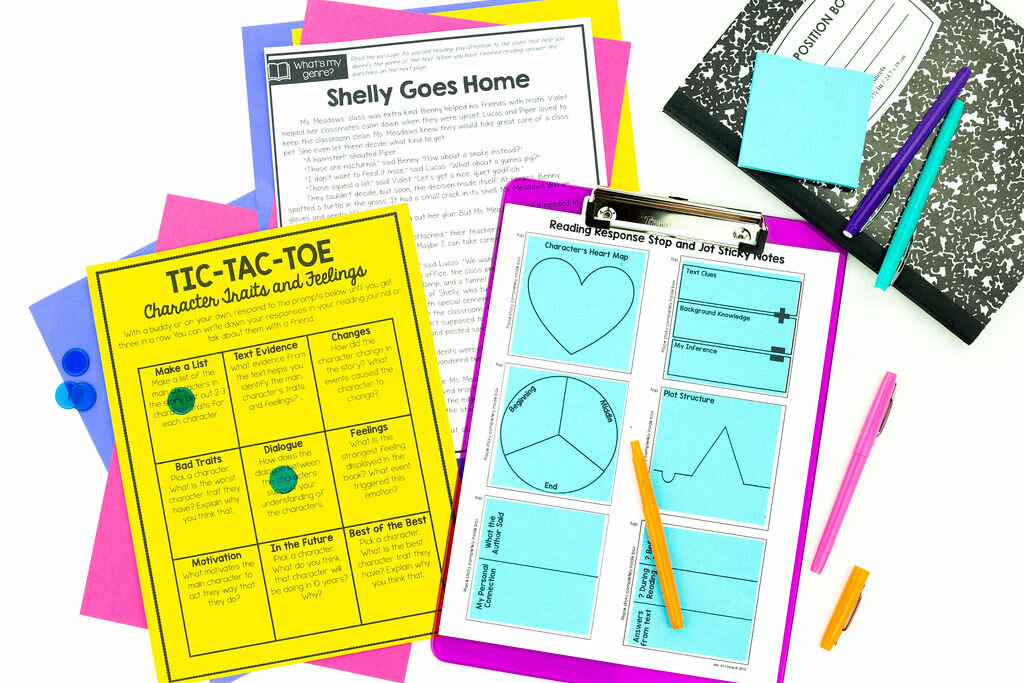 Step 4: Respond to Reading
Anytime students read, we also want them to respond in some capacity. Responding to a text is part of how we personalize and internalize what we read. It's important for students to realize that responding to our reading can happen in a variety of ways. You can have students respond by:
Respond by organizing their thoughts in a graphic organizer
Respond in writing – either in a reading journal, an exit ticket, a summary, or simply using a stop-and-jot sticky note
Creative Response – let students give a book talk or create a piece of art work that shares their thinking about the text
Respond by discussing what you read – talking can be just as effective as writing when it comes to responding
Why is this step important?
This step is important because it helps students see that we DO something with what we read. Reading is meant to change us as people. It helps us learn new information, and gives us a different perspective on life. Teaching students to respond now in the classroom gives them a chance to express what a book meant to them.
Step 5: Evaluate and Reflect
This can be part of the response process or a separate step. Some prompts for reflecting on reading can be:
What is my opinion about the book/text?
Did I enjoy reading about the story/topic?
Did I fully understand what this text was about?
Did I like the genre?
Did I enjoy reading from this author?
Would I read another book by this same author?
Why is this step important?
When students take time to reflect on and evaluate their reading experience, they begin to really build and create their own reading identity. They start to figure out what books, genres, and authors they enjoy reading. They start to develop strong opinions about topics and themes they read. If students never are given time to pause and think about their reading opinions, their identities as readers will be stunted. Instead, they will only read when it is a task or an assignment. This is not how we build life-long readers!
So, if you are looking for a more formulaic approach to engaging your students in reading, start thinking about your reading instruction as a process! When students make it to the end of the process with one text, they begin again with a new one! Following all 5 steps will further engage your readers, and in turn, help them grow!
Put it into practice…
If the idea of teaching students a 5 step process to understand what they read is interesting to you, then you might want to check out episode #8 of The Stellar Teacher Podcast where I talk more in-depth about this process.
But if you think you are ready to get started with it right away this week (yay! go you!) then be sure to download the free reading process checklist to share with your students. This will remind them of each step and will serve as a guide for their independent reading.
I hope this super easy to follow 5 step reading process helps boost your students' reading comprehension.
Happy Teaching!
---
Grab Your FREE Gift!
Reading Process Checklist
These printable reading process checklists are perfect to use every time your students sit down to read. They include the 5 step process that will help your students to apply skills & strategies to fully understand & comprehend what they are reading.