Book talks are a fun way to create 'book buzz' in your classroom. They boost engagement in the reading process, and can encourage students to read more books!
Book talks were one of my students' favorite ways to share what they were reading with their classmates and it was a cornerstone of our classroom community.
So, how can you easily incorporate book talks into your classroom?
What are book talks?
After finishing a book, a book talk is a brief pitch of the book to the rest of the class! Think of it as a mini commercial that students give to advertise the book.
They are a great way for students to share the books that they love as they finish them and expose other students to types of books that they may not have read themselves.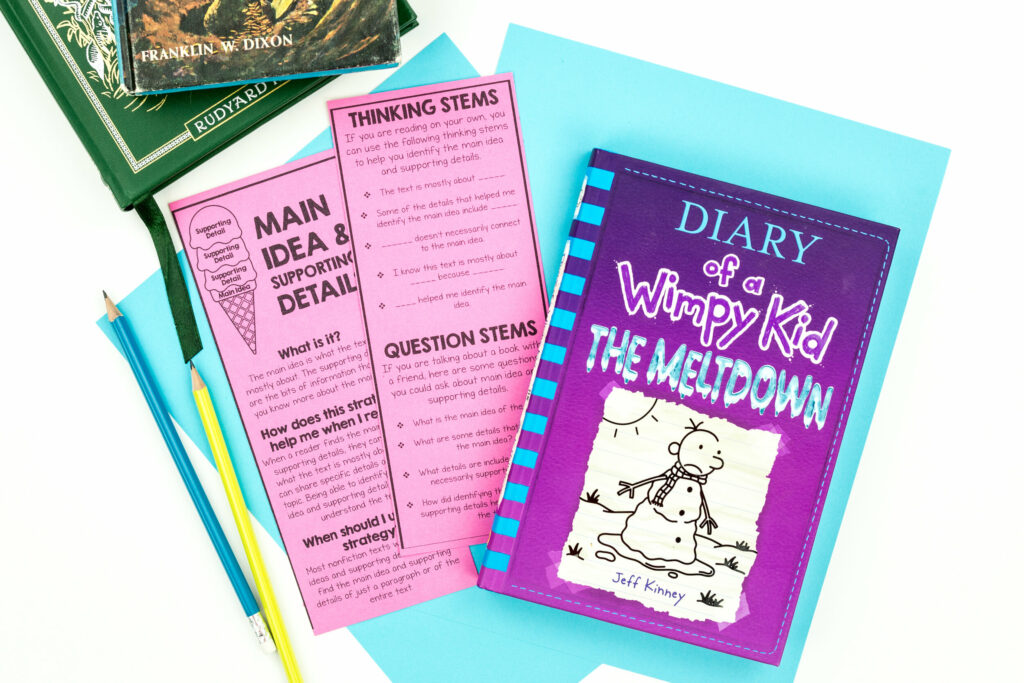 Why should you use book talks?
Book talks are a great way to build anticipation about different book titles in your classroom library! Recommendations from peers can be very influential to a reluctant reader or a reader who has been having a tough time finding a book that they love.
After students share a book talk, the rest of the students in your class will be so excited to read that same book.
Additionally, it brings your students into the conversation and engages them deeply. Students love giving book talks, and they love hearing the presentations from their classmates!
I mentioned this in my post about book clubs, but the more engaged students are with a particular task, the harder they will work, and the more they will grow! Also, we are constantly looking for ways to create positive reading experiences for our students to instill the habit of lifelong reading! Book talks are a great way to create fun, exciting book memories for our kids that they will hold onto for years to come.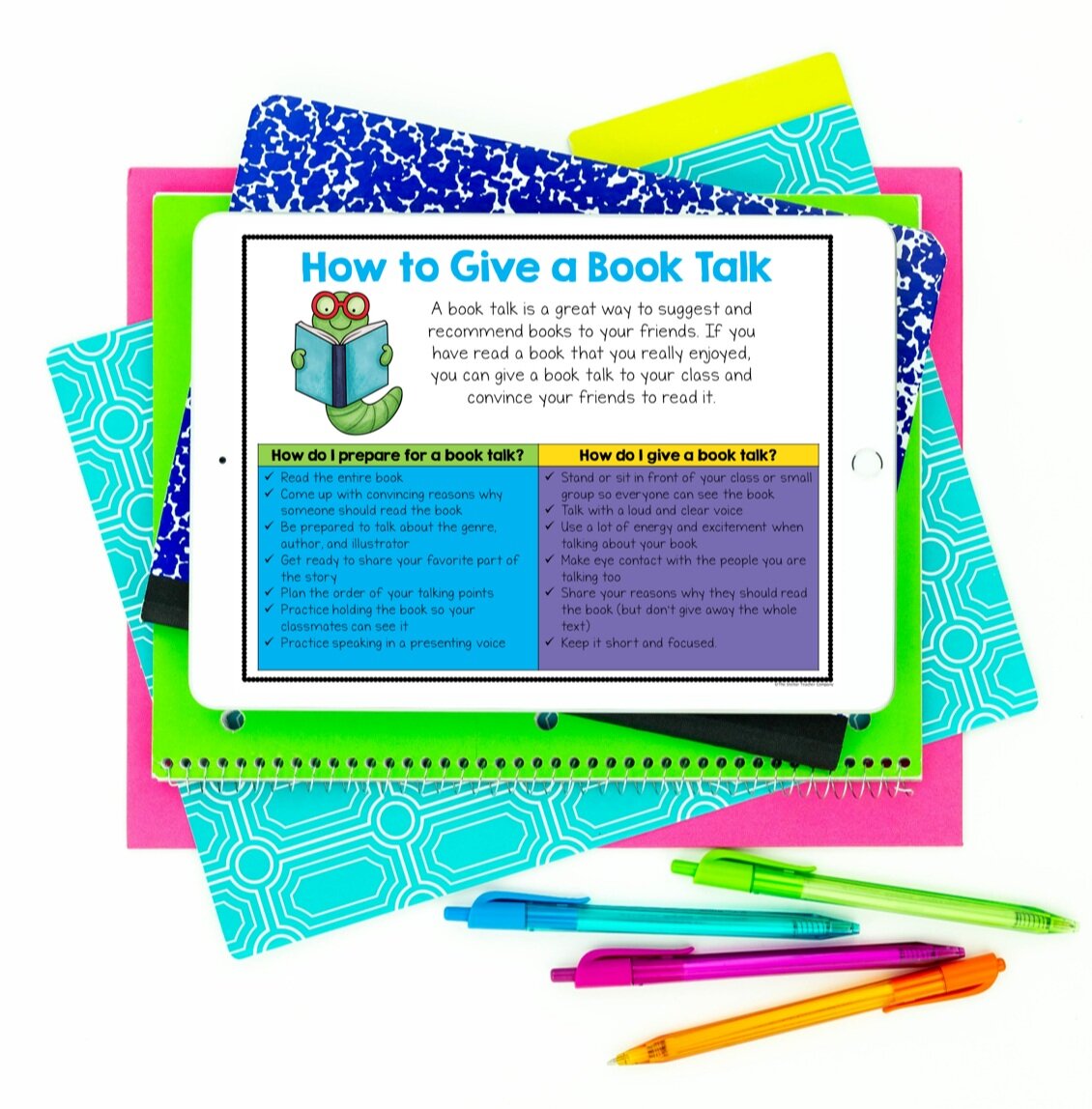 How do I get started with book talks?
You can easily get started with book talks at any point in the school year. Follow these three steps when you are reading to introduce book talks to your classroom community.
Teach a mini lesson where you review exactly what a book talk should include. Create an anchor chart with the key talking points, so students can refer to them later. I would recommend breaking down the structure of your ideal book talk into a checklist of things for students to include. You can structure your book talks however you want, but I suggest giving students a formula to follow (an engaging hook, key details, and a call to action is a great place to start).

Model a book talk! Take a picture book you've read recently, or one that you're about to add to the library for students to use, and give a quick oral presentation sharing one of your favorite parts, hinting at the plot, and maybe sharing an interesting sentence or two. You want students to see how engaging a book talk should be!

Review the key tenants of a good presentation! Using a clear speaking voice, making eye contact, and holding the book so that the class can see it are all things that your students may not know to do without being told. You can even create a presentation checklist for students to have on-hand when they are practicing book talks at home!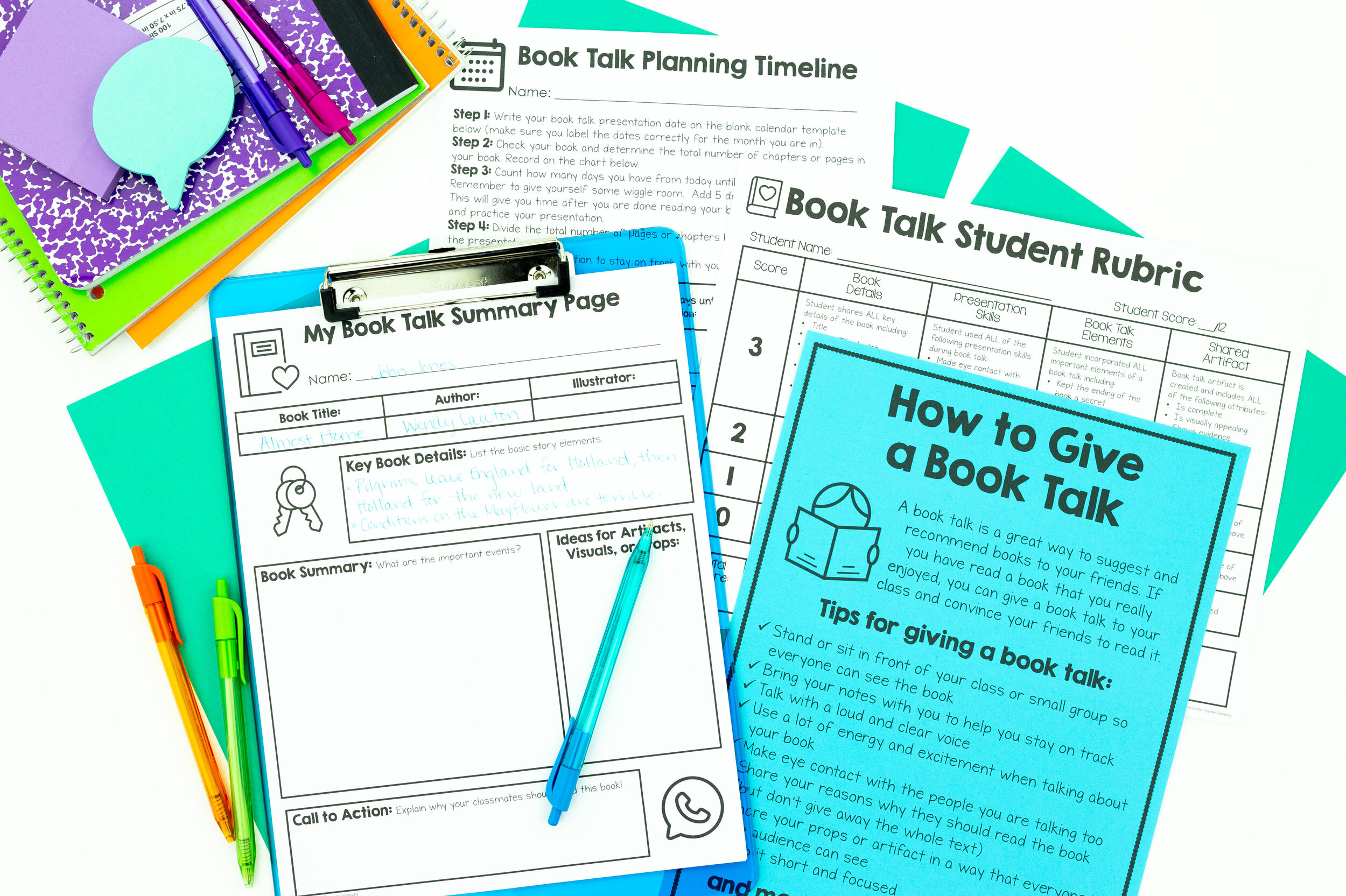 What should a book talk include?
The great thing about book talks is there is no right or wrong way to do it! You can completely customize them to meet your classroom needs! But, if you're looking for a little inspiration to start planning your own, here are some great things that you could include in your own book talks:
Reading the blurb on the back of the book
Sharing a funny moment or quote
Sharing why you enjoyed the book so much
Sharing a connection from this book back to the students' lives
Describing the plot, but leaving a big cliff hanger
Sharing something that makes this book unique
You can also brainstorm a list of key book talk elements with your class. Let them brainstorm ideas of what they would like to share or hear during the book talks given in your classroom.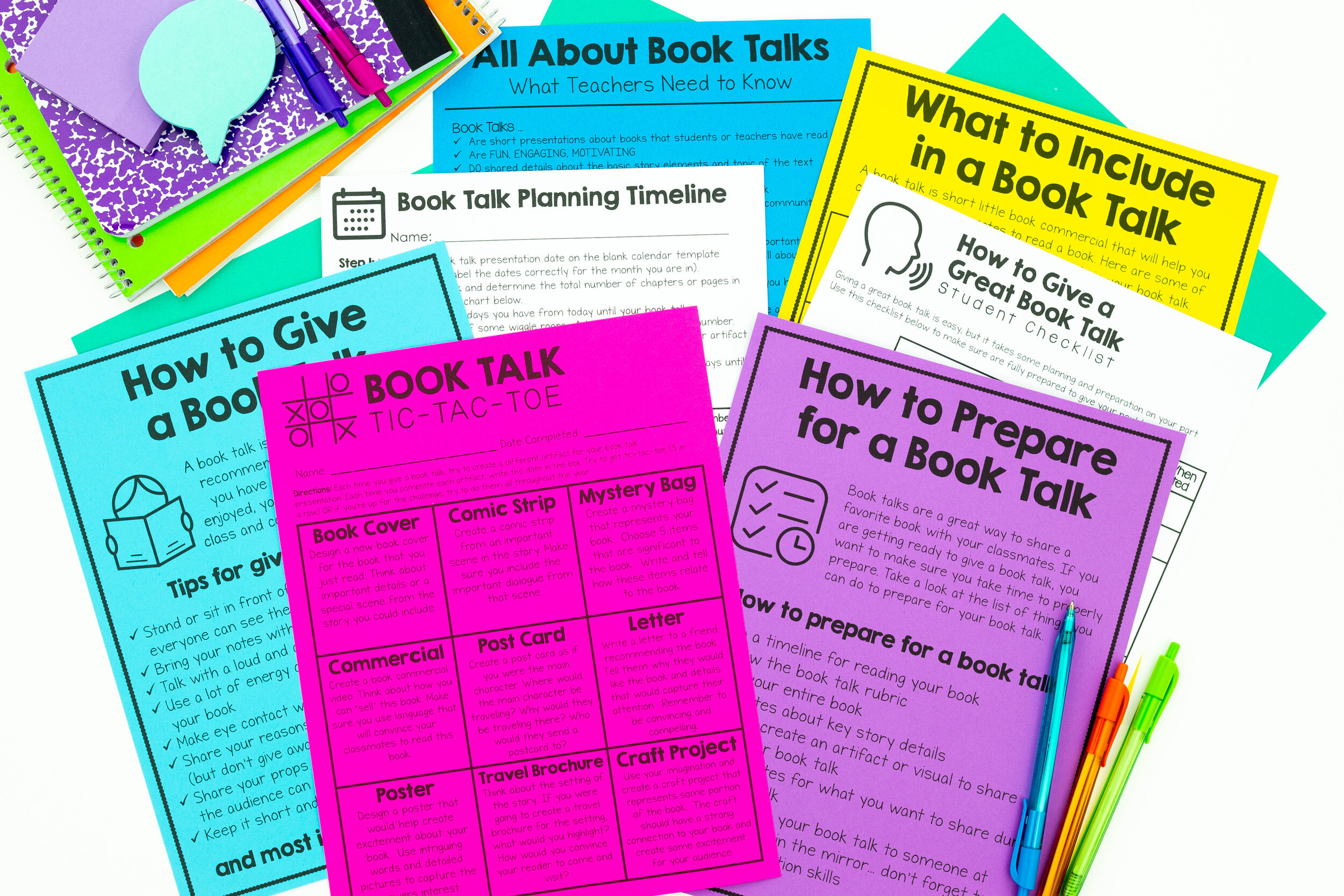 Tips for Extra Engagement:
Make book talks part of your read aloud time! Before you begin a lesson, give a quick 'elevator pitch' of your book to build anticipation of what you're about to read, and to consistently model what a book talk can look like!

Invite special guests to come and give book talks. The principal, librarian, a parent, a community helper, and so many other fun guests would make for a great book talk! If you can't have live guests in your classroom, this is a great virtual activity.

Create a waitlist. Nothing builds anticipation like a waitlist. Students will love to see where they are on the list, and when it will be their turn to give a book talk.

Use book talks to create a visual display. You can take a quick picture of students holding that book, and create a bulletin board, a class book in a binder, or a virtual library in a google folder, of all of the titles that your classroom has shared throughout the year!
Book talks can create authentic reading and sharing experiences, as well as creating space for each student to contribute to your classroom community. I hope that these tips gave you some new inspiration to work book talks into your classroom this year!
Put it into practice:
If you're ready to get started with book talks in your classroom, you can take these three steps:
Download my free book talk anchor charts to help you introduce book talks to your students.
Listen to Episode #12 of the Stellar Teacher Podcast – Build Literacy Buzz with Book Talks.
Grab my Book Talk Planning Kit – It has everything you need to get book talks up and running in your classroom.
Happy Teaching!
---
Want to learn more about how to boost engagement with book talks?
Check out this episode of Stellar Teacher TV where I talk all about Book Talks!
---
Grab Your FREE Gift!
Book Talk Anchor Charts
I have 5 anchor charts that I'd love to share with you. These anchor charts will help you teach your students how to plan for, present, and listen to book talks given in your classroom.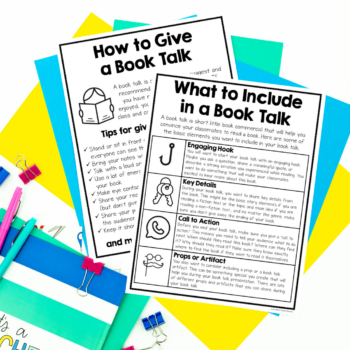 ---