Welcome back to our blog series on small steps toward aligning your instruction to the Science of Reading (SOR). The fifth small step is focusing on phonological awareness.

In this blog series, we'll address the most common questions and concerns when embracing the Science of Reading. We'll cover everything from understanding the core principles to practical application in the upper elementary classroom. We hope to make this transition smooth and enjoyable for you by breaking it down into smaller, manageable steps.
In addition to this blog post, you will find an accompanying podcast episode to listen to!
If you haven't already, I encourage you to check out the previous blog posts in this series:
First, let's do a quick walkthrough of how this small step helps you align your instruction to the Science of Reading.
How does this align with SOR?
The reading rope has two strands that are twisted together, and the result is skilled reading.
There is the word recognition strand, which includes: phonological awareness, decoding, and sight word recognition.
The language comprehension strand focuses on background knowledge, vocabulary, syntax, literacy knowledge, and verbal reasoning.
Proficient readers demonstrate mastery across all the individual strands within the Simple Reading Rope. Among these components, phonological awareness is a significant cornerstone for building strong reading skills and addressing the challenges some students may encounter on their reading journey.
So, let's jump right in and talk about incorporating phonological awareness activities in your upper elementary classroom!
Small Step #5: Incorporating phonological awareness activities in your upper elementary classroom.
What is phonological awareness? Phonological awareness is the awareness of sounds in oral language and the ability to manipulate those sounds. In addition, phonological awareness includes noticing similarities and patterns between units of sounds.
It is an umbrella term that includes five different skills:
Sentence segmenting
Syllable segmenting
Rhyming
Alliteration
Phonemic Awareness
Phonemic awareness is a term you've probably heard before, and that sub-skill of phonological awareness includes a sub-set of skills.
Students are working on phonemic awareness when they are:
Blending individual sounds
Isolating phonemes ( and a phoneme is the smallest unit of sound – give an example)
Segmenting phonemes
Adding phonemes
Deleting phonemes
Substituting phonemes
When we think of phonological awareness, it's often associated with the early years of elementary school. Still, the truth is this fundamental skill plays a crucial role in reading and spelling success throughout a student's academic journey. Research consistently underscores its significance as a predictor of literacy proficiency.
It's time to dispel the misconception that phonological awareness is exclusively for lower elementary classrooms. In reality, many students in 3rd, 4th, and 5th grades struggle with deficits in at least one aspect of phonological awareness. These deficits can profoundly impact their ability to read and spell, even when they receive explicit instruction on phonics principles.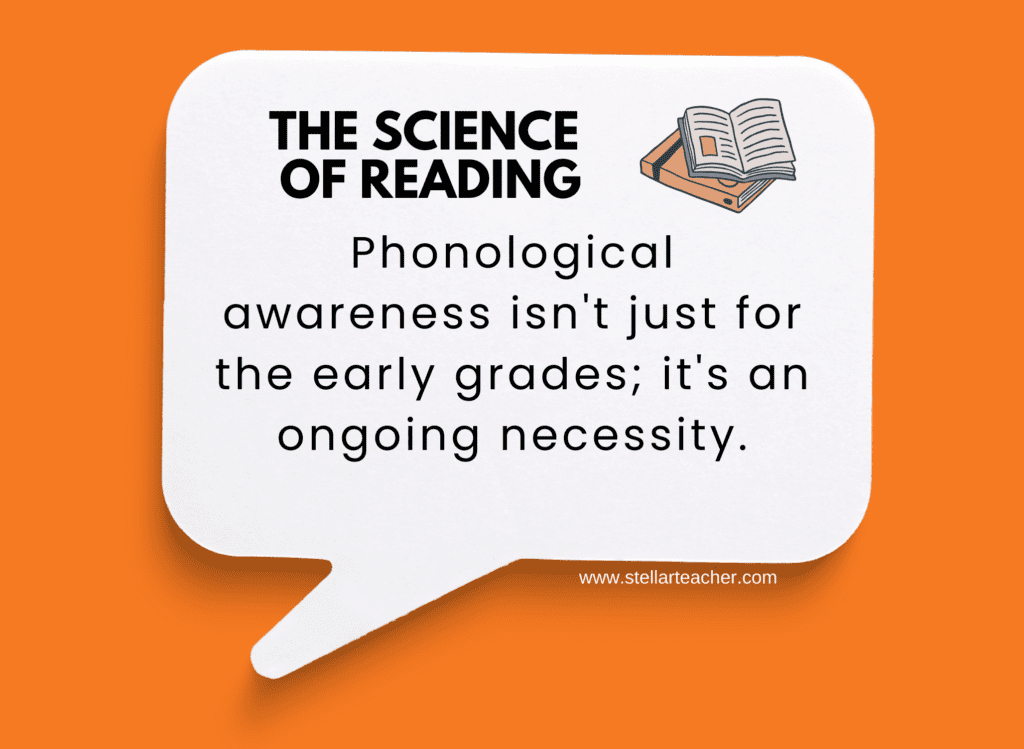 Imagine a student who knows phonics rules but stumbles through reading and spelling tasks. The missing piece of the puzzle often lies in their phonological awareness – their ability to hear and manipulate sounds within words. This is where upper elementary teachers can make a significant difference in their students' reading journeys.
Phonological awareness isn't just for the early grades; it's an ongoing necessity. Incorporating phonemic and phonological awareness activities into upper elementary classrooms can be transformative for struggling readers. By addressing these gaps, teachers can empower their students to become more confident and proficient readers.
The good news is that there's a wealth of specific phonological and phonemic awareness activities that upper elementary educators can integrate into their teaching toolkit. These activities make learning engaging and provide the necessary practice to strengthen this foundational skill.
What do phonological awareness activities look like in upper elementary?
I've got three examples of activities for you to try! These activities are meant to help strengthen your student's phonological awareness.
Activity #1: Blending & Segmenting
Blending and segmenting are two of the most basic phonemic awareness skills you can incorporate to help your students develop phonological awareness.
Blending occurs when you break a word down into its individual phonemes (sounds), and students are expected to tell you what the word is.
Segmenting is the opposite of blending. Segmenting happens when you give students the word, and they break it down into its individual sounds.
To hear examples of blending and segmenting, check out the accompanying podcast episode for this blog post!
Segmenting and blending are great activities to help students build sound fluency, leading to automatic word recognition.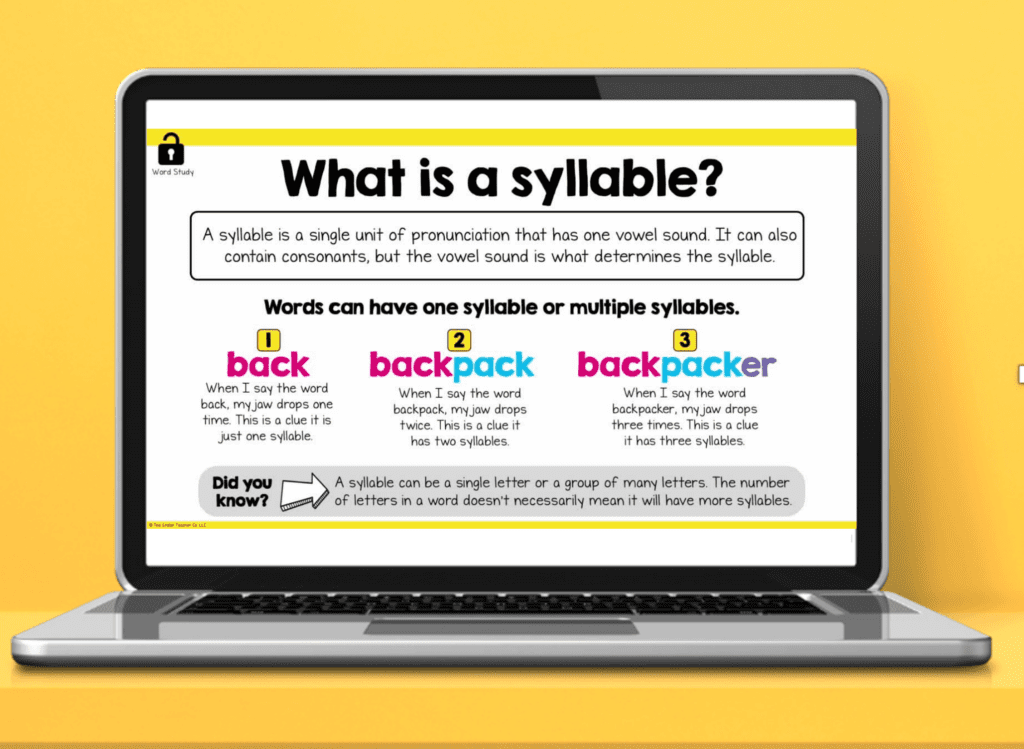 Activity #2: Syllables
There are a lot of different syllable-type phonological activities you can do – with little to no prep! These activities can be easily incorporated into a read-aloud activity and are great for small groups.
Syllable Blending
You will say a word slowly, separated into syllables and ask students to blend them into complete words. To make it a little more fun you might try saying, "Syllable Sam speaks very slowly. What word do you think Sam is trying to say?" And then say a series of words broken down into syllables such as:
pea/nut
car/pet
Val/en/tine
com/pre/hend
fan/tas/tic
com/bi/na/tion
Delete a Syllable
This activity is quick and fun! You could do it with your students as they are standing in line for specials or packing up to go at the end of the day. Tell them they need to break longer words into parts.
Here are some examples:
If I say "candlestick without stick" – I'm left with. . . And students should respond with candle.
What's caption without shun. . . And students should respond with cap.
What's basketball without ball? Basket
What's refocus without re? Focus
What's a timetable without time? Table
A syllable is a single unit of pronunciation. We want our students to be able to automatically hear individual syllables in sounds, so simple activities like this will help them do just that!
Especially as students in upper elementary school become more and more exposed to multisyllabic words, they must be able to distinguish syllable boundaries in words. Working on phonological awareness activities like these and focusing on explicit syllable instruction can help students build confidence and mastery in this area.
Activity #3: Sound substitution
When you do sound substitution with students, you want them to see if they can manipulate the sounds in the word.
You can do initial sound substitutions:
Start by telling students you want to see if they can make some new words by changing just one sound.
Model to your students by saying something like, "Listen to me. If I change the M in moon to an S, I get a new word: soon."
Then you can have students practice by including them in more examples:

Change the S in seat to m – you get meat.
Change the R in ring to th – you get thing.
Change the SL in sliding to h – you get hiding.
You can do medial sound substitutions:
Use the same process where you model an example or two for your students and then give them some examples to practice.

Listen to the sounds in this word: z – i – p. Now let's change the i to an a: you get zap.
Listen to the sounds in this word: f – aw – n. Now let's change the aw to an a – you get fan.
You can do final sound substitutions:
Use the same process where you model an example or two for your students and then give them some examples to practice.

Change the t in hat to m – you get ham.
Change the k in fork to t – you get fort.
Change the ing in teaching to er – you get teacher.
To hear examples of this activity, check out the accompanying podcast episode for this blog post!
Download your free poster!
How to Read Big Words Strategy
Teach your students this five-step process for reading big multi-syllabic words. Students will feel much more confident knowing what steps to take when they encounter a tricky word in a text they are reading.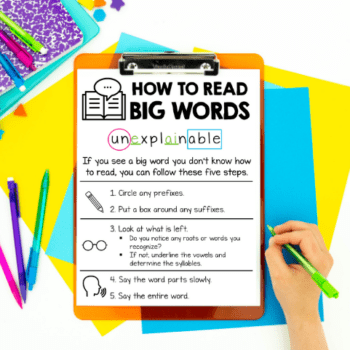 Substitutions are great because students have to think about where the sound is located in the word (beginning, middle, end) and what happens when that sound is changed.
Now, these are just a few examples of phonological and phonemic awareness activities, but there are so many more that you can do with your students! What's really great about all of these – and most phonological awareness activities is that since they are all oral, they take very little time to incorporate.
You can easily complete these activities in just a few minutes before a read-aloud, at the start of a small group lesson or even if you are getting ready to transition to another class!
When you focus on phonological awareness activities, you will support your students who struggle with reading and spelling.
Think about your next Science of Reading steps…
If you feel inspired by this post, check out Episode 145: Incorporate Phonological Awareness Activities to understand better why incorporating phonological awareness activities into your instruction is an important small step toward aligning your instruction to the Science of Reading!
If you love listening to the podcast, check out another episode! Listen to Episode 86: Understanding Phonological and Phonemic Awareness with Michelle and the Colorful Classroom!
Join us inside The Stellar Literacy Collective, where you will get access to a resource library filled with reading and writing resources that you can use and feel confident that you are taking steps to align your instruction to the Science of Reading.