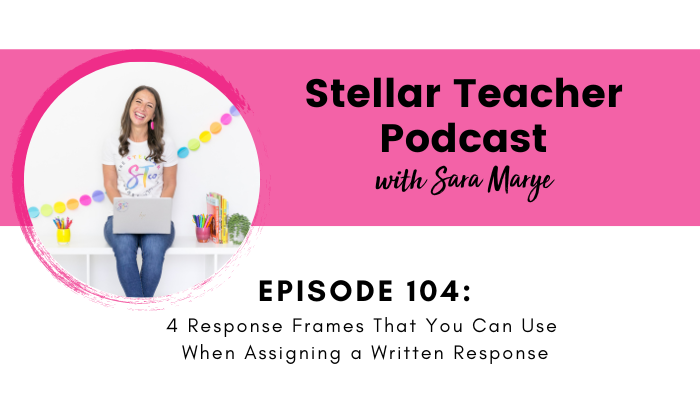 Click play below to hear 4 written response frames that you can use when assigning a written response:
Getting started is always the hardest part of any task. However, that task is so much easier to begin if we're motivated and have a tool to get us started. This same concept applies to students and writing.
As literacy teachers, you know that students struggle getting their ideas on paper formatting it in the correct way. Today's episode is going to help with just that! In our second episode in our writing about reading mini series, I'm going to share 4 response frames that you can use when assigning a written response.
Written responses, just like sentence stems, are formatted to help students begin any writing assignment. Written response frames are so versatile, for they can vary in length, used with any reading assignment, all with limited prep work. One reason they're highly effective is that they are beneficial for both teachers and students. For teachers they provide options and differentiate when having students write about their reading, while students know their predictability, which will make them feel successful and confident in their abilities.
In last week's episode, we discussed that writing about reading helps students develop their reading comprehension and writing skills, for they need to have a strong understanding of both in order to have a strong writing about reading response. One of the many benefits of written response frames are they work on developing both of those skills simultaneously. And while they work on those skills as a whole, each individual written response frame has specific benefits to using that framework.
I had a challenge for you last week of implementing one writing about reading task, and I challenge you to do the same this week with written response frames. Take one that you learned in this episode, and try it out with your students this week in your classroom. You'll be amazed by their ability to pick details from a text, while improving their writing skills with just one response!
In this episode on writing about reading, I share:
4 written response frames that are ready to be implemented today
How open-ended questions for a response can be difficult for students who either struggle with reading comprehension or written skills
Why written response frames benefit both teachers and students
The academic benefits of using written response frame for scaffolding for struggling students, while their variety helps students who excel
A preview of next week's episode in the mini series
Resources:
Related episodes and blog posts:
Connect with me:
More About Stellar Teacher Podcast:
Welcome to the Stellar Teacher Podcast! We believe teaching literacy is a skill. It takes a lot of time, practice, and effort to be good at it. This podcast will show you how to level up your literacy instruction and make a massive impact with your students, all while having a little fun!
Your host, Sara Marye, is a literacy specialist passionate about helping elementary teachers around the world pass on their love of reading to their students. She has over a decade of experience working as a classroom teacher and school administrator. Sara has made it her mission to create high quality no-fluff resources and lesson ideas that are both meaningful and engaging for young readers.
Each week, Sara and her guests will share their knowledge, tips, and tricks so that you can feel confident in your ability to transform your students into life-long readers.
Tune in on your favorite podcast platform: Apple, Google, Amazon, Spotify, Stitcher, and more! If you're loving this podcast, please rate, review, and follow!
Podcast (stellar-teacher-podcast): Play in new window | Download