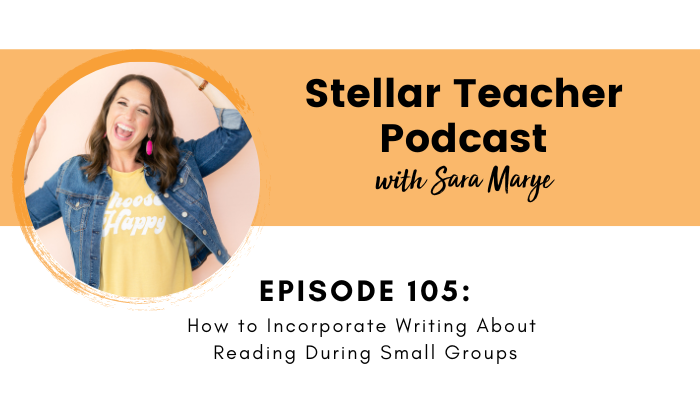 Click play below to hear ways to incorporate writing during small groups:
I know I've said it many times before, but one of the things I love is connecting and interacting with my listeners, community at Stellar Teacher, and anyone on social media. I strive to bring you relevant content that will help you become a more effective literacy teacher. 
One of those ways is through the questions I get asked, which is how this three-week series started. This is our last episode in our series about writing about reading, which focuses on how to incorporate writing during small groups. 
This topic was a question I got asked a lot, which is such a relevant and valid question, especially when it comes to the element of time. As literacy teachers, the limited amount of time we get to spend teaching literacy to our students, it's nearly impossible to get everything done during that time. Literacy encompasses a wide range of skills that need to be taught, so then to incorporate writing during small groups, seems nearly impossible. 
But I've got a solution for you! I've come up with three different ideas on ways to incorporate writing during small groups that will save you time and energy. Each idea allows you to make writing about reading the focus of your small groups no matter your time restraints. With all three ideas, I share the many benefits that are shown to improve both a student's reading and writing skills, while also touching on things to consider when implementing each idea. 
When we first started the series, the idea of writing about reading might've been unfamiliar to you or you might've just needed some help pinpointing certain assignments and ways to incorporate writing during small groups. No matter where you were in the spectrum of knowledge, listening to these episodes on writing about reading will bring you more ideas and ways to be intentional about incorporating writing about reading into your classroom.
In this episode on incorporating writing during small groups, I share:
​​3 ideas on ways to incorporate writing during small group
Answering two questions regarding writing about reading that were asked that couldn't be woven into the series
The benefits, and potential drawbacks, to each idea
How these ideas can help with standardized test prep
Why mixing and matching these ideas will help support all reading and writing levels of your students
Resources:
Related episodes and blog posts:
Connect with me:
More About Stellar Teacher Podcast:
Welcome to the Stellar Teacher Podcast! We believe teaching literacy is a skill. It takes a lot of time, practice, and effort to be good at it. This podcast will show you how to level up your literacy instruction and make a massive impact with your students, all while having a little fun!
Your host, Sara Marye, is a literacy specialist passionate about helping elementary teachers around the world pass on their love of reading to their students. She has over a decade of experience working as a classroom teacher and school administrator. Sara has made it her mission to create high quality no-fluff resources and lesson ideas that are both meaningful and engaging for young readers.
Each week, Sara and her guests will share their knowledge, tips, and tricks so that you can feel confident in your ability to transform your students into life-long readers.
Tune in on your favorite podcast platform: Apple, Google, Amazon, Spotify, Stitcher, and more! If you're loving this podcast, please rate, review, and follow!
Podcast (stellar-teacher-podcast): Play in new window | Download