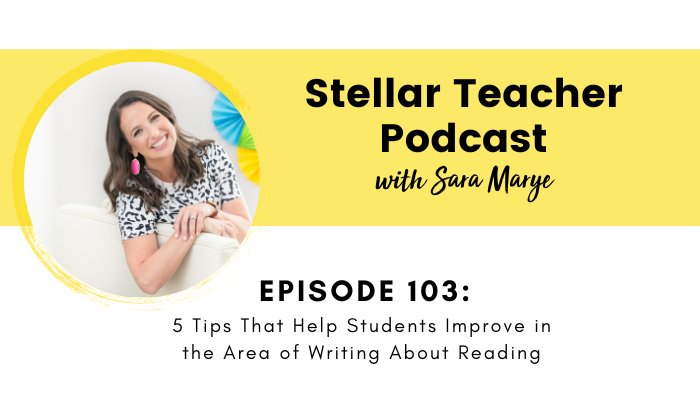 Click play below to hear 5 tips that help students improve in the area of writing about reading:
One of the things I love most about what I do is interacting with the listeners within the Stellar Teacher community and helping teachers. Therefore, both of those things sparked this next mini series on the podcast. Throughout the summer and especially as school has begun, I've received a lot of questions in the area of writing about reading. 
With so much demand on this topic, we are kicking off a three-week mini series on this topic in hopes to tackle your questions and provide you with information and resources you can implement in your classroom. We are starting the series off with today's episode, which discusses 5 tips that help students improve in the area of writing about reading.
First, writing about reading refers to any assignment where students have to respond to a text through a written response. These responses vary in length and are sometimes called reading response or constructed response. As literacy teachers, part of our job is figuring out how we can be intentional about providing our students with meaningful opportunities to write about their reading. 
But before you're able to jump right in, it's important to understand the two parts that are necessary for a strong writing about reading response. Those include both strong reading comprehension and writing skills from students. As teachers, when thinking about writing about reading assignments, keep in mind how to support your students in both areas in order to make them successful. Just like with everything else, it's a balancing act. 
In order to create that balance and support for students, I'm sharing 5 teaching principles to implement when planning and practicing writing about reading. Each tip is designed to help students improve their comprehension and writing skills, for they each have a purpose and skill set to work on. Those 5 principles are:
Provide scaffolded support for students

Allow for collaboration

Provide opportunities to revise and edit

Provide a variety of writing response assignments

Don't try to tackle too many objectives at once
One thing to take away is writing about reading responses and opportunities are endless. They can be done in a variety of ways, lengths, content areas, and more. My challenge for you is to pick one tip and implement it in your classroom and see how it goes. By being intentional and making it part of your routine, your students will grow in the area of writing about reading tremendously. 
In this episode on writing about reading, I share:
Why there's a balance between comprehension and writing skills
How making it part of your routine ensures you're intentional and providing opportunities for your students
The possibilities are endless when providing writing about reading responses
The 1:1 rule – 1 thing to improve, 1 thing to celebrate
A challenge for you involving these writing about reading tips
Resources:
Related episodes and blog posts:
Connect with me:
More About Stellar Teacher Podcast:
Welcome to the Stellar Teacher Podcast! We believe teaching literacy is a skill. It takes a lot of time, practice, and effort to be good at it. This podcast will show you how to level up your literacy instruction and make a massive impact with your students, all while having a little fun!
Your host, Sara Marye, is a literacy specialist passionate about helping elementary teachers around the world pass on their love of reading to their students. She has over a decade of experience working as a classroom teacher and school administrator. Sara has made it her mission to create high quality no-fluff resources and lesson ideas that are both meaningful and engaging for young readers.
Each week, Sara and her guests will share their knowledge, tips, and tricks so that you can feel confident in your ability to transform your students into life-long readers.
Tune in on your favorite podcast platform: Apple, Google, Amazon, Spotify, Stitcher, and more! If you're loving this podcast, please rate, review, and follow!
Podcast (stellar-teacher-podcast): Play in new window | Download