Are you teaching your students all the steps in the reading process?
The reading process is something I came up with to help my kiddos understand that REAL reading is soooo much more than just reading the words in the text.
If we want to really understand what we read, we need to engage in all steps of the reading process each and every time we wit down to read a text… and one of those key steps is responding to reading.
Reading response is an important part of the reading process. When students respond to their reading it helps them to apply key comprehension strategies and also assists them with internalizing what they read – think of it like reading the actual text is the input, and creating a response is the output… responding to a text we read is evidence that thinking took place during the reading process.
It's not uncommon for students to lose interest or get bored with their "respond to reading" routine, which means as teachers, we need to constantly be thinking about ways we can keep our students engaged and excited about responding to reading.
In this post, you'll get 10 ideas that will keep your students engaged and excited about responding to reading.
But first, let's talk about WHY we want our students to respond to reading.
Purpose of responding to reading:
We want our students to be THINKING while they are reading and assigning a reading response activity/prompt/assignment reminds students to think, while they are reading.

Reading response assignments provide accountability – Independent reading is one of the best ways to help our students become stronger readers, but since there are 20 something students and only 1 teacher, we don't always have time to listen to or monitor daily independent reading and regularly assigning or providing reading response assignments holds kids accountable to their independent reading.

Responding to reading reinforces other important language skills: writing, listening, speaking, presenting… reading responses are one way that we can connect multiple key communication and language arts skills.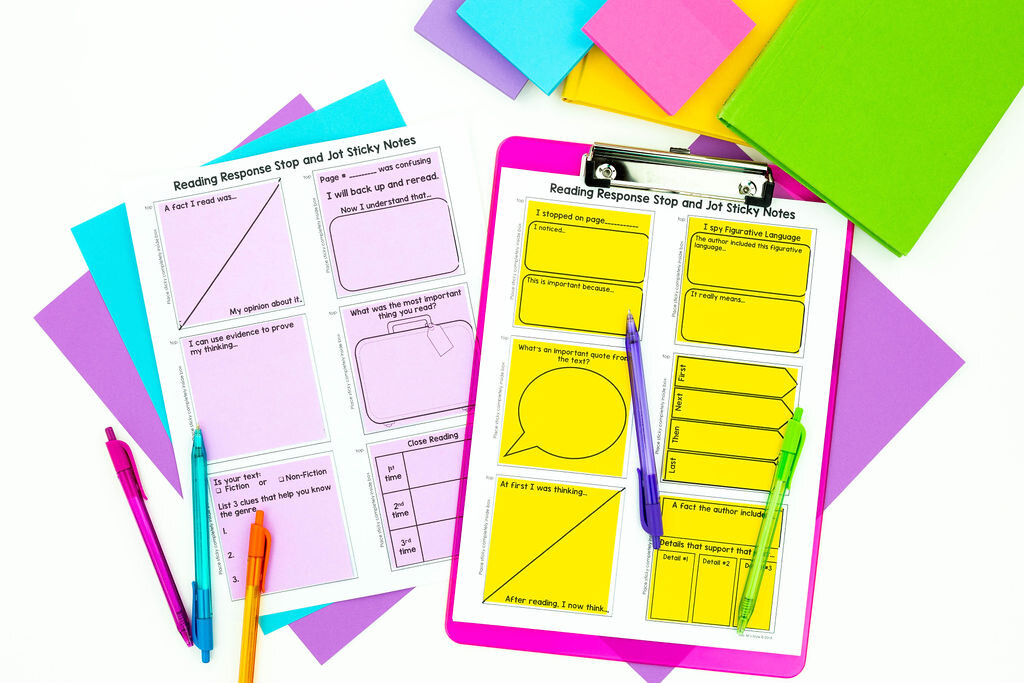 1. Sticky Note Templates
I love giving kids sticky note templates to use for their reading response assignments. If you haven't figured out how to print on sticky notes yet, check out THIS blog post and THIS resource. These little graphic organizer templates are the perfect size for students to quickly jot down their thoughts while reading, but not overwhelm them or take up too much time to complete.
And one of the things I love about them is that students can stick them directly in their independent reading text or reading journal… they are one of my students all-time-favorite ways to respond to reading.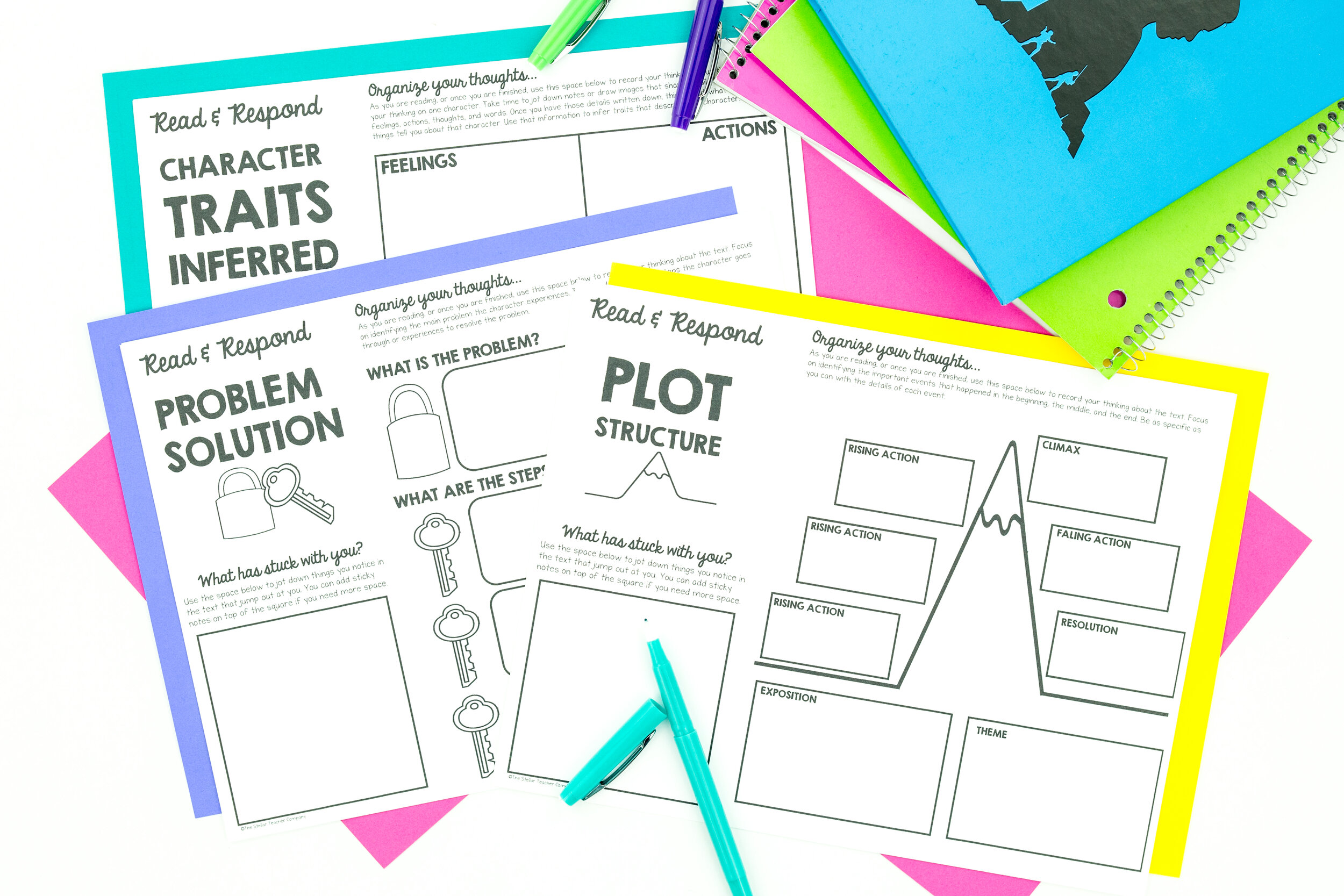 2. Graphic Organizers
Graphic organizers are such a great reading response assignment, and they really help students boost their comprehension as well. Here are some of the perks of using graphic organizers as your reading response assignments:
They help students visually organize their thinking

Students don't have to write in complete sentences so writing doesn't become a roadblock to responding to reading

You can usually find graphic organizers that are aligned to specific reading standards or skills (if you're looking for some, check THESE out).

You can teach students how to create their own which means they will ALWAYS have the ability to respond to reading… all they will need is paper and pencil.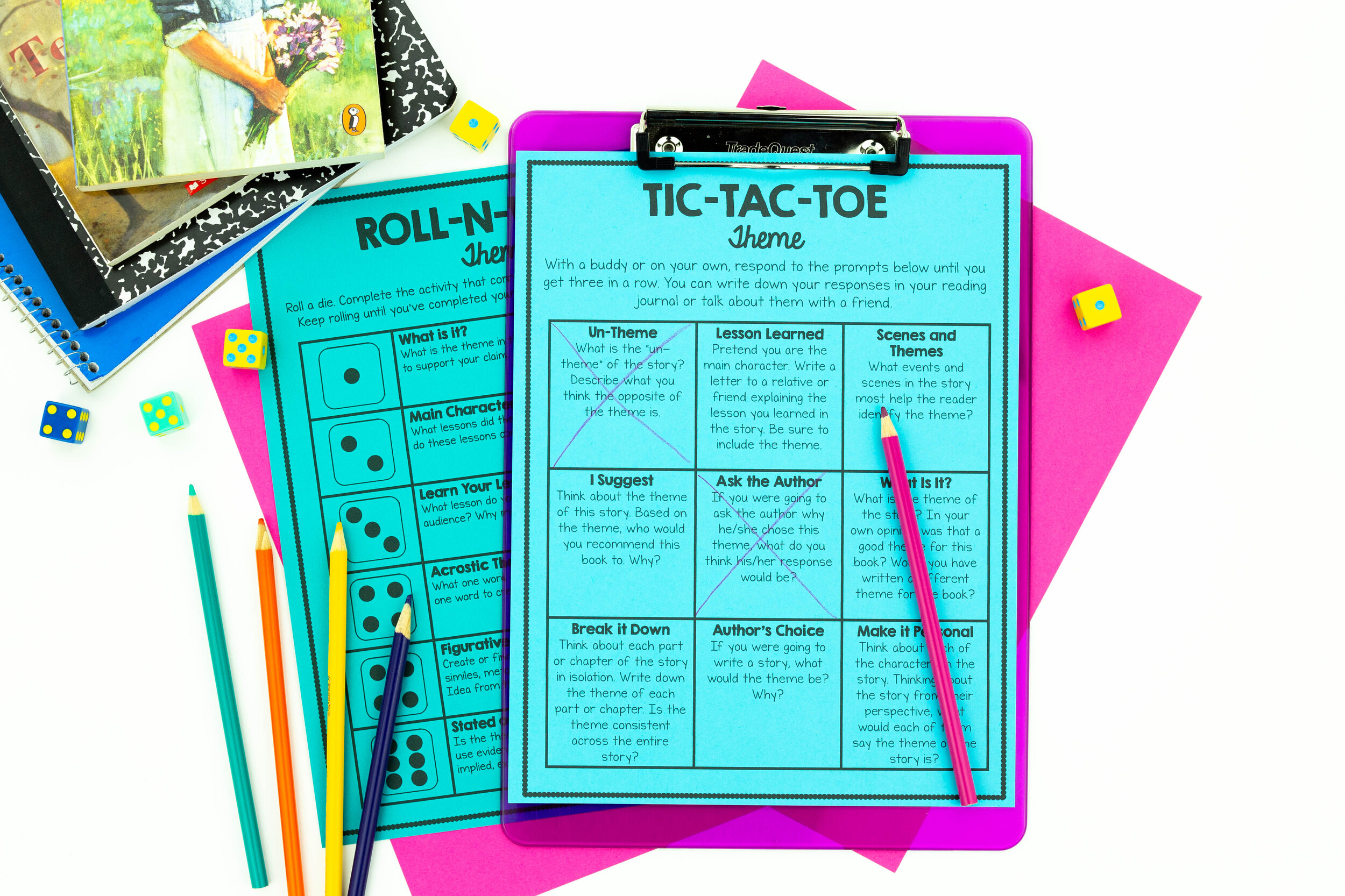 3. Choice Boards
Anytime you can give your students a choice in how they respond, you will see an instant increase in engagement… which will lead to an increase in comprehension. I love giving kids choice boards with a wide range of reading response activities.
I especially like to give kids options that appeal to a variety of learning styles… summarize the text you read…create a social media profile for the main character…create a comic strip to communicate the theme… draw a timeline of key events…write a letter to the author… the possibilities are endless.
If you regularly use choice boards in your classroom, one thing you can do to spice it up is let your students come up with the reading response ideas. You can have them all submit an idea on a notecard and then you can pick the 9 best options and turn them into a choice board.
Anytime students can give input, you'll see an increase in investment and motivation… and this way your students are the ones doing all the hard work.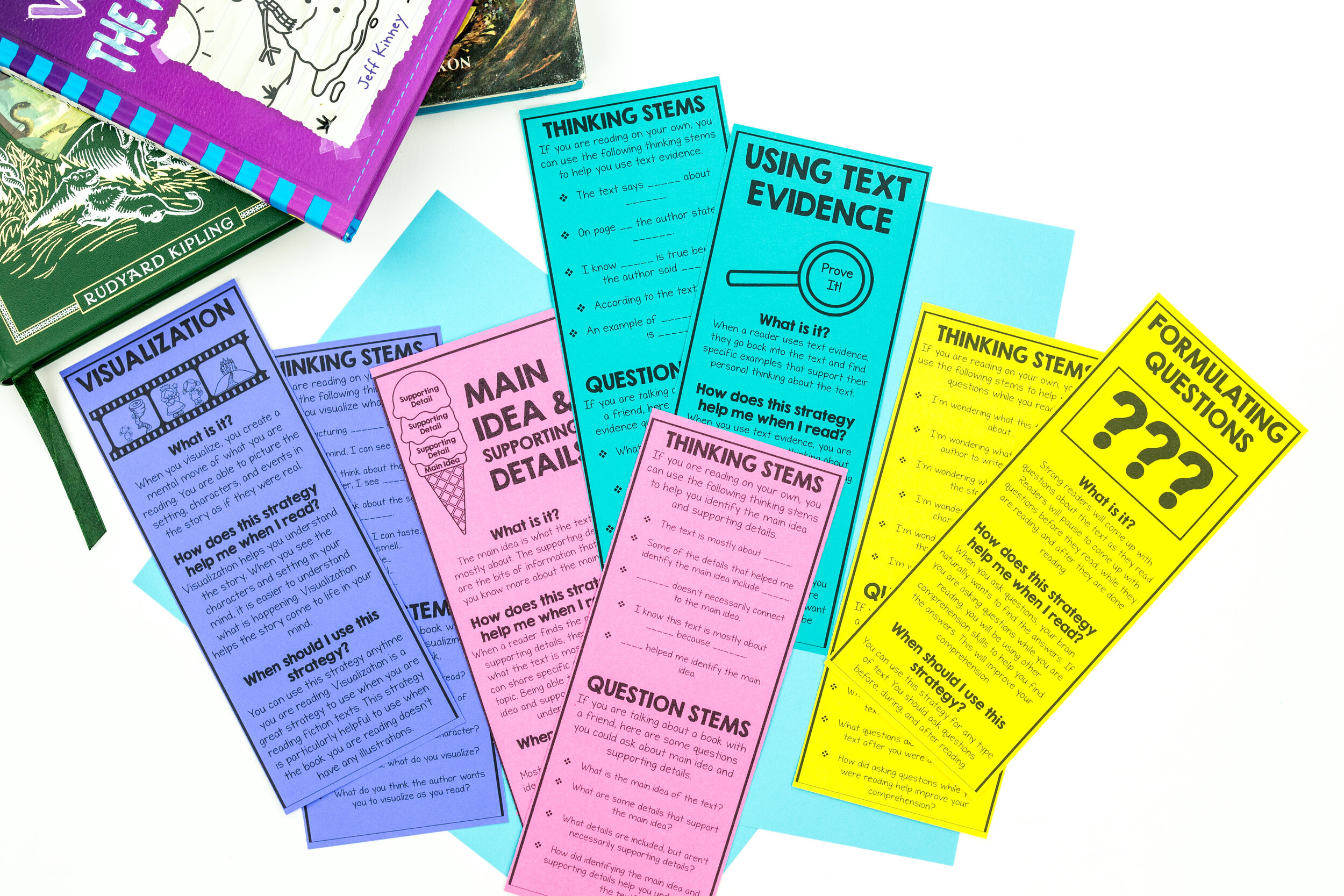 4. Response Question Stems
I LOVE giving students a set of question stems/starters or thinking stems as an option for responding to reading…Question stems/starters are a great way to get students to naturally apply the skills/strategies you want them to become confident and independent readers.
When we ask ourselves questions, our brains naturally want to find out the answers, so the more questions our students ask about the texts they are reading, the harder they are going to work to find the answers.
This can be such an easy way to get students to respond to their reading:
You can give students a set of question stems on a book mark or a question ring and they can select which ones they want to answer in their reading journal…or on a sticky note… or on a note card. It's a quick and easy way for them to respond to their reading.

OR you can have your students help you brainstorm a set of questions for a particular skill or read aloud and you can let your students pick the ones they want to answer.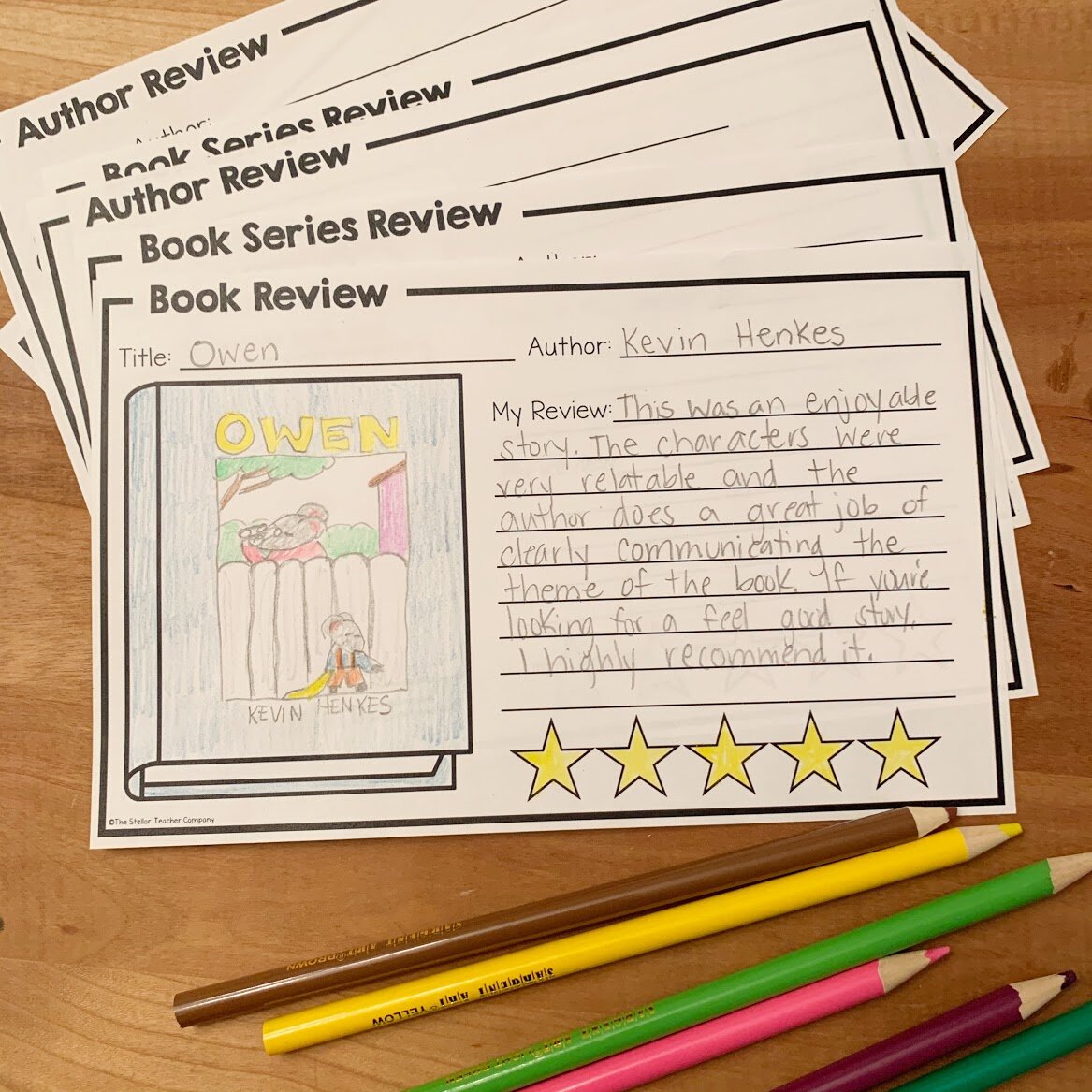 5. Book Review
Having students write a book review can be a quick, easy, and fun way to have them respond to their reading. When they are writing a book review, they have to apply a variety of reading skills to complete the book review:
Students have to summarize the key events in the text.

Students have to evaluate the author's writing and determine if the text is worth reading.

Students have to think about the characters, setting, and key events and what made the text enjoyable/not enjoyable to read.

Students have to think about what they liked and didn't like about the text.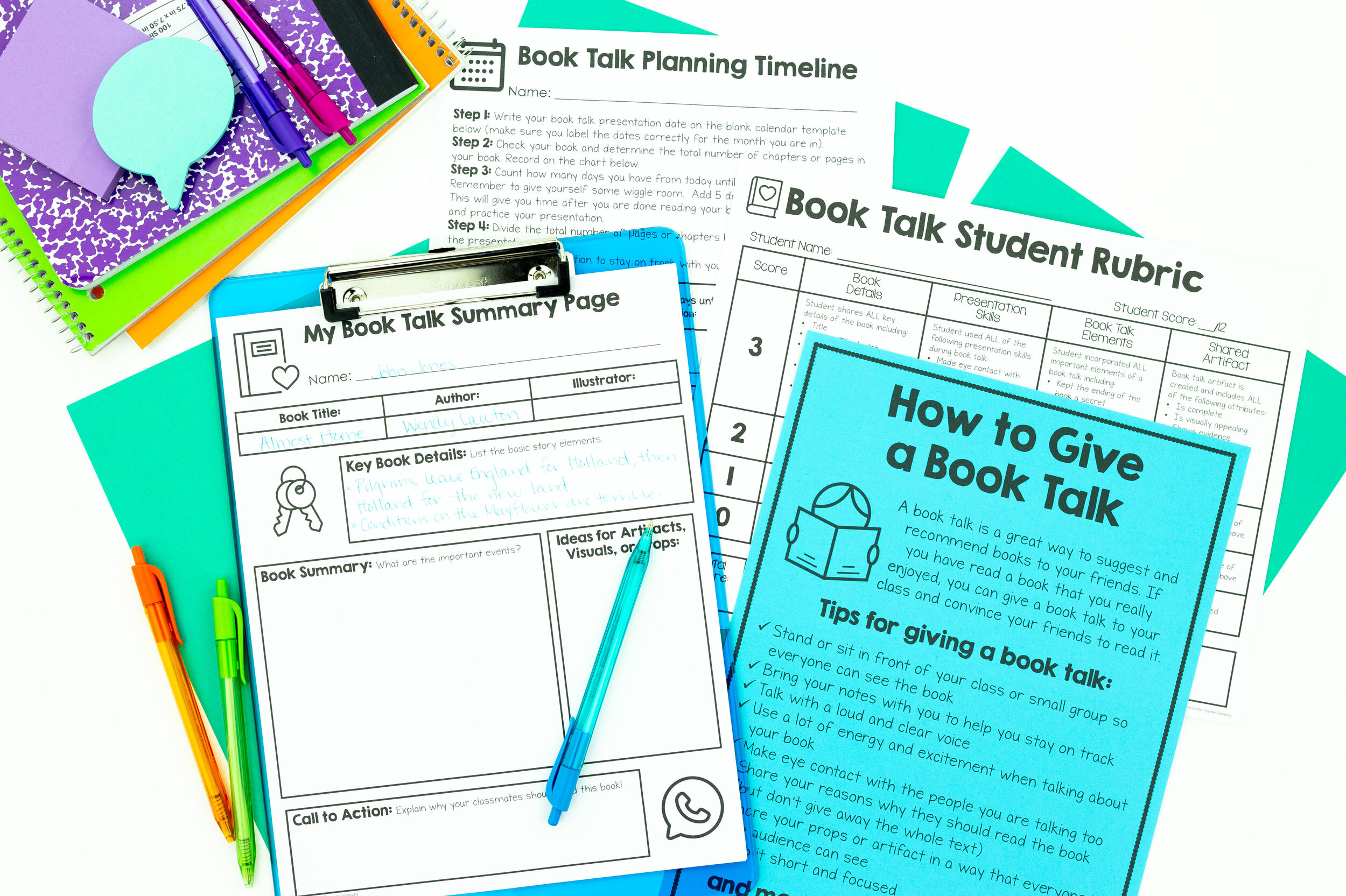 6. Book Talks
I love using book talks as an option for reading response for a few reasons:
A book talk is a great reason/purpose to get students to intentionally reflect on and think about their reading.

It's a great way to combine so many key communication skills (reading, writing, listening, speaking).

Students have fun putting together a book talk and sharing it with their classmates.

It's a really easy way to introduce students to variety of book titles.
If you've never used book talks in your classroom, you can learn more about them in THIS blog post.
7. Thinking Routine Prompts
I love using thinking routines all throughout my instructional day and giving students the option of using a thinking routine as a reading response assignment was always a great way to get them to think meaningfully about what they were reading. A few of my favorites include:
Draw Label Caption – This prompt really appeals to students who like to draw or are really creative. Students will draw an image that captures the theme or a really important part of the text, then they will add in labels to point out key details in their illustration, and finally they will add in a caption for what they drew.

Sentence, Phrase, Word – With this prompt, students would pick out the most important sentence, the most important phrase, and the most important word from what they have read. It's a great exercise to get them to think about the most important details/main idea of the text.

I used to think, but now I think – This one works great for non-fiction. Students simply respond to this prompt after they have read something to share how their thinking about that topic has changed.
8. Coding a Text
This is an option that I would give students on occasion and all it is is letting them create a set of symbols to show their thinking about a text. Students could come up with a set of symbols to show their thinking….
? = I asked a question

Heart = my favorite place

! = something surprising
Letting students code a text is a great way to have them share their thinking about a text, but in a way that saves time and doesn't put a TON of dependence on their writing ability – it keeps the focus on reading, while reminding them to think while reading.
9. Talk with a Friend
Responding to a text doesn't ALWAYS have to show up in written form. You can let your students talk to a friend as a form of reading response. One of my favorite ways to end my reading workshop was to give students 2-3 min to talk with a classmate about what they read and what they were working on.
Students would take their independent reading text and go find a friend and they would each share their title, what reading skill they were working on, what they thought about the text, and just have a short little conversation about what they were reading. It was a quick and easy way to get them to talk about a text…. and I love that it was a chance for them to work on their speaking and listening skills.
10. No Response
Ok, ok, ok… so maybe this one isn't really a reading response idea, but here me out… In case no one has given you this permission, let me go ahead and tell you that it is ok to have your students read just for the sake of reading… no response required.
So often we feel like we NEED to account for every single minute of our instructional day with some form of assessment or student product… and accountability is such a buzz word in education, that we forget our goal is to inspire and create life-long readers… and if that is what we are working towards, then we need to remember it is ok to let kids read just for the fun of it and not always respond.
As much as we want our students to respond to reading (and we really do), more importantly, we want them to LOVE reading and in order to achieve that goal, sometimes we need to be ok with them reading just for fun. A few ways you can give your students a free pass with their reading response assignments, but still be intentional about it are with the following ideas:
Free Read Fridays – let your students read whatever they want just for fun on Fridays. No assignments needed. This is also a great way for you to get caught up on grading or assessments.

3 out of the 5 days of IR must have some form of reading response – this is another great option that gives students some choice. They know that they get 2 days of free choice reading and 3 days of reading response assignments, but they get to pick which days they are.

By the end of the week you must have…. I love using this option. This lets students decide when and how they want to complete their reading response assignments. You set the assignments, they decide when they want to get them done… they just have to have them done by the end of the week.
Just a few reminders…
Now that you have all these ideas for reading response assignments, let me end with just a few reminders:
Make sure you regularly switch up your reading response routine. If you are intentional about introducing new options for reading response assignments, or regularly assigning new options, your students will remain engaged and motivated…. and with so many ideas in this post, try to introduce a new idea each month.

Teach it before you assign it. No matter what the assignment is… if its a sticky note, a graphic organizer, a choice board, or a book talk. Make sure you clearly and explicitly teach your students HOW to complete the reading response assignment before you assign it.

Give students choice. With so many options available, try to give your students a choice in which reading response assignment they want to complete whenever possible. Choice is such a great way to engage your students and ensure they are putting forth their best effort.
Happy reading. Happy responding.
Grab Your FREE Gift!
Reading Process Checklist
These printable reading process checklists are perfect to use every time your students sit down to read. They include the 5 step process that will help your students to apply skills & strategies to fully understand & comprehend what they are reading.