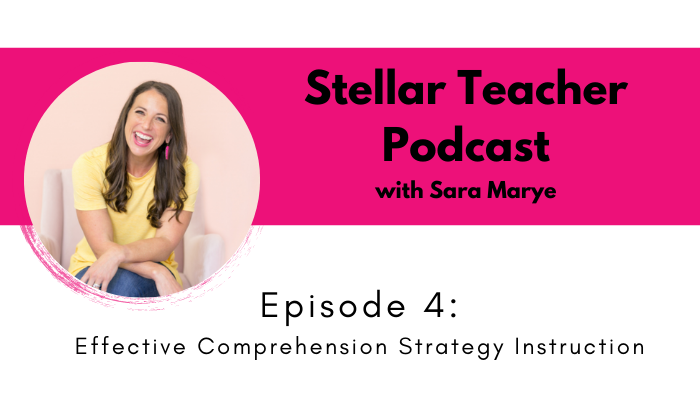 Comprehension is one of the most important parts of reading instruction. It can also be one of the most challenging to teach, wouldn't you agree? A student's background, knowledge, and life experiences may cause them to comprehend a text differently than their same aged peers, let alone their teacher!
Put twenty or thirty students in a room and there are countless numbers of personal experiences that will influence the way they interpret text. I remember the challenges I faced while in the classroom with varied learning styles. Luckily, I learned ways to help students feel confident in utilizing reading comprehension strategies and now I'm going to share those ideas with you to help make your reading instruction that much more effective.
In this episode I share:
Challenges faced when teaching reading comprehension

5 tips to effectively teach comprehension skills

Ways to get student buy-in

Strategies to build student confidence

The overall purpose of teaching comprehension strategies
Which strategy are you most excited to implement? Tag me on Instagram @thestellarteachercompany and tell me all about it!
Join me for a live training on January 18, 2021 all about how to teach comprehension in a way that is actually going to stick with your students! Sign up HERE.
GIVEAWAY! To celebrate the launch of the Stellar Teacher Podcast, we are giving away three $75 TPT gift cards! Entering is simple.
Subscribe to the podcast.

Rate and leave a positive review (5 stars is greatly appreciated).

Take a screenshot of your review and send it to me in a DM on Instagram @thesteallarteachercompany.

For a bonus entry, share a screenshot of one of the episodes you listened to in your stories and tag me @thestellarteachercompany.

Winners will be selected at random. Giveaway closes Friday, January 15th. .
Connect with me:
More About Stellar Teacher Podcast:
Welcome to the Stellar Teacher Podcast! We believe teaching literacy is a skill. It takes a lot of time, practice, and effort to be good at it. This podcast will show you how to level up your literacy instruction and make a massive impact with your students, all while having a little fun!
Your host, Sara Marye, is a literacy specialist passionate about helping elementary teachers around the world pass on their love of reading to their students. She has over a decade of experience working as a classroom teacher and school administrator. Sara has made it her mission to create high quality no-fluff resources and lesson ideas that are both meaningful and engaging for young readers.
Each week, Sara and her guests will share their knowledge, tips, and tricks so that you can feel confident in your ability to transform your students into life-long readers.
Tune in on your favorite podcast platform: Apple, Google, Amazon, Spotify, Stitcher, and more! If you're loving this podcast, please rate, review, and subscribe!
Podcast (stellar-teacher-podcast): Play in new window | Download