Reading task cards are common tools used in classrooms everywhere, but they sometimes are used in a way that create busy work for our students, and are thought of as not creating authentic reading experiences that can help students grow.
I'm here to tell you that task cards, when used effectively, can absolutely grow your students this year! Today I'm sharing five quick ways to think differently about your task card instruction to make it more engaging, more effective, and more student-centered!
What are the benefits of using task cards?
Reading task cards are short texts that can be read from beginning to end in a short time, which makes them perfect for independent practice. Many reading passages are so long, (especially in upper grades) that they can take most of independent practice time to simply be read. It's difficult to work in the analysis that needs to happen into the same block of time!

Task card texts are skill-targeted. When you open up reading response tasks to being done with any book that students have on hand, it's difficult to ensure that the book they have is a good fit for the skill you're trying to target. Maybe you have asked students to complete a reading response about the book's theme, but they have a nonfiction book. Using task cards ensures that you can target skills in your students' independent work!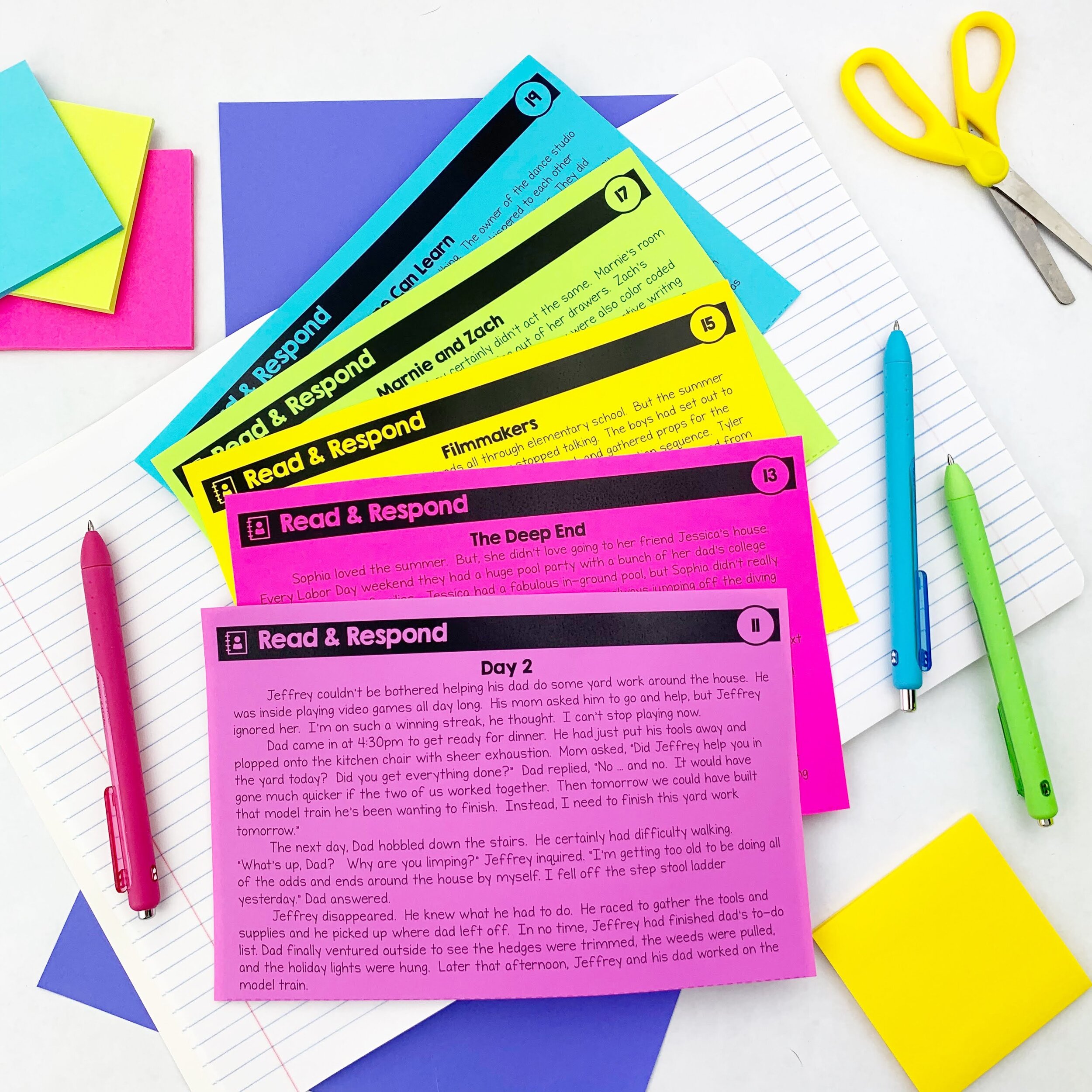 Offer Students Choice
If you've ever downloaded a set of task cards, you've likely noticed that they often come in sets of 24, 48, 96, etc. In reality, our students should never be asked to do something 24 times in a row before we determine mastery. I recommend setting a number of tasks that you would like students to complete, and allowing them to choose their own cards! I have talked about the benefits of choice in previous blog posts, and I will say again that choice instills a deeper sense of ownership, which in turn can promote engagement, grit, and growth!
Use Graphic Organizers to Scaffold the Transfer of Skills
So often, tasks cards are used in the classroom as independent practice, and usually to target a specific skill. If students are using reading task cards to identify something like the theme in a short text, it can be difficult for some students to read the text, pull evidence about the theme from the text, then formulate their own thinking and put it into writing. That is a lot of work for the brain to do at once! Graphic organizers are a great way to bridge that thinking gap from how a student is processing the text, to what they eventually put on paper. Additionally, graphic organizers guide students through their responses, so they stay on track.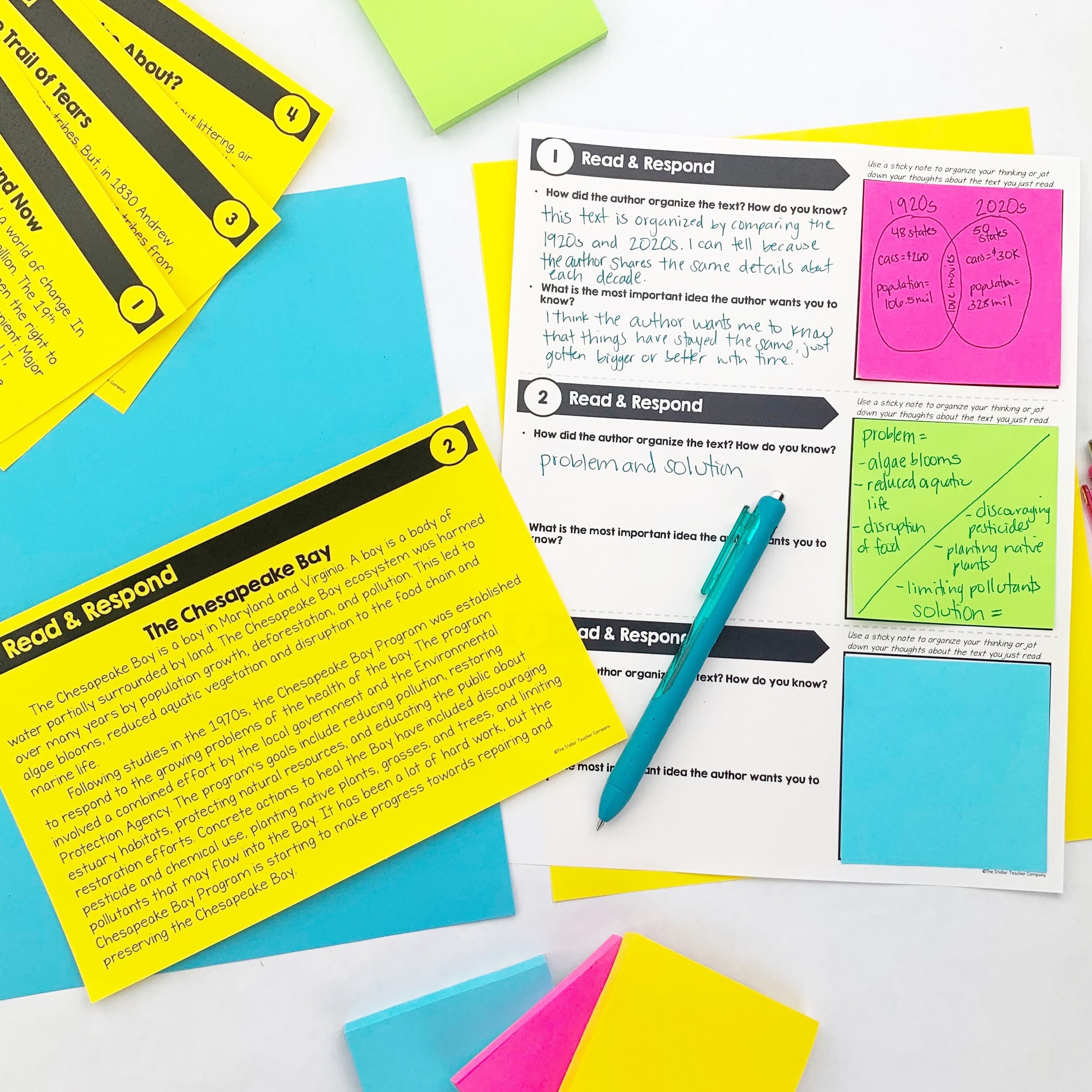 Focus on Students' Thinking and Making Connections
Many task cards focus on multiple choice answers, which can be great in certain situations, but if we are looking to improve reading comprehension, we need to make sure that the focus is not simply on the right answer, but also on the students' thinking about the answer! So, if you are using task cards that box students into choosing a correct answer, I would recommend asking them to also jot down how they decided on that answer so you can see their thinking. The real teachable moments are pulled from that writing!
Reuse Task Cards for Multiple Skill Practice
A powerful method of teaching, that I think is fairly underutilized, is to spiral review task cards later on in the year by puling them back out! I am a big fan of buying things once, prepping them to last, and then filing them away in a place that will be easy for me to pull them back out near the end of the year when I want my students to see those skills again! This is especially effective if you have large sets of task cards that you let students choose from the first time. They are unlikely to do the same exact cards a second time.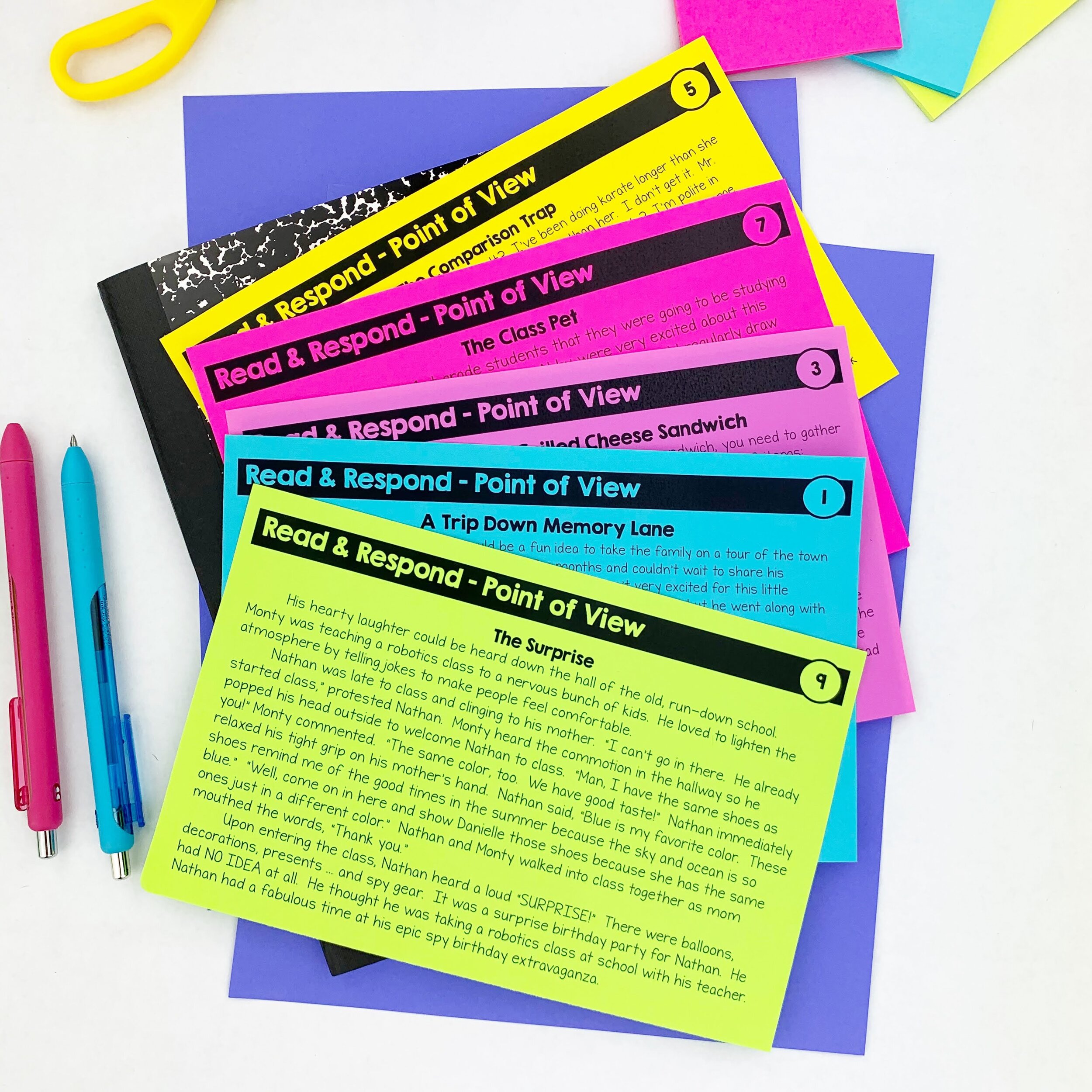 Use Task Cards for More than Just Independent Practice
Because the texts on task cards are short and skill-based, they are perfect for strategy groups! You can give each student a different card and compare and contrast the evidence of that skill that they found.
They are also great for independent reading conferences. If you struggle with getting conferences in that are meaningful, because you're not hearing your students read leveled, targeted tasks often enough, re-purposing task cards are a great way to work that in, without spending too much time!
We tend to give into the pressure of state testing, and believe that the only way to effectively deepen students' reading comprehension is to use long texts, with several multiple choice questions. I can understand this testing pressure, and I do think it's valuable to expose students to tasks that are formatted the way the tests are formatted, but state tests are not the only way to assess reading comprehension. These tips can help you use task cards in your classroom to deepen your students' comprehension all year long, with one, easy download!
Happy Teaching!
---
Grab Your FREE Gift!
Reading Challenges
Reading challenges are such a fun way to motivate and encourage students to read. With this free download you'll get three of my favorite reading challenges: Read-At-Home Challenge, Genre Challenge & 30-in-30 Challenge. Are you and your students up for the challenge?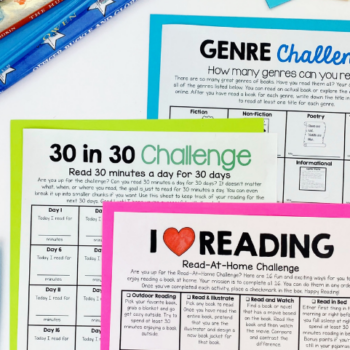 ---