Comprehension is such a big focus for upper elementary reading teachers. And no matter how successful your students are, I bet chances are you want to improve reading comprehension for all students.
When I was teaching reading, I would love to find specific routines, lesson structures, and resources that I knew would help my students grow as readers. One of my favorite resources to use as a tool to help improve reading comprehension was reading task cards.
Reading task cards are common tools used in classrooms everywhere, but they sometimes are used in a way that creates busywork for our students and are thought of as not creating authentic reading experiences that can help students improve reading comprehension.
I'm here to tell you that task cards, when used effectively, can absolutely help your students improve reading comprehension. Today I'm sharing five quick ways to think differently about you can use reading task cards in your reading block to make it more engaging, more effective, and more student-centered!
How can reading task cards improve reading comprehension?
Reading task cards have short reading passages. When you are trying to improve reading comprehension, students spend a lot of time reading…. which you would think is a good thing. But the reality of it is we need to be worried about reading fatigue in our students. This is why task cards are a great option.

Most reading task cards have super short texts (half a page or less) and can be read from beginning to end in just a few minutes. Many reading passages are so long, especially in upper grades. If you have limited time for independent practice, students can spend the entire time JUST reading the text, and they don't get any time to analyze the text or respond in any way.

Reading task cards are usually skill-specific. If you let your students choose what they want to read during independent reading time, you can't always guarantee that they will be reading a text that will align with the objective for your whole group lesson.

For example, if you're teaching your students all about theme during your whole group lesson, but you have students reading nonfiction, they really can't practice finding the theme independently with their nonfiction book. But if you have a set of skill-specific reading task cards, then you can give your students a short task card to "practice" with before they jump into their independent reading. That way, you ensure your students will get practice finding the theme of a text and then can go on to read their nonfiction book just for the fun of it.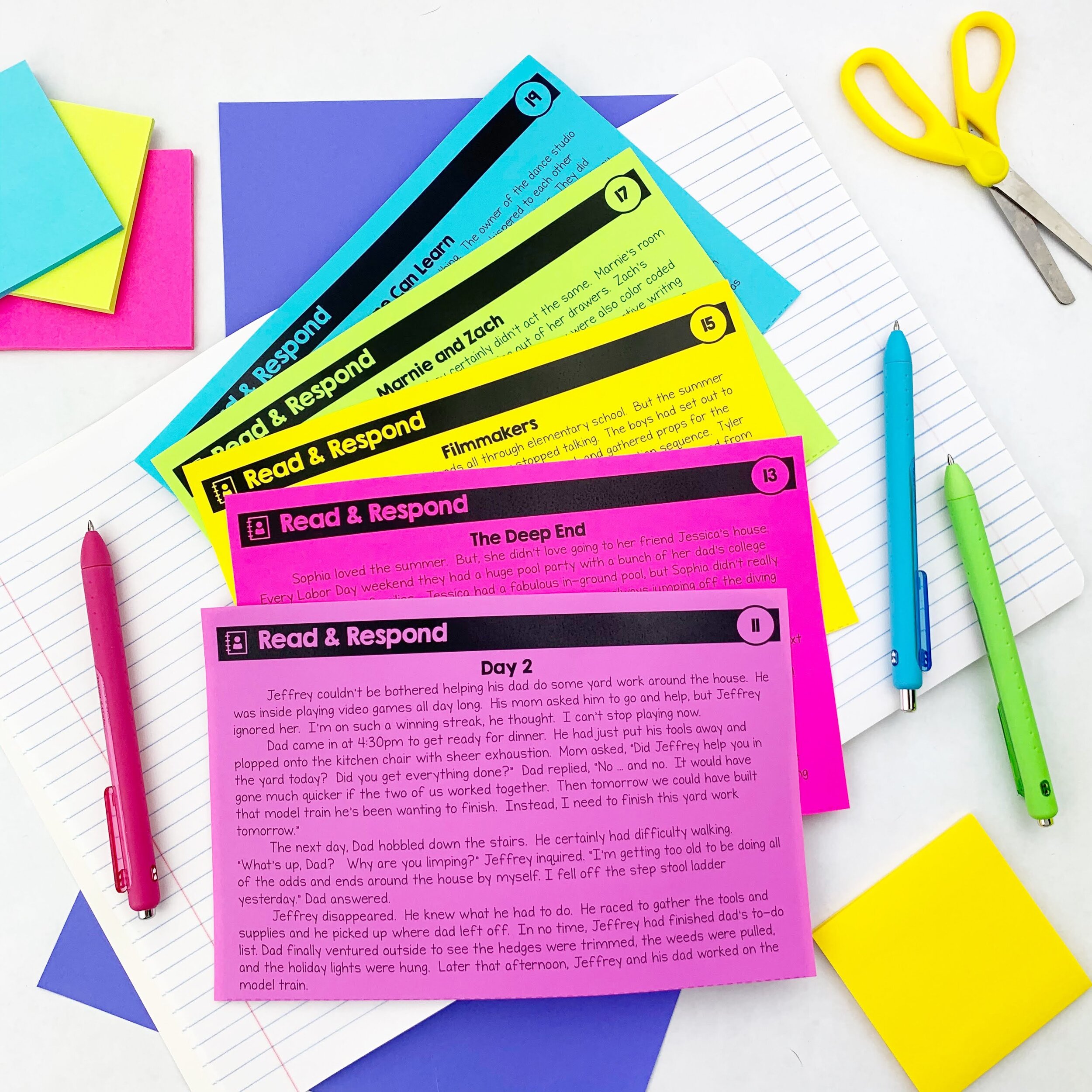 Five Tips to Improve Reading Comprehension With Task Cards
Tip #1: Offer Students Choice
If you've ever downloaded a set of task cards, you've likely noticed that they often come in sets of 24, 48, 96, etc. In reality, our students should never be asked to do something 24 times in a row before we determine mastery. More than likely, you can tell if a student has mastered a specific skill after 2-3 rounds of practice.

But there is a benefit of having so many reading task card options within a specific set. And that's to give your students a choice. Rather than asking your students to read all 24 task cards, ask them to select out the 3-4 that interest them the most and then read and respond to those task cards.
I have talked about the benefits of choice in previous blog posts, and I will say again that choice instills a deeper sense of ownership, which in turn can promote engagement, grit, and growth!
Tip #2: Use Graphic Organizers to Scaffold the Transfer of Skills
So often, tasks cards are used in the classroom as independent practice, and usually to target a specific skill. If students are using reading task cards to identify something like the theme in a short text, it can be difficult for some students to read the text, pull evidence about the theme from the text, then formulate their own thinking and put it into writing. That is a lot of work for the brain to do at once!
One of the best tools to help students scaffold their thinking is to give them a graphic organizer. Graphic organizers are a great tool to improve reading comprehension and can help bridge that thinking gap from how a student is processing the text, to what they eventually put on paper. Additionally, graphic organizers guide students through their responses, so they stay on track.
Any graphic organizer that you would assign to students for a book or longer text, you can assign to a short task card.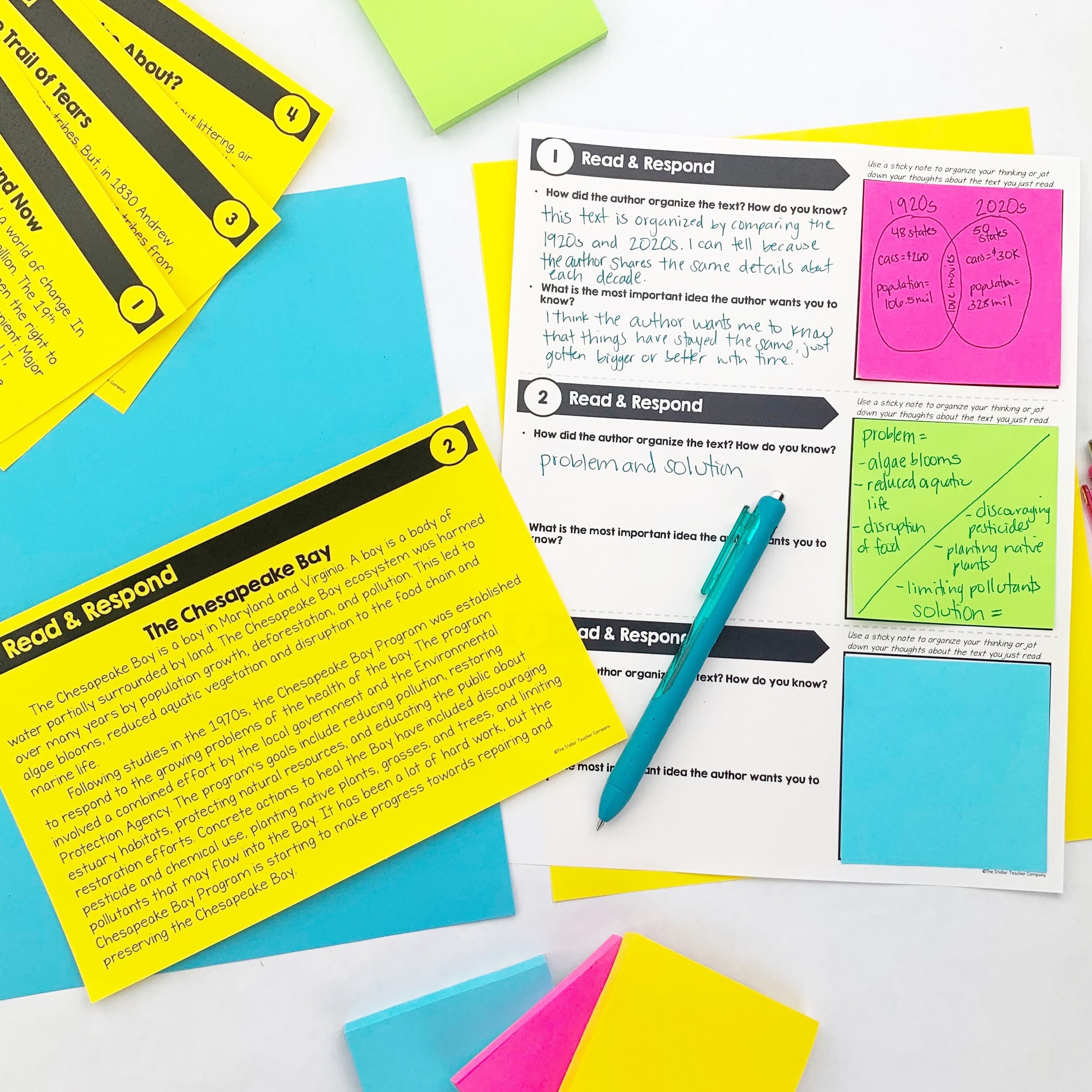 Tip #3: Focus on Students' Thinking and Making Connections
Many task cards focus on multiple choice answers, which can be great in certain situations (like right before testing season), but if we are looking to improve reading comprehension, we need to make sure that the focus is not simply on the right answer, but also on the students' thinking about the answer!
So, if you are using task cards that box students into choosing a correct answer, I would recommend asking them to also jot down how they decided on that answer so you can see their thinking. The real teachable moments are pulled from that bit of student writing!
I love giving students sticky notes or other places for them to stop-and-jot their thinking about the text. Even if they have to answer the multiple-choice or open-ended question, giving them the space to share their thinking and any connections they made to the text can be beneficial.
Tip #4: Reuse Task Cards for Multiple Skill Practice
I love when I can create, find, or buy a resource and figure out how to use it in multiple ways in my classroom. And task cards are some of the best resources to use and then reuse over and over and over again. One of the best ways to utilize task cards is to use them to help teach and practice more than one reading skill.
Let's say you found a set of task cards that were created to help you teach your students to focus on character traits and feelings. You printed and prepped those task cards and used them for your lessons on analyzing and describing characters.
Well, why don't you also use that same set of task cards to also teach your students how to identify the theme and how to summarize fiction stories.
If the task cards had characters, that means they were probably fictional stories… and if they were fictional stories, then you can use them to teach a whole long list of other reading skills.
And the benefit of re-using the task cards is that students are already familiar with the stories/texts and can focus their energy on the new skill. It's also a way to help them practice close reading skills.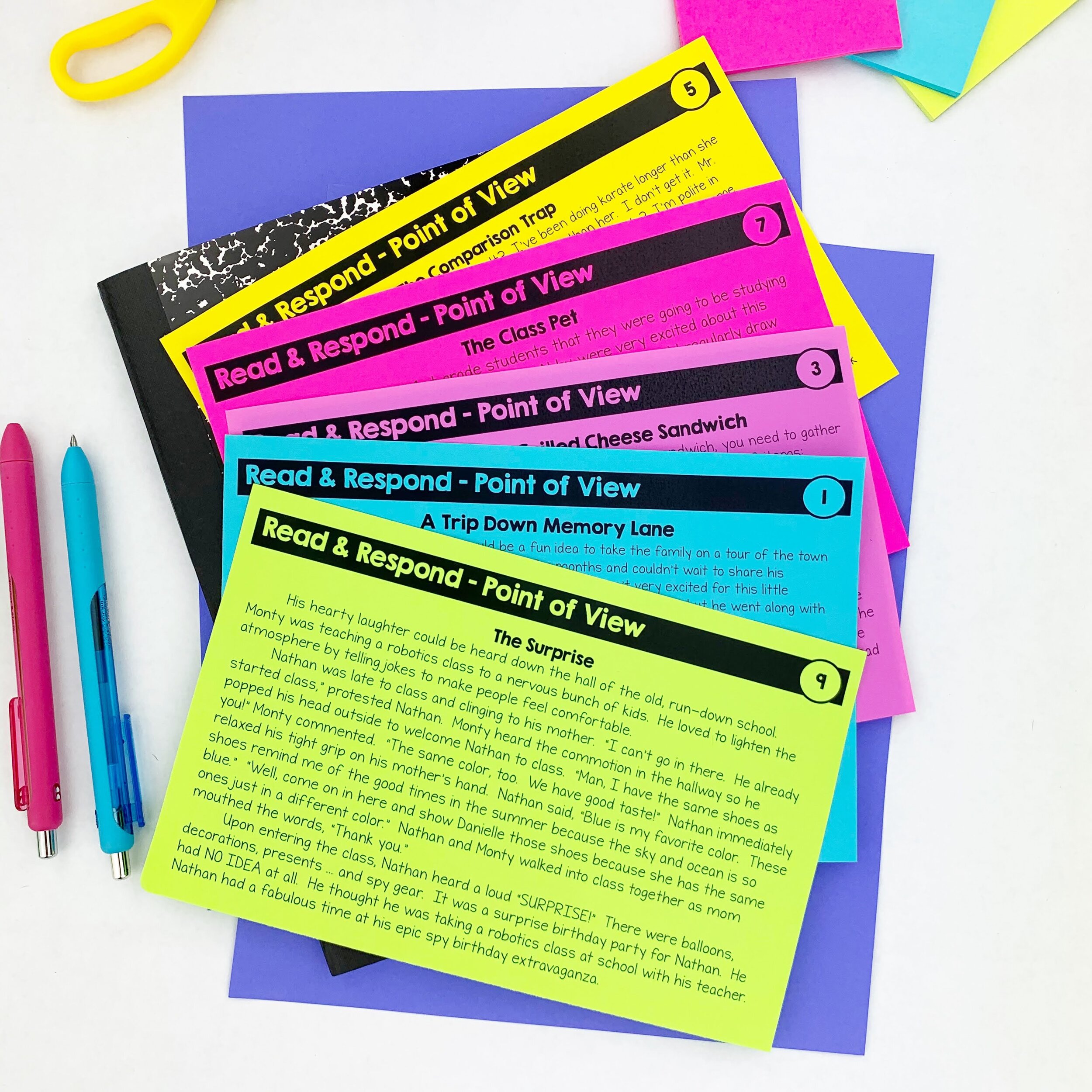 Tip #5: Use Task Cards for More than Just Independent Practice
Because the texts on task cards are short and skill-based, they are perfect for independent practice. But if you want to help students improve reading comprehension, you can use them for so many other parts of your reading block.
Use them during small strategy groups. I love using task cards during strategy groups! Since they are short and skill-based, they are the perfect tool for your small group lessons.

They are also great for independent reading conferences. If you struggle with getting conferences in that are meaningful, because you're not hearing your students read leveled, targeted texts often enough, re-purposing task cards are a great way to work that in, without spending too much time!

You can even use them during your mini-lessons. We typically think of using picture books for the mentor text during our mini-lessons, but you can use any text that will help you model the objective for your lesson. Sometimes it can be really helpful to model new learning to students with a variety of texts. If you plan on having students students practice using task cards, then consider using them every now and then as part of your whole-group model.
Put it into practice…
So hopefully, you have a few ideas on how to use reading task cards to help improve reading comprehension.
The first step in getting started with applying these ideas to your classroom is to make sure that you have a set of reading task cards. If you don't, you can find a whole bundle of task cards in my TPT store.
Once you have your task cards, pick just one of these tips to get started with. You don't have to do all five to start seeing the benefits. So pick one tip and plan on implementing it this week with your students. I would love to hear which tip resonates with you the most. Let me know in the comments below.
Happy Teaching!
---
Grab your free reading challenges!
Reading Challenges
Reading challenges are such a fun way to motivate and encourage students to read. With this free download, you'll get three of my favorite reading challenges: Read-At-Home Challenge, Genre Challenge & 30-in-30 Challenge. Are you and your students up for the challenge?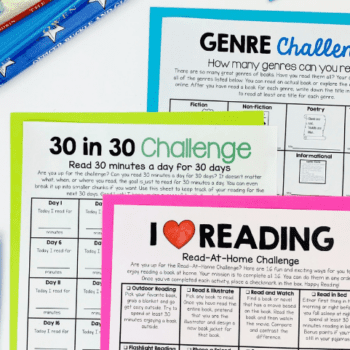 ---