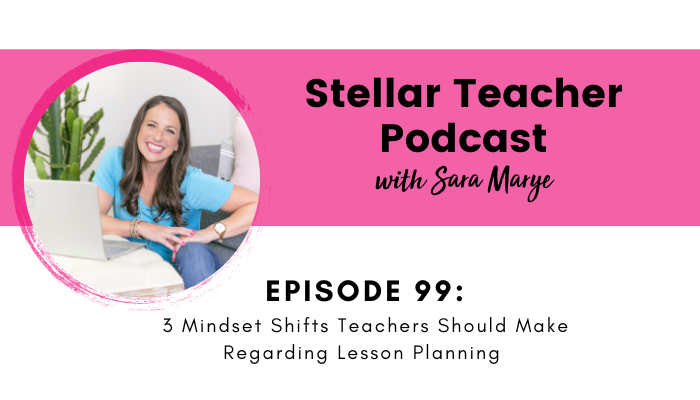 Click play below to hear 3 mindset shifts teachers should make regarding lesson planning:
Here's a question for you. Do you know how much time it takes for you to do all of your lesson planning for the week? And then, if you know how much time you're spending, how do you feel about that number? For most of us, we're either spending too much time or more time than we'd like to be spending.
Therefore, I'm doing a two part mini series all about lesson planning. Particularly in this episode, I'm sharing 3 mindset shifts teachers should make regarding lesson planning.
Unfortunately, lesson planning is a necessary evil for teachers. It's something you have to do and is beneficial, but the amount of time it takes is a problem. Instead, not only do we want to feel good about the amount of time lesson planning, but also feel good about the output and quality of our lessons.
And that starts with our thoughts. Before diving too deep into the mindset shifts, I focus and provide background information on how our thoughts ultimately drive our actions. While this concept can also be applied to life and other circumstances in our life, it coincides well with lesson planning and our thoughts surrounding it.
Ultimately, there are 3 common limiting beliefs (thoughts) that directly impact the amount of time we spend lesson planning. With each limiting belief, I provide a mindset shift, or replacement thought, that helps you start to think more positively about lesson planning. I also give insight as to why you might be thinking this way and provide tips and strategies that will help you with your lesson planning process. Those 3 limiting beliefs are:
My lesson plans need to be perfect in order for them to be effective

I don't trust myself to create effective and impactful lesson plans

I have to work nights and weekends if I want to get everything done
The negative connotation of lesson planning can be changed to a positive connotation with your help. In order to make that happen, you need to actually work on retraining your brain so that the replacement thoughts provided in this episode become an automatic reaction when you think about lesson planning. When doing so, you will have a complete mindset shift that will have a positive effect on how you think about lesson planning going forward.
In this episode on 3 mindset shifts teachers should make regarding lesson planning, I share:
Tips and strategies that will assist you with your lesson planning process
Background information on the power our thoughts have
Why perfectionism, confidence, and work-life balance all contribute to the amount of time we spend on lesson planning
Replacement thoughts on the three limiting beliefs about lesson planning
How to gain more of your time back instead of spending it on creating lessons
Resources:
Related episodes and blog posts:
Connect with me:
More About Stellar Teacher Podcast:
Welcome to the Stellar Teacher Podcast! We believe teaching literacy is a skill. It takes a lot of time, practice, and effort to be good at it. This podcast will show you how to level up your literacy instruction and make a massive impact with your students, all while having a little fun!
Your host, Sara Marye, is a literacy specialist passionate about helping elementary teachers around the world pass on their love of reading to their students. She has over a decade of experience working as a classroom teacher and school administrator. Sara has made it her mission to create high quality no-fluff resources and lesson ideas that are both meaningful and engaging for young readers.
Each week, Sara and her guests will share their knowledge, tips, and tricks so that you can feel confident in your ability to transform your students into life-long readers.
Tune in on your favorite podcast platform: Apple, Google, Amazon, Spotify, Stitcher, and more! If you're loving this podcast, please rate, review, and follow!
Podcast (stellar-teacher-podcast): Play in new window | Download