I love the quote "Kindness is contagious." It reminds me that I need to be intentional about not only spreading Kindness to others, but teaching my students how to be kind as well. I love that part of our job as teachers, is helping our students learn how to be awesome human beings.
Last year I did a 30 day Kindness Challenge with my students when we returned form winter break. It was such a great way to start our year. For 30 days we all focused on being intentionally kind to our classmates. We would start our morning meeting with a discussion about kindness. Students worked their way through a Random Acts of Kindness bingo board. We did daily shout outs of students who were exceptionally kind. AND there were even some secret mission kindness challenges sprinkled in during the month. My favorite thing about the kindness challenge is that its impact went well beyond the 30 days.
Implementing a Classroom Kindness Challenge is a great way to teach your students what true kindness is, and it encourages them to be kind to their family, friends, classmates, and neighbors.
How to start a Classroom Kindness Challenge
If you are thinking about doing a classroom kindness challenge, and I totally think you should, here are some things you might want to consider.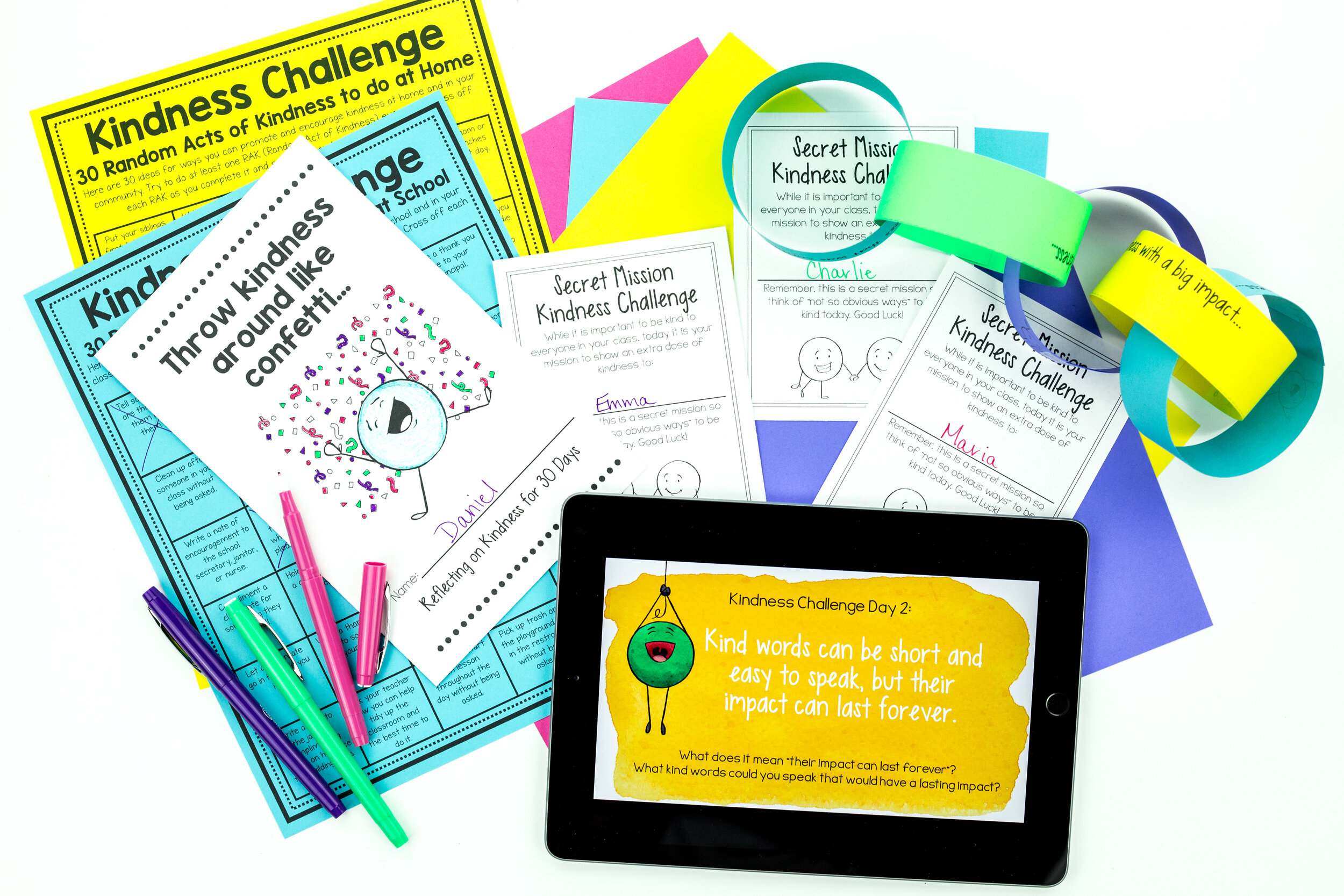 Get your students excited
Believe it or not, you will have some students who will be reluctant to jump on board with your kindness challenge, or they might just be a little apathetic about the idea of spending 30 days putting other's needs before their own. One way you can combat kindness apathy is to get your kids super pumped up about the Kindness Challenge. I like to start a countdown a week or two before our Kindness Challenge begins. Before I even introduce it to my students I'll start by writing something like "10 days until our Kindness Challenge" on the board. Of course students notice this and want to know what a Kindness Challenge is. I try not to give them all the details right away. I usually wait a few days until they are begging to know about this mystery challenge I keep talking about. Then, I will let the cat out of the bag and tell them all the wonderful details about our Kindness Challenge. We continue to count down until the day our Kindness Challenge begins. I also like to do a big Kindness Challenge Launch. You could bring in balloons or confetti (after all, they do say, throw Kindness around like confetti). Anything that will make your students excited about the idea of spreading kindness.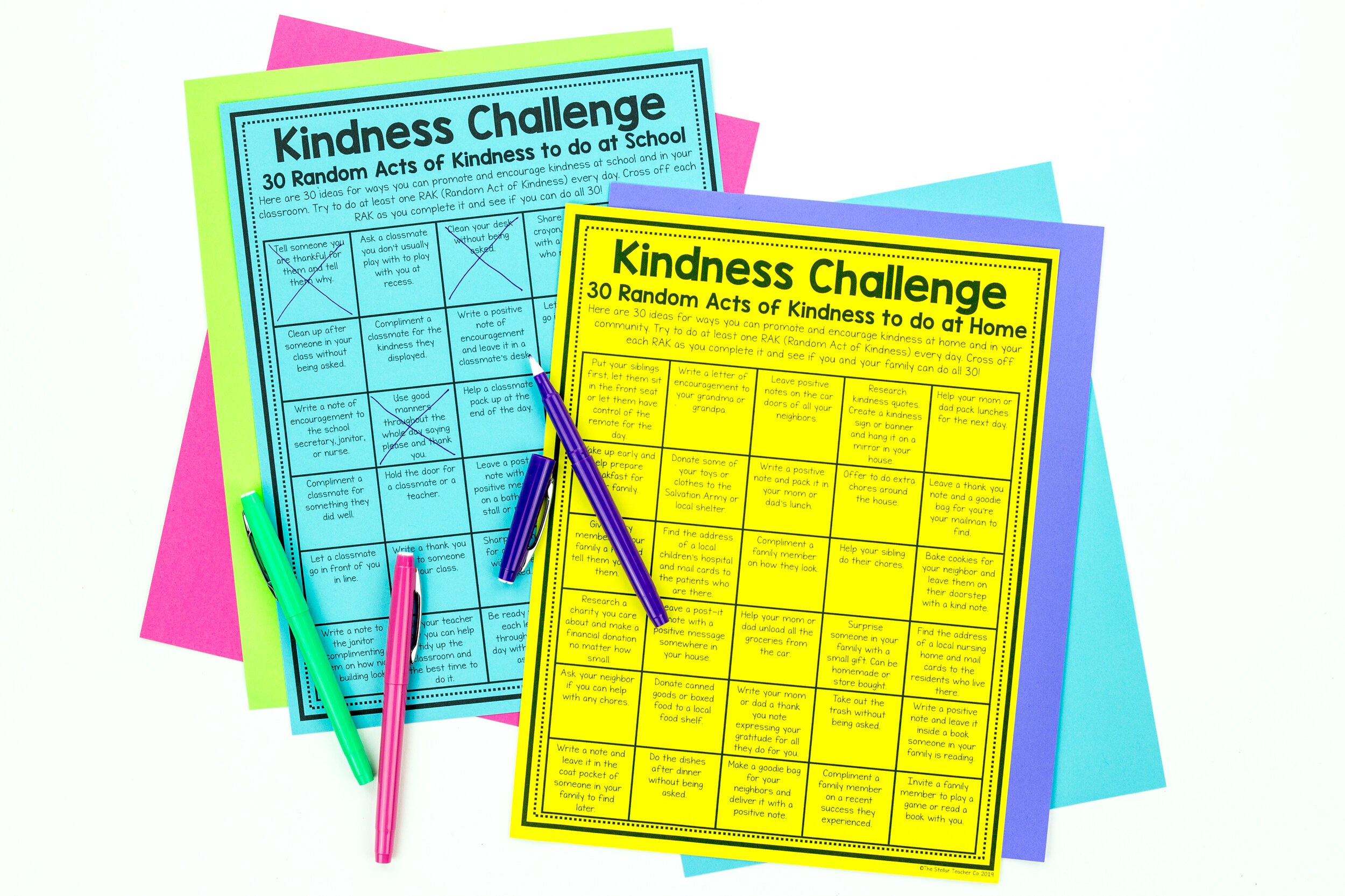 Communicate with your parents. Parent investment is huge with everything we do. Your kindness challenge will be more successful at school if you loop your parents in to what you are doing. I suggest sending home a newsletter or an e-mail letting them know all about your Kindness Challenge. Let them know what it is, when it starts, and how they can help at home. You might even want to encourage your parents to have their own Family Kindness Challenge. In my Classroom Kindness Challenge resource I have a parent letter that I send home along with a Random Acts of Kindness to do at Home Bingo Board. This is a great way for families to support what you are doing at home. I had so many families tell me they loved working through the bingo board as a family while we were doing our kindness challenge in the classroom.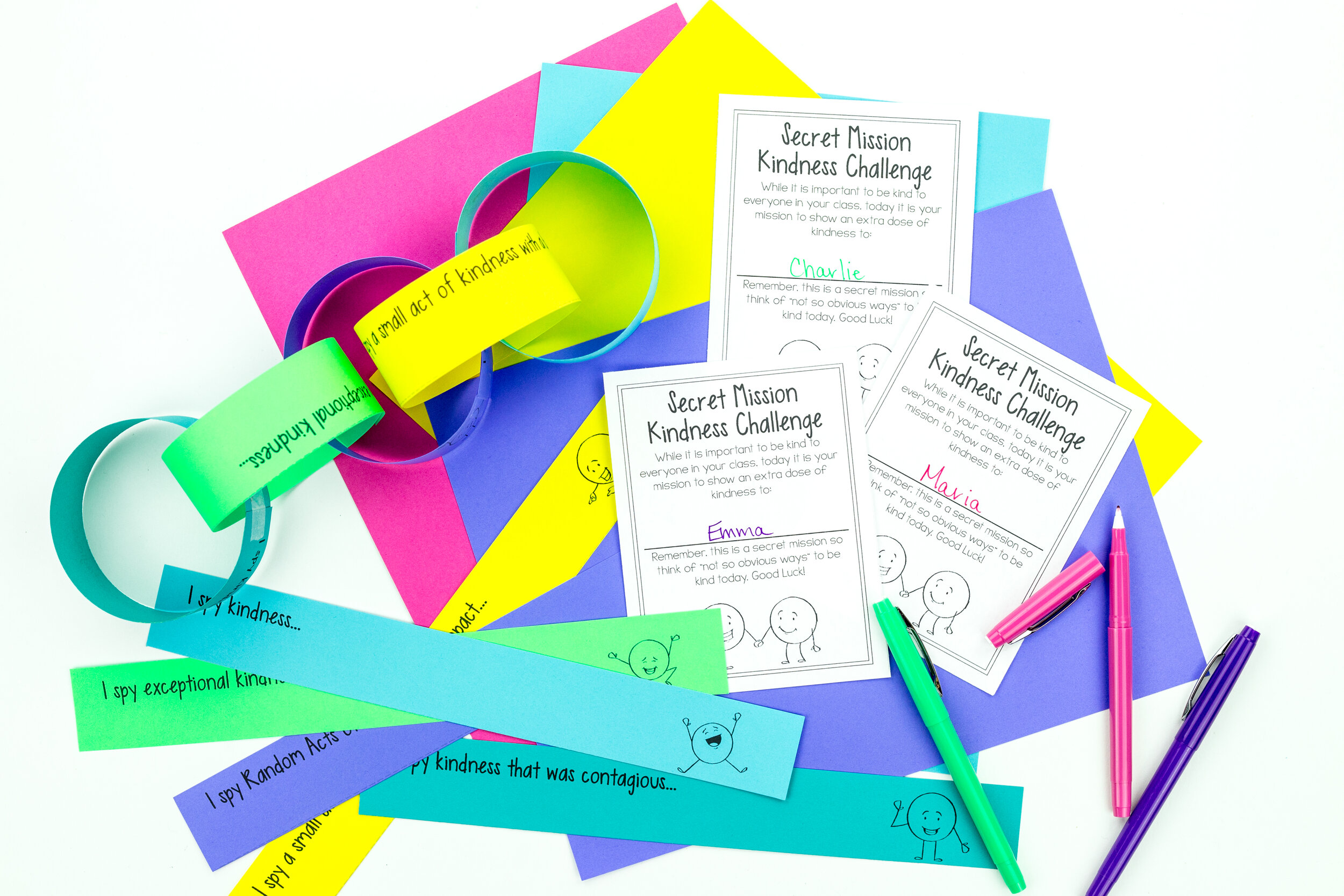 Keep it Student Centered. Don't forget that your students are the whole reason why you are doing a kindness challenge in the first place. You want them to embrace kindness. I like to put a few kindness routines in place during our kindness challenge to help my kiddos get inspired. One thing I have available are "I spy Kindness" notes. I have these sitting on a desk or table somewhere for students to grab. Anytime they see a student being kind they fill out one of the notes. I like to have students share them at the end of each day and then we add them to a class paper chain. This is a great way for students to affirm their classmates. And as our paper chain grows we have a visual of how much kindness our class is spreading.
Another thing I like to do is give students "secret mission" cards. I have all my students write their name on a post it note or a special secret mission card. Then I let students draw a card. It is their mission to be extra kind to that person, but in a very secretive way. This is so much fun. Students will leave sweet notes of encouragement, let their classmates go ahead of them in line, play with new friends on the playground. It's really fun to see how students make this kindness challenge their own.
Last year I had a group of girls that would stay back in the classroom at the end of the day and would place a post it note on every students desk where they would write a personalized note of encouragement to that student. The best part was this was a daily routine that lasted until the end of the year. I had a few students that kept all those notes and took them home at the end of the year. It was so sweet to see how this Kindness Challenge transformed our classroom.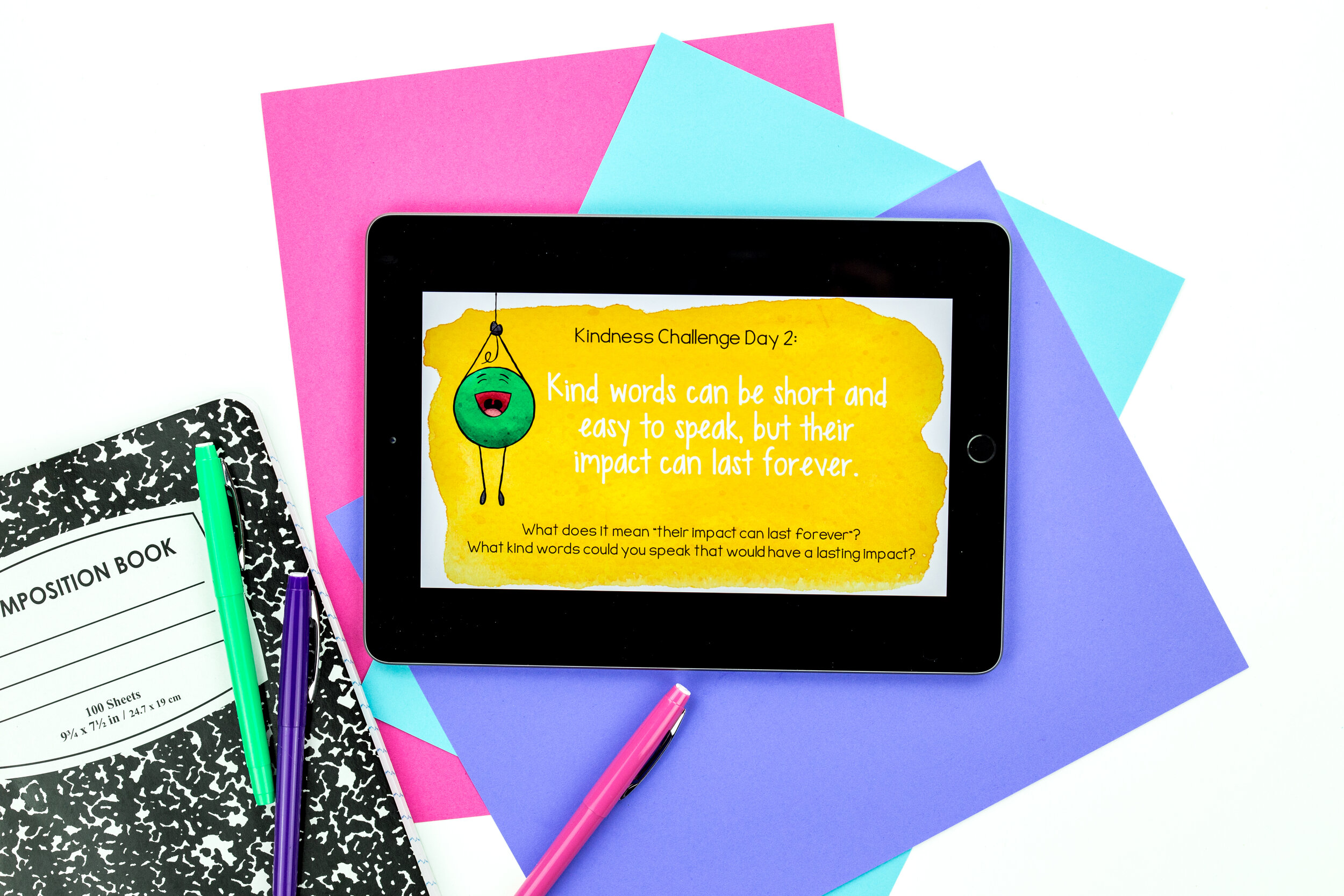 Check in daily. The longer your challenge is, the more important it is to check in with your students each and every day. When I did a Kindness challenge with my students, we would begin our morning meeting every day with a kindness quote and a discussion on kindness. This daily check-in was a great time to talk about what real kindness is. We talked about what it means to be kind with our words. How to be kind in the way we treat others. We even talked about ways we can show kindness to ourselves. I felt like this daily discussion is where the transformation really took place. This conversation is what motivated the students to follow through with their secret mission cards and to complete their Random Acts of Kindness Bingo Board.
I hope you are getting excited about implementing a kindness challenge in your classroom. Keep in mind, there is no wrong way to spread kindness. But I do hope some of the ideas I shared in this post will help you and your students kick-start some kindness in your classroom. Regardless of what your classroom kindness challenge looks like, remember that your kiddos will be better people because you took the time to teach them to be kind.
---
Grab Your FREE Gift!
Mini Lesson Planning Pack
Do you need some help planning your reading mini lessons? Grab this free teacher planning pack to get started. You'll get an easy to use mini lesson plan template, a set of sentence stems to help you plan each part of your mini lesson AND you'll get 3 sample mini lesson plans that are already scripted and ready to use!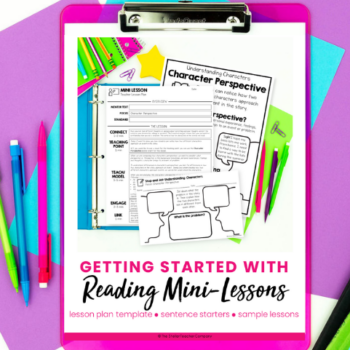 ---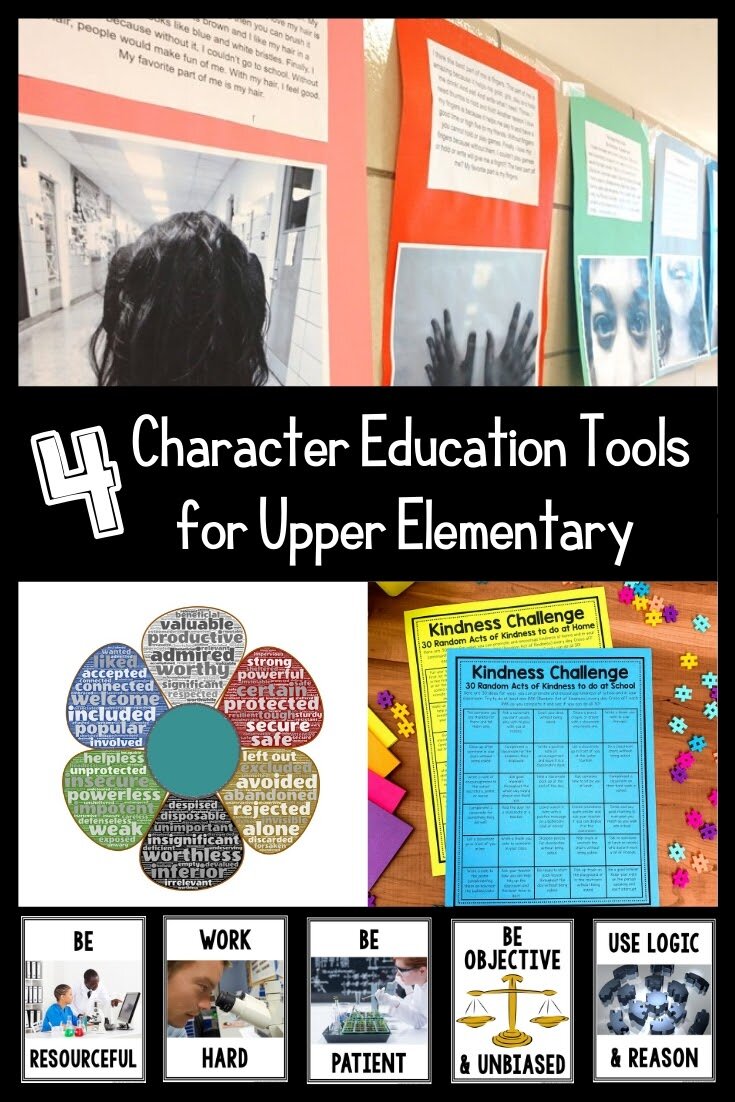 Character education is more important now than ever! Check out these other free ideas for your upper elementary students and let us do the planning for you!
Increasing a Positive Self Image through Writing // Samson's Shoppe
The Importance of Character // Tried & True Teaching Tools
Character Education in STEM Classes // Feel-Good Teaching