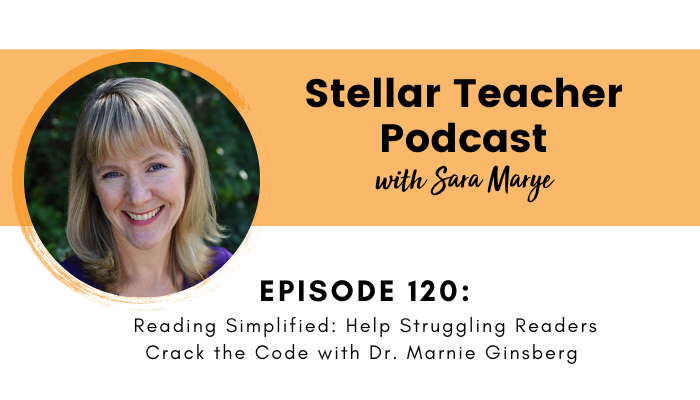 Click play below to hear how reading simplified can help struggling readers:
Struggling readers. Unfortunately, this is a reality that all teachers face, yet many don't know how to fix. Whether teachers weren't taught how to teach the proper foundational skills, their district doesn't have a reading program, or a combination of both, helping struggling readers can be a tough task. 
Although I enjoy talking about all things literacy, I love bringing on experts in the field to help fill your teaching toolbox. So in today's episode, I'm talking with literacy expert Dr. Marnie Ginsberg on her reading program Reading Simplified, to help struggling readers get back on track. 
Dr. Marnie Ginsberg created this research-based program, Reading Simplified, based on her own teaching experience in secondary education, when she learned the majority of her students were reading significantly below grade level. Her highly-rated program starts with the foundational reading skills that struggling readers don't have. Dr. Ginsberg does a phenomenal job at giving us an in-depth look at her program and how to effectively implement it in the classroom. 
In an ideal world, all of our students would be reading at or above grade level. However, we know that's not the case. With the implementation of Reading Simplified, Dr. Ginsberg's approach to teaching reading will help your struggling readers and get on the fast track to reading success!
Meet Dr. Marnie Ginsberg
Dr. Marnie Ginsberg
Dr. Marnie Ginsberg is the founder of Reading Simplified, whose mission is to support busy, overwhelmed teachers learn a research-based system of effective and efficient instruction that accelerates all students' reading achievement. Marnie's surprise at finding so many of the middle school students in her classroom reading well below their grade, spurred a passion for finding and disseminating solutions. What followed included private tutoring, university research, the creation of an evidence-based reading program, and ultimately the development of Reading Simplified.
In this episode on reading simplified, we discuss:
The inspiration behind Dr. Ginsberg's reading program
Dr. Ginsberg shares a detailed explanation of her program Reading Simplified
A new reading approach: say, spell, read
Simple suggestions on how to help your struggling readers
Related Resources:
Related episodes and blog posts:
Connect with me:
More About Stellar Teacher Podcast:
Welcome to the Stellar Teacher Podcast! We believe teaching literacy is a skill. It takes a lot of time, practice, and effort to be good at it. This podcast will show you how to level up your literacy instruction and make a massive impact with your students, all while having a little fun!
Your host, Sara Marye, is a literacy specialist passionate about helping elementary teachers around the world pass on their love of reading to their students. She has over a decade of experience working as a classroom teacher and school administrator. Sara has made it her mission to create high quality no-fluff resources and lesson ideas that are both meaningful and engaging for young readers.
Each week, Sara and her guests will share their knowledge, tips, and tricks so that you can feel confident in your ability to transform your students into life-long readers.
Tune in on your favorite podcast platform: Apple, Google, Amazon, Spotify, Stitcher, and more! If you're loving this podcast, please rate, review, and follow!
Podcast (stellar-teacher-podcast): Play in new window | Download
Prefer to read? Open the transcript here!
Sara
You're listening to episode number 120 of the Stellar Teacher Podcast. Hey there friend. Wouldn't it be nice if teaching reading was simple? I've said it before and I will probably say it many more times on this podcast. Teaching reading is hard, and you guys are doing an amazing job.
Sara
There is so much that goes into it from phonics, to vocabulary, to language structures, to comprehension. And as teachers, we need to figure out how to teach all of these literacy concepts to our students in a way that makes sense to them and helps them figure out how to decode and understand and discuss any text they are reading.
Sara
And while I try to use this podcast to share strategies and tips that make your job a little bit easier, there are so many experts in the field of reading that are doing the exact same thing. And I always get so excited anytime I can bring on literacy experts who can continue to fill your teacher toolbox with tips and strategies that will make your job of teaching reading just a little bit easier.
Sara
And today we have an amazing guest expert. Dr. Marnie Ginsberg is the founder of Reading Simplified, and her mission is to support busy, overwhelmed teachers learn a research based system of effective and efficient instruction that will accelerate all students reading achievement. Sounds amazing, right?
Sara
Well, all of this started when Marnie was surprised to find out that so many of her middle school students in her classroom were reading well below their grade. This gave her a passion for finding and sharing reading solutions. And after that, she started doing private tutoring, university research, and ultimately, she ended up creating an evidence based reading program, which is now known as Reading Simplified.
Sara
And I am so thrilled that Marnie was willing to come on this podcast and talk about an approach to teaching reading that will help your struggling readers get on the fast track to reading success. Now, throughout this interview, Marnie mentions several free resources that she is sharing with my podcast audience, so be sure to check out the show notes after you listen to this conversation to grab those downloads. Let's go ahead and get started.
Sara
Hi, Marnie. Welcome to the show. I am so excited to have you here today.
Marnie
It's great to be here, Sara. Thanks for the opportunity.
Sara
Absolutely. So before we jump into our conversation, can you just take a minute to tell my audience a little bit about who you are and what you do?
Marnie
Well, I am a wife and a mother of three girls, including some in college. And I have been a passionate educator for over 20 years. And I started out in the public schools as a middle school high school teacher. And when I found out my kids couldn't read, and I didn't know what to do about it, I kind of got obsessed about this issue of how, how is it that we weren't teaching our children to read easily and what's the most efficient way to do it?
Marnie
And that led me to do some private tutoring, go to grad school, get a doctorate along the way, create a reading intervention that was funded with a lot of money from the Institute for Education Sciences here in the US. And we saw great results. And that's now on the What Works Clearinghouse. And so I was excited about that. But it didn't actually make a difference other than the few schools that we went to.
Marnie
So then when my husband had a job change, I started Reading Simplified, which is a professional development approach to helping teachers of beginning or struggling readers of any age, learn a streamlined system for getting kids back on the road to reading really rapidly, and also had to help the teacher learn the system rapidly because I realized through all those years of tutoring, and reading the research and doing that intervention work at the University of North Carolina, that it's really a dissemination game.
Marnie
And I'm so excited that Reading Simplified is since 2016 ish has made an impact in in all over the world. And we're seeing lots of teachers learn more about how to efficiently teach kids how to read and learn about the science of reading. And it's fun to hear their successes, and then how they're adapting it to their situations. Like I said, from places all over the world, from the Cook Islands to California.
Sara
It's always so cool just to know, like, how big of an impact you are having. And I love, I always love hearing educators stories just about like, what is it that led them to this, this place where they're at. And and for me to see here, it's like, okay, you started off as middle school and high school teacher, which most of the time, I feel like when you go into that sort of area of education, you don't think that you're going to be teaching little ones, how to actually read exactly.
Sara
You know, because of your daughter's, you know, sort of struggles with reading, like, look where you're at now, and the impact that you're having on education. So that is so cool. And I know, you mentioned a little bit about Reading Simplified, and you know, that Academy, can you give us a little bit more sort of like a background on like, how that specifically helps teachers and students when it comes to learning how to read,
Marnie
Right. Well, for decades, now, we've had two big movements of how to teach kids how to read words. And that's been whole language, which morphed about 20 years ago into something that's been called balanced literacy. And then there's also been a strand of systematic phonics instruction, and even a couple of varieties of that.
Marnie
But as a lot of folks have still found that their kids are not doing well with with either, and we know that systematic phonics is definitely going to get the kids back onto the path. But most teachers in the classroom right now, we're not taught these basics about the code and how to reveal the code to beginners or struggling readers of any age in college.
Marnie
And that's, you know, like my kind of shock. When I encountered middle school students who couldn't read and I didn't know what to do about it, many, many teachers all over the world are have been going through that same thing.
Sara
I mean, I remember when I, it's been a minute, since I went through my education program, but I remember just the shock of my first year or two of teaching, and I was like, wait a minute, like the majority, the majority of the things that I was tasked to do are not things that I actually was taught in college.
Sara
You know, it was a lot more like theory, and not practically, it's like, great, I have a kid that is struggling with reading, and I am clueless, and the you know, scripted out curriculum my school provided me is not doing the job. And so I'm not shocked to hear that because I know that so many teachers experiences, which is why I love that you have a program like this to support teachers.
Marnie
Exactly. And so how are you going to learn a whole new paradigm while you're on the job? And now more than ever, it's a crazy job. We're asking teachers to move mountains with the with our children.
Marnie
And so we have a service called the Reading Simplified Academy, which is a membership where teachers come in and the first thing we ask them to do is go through a main course, it's just eight to 10 hours of video watching. And along the way, they learn our streamlined three part lesson plan and our diagnostic thinking approach.
Marnie
So this three part lesson plan is just rereading for fluency, a handful of word work activities, and guided oral reading. And as they learn just a few things that are very powerful and comprehensive, they learn about the science, but they also are learning how to implement and as they go through the course, they learned the first activity and one of our most influential ones, we call it switch it.
Marnie
Teachers have have adopted that widely, or something like it. So that's how it's influential, but also when we see kids who are struggling or just beginning their journey, it just unlocks so much for them. So it's a very pivotal activity.
Marnie
So in the main course, for instance, the teacher would learn how to do switch it, they would watch videos of a teacher and practice with it how to give feedback, and they would get wordless and letter sound cards. And then we would encourage them to go try it with at least one student, and then come back and reflect on it in our online discussion board. And then continue that same cycle of professional learning that's based on their real life with their kid in their classroom, or if they're, you know, at home, teaching their own child or tutoring.
Marnie
And then they would add back into the cyclical format. The next activity which we call reader, which is reading a word and writing and saying the sounds at the same time, they would watch the videos, get the materials, test that with a child along with switch it now building up their lesson plan, reflect on it in the teachers lounge and continue through the cycle.
Marnie
And it's we we really only have a handful of activities at the word work level in this three part lesson plan, build it or switch it, read it, sort it and write it. And that is about it. And so each of these activities are super powerful because they integrate multiple sub processes simultaneously. So busy teachers do not have to learn 100 cool activities.
Marnie
There are an infinite number of cool activities out there. But if you know your student has a blending problem, having 10 to choose from is actually not helpful. Yeah, it's much more helpful to have one that will work immediately and know which one it is because you don't have time for all the decision making. And so that's the path, we encourage teachers to go through that training, it's on their own.
Marnie
Of course, schools can do this in community and it's even more powerful when they do that. And then all along the way, we have this discussion board where we have Reading Simplified experts, including myself, giving people feedback, so clearing up misunderstandings.
Marnie
But more importantly, saying like, how am I going to help Maria with this issue? You know, she's a second grader, and I don't know what to do. Well, this is the Reading Simplified framework, these are our diagnostic questions is this help fit into your circumstances with Maria so that you know what to do tomorrow? And again, we know from the professional development literature that this type of ongoing embedded student focused coaching is what can actually help busy teachers.
Marnie
They don't need to sit in a hotel ballroom for three days straight, and then come back and try to implement it with their child and really not know, or their students and really not know, how am I going to make it fit with this problem A, B, and C that I've gotten my context?
Marnie
And so after that main course, we continue to support teachers both through the discussion board, which we call the teacher's lounge, and also ongoing trainings. We have over 35 hours of archived one hour workshops, plus we do live workshops and office hours where we have like Q&A, so that the, the learning is ongoing, and hopefully does not become overwhelming.
Marnie
Some of the PD options that are out there that are even being mandated by you know, entire states are 100 to 200 hours of P D. And sometimes it's not even connected with a particular curriculum, and particular some, you know, embedded, student focused coaching. So we're aiming to, to solve some of the major problems that we know teachers have, they don't have a great curriculum, they don't have a diagnostic thinking process, because they weren't taught that in college, and then they don't have time to get Master's in linguistics.
Sara
Well, it also sounds like it's really like bite sized, you know, it's like so often teachers go to PD, but then they don't have time to really process it and think about it and think about, okay, how am I going to take this new learning and actually put it into practice in my classroom? So it sounds like you guys have created a really great support system for teachers.
Sara
So one of the things that I know that you sort of talk a lot or support teachers with is this say. spell, read approach to reading instruction. Can you explain what that is to my audience?
Marnie
Sure, I'd love to. So this is a newer terminology that some of us in this community have similar approaches to teaching decoding and word identification have adopted because there is actually a little bit of a dearth of labels and discrimination among various phonics types.
Marnie
Another term that is maybe more well known would be speech to print. But that is often associated with Louisa Moats, very influential and important book, which does include some of these elements, but not everything. So that's not a quite a perfect overlap. And then in the UK, often times, they'll use the term linguistic phonics. And that also can really tie into what we're talking about.
Marnie
And I'll explain how, but also in the US, that used to mean let's teach phonics through word family. So there's some baggage there, because we're talking, when we say say, spell, read, we're talking about an approach to teaching kids how to crack the code that first begins with what they already know. They come to us knowing language. So we organize our code based on what they already know, which is language, they know words, and they know the sounds of those words.
Marnie
They may not have a sophisticated phonemic awareness drawn to their consciousness, but they certainly have a lot of phonological knowledge already they because if I say sit, they know it's different than pit. There's no confusion for your typically developing child, when they hear those two words, that's phonemic awareness. At some level, they just we didn't we need to draw it out.
Sara
Right, we need to acknowledge it. That's what that is.
Marnie
And so they have two components of a very influential word learning model, often called the Triangle Framework. And so the two of those points in the triangle are semantics or meaning. So what is it mean? And the other point is phonology or sound that sit is s-i-t okay. Those are two parts of the triangle that are pretty well established with any typically developing English speaker who's four or five, they have an amazing number of words already.
Marnie
So let's organize the code base on what they bring, which is organizing it by sound. And so we're going to tack on this new thing they have to learn through schooling which is called orthography, or spelling. That's the third point in the triangle. They don't know the spelling's or the phonics information. So we're going to organize the code based on sounds and the at the most fundamental initial level that means showing them how the code will works.
Marnie
The alphabetic principle is the first most important hurdle that kids can't accomplish when they're four, or five and six. And if they're not taught it, they go down squirrely paths, they come up with other explanations for how to explain the code. And that leads them to develop bad strategies.
Marnie
So when we started Reading Simplified one of these, say, spell, read approaches, we start with a word, a word the child already knows. Or maybe we define it, if they don't know the word map, or we talk about the word mat, I wipe my feet on the mat. Okay, what do you hear at the beginning of mat, so we're drawing their attention to sound.
Marnie
And in that activity is what we call a bill that I would be like pointing to lines on a board, or pointing to lines drawn to represent each three sounds on a cardstock or on a table. And so I'm drawing my finger dragging my finger across those three lines, as I say, What do you hear at the beginning of mmmat, and I'm trying to get them to realize that there's a mmm at the beginning.
Marnie
And that's not something that comes easily but it doesn't take much coaching with this type of elongation and exaggeration for them to realize, oh, yeah, I can pull that part. And, and if not, if they can't do it with a lot of coaching, then you just say, well, I hear mmm, can you hear mmm? Okay, we're on the right path.
Marnie
That's the first phoneme, they were taking the word they know, mat, and we're trying to help them notice the stuff that's actually already in the brain, because they know that mat is three sounds. They might not, they might not know his three, but they didn't hear them, right. Because they produce mat. And they know it's different from bat, or mit.
Marnie
And so we say, oh, okay, you've got mmm now which one of these pictures or spelling's and they would have a T and an A and an M on separate little tiles or cards, which one of these do you think is, mmm? And so now we're tacking on that spelling, we're starting to reveal the alphabetic principle by starting with what they know, meaning and sounds and then attach it to print.
Marnie
So we're organizing our phonics instruction in this say, spell, read approach based on the child and what they're already bringing to the equation. So they pick up in this example, the alphabetic principle much more quickly, because they're ready for it. Yeah. And so and not only do they pick up the alphabetic principle, they develops phonemic awareness more quickly.
Marnie
And they do this the knowledge of those individual sounds and words, they like I said, latently, they have mats, for instance, they have those sounds, but they don't really they're not aware that it's mm-at until we kind of draw that out and connect it to print print is a great tool for helping them realize that those sounds are there. In fact, it's kind of the only reason that we have developed it probably as humans, as far as we know, is to be able to read because that's how our code works. It's a code for sounds.
Marnie
So they keep going. Okay, what's the next sound you hear in mmmat? Okay, a you go through coaching or figuring out which one of these is a they pull down the and they say at and then what's the last one t? Yeah, let's check it what's each sound? Mat? Do you wipe your feet on that? Do you were you a good kid and wipe your feet on the, on the mat when you came in today?
Marnie
So that's just getting started. But I know, you know, you're working with many of your listeners are fourth or sixth grade teachers and and they're not worried about the alphabetic principle anymore at the same orientation that we have with a say, spell ,read approach, which is by sound, which is super helpful for these older kids.
Marnie
So how do you teach long vowels like OA and OE? Well, a lot of programs, in fact, the majority teach them in a drip fashion, randomly, OA on Monday, OW, maybe two weeks later, maybe three, three months later, O silent E or maybe it's O silent E it was first and O W much, much later. It's just random.
Marnie
That phonics approach is organized by spelling with an adult's lens on the code. And an adult can handle all of that, because they already have all the schema and they have all these interconnections in their brain. But for the beginner, it's pretty meaningless.
Marnie
So what if we said instead, this week, we're going to learn the o sound? Let's build some words that have the o sound and you build the word boat, but the O A is on one card or one tile, and then you build the word snow again. OW is on one tile. Oh, and they've built several words. And you say, Wow, did you know there are this many spellings of O?
Marnie
And so what we're doing right there is giving them the concept that one sound can have multiple spellings. A lot of teachers and a lot of programs are afraid of this because they think that kids can't handle that. And indeed, they cannot immediately learn all those spellings, but they can handle the concept.
Marnie
What I suggest we have right now with most of our phonics programs is kind of like teaching the solar system without ever showing a picture of the entire solar system. Okay, it's Monday I'm going to show you this planet. It's called Neptune. Let's learn a few things about Neptune. And you're not showing it in relation to Earth. You're not showing it in relation to the whole solar system.
Marnie
And maybe on Wednesday, we're gonna learn about Mars. You see, I'm kind of bouncing around. It's not even linear in terms of the way the solar system is organized. We don't teach anything else, haphazardly and randomly but we teach phonics information that way.
Sara
I love that sort of big picture perspective, like you said, because I feel like so often kids need to know where they're headed, and the sort of like purpose for this information, like, why am I learning this? And so yes, like, if we don't backup and show them the whole solar system, like learning about Neptune, or Mars is going to be meaningless if they don't understand how it connects to everything else.
Sara
And I think just you know, especially within literacy, everything is so connected, you know, phonics is connected to fluency, which is connected to comprehension and that's connected to writing. You know, everything is just connected, but we teach things in silos. So I love you know, that this is hopefully going to help teachers just like, see how things can be connected together.
Sara
I know one of the questions that I feel like I hear a lot from teachers, kind of, regardless of the grade, and you sort of mentioned this is that oftentimes the curriculum that teachers give, you know, is random. And so how can teachers figure out the best, you know, the sequence in which they should be teaching these things?
Marnie
Right. Well, we don't have definitive answers from research about the sequence of the code. But we do have some general ideas. And certainly, leading researchers have repeatedly said, Well, let's start with the basics, and gradually add more complexity. And I really liked the work of Diane McGinnis. And she wrote a book Why Our Children Can't Read in the late 90s, which had a huge impact on on my teaching ever since.
Marnie
And you can see the fingerprints all over Reading Simplified in a previous program I developed called the Targeted Reading Intervention. And she organized the code into basic and advanced. Basic code would be short vowels, consonants and consonant digraphs, like T H, or ck, or N G.
Marnie
So we begin our kids in that level, even if they're struggling, and maybe in fifth grade as a secure base, where there's some logic and reliability, more about the reliability really. So because those short vowels and one syllable words don't, they're not as squirrely as the other.
Marnie
But then we get pretty quickly right into advanced code, which would include all the vowel quirkiness that we have to cope with, which is what causes challenges with the English written language and reading it. So that would include long vowels like I just mentioned earlier, the O can be multiple spellings and diphthongs. The eer sound can be the earth and her or girl or earth or curl, or word, there's a lot of them.
Sara
We make it really difficult. I feel like well, Not we but the English language makes it really difficult for kids to master.
Marnie
This is why we have the fights in other cultures where the language is much more predictable one to one mapping, they go straight into teaching phonics and teaching kids how to blend sounds. And it's a it's a piece of cake. And in some European countries, they really learn how to decode in about a semester.
Marnie
I mean, they still have to take some time to become automatic, to get those words to stick into long term memory to become fluent. But yeah, it's the advanced code that has caused all of the problems for our readers, but also for our reading wars. And yet, it's not as complicated as we think because the brain is remarkably adaptable.
Marnie
If, if it's given this, the tools that are needed in a really great theory has been pretty well documented by David Shear called The Self Teaching Theory. And that is that once a child has sufficient phonics knowledge, phonemic awareness and a decoding approach, then they teach themselves a lot about the code.
Marnie
So with Reading Simplified to get back to that question about what the heck do we teach, and when we teach the basic code, which is you know, 26 consonants and some short vowels, a few more consonant digraphs not too much. They learn to quickly with our activities, like read it, and build it and switch it.
Marnie
And then we get into the advanced code, and we but we don't teach them every spelling for O, we teach them high frequency spelling, the most common one, exactly. OA, OW, O silent E and O by itself are the main ones and then some, we also throw in OE because it helps like with toe and Joe, it helps explain the separated e as well because they're kind of they're like brothers or sisters.
Marnie
And so we go from O, one week, it's next week when we teach E and in an organized way and kids would sort by spelling so they're reading all O words all week in their words work and in their guided oral reading and then rereading them so they're getting these o spellings in the brain and recognizing more and more O words.
Marnie
And then they're gonna go and do E and A, each new sound each week if they need to take a break and review that's fine, then we'll do I and then er an owl and oo and that's about it. I mean, we can do a couple more sounds but at this point they have a nice solid collection of phonics information. And if they've been given the strategy that they've been using all these weeks, for us, it's about 12 weeks.
Marnie
If everything goes along at a nice clip, of course, it's fine to slow down and repeat, but it could be as fast as 12 weeks. And then they are going to teach themselves most of the rest of the code. So the quirkiness is of OUGH, and all the things that can be, they will learn it in the context of print with the guidance of a teacher along the way.
Marnie
How many of you can remember, for instance, being taught in school that PT is to pterodactyl? I don't think ever, right? But you know it, how did you learn it? You learned it through reading, and maybe someone gave you some feedback.
Marnie
And I this is a tricky issue, because with the reading wars, we've been pushing against reading as natural versus reading as hard work. And they're both they both have some elements of truth. It is not natural, we have to be explicitly taught how the code works. But after a certain point, the brain actually picks up most of these patterns, and particularly all the irregularities that they come across on their own and even faster, of course, when someone's listening to them and giving them feedback.
Marnie
But I remember figuring out pterodactyl myself, and that was because I had the sufficient, as I said earlier with the self teaching theory, sufficient phonemic awareness, sufficient phonics knowledge and sufficient decoding strategies. And I had I had heard that word before. So there's also vocabulary in the mix
Sara
Background knowledge to it. Yeah, well, I was gonna say it's, I think, if anything, it's so encouraging to know that if we give our students a decent foundation in, you know, the area of understanding the code and having a strong phonics foundation, we don't have to teach them every single specific rule, because there are so many, but they will have enough tools to help them be able to read fluently and understand what it is that they are reading.
Marnie
And let me say there, Sara, I didn't quite kind of wrap it up with a bow. If a teacher has a curriculum, I mean, of course, we'd love for them to go try Reading Simplified. But if you have a curriculum already, you're not going to go do Reading Simplified, and it tells you on Monday to teach OA, just give them several of them all at once and have them sort by the spelling, they can handle it.
Marnie
Don't fret, even kids in special education, even four year olds handle it with enough repetition and then go read O sound things and maybe that means you just make up some sentence. The boat was stuck in the snow. And you throw in as many O spelling's in into a sentence that they read. And then they write and say the sounds as they do it.
Marnie
So when a child writes snow, and they say, oh, as they write that ows linking that information in their brain, and these things can be picked up. So you can basically accelerate your students and after COVID, there's nothing we need more than acceleration by just, okay, you're using the curriculum, but you're just adding to it.
Sara
Yes. And so I always say, yes, you're going to do the curriculum, and you're going to do maybe a few extra things. Okay, so knowing that, you know, this is sort of critical to the helping students develop the foundation, how so um, you know, I always think about like the upper elementary teacher, and if you're, you know, a fourth or fifth grade teacher, like, you sort of assume that your students come to you with this foundation.
Sara
But we all know that, like, that's not always the case. And we're gonna have students that even though they're in fourth or fifth grade, they are still struggling to figure out some of these common, you know, phonics rules and patterns. You know, how does this fit in, or any suggestions you have for teachers on how they can sort of backtrack and help their students build their foundation without maybe necessarily derailing?
Sara
Or, you know, it's like, it's such a sort of a pull of, I'm obligated to teach my standards, and I'm obligated to, you know, prepare my students for, you know, grade level content, but I'm also obligated to make sure that they can actually read and be successful. And sometimes the two don't mix well together.
Sara
So any suggestions for teachers that are sort of in that stuck place of I teach fifth grade, and I want to teach the standards, but I have kids that are really, really struggling, and I want to give them the tools to be successful.
Marnie
Right. And I know this from lived experience, because I had sixth grade students that were reading on the fourth grade level in the last year I taught before I took off into reading tutoring privately, I had two of my 80 plus kids that were reading couldn't actually even read it the first grade level.
Marnie
The day before school started back in the 90s, the principal said you're going to be in, you're going to be in it have an inclusion class this year. And it was like what's inclusion? That was all new and tell me what that is? I mean, I was supposed to read Adam of the Road with them, which was great. Love it. Yeah. Okay.
Marnie
So this is a very challenging thing. And I would love for our teachers to have the backing of their administration, that when they have a large number, or even one or two kids that are significantly below grade level, the most pressing need for that child is to be caught up with reading, it is the most essential thing for the, for the entire school day. Nothing else matters as much as let's catch that kid up.
Marnie
Because everything else depends on it in school and life beyond we know that the devastating impacts of not reading are, are so painfully well known, but we just kind of sweep them away or think, well, we have to stick with our schedule, or we have to do the curriculum, or we have to, you know, we don't have to, we actually have to teach the kids how to read.
Marnie
But I know teachers don't always have that freedom. So it is a challenge. I personally, I don't think I asked a lot about what I would do when my sixth grade, close the door and teach. But I didn't I just said, I'm not reading Adam of the Road at all. And I read most of the text aloud, like Where the Red Fern Grows, Great Gilly Hopkins, I read them aloud, and encourage the kids to follow along if they could.
Marnie
But I also taught, when I once I figured out how I taught some decoding. So I have some a couple of suggestions. Because again, I mean, I when I was a sixth grade teacher, I didn't know how to pinpoint what they needed. And I also don't even know their reading level, like I just had an end of grade test score, they were 1,2,3 or 4, but that doesn't tell you what they're reading at.
Marnie
So if you don't already have some kind of measure of their actual reading level, that's very helpful. So you could give an Informal Reading Inventory and just have them read something that's grade level and see what grade level they can comprehend at above 70%.
Marnie
Or we have the San Diego quick assessment on our site. That's just a list of words, it's been standardized. And so reading that list of words is pretty darn effective at predicting comprehension, even though you think there's so there's a lot of complexity to comprehension, but there's about a .8 correlation between reading list of words and comprehension. So finding their level.
Marnie
And then the other secret, if they're really below level, most likely, their foundational skills that we've been talking about are weak, the sound base decoding level. And so you can give a nonsense word assessment, which will totally reveal that because they cannot have memorized a nonsense word. So you're going to be examining what is their sound base decoding approach.
Marnie
And it's never more important that they have a strong sound based decoding approach than when they're in these upper grades. Because everything is a multi syllable word, you have to have very refined attention to the little parts of words, and know the code and know how to process it. And so it really does make a difference if they didn't get these skills solidly in kindergarten, first and second grade.
Marnie
We have a nonsense word in formal assessment on our site Reading Simplified if you could just search that under under tests and find that, and I can also give the link
Sara
I was gonna say we'll be happy to link to that in the show notes as well.
Marnie
Yeah. And so find out their level, find out if soundbase decoding is a problem, and by and large it is, of course, if they're English language learners, and there may be an entire language domain that you want to support. But my specialty really is that that word level and word identification level problem, which is so pervasive, and it's hidden.
Marnie
Because a kid with this problem might have memorized 1000 words, maybe even 2000. And so you listen to them read and they stumble over one out of 10 words, or one out of 20. And we haven't been taught enough to know that in fifth grade, that's not okay. It seems like they're doing okay. Oh, well. They're close. Well, no, they're not. Because a good fifth grade reader is 99%, probably 99.5 99.9%, right. And even when they do make a mistake, they figure it out.
Sara
I feel like information even like that, like that's something that I didn't even know. So it's like, it's helpful to have that information. It's like, wait a minute, you know, it's this idea of like, oh, yeah, they're close, they missed one or two, like, that's not bad.
Sara
But it's like, no, this is not like, this is not a spelling test. Is not you know, 90% is not like an A, right. So I think helpful, even just to know that it's like, okay, in fifth grade, they should be reading, you know, 99% of the words.
Marnie
Yeah, as a rule of thumb depends, of course, on the text. But just imagine if you were to open up the New York Times, and get confused, one out of 20 words, how much of that are you gonna keep reading?
Sara
First of all, and it's gonna impact your understanding of it, too, you know, whether it's the motivation or the comprehension, like, if you're not reading all of the words, you're gonna quickly drop out.
Marnie
So then if you find out you got these kids that are behind and some basic coding, if you can do a couple of things off to the side with groups that are kind of leveled by their the depth of their challenges, you can actually see an improvement as little as five to 10 minutes.
Marnie
I'm not, you know, if it's, it's a profound difficulty. I'm not saying that that's going to solve all the kids you know, if you're if you're like meeting at 85 kids or 120, and it needs something more than what the typical classroom teacher can do. But given that there's so much rigidity in most of our schools, I personally as a classroom teacher would still do what I could and so for me, that would mean playing that game, switch it.
Marnie
So putting letter sound cards on the board, like I described with the word mat, but just putting more of them up there and starting at a pretty high level. So you have stand, let's change it to, well I didn't come up with a good change.
Sara
We always have a hard time coming up, we should have these in front of me. I do this all the time.
Marnie
I'm like we're gonna go with a nonsense word let's change stand to stand and change stand to stent, which I think is a real word. And you could define it, you can elaborate it. And so they're moving these letter sound tiles around, and they're going to get better at processing sound symbol connections, phoneme grapheme connections, and this is what is missing and needed for multi syllable words.
Marnie
So play that game, kids think it's a game and you can do it in less than five minutes. I mean, the first few times, it'll take a little longer get your materials get the hang of it, once they get the hang of it, then you keep pushing ahead. Let's see if you could do five sounds let's do six sounds. And if you can do six sounds, let's do the nonsense words, like I said, and throw all the short vowels at them. Because these kids, they don't know the short vowels do they.
Sara
Oh yeah, I was gonna say it's amazing. At upper elementary, it's like, do you think that they can read the short vowel words, but in a lot of cases, they've memorized them, and they don't actually understand the vowel sounds that they that they make.
Marnie
And so that's one thing. And another thing that can be really helpful isn't to give them that advanced code knowledge that they don't have. And so it could be as simple as our sorted activity.
Marnie
We're going to read some words that have the o sound, they're going to read the word boat, and then they're going to put it in a column under OA, and they're going to say boat.
Marnie
They're going to read the word snow, and they're going to put it under a column, that's O W, and say snow, and they do O as in most and O as in tow, an O is in home. And they they add to that list a couple times, and they start to see oh, this is the O. And then ideally read something with that multiple spellings at their level, if you can find that type of material.
Marnie
Inside the Reading Simplified Academy, we have differentiated materials for kindergarten reading level up through fifth, which is basically includes most struggling readers, if you're a struggling reader, even in 10th grade, you probably don't do much better than about the fifth grade level, right? But other people have those materials. And you could even find some for free online.
Sara
Well, I love even to that is you know, I think so often we have this idea that like phonemic awareness is limited to like the lower grades like kindergarten, first grade, but like, even some of the examples that you shared, it's like we can still be developing, you know, their phonological awareness with multisyllabic words in the upper grades.
Sara
And just that repetition, and that constant exposure is going to help solidify this foundation that is so essential to you know, their reading success.
Marnie
And one of the other features of the say, spell, read approach is to integrate sounds and speaking and reading and writing in every moment. So all the words that you're teaching kids, and they're using, and you're putting up on the board, write them and say them.
Marnie
You know, integer, what is an integer? Let's talk about the meaning and let's write it in chunks. Maybe you separate it as I N, is that right? GER and then have them do the same thing. So they're tying the phonology that we began with to the printed word, instead of thinking, Oh, it's I N T, E, G, R, G, E R, that's not how the brain works.
Marnie
The brain does not work by memorizing letter names in a certain array it It hooks, the code that those symbols represent certain sounds. And so that you're already teaching vocabulary, make sure you're just layering in this connection, like the triangle, you're connecting as many times as you're teaching it and getting kids to do it, the meaning the spelling and the sound.
Sara
So it's just being a little bit more intentional about connecting those three things together. Yeah, no, I love it. And whether it is when they're focusing on their spelling words, or their vocabulary, hopefully, there's some connection between the two.
Sara
But you know, this sort of this say, spell, read approach can be I think, like you sort of showed us integrated into multiple parts of their instructional day and it's just sort of highlighting the process that students go to to really strengthen that foundation. So I love it. This is great. Sweet.
Sara
Well, thank you so much, Marnie for coming on. I just I love hearing you talk about the way that you support teachers. And I love this say, spell, read approach and how it can help whether you're a four year old or a fifth grader or a 10th grader who needs to strengthen your reading foundation. And so I know my audience has definitely benefited from your experience and your wisdom.
Sara
Would you be able to let my audience know where they can find you and connect with you online in case they want to learn more after this interview?
Marnie
Oh, I'd love that. So head over to readingsimplified.com And if you put readingsimplified.com\switch-it you can get a complimentary guide to learn exactly how to do that activity. Like I said, you can get it down to about five minutes. It will probably help every struggling reader that you have and the other perk is that they usually think it's fun.
Marnie
That's awesome. I'm also on many of the socials just at @readingsimplified except Twitter is @readsimplified. And I'd love to connect and and let me know if this what questions you have or what doubts you have.
Sara
Absolutely. We'll link to all of those in the show notes as well. But again, thank you so much for coming on today. This was a really fun conversation to have.
Kristen
I'm so glad thanks for the time, Sara, it's good to connect with you.