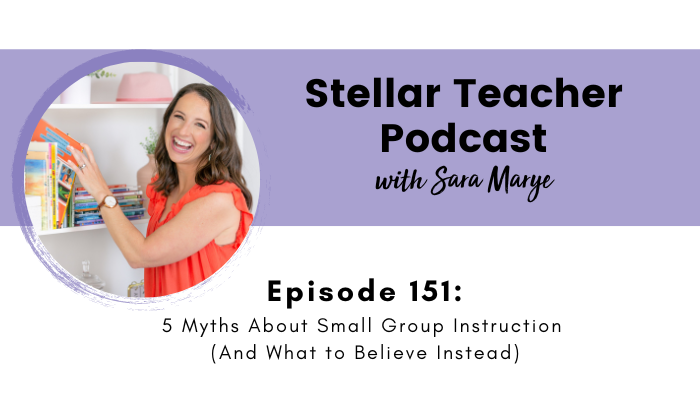 Click play below to hear ways myths about small group instruction:
The task of implementing small groups can be daunting and overwhelming, especially with all the misconceptions surrounding it. However, I'm here to tell you that small group instruction can be manageable and effective no matter what type of strategy or instruction you choose to use. To help convince you of that, I'm sharing 5 myths about small group instruction and the truths to believe instead. 
You've heard me say before that there's more than one way to be an effective literacy teacher, and that same philosophy applies to small group instruction. Many myths surrounding it include only one way of structuring small groups, but that's definitely not the case. There are many different ways to engage your students, structure your instruction, and meet when it suits your literacy block and students.
Although there are myths about small group instruction out there, you now know the truths behind the success and implementation of them. Remember to take advantage of things you can control and be strategic about planning and the prep of small groups and they will be effective no matter how you decide to do them.
In this episode on myths about small group instruction, I share:
Variables to consider when implementing small groups
What really might need to be fixed or adjusted if you say your small groups aren't working
What guided reading truly is in relation to small groups
Tips to make small group instruction manageable and easy to plan
Resources:
Related episodes and blog posts:
Connect with me:
More About Stellar Teacher Podcast:
Welcome to the Stellar Teacher Podcast! We believe teaching literacy is a skill. It takes a lot of time, practice, and effort to be good at it. This podcast will show you how to level up your literacy instruction and make a massive impact with your students, all while having a little fun!
Your host, Sara Marye, is a literacy specialist passionate about helping elementary teachers around the world pass on their love of reading to their students. She has over a decade of experience working as a classroom teacher and school administrator. Sara has made it her mission to create high quality no-fluff resources and lesson ideas that are both meaningful and engaging for young readers.
Each week, Sara and her guests will share their knowledge, tips, and tricks so that you can feel confident in your ability to transform your students into life-long readers.
Tune in on your favorite podcast platform: Apple, Google, Amazon, Spotify, Stitcher, and more! If you're loving this podcast, please rate, review, and follow!
Podcast (stellar-teacher-podcast): Play in new window | Download
Prefer to read? Open the transcript here!
Hey, there, friend. This week, we are talking about small group instruction. Specifically, I wanted to share five myths that I often hear in the teacher space that are connected to small group lessons. And of course, I'm going to sprinkle in some small group truths with you throughout the episode as well.
So let's just jump right in. Myth number one is, I have to do small groups in order to be an effective reading teacher. And here's the truth. Small group instruction is one of many strategies that can help your students grow as readers and as writers. But it isn't a requirement. And isn't the only way to be an effective reading teacher. You can be an effective teacher without pulling small groups.
Now, let me be clear, I think there are a lot of benefits to small group instruction. It's a chance for you to differentiate your instruction, so you can meet individual student needs, it's a chance for you to really get to know your students on a more personal level. It's a chance for the rest of your class to build independence and confidence working on literacy centers, or different assignments while you work with small groups.
And it's a chance for you to break down skills and explain them to your students in a different way than you explain them during whole group instruction. But small groups aren't the only way to be an effective teacher. And they aren't the only way to help your students grow as readers and writers.
And really, a lot of things need to be considered when you're figuring out small groups, how much time you have, number of students you have, the specific needs of your students, overall behavior of your entire class, access to materials. And depending on all of these variables, after you consider it, you might realize that your instructional time is actually better spent doing other things or focusing on other parts of your literacy block or other instructional approaches.
So yes, small groups can be really beneficial and really effective. But they aren't the only way. And if you decide that small groups are not the best use of your time during your literacy block, that does not mean that you are not effective, you are still an awesome teacher, even if you make the decision not to do small groups.
Myth number two, I need to do literacy centers if I want to run small groups. Here's the truth. Literacy centers are one way you can engage your students while you pull small groups. But they aren't the only way. And I think too often we associate small group instruction with literacy centers. And honestly, both can feel really overwhelming to teachers.
They were really overwhelming for me, at least when I was in the classroom. Introducing and setting up and managing literacy centers is a big task. There's a lot of planning involved. And if you want your kids to be independent, there needs to be a lot of training that goes into it.
And I think so often teachers say that their small group time isn't working, when really it's not their small group lessons that aren't working, but it's their literacy centers that might need to be adjusted or fixed. But like I said, literacy centers are just one way that you can keep students engaged during your small group lessons.
So if you've been avoiding small groups, because you're afraid of doing literacy centers, or if you've been doing literacy centers and realize that they aren't working as well as you'd hope and it's impacting your small groups, then let me offer a few alternatives.
Other things that you could have your students do while you pull small groups are independent reading, teacher assigned tasks or a modified easier version of centers. Something like giving your students a must to do may do list or choice boards. Centers can be great, but you can still have stellar small groups without doing literacy centers in your classroom.
All right, moving right along. Myth number three, I need to know my students reading levels in order to run an effective small group. And here's the truth. Grouping students by their reading levels is one way to form small groups, but it's not the only way. So I think when most people think of small group instruction, they think of guided reading.
And I think there's a lot of instances where we use those terms interchangeably. But guided reading is just one type of small group lessons you can provide to your students. Guided Reading is when you group students according to their reading levels. And in order to do this, you need to give your students an oral reading assessment and determine their specific guided reading level, it's going to be a letter.
Then you're going to place your students in groups with similar reading levels, and you're going to work through a text that is slightly more difficult than their current reading level. Now, a few things that I think are important to note, with all of the knowledge that we've learned with the science of reading research, we've discovered that guided reading is maybe a little less effective in the primary grades.
Because rather than grouping students according to their reading level, we want our beginning readers or students who are just learning how to read to be reading decodable texts and working their way through reading texts according to a phonics scope and sequence, which we typically don't get with guided reading texts that are leveled.
But in upper elementary, once students are fluent, then guided reading is still a really effective way to support students in small group lessons. But like I mentioned earlier, guided reading is not the only way. You could have a book club where your students are leading a discussion around a shared picture book or chapter book.
You can have a strategy group, which is one of my favorite ways to approach small group instruction, where you pull a small group of students who need practice with a specific skill or a specific standard, and they're only going to be a part of that group for maybe one or two lessons. Or even in upper elementary, you might realize that you need to have a guided phonics group where the focus for your lesson is on a specific phonics skill.
Now, none of these groups that I just mentioned book clubs, strategy groups, guided phonics groups, none of these groups require you to know your student's reading levels, yet, they can be a really effective form of small group instruction. You do however, usually need to have some sort of data to help you make decisions on how you're going to form your groups.
But you might use a weekly lesson assessment or a phonics screener, or some other form of data. Even an interest inventory can help you form a book club, you don't always have to use a leveled oral reading assessment to figure out your reading groups. It's one tool, just not the only tool.
Myth number four, I need to do small groups every day, more specifically, I need to meet with my struggling readers every day. And here's the truth. It would be awesome if you had time to meet with your students every day. But your small group time is really dictated by the amount of time you have to teach literacy.
And while small group instruction is important, and meeting with your students who struggle with reading is important, if you have limited time to teach all of your literacy concepts reading and writing, then there might be other things that take up priority during your weekly allotment of time. So you might only get to teach small groups two to three days a week. And here's the thing that I really want you to take away from this.
Even if you can only meet with students in small groups just one time a week, that one meeting is still worth you planning and facilitating that small group. Small group instruction doesn't have to be all or nothing. And you might have seasons of the year where you are able to fit in more small groups than other seasons. So do what you can with the time that you have and don't stress out if you're not meeting with your small groups every single day.
Okay, myth number five, small group instruction is overwhelming and takes time to plan. And here's the truth. It doesn't have to be. Yes, there's a lot that goes into planning a small group lesson, you have to plan your lessons and prep materials for your small groups. And you have to plan and prep materials for the rest of your class. So in a lot of cases, it can feel like you're having to double plan for the same amount of time.
But I truly believe that small group instruction doesn't have to be overwhelming to plan for. And let me share a few tips with you that I think will help you make it manageable.
First of all, use a similar framework for all of your small group lessons. This is going to make it easy for you to plan each lesson. And all of the small group lessons that we use for the teachers inside our membership. And we also have them on TPT. They also follow the same framework, and I call it the 4T model.
So for each of your small group lessons, regardless of the objective, you are going to target, teach, tackle and transfer. When you target you're going to be introducing the specific objective or focus for the lesson. When you're teaching, you're going to be spending just a few minutes using an anchor chart or some other visual to remind your students of the specific focus.
During the tackle section students are going to spend eight to 10 minutes where they're going to be reading a passage, filling out a graphic organizer, discussing a question, doing a word sort, whatever your objective is, they're going to get their hands on and practice it. And then transfer is where you're going to summarize your lesson, wrap it up and remind your students that they want to apply this specific skill when they're working or reading independently.
And like I said, you can use it with any objective. But having this structure for your lesson is going to make it so much easier, because you know how to set up and structure your lesson. And you're going to know exactly the types of materials that you need to be successful during your small group lesson.
Tip number two, give yourself a time limit when searching for materials. I think searching for materials for small groups can be a huge time suck. And my rule of thumb is that when you're planning and prepping for a lesson, it should take less time than it does to teach the actual lesson. So if your small group lesson is 15 minutes, then you should be able to plan for that lesson in less than 15 minutes.
And this means that you have to use what you have access to: repurpose texts and materials when you can, batch plan your lessons. And done is better than perfect. Don't feel like every single small group lesson has to be the best lesson, use what you have access to.
Tip number three, use a routine or a system for your literacy centers and your student independent work. Because if you're also having to plan for your students literacy centers, or their independent work, then you want to make sure that you can get that stuff ready as quickly and easily as possible. So whether it is a teacher assigned task, or a Literacy Center, try to incorporate routines as much as possible.
Things like Poem of the Week, Word of the Week, a task card that students have to read and respond to. These types of tasks are really easy for you to prep and the benefit of using the same routine over and over again with your students is that you won't have to explain new directions to your students each and every week.
So even though small group instruction can feel overwhelming, although I should say it is tempting that we think it should feel overwhelming, it really doesn't have to be. And so take advantage of the things that you can control, be really strategic about your planning and prep. And those things are going to help you eliminate some of the overwhelm when it comes to planning your small group lessons.
Now if you really want to make the planning and prep part easier, you might want to check out our small group lesson sets that we have available on Teachers Pay Teachers. They are also part of the Stellar Literacy Collective, so if you just joined us inside the membership, you also have access to these. And these are one of our really not just our members, but any teacher in our audience.
They are one of our favorite resources because they are ready to print small group lesson sets. And they include lesson plans and reading passages and graphic organizers. And we have a set for fourth and fifth grade. And this year, we are adding in a specific set for third grade. That would also work for remediation for older students.
And our lessons follow the same 4T framework that I mentioned earlier in the episode, the target teach tackle transfer. And they really save teachers a ton of time because everything is included the lesson plans, anchor charts, reading passages, answer keys, and they also help teachers feel more effective and confident.
I got a little bit of feedback from a teacher who use these with her students. And she said, "This was my first year actually feeling confident doing small groups, all thanks to this resource. This was an amazing purchase. Everything was well organized and the teacher lesson plans were so helpful. My students got used to the routine, so my small groups were actually effective. Also, the stories included were very high interest for my students. Thanks for making such a great resource and for making me confident in my small reading groups."
I will include the link to our small group lessons on TPT in the shownotes, if you want to check them out for this school year. But even if you don't grab the resource, I hope that you are feeling more confident with approaching small groups this school year. Like I said, I feel like when we think of small group instruction, there are some misconceptions that do float around the teacher space.
And I hope by listening to this episode, you can really lean into the teacher truths and feel a lot more confident thinking about small groups for this next year. So let's recap. Let me remind you, here are the truths that you need to remember.
Truth. Small group instruction is one of many strategies that can help your students grow as readers and writers. Truth. Literacy centers are one way that you can engage your students while you pull small groups. But they aren't the only way. Truth. grouping students by their reading levels is one way to form small groups. But it's not the only way.
Truth. It would be awesome if you had time to meet with your students every day. But your small group time is really dictated by the amount of time that you have to teach literacy. And our final truth is planning for your small group lessons doesn't have to be overwhelming or time consuming.
I hope you found this episode helpful. As always, I love connecting with teachers. So if you have a question or want to talk about something from this episode, don't hesitate to reach out to me on Instagram at @thestellarteachercompany. And I hope you have a great week and I'll see you back here next Monday.