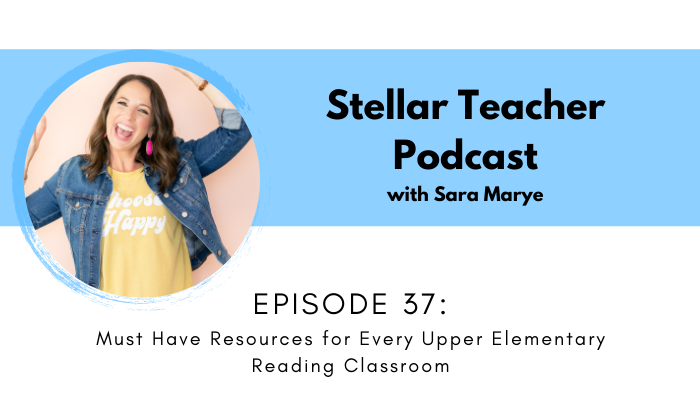 It's back to school time! This time of year always makes me so excited. As fun as it is, I totally know how many tasks are on your to-do list as you plan and prepare for your new group of students. Over the years, one thing I have found to be super helpful is having a solid list of go-to resources that can used over and over again in your reading block.
Today I'm telling you all about my top five favorite resources that should be in every upper elementary reading classroom. These resources will play a crucial role in helping you to create a highly effective AND engaging reading block. What makes them so great? They work in ALL parts of your reading block – during independent practice, small group, assessments, and even homework!
The best part is that by getting your students familiar with the same type of resource, it will become easier for them to truly use them as a valuable tool to practice important skills. This is the solution you need to eliminate the number of resources that you have to go searching for online time and time again.
In this episode I share:
5 must-have resources for every upper elementary reading teacher

4 things to consider when selecting effective resources

Why you need to look for reading response resources that are open ended

How giving your students multiple opportunities to practice skills will help to grow your confidence as a teacher
Resources Mentioned:
Connect with me:
More About Stellar Teacher Podcast:
Welcome to the Stellar Teacher Podcast! We believe teaching literacy is a skill. It takes a lot of time, practice, and effort to be good at it. This podcast will show you how to level up your literacy instruction and make a massive impact with your students, all while having a little fun!
Your host, Sara Marye, is a literacy specialist passionate about helping elementary teachers around the world pass on their love of reading to their students. She has over a decade of experience working as a classroom teacher and school administrator. Sara has made it her mission to create high quality no-fluff resources and lesson ideas that are both meaningful and engaging for young readers.
Each week, Sara and her guests will share their knowledge, tips, and tricks so that you can feel confident in your ability to transform your students into life-long readers.
Tune in on your favorite podcast platform: Apple, Google, Amazon, Spotify, Stitcher, and more! If you're loving this podcast, please rate, review, and follow!
Podcast (stellar-teacher-podcast): Play in new window | Download