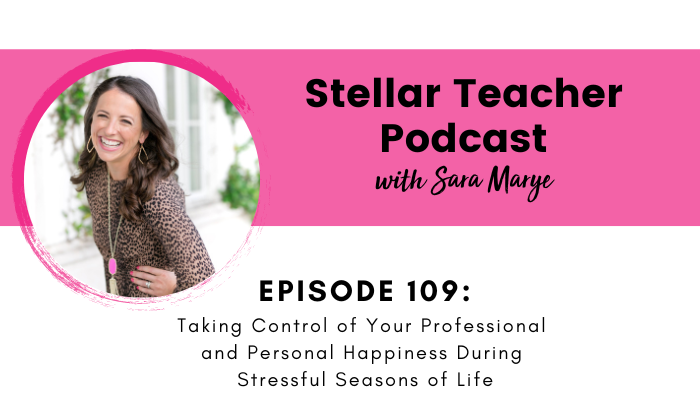 Click play below to hear how to take control of your professional and personal happiness:
In the spirit of Thanksgiving and being grateful and thankful, I first, am so grateful for each of my listeners on this podcast. Y'all are amazing and the reason why I get to do what I'm doing. And secondly, this time of year provides a great opportunity to reflect and evaluate your professional and personal happiness.
So we're going to take a short break from our regular literacy discussions, and focus on how to take control of your professional and personal happiness during stressful seasons of life.
While I always think it's a great time to check in with yourself and focus on your personal happiness, it's been an even bigger topic over the last two years.
With the stress of all that's been going on, it has put a strain on teachers, which can sometimes make it difficult to be happy and find joy. Therefore, I've implemented 3 happiness hacks that impact my overall mood, mindset, and require action in order to increase personal happiness. 
In order to be the positive and effective teacher you want to be, it's important to focus on finding your professional and personal happiness first. This time of year lends itself nicely when making personal happiness a priority in your life. You know I love supporting you in the classroom, but I also want to find ways to support and encourage you as a whole person, which is what I hope you take away from this episode!
In this episode on taking control of your professional and personal happiness, I share:
My own personal journey and struggle to find personal happiness during a difficult season
3 things that are important to understand about the idea of truly being happy
The powerful difference between the words should vs. could
Why doing what makes you happy every day boosts your overall mood 
A check-in on comparison and ways to focus more on yourself than others
Resources:
Related episodes and blog posts:
Connect with me:
More About Stellar Teacher Podcast:
Welcome to the Stellar Teacher Podcast! We believe teaching literacy is a skill. It takes a lot of time, practice, and effort to be good at it. This podcast will show you how to level up your literacy instruction and make a massive impact with your students, all while having a little fun!
Your host, Sara Marye, is a literacy specialist passionate about helping elementary teachers around the world pass on their love of reading to their students. She has over a decade of experience working as a classroom teacher and school administrator. Sara has made it her mission to create high quality no-fluff resources and lesson ideas that are both meaningful and engaging for young readers.
Each week, Sara and her guests will share their knowledge, tips, and tricks so that you can feel confident in your ability to transform your students into life-long readers.
Tune in on your favorite podcast platform: Apple, Google, Amazon, Spotify, Stitcher, and more! If you're loving this podcast, please rate, review, and follow!
Podcast (stellar-teacher-podcast): Play in new window | Download