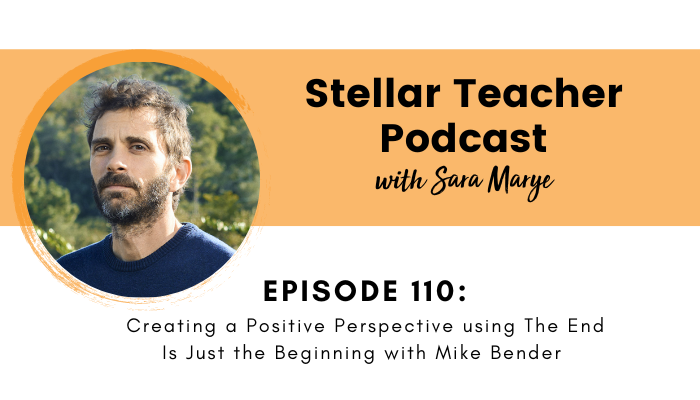 Click play below to hear a new perspective using The End Is Just the Beginning:
With the new year just around the corner, we often think of this time as a fresh start and a new beginning to something that is ending. But what if we applied that same logic to every ending that occurred in our lives? After reading the children's book The End Is Just The Beginning, you will start doing just that. Giving us more insight, I have the author of that book, Mike Bender, to help discuss how to create a positive perspective on any ending.
Throughout our discussion, Mike shares his personal journey and inspiration behind The End Is Just The Beginning and the new perspective he brings. While most view endings as final, Mike shows how they're actually transformative in a person's life. As a children's book, Mike writes in a way that helps kids grasp a difficult and familiar concept in a tangible way that makes sense to them, which is one of the many positive and important aspects of this book and lesson.
Endings aren't always easy to comprehend or accept, but it's really about how you view them that will get your through. Whether you're reading The End Is Just The Beginning to your kids, students, or even for yourself, you'll gain a new way to create a positive perspective on a difficult ending.
In this episode on how new perspectives using The End Is Just the Beginning, we discuss:
Mike shares his journey and personal inspiration behind The End Is Just the Beginning
How a new perspective bleeds into other positive changes in your life
Ways to view endings as transformative versus final
Be sure to follow @thestellarteachercompany on Instagram for a giveaway of The End is Just the Beginning on Friday, December 2nd
Related Resources:
Related episodes and blog posts:
Connect with me:
More About Stellar Teacher Podcast:
Welcome to the Stellar Teacher Podcast! We believe teaching literacy is a skill. It takes a lot of time, practice, and effort to be good at it. This podcast will show you how to level up your literacy instruction and make a massive impact with your students, all while having a little fun!
Your host, Sara Marye, is a literacy specialist passionate about helping elementary teachers around the world pass on their love of reading to their students. She has over a decade of experience working as a classroom teacher and school administrator. Sara has made it her mission to create high quality no-fluff resources and lesson ideas that are both meaningful and engaging for young readers.
Each week, Sara and her guests will share their knowledge, tips, and tricks so that you can feel confident in your ability to transform your students into life-long readers.
Tune in on your favorite podcast platform: Apple, Google, Amazon, Spotify, Stitcher, and more! If you're loving this podcast, please rate, review, and follow!
Podcast (stellar-teacher-podcast): Play in new window | Download
Prefer to read? Open the transcript here!
Sara
You're listening to episode number 110 of the Stellar Teacher Podcast. Happy Monday, y'all. Today's podcast is seriously going to be a lot of fun. I am interviewing Mike Bender, who is the writer of Not Another Teen movie, which I remember from back when I was in high school. And he's also the founder of the website, Awkward Family Photos, which my husband was a little bit jealous when he heard that I was interviewing him on the podcast.
Sara
But maybe more importantly, Mike is also a New York Times best selling author of some children's books. And he has authored a children's book that I really think should be read in every single elementary classroom. It is such a beautiful story. And his book is titled, The End is Just the Beginning.
Sara
And it is a wonderful illustration about how the end of something isn't actually the end, but rather just the beginning of what comes next. And Mike really believes that children and adults will benefit from learning how to view ends as transformative versus final. And in this podcast interview, he shares his personal journey that led to the writing of this wonderful story.
Sara
So if after hearing this episode, you are excited about getting this book, which I'm pretty sure you will be and you want to share it with your students, be sure to follow me over on Instagram at @thestellarteachercompany because this coming Friday, December 2, we're going to be doing a giveaway for Mike's book.
Sara
I really love this story. And I want to share it with as many teachers as we can inside of our Stellar Teacher community. So definitely come check us out on Instagram this coming Friday. And until then, let's jump into the interview.
Sara
Hey, Mike, welcome to the podcast. I am so excited to have you on the show today.
Mike
Hey, thank you. I'm really excited to be here. And I appreciate you letting me come on.
Sara
Yeah, absolutely. So Mike is the author of a really amazing children's book called The End is Just the Beginning and we're gonna go ahead and kind of talk all about that story, and the story behind writing the story. But before we get into that, could you just go ahead and give a brief introduction of who you are and what you do.
Mike
Absolutely. So my name is Mike Bender, I am a writer of many things. I think I've definitely crossed into a lot of different genres. But I started as a screenwriter in writing comedy. And I wrote a movie called Not Another Teen Movie, back in 2001, which is, which is lived on beauty of Netflix. And then in 2014 started a website as a kind of side project called Awkward Family Photos.
Mike
My father told me, it was a terrible idea. And with that, I launched it, and it ended up, you know, going viral at that time and still going strong today in 2022. So pretty amazing run that's had because I certainly never expected that to be anything more than just a hobby for a few months.
Mike
In the process of doing awkward family photos, I was lucky enough to do several books at Random House for awkward family photos. The first one was a New York Times bestseller. And we got to do a number of books there. And over that time, I had children. And I started my own family.
Mike
And of course, I started to read a lot of children's books. I've always been a huge fan of that space, and became even more obsessed when I had kids. And so I sat and thought about it all the time and I approached my editor and I said, Look, I have an idea, would you would you be open to me at least pitching it writing the manuscripts and sending it to you? And they were kind enough to say, yes, we'll take a look.
Mike
And I said if it's if it's no good, you know, I will never bother you again. And that was actually a book called The Book About Nothing, which crown at Random House ended up publishing about 3-4 years ago. And then after that, I brought them The End is Just the Beginning. So that's how I got here.
Sara
I love it. And just as a side note, I told my husband that I was interviewing the guy who founded awkward family photos, and he totally is like a fan. He's like, What is this? He's like, how do you get that guy on your podcast? Yeah, I love it. It's great. So okay, so The End is Just the Beginning, can you give us a little bit of a synopsis in case my audience has not read the book after they hear this podcast interview?
Sara
I'm sure they're gonna go get it. But give us a little bit of a synopsis behind what is the story about and then where did the idea for the story actually come from?
Mike
Yeah, so it's actually the most personal sort of project I've have I think I've ever worked on. The story is really about taking a different look a different perspective on ends for kids, I think that when you have kids, you see that the end of things are always for the most part, they're mourned, you know, it's the end of dessert, it's the end of playtime.
Mike
I don't want it to be the end, I wanted to kind of, and I think my head works this way, flip it and look at endings as transformational as something that you almost get excited about an ending, because you know, a new beginning is right around the corner.
Mike
And I think it was inspired by the fact that I've had Lyme disease since I was 11 years old. I got bit at that time didn't really manifest into anything at that time. But as I got older, I started to deal with more and more byproducts of the Lyme. And in my 30s, it got worse.
Mike
And then in my 40s when I wrote this book started to really affect me neural and a neurological way. And my kids started to see that their their dad couldn't do certain things anymore, I couldn't go out and play basketball with my son like I could before I needed to rest, or I just was having an off day, and I couldn't do any number of things or eat something or have ice cream with them.
Mike
And so, you know, like, of course, that sucked. And I spent a lot of time being very down about that. But ultimately, the way my head works, you know, trying to find the positive in that experience and thinking, Okay, what am I what am I, how am I learning from this? How am I growing?
Mike
And that was the big thing I took away from it. It's like, yeah, it's the end of certain things for me. But it's the beginning of an entirely new way of thinking an entirely new perspective and entirely new Mike, and an entirely new dad, who's going to be empathetic in ways that I never was before.
Mike
So that was the jumping off point. And that's what got me excited was to write something from that experience to really, really approach endings in a way that's, that's exciting. And I wanted it to be inspiring for anybody who is going through anything, doesn't have to be Lyme disease, anything that's difficult. Any life experience, that's difficult.
Sara
I love that. And I am so sorry that you've had to go through Lyme disease, I can only imagine that that's got to be really like just debilitating and frustrating. But I'm grateful that this story came out as a result of it. And I I've always been kind of like you, I feel like I'm just like a fan of picture books.
Sara
And I love being a teacher because it gave me an excuse to have a really big personal library of picture books. But when I read this book for the first time, I was able to make so many personal connections. I've just moved a lot in my adult life. And of course, anytime you move, you say goodbye to family, you say goodbye to friends, you say goodbye to a community.
Sara
And we recently moved, not recently, it feels very recent, we moved to Florida in the middle of the pandemic, which was such a hard move. But reading this I was like, Oh man, I wish I would have had this book back when we moved because it really does. It gives you such a different perspective.
Sara
You know, it's like we so often want to focus on what we're saying goodbye to and what we're leaving versus what is in front of us. Yeah. And I just think that, you know, giving that message in a tangible way that kids can understand is so powerful. But I guess I'm just like curious, because I feel like this is such a big sort of like story.
Sara
Why do you think it's so important for children and not even kids but like adults, for that matter, to view ends as transformational versus final? Like, why is this a message that you're like, No, this needs to be put out into the world?
Mike
Yeah. And by the way, I agree with you like this is not just a book for kids. I had several people in the in when book was first published, it was published right after the COVID thing kind of happened, which I thought was really interesting timing for a book like this.
Mike
But I had a number of people that were in either in hospitals, someone had cancer. I thought that was so beautiful, you know that it was resonating with everyone. It's a message like you said in moving that is relevant no matter what age you are, but I think the reason that I wanted to write it for children is because I think that ends get a bad rap.
Mike
And I also like the idea of tagging a kid sort of expectations about a concept or something and then just completely flipping in a way that they go, Whoa, I never thought about that. I always thought endings were a bummer.
Mike
And now, you know, when the end of something comes, I'm gonna get really excited because I know something's just over over the hill. And yeah, I think that was it. And obviously, you know, with kids, you're, it's not hard to want to write something that speaks to your own children. And in my case, I wanted them to see the endings in my life as positive and not as something to feel sad about.
Sara
Yeah, that's awesome. I love that. Practically speaking, has this story impacted your children's life? Or is this a maybe that's too personal to ask?
Mike
Not too personal at all. I think it has, I think that this whole experience for them of seeing me go through all kinds of crazy stuff. I mean, I won't go into the physical nature of it. But it's, it's pretty intense to be witness to. And I think having that book, it just sort of set the tone for the experience.
Mike
Like, number one, they know that dad is got a positive attitude about it, and is looking at it from a different perspective. And I think once you shift your perspective on one thing, you're able to shift your perspective on other things, too.
Mike
So instead of looking at other sort of bumps in the road, as negative, their heads now go to oh, what's the positive side of this? They're amazing. They're my muses. They're my angels. They're my inspiration. I'm always inspired by them with everything I go through.
Mike
So I think, I think just the process of seeing the book come together for them was really gratifying. And my daughter, who's, who's a really amazing, kind of budding artists herself, it just was so fun to kind of share that experience with her the illustrations and all of that, I just, I just love it this, this for me, like, yes, I've written the movie, I've, I've gotten to sort of experience a big internet type experience website.
Mike
But this is the most gratifying thing hands down that I've ever done.
Sara
That's awesome. And I love that you said that this is a shift that can have like an impact just on the way we think about about so many other things. Like it's not just about viewing ends as transformative versus final. But like this can change just our thinking overall.
Sara
I do think, though, that like this mindset shift, I feel like, especially for kids is probably something that might take more than just one reading of a picture book. And I certainly hope that like teachers, and parents will get this book and read it with their kids. And I hope they read it multiple times.
Sara
And I hope that this can be just like a jumping off point for that mindset shift to happen. But do you have any suggestions or tips like if teachers or parents really want to help their students embracing this way of thinking, like, what are some things that they can do or just conversations that they can have?
Mike
Yeah, that's such a great point. I mean, I've had the joy of reading this in front of a number of classes, you know, sitting with the kids, and I think that a book like this is natural for a discussion to follow.
Mike
What I was amazed at, in reading it to second graders, I think, third graders and fourth graders, is they all grasp the concept quite well. What's fun is when you get through the book to start saying, Well, what what endings can you think about, you know, that that actually aren't endings and the kids, the kids are pretty good at right away, just identifying something that happened to them that day or that week.
Mike
And then thinking about how there was something just right after that.
Mike
So I just think having a discussion about ends and beginnings. And every aspect because you really, I've thought about this a lot. As you can imagine, you really can't find an example or something is truly an end.
Mike
I mean, in the book, which I talked about, I sort of a joke that a dead end is not actually an end, because something always lies beyond the dead end. But you really can't find an example where you truly find an end. I mean, we could talk about even the end of your life.
Mike
And, you know, in my opinion, and without having to get religious or getting to anyone's beliefs. I don't think it's an end. I think it's the beginning of something else. We just don't know.
Sara
Yeah, I mean, I think it's just having that mindset of like, you know, there there are no ends. I feel like if anything, like it's such a hopeful and more like positive way to go through life and just experience the things. It's like, okay, this is just the beginning of whatever comes next. I love it.
Sara
Do you have a favorite example from the book that you wrote? There's so many like cute examples. As I was reading, I was like, Oh my gosh, this is such a good example. But do you have a favorite example that you included in there?
Mike
You know, the fun of writing a children's book, especially a picture book is you write it in you have like, you have sections that are your favorite, and then it gets illustrated, and that completely changes it because the illustrations just elevate it so much.
Mike
And I thought Diana, who who worked on this book did such an amazing job when I got the illustrations from her I was just blown away, it just it honestly brought a tear to my eye because if she just added there was there was real mood and tone to it in a way where maybe there hadn't been and just the manuscript.
Mike
But I love the image that she has for infinity, when they're kind of writing space. And we're talking about how the numbers just keep going that even infinity is endless. I just love that I love I love the visual love it. And I love just kind of thinking about that how those numbers just go on and on and on.
Mike
And that's, that's, that's a great metaphor for kind of each number is an end and each next one is the beginning.
Sara
That's awesome. Can we talk a little bit about the actual writing, editing and publishing process for the story? I feel like, you know, teachers read so many books to their kids.
Sara
And I think it's kind of interesting, when you can pull the curtain back a little bit to see it's like, Okay, how did how did this go from idea all the way to a book. So I know, you've mentioned that you already had a publisher, and you've already written a book.
Sara
So in this, you know, idea came about was it as simple as I don't want to be as simple because I'm sure it was not simple at all. But you know, what does that process look like of telling your publisher, I have this new idea. And then you know, the timeframe in terms of, you know, how many drafts did you have to go through in order for it to get to the final version that it is?
Mike
Well, I will say I had a wonderful editor, her name's Emily Easton, just very supportive of what I was sending her. And when I wrote The Book About Nothing, which was a similar kind of concept, and that the challenge of that book, while not being connected to my like, a personal experience for me, was I want to write a book about nothing. And how do you do that? How do you write? How do you write a book where nothing is something?
Mike
And so that was the that was the jumping off point. I actually didn't have much more than that when I started. But nothing is something was the was the hook. And I think that to follow it up, I wanted to sort of come up with another idea where we twisted something, or flipped something. And I didn't really know until life experiences happened to me. And then it just came to me. I mean, it wasn't even something I had to think about it just it hit me right in the face.
Mike
So I wrote the manuscript, I'd say pretty quickly, within within a week, I was able to get it all down. For me, it's like when stuff comes, it comes very fast. And it comes in a way that's almost stressful, because it's coming out so fast. And I'm like, slow down, I want to I want to breathe, but I got it down.
Mike
And I think I sent it to Emily pretty quickly. And she was just really, really supportive of the concept of the book. And so it that happened pretty quickly. And I can't say that 99% of the other projects in my life have happened. But but that one did come together really beautifully. So I'm grateful for that.
Sara
That's awesome. I'm gonna say, Are there any other children's books in the works? I know that you have done other writing things that you've had a few children's books, so anything else that you're working on, that you can share at least?
Mike
Absolutely. So I have a third book at Random House right now called Bored Panda, which similarly is sort of like flipping a concept in that there is a website that I'm a big fan of called boredpanda.com. I don't know if you've ever been on that.
Sara
I haven't, but I'm gonna go check it out when we finish.
Mike
They've been around forever. And what's cool about bored panda is they kind of made non viral content viral, if that makes sense. They get all of these artists from all over the world who do these incredible, weird, just things like people who sculpt the snow drifts that like stick to trees, after a snowfall, or you know, people that make art in coffee cups. It's the most obscure weird stuff. But it's amazing.
Mike
And so I started following them probably 12 years ago, and I've always been a fan and I wrote them and said, Hey, you guys have this panda character? What would you think about doing a children's book around this character? And, and imagine it sort of as like an uncurious George.
Mike
You know, what of boredom was the window into creativity? What of boredom? Is that, that window into really being passionate, inspired by things because you need to be bored. First. I think that's key to any artists that boredom has to come. And then the ideas start to come after that.
Mike
So that was the that was the way in and then it was just about writing it and it's about a panda who's bored and sort of loses access to his computer and his games for the day and has to go take a walk in the forest and he comes upon things that he thinks are very boring, but then comes to realize that actually by the end of it, and he meets all these different artists animals that by the end of it, he's actually inspired. And could it be that boredom is the key to not being bored.
Sara
I, I'm so excited to go read that book now. And I, I so appreciate that you one have this gift of writing and that the stories come to you, like you said, you know, a concept that is usually seen as something that is like negative or undesirable. And you sort of flip it on its head. I mean, boredom is usually one of those things that we avoid at all costs. But, you know, I think just hearing you talk about that, I'm like, Yeah, that's something we need to like, lean into a little bit more. So thank you, from the educators world that you are putting these stories out there because I know that they are definitely helping so many students and teachers for that matter.
Mike
Well, I mean, it's, it helps me too I mean, it, like I said, it's, this is just fun. And, you know, my own kids, I know, whenever they say to me, or bored, you know, my response has always been awesome. Go with that. Take that, do something with it. Go outside, let it lead you to something you never thought you were going to do. I mean, if you think about when you were a kid when I was a kid, that's how that's when you got into the coolest stuff is when you were bored.
Sara
Yep. We're outside making making forts playing in sandboxes, doing all those things.
Mike
Exactly. So I'm really excited about that. It's taken a number of years just to get all the pieces together, because there was the bored panda piece, and then just getting everybody sort of on board. But I'm really excited about that. And then, you know, I'm really intrigued by the graphic novel space. So definitely become more and more wired by that space, talking about ideas. You know, in terms of that, hopefully, hopefully, something's going out.
Sara
I love that. Well, this is the end of the podcast episode. However, hopefully it is the beginning of teachers continuing to follow you. Can you go ahead and share with my audience where they can connect with you online?
Mike
Absolutely. So you can find me at @IamMikeBender on Instagram. Generally the place to kind of what one I'm up to, and get the the most up to date news on on what's coming next.
Sara
And we'll definitely link to that in the show notes. So Mike, thanks again for being here on the podcast today. I love this story. And I'm just so excited for my audience to hear a little bit more about it.
Mike
Thank you so much. I really again, I really appreciate you giving me the opportunity to talk about the book and as we get towards the end of the year, I hope this will be on people's minds as we go into a new year.
Sara
Absolutely. Great to talk to you, Mike.
Mike
Okay, okay. Thanks, Sara.