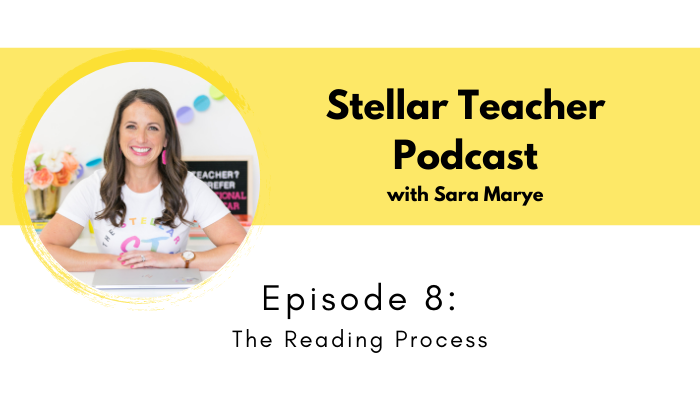 I'll bet that you and your students can name the five steps of the writing process. Brainstorm, draft, revise, edit, and publish! This is a process that kids are taught in school year after year after year. This constant exposure and step by step guide is one of the tools used to help students become successful writers.
Here's my big question: why don't we have a similar process for reading? Yes, we teach strategies for reading, but can our students name an explicit step by step process that they follow when they sit down to read? Probably not! The good news is that there are specific steps we can teach our students, it's just a matter of naming them in order and associating these steps with everyday reading.
In this episode I share:
I truly believe that if each student were exposed to this process year after year, it would help them become stronger readers who are more engaged in their texts. This 5 step reading process will make for a rich and meaningful reading experience!
Download your FREE reading process checklist here!
Resources:
Connect with me:
More About Stellar Teacher Podcast:
Welcome to the Stellar Teacher Podcast! We believe teaching literacy is a skill. It takes a lot of time, practice, and effort to be good at it. This podcast will show you how to level up your literacy instruction and make a massive impact with your students, all while having a little fun!
Your host, Sara Marye, is a literacy specialist passionate about helping elementary teachers around the world pass on their love of reading to their students. She has over a decade of experience working as a classroom teacher and school administrator. Sara has made it her mission to create high quality no-fluff resources and lesson ideas that are both meaningful and engaging for young readers.
Each week, Sara and her guests will share their knowledge, tips, and tricks so that you can feel confident in your ability to transform your students into life-long readers.
Tune in on your favorite podcast platform: Apple, Google, Amazon, Spotify, Stitcher, and more! If you're loving this podcast, please rate, review, and subscribe!
Podcast (stellar-teacher-podcast): Play in new window | Download