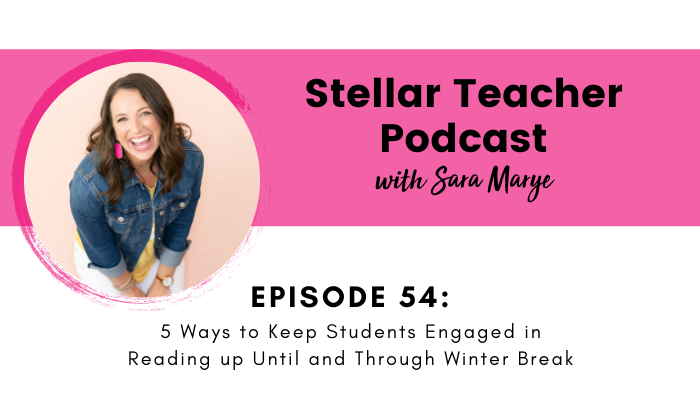 Hello my friends! I know the Monday after Thanksgiving can be difficult, so thank you for joining me whether you're driving to work or winding down afterwards. I hope you all had an opportunity to rest after a school year that has likely already proven to be challenging, a theme I've seen over and over again lately. With just about three more weeks until the next holiday, I'm here to help you keep your students on track and engaged!
I always found that the weeks between Thanksgiving and Christmas were the most difficult to keep students focused, especially during reading. Not to mention the pressure to have projects or activities to send home during the long break. Luckily I have created multiple resources and compiled ideas that will not only keep students interested at school but you'll also have the option to continue these activities during their time off, without putting extra work on you.
In this episode I share:
5 ideas for keeping students engaged during the holiday season
Activities you can start now that last through the new year
How to incorporate different topics and genres into the winter season
Ways to make learning fun with activities you already have in place
Related Resources:
Related episodes and blog posts:
Connect with me:
More About Stellar Teacher Podcast:
Welcome to the Stellar Teacher Podcast! We believe teaching literacy is a skill. It takes a lot of time, practice, and effort to be good at it. This podcast will show you how to level up your literacy instruction and make a massive impact with your students, all while having a little fun!
Your host, Sara Marye, is a literacy specialist passionate about helping elementary teachers around the world pass on their love of reading to their students. She has over a decade of experience working as a classroom teacher and school administrator. Sara has made it her mission to create high quality no-fluff resources and lesson ideas that are both meaningful and engaging for young readers.
Each week, Sara and her guests will share their knowledge, tips, and tricks so that you can feel confident in your ability to transform your students into life-long readers.
Tune in on your favorite podcast platform: Apple, Google, Amazon, Spotify, Stitcher, and more! If you're loving this podcast, please rate, review, and follow!
Podcast (stellar-teacher-podcast): Play in new window | Download