No matter what grade you teach or how long you have been teaching, I can guarantee you have had students who struggle with reading in your class.
In one of my most popular podcasts, I shared intervention ideas upper elementary teachers can consider if they have students who struggle with reading. It's helpful to have a bank of intervention ideas, but it's also helpful to know which ones will be most beneficial for our students.
Not all students who struggle with reading will benefit from the same type of intervention.
In this blog post, I outline seven attributes that students who are successful readers typically display. If we can identify which attribute your student who struggles with reading is missing, then you can easily identify an appropriate intervention to put in place.
Ideas to Support Students Who Struggle With Reading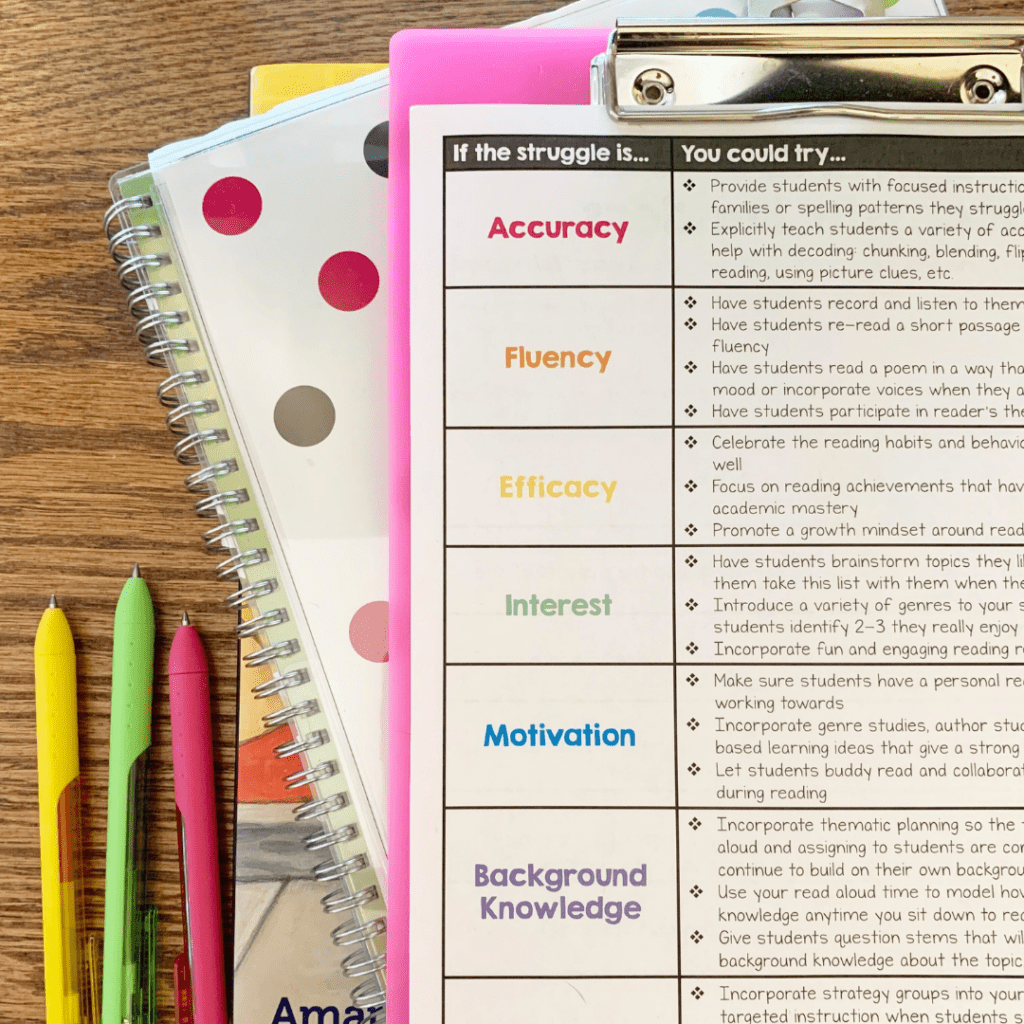 Accuracy
If you have a student who is struggling with reading, the first thing you want to check is their accuracy. If a student is struggling with accuracy, they are not reading the majority of words in a text correctly. It's easy to see how this would disrupt comprehension. If a student is struggling with accuracy, try supporting them by:
Explicitly teach syllabication in upper elementary to give your students tools to decode big multisyllabic words.
Providing students with focused instruction that targets word families or spelling patterns they struggle to read correctly
Explicitly teach students a variety of accuracy strategies to help with decoding: chunking, blending, flipping sounds, re-reading, using picture clues, etc.
Use decodable texts during your small group lessons so students can practice reading texts with phonics concepts they have been taught.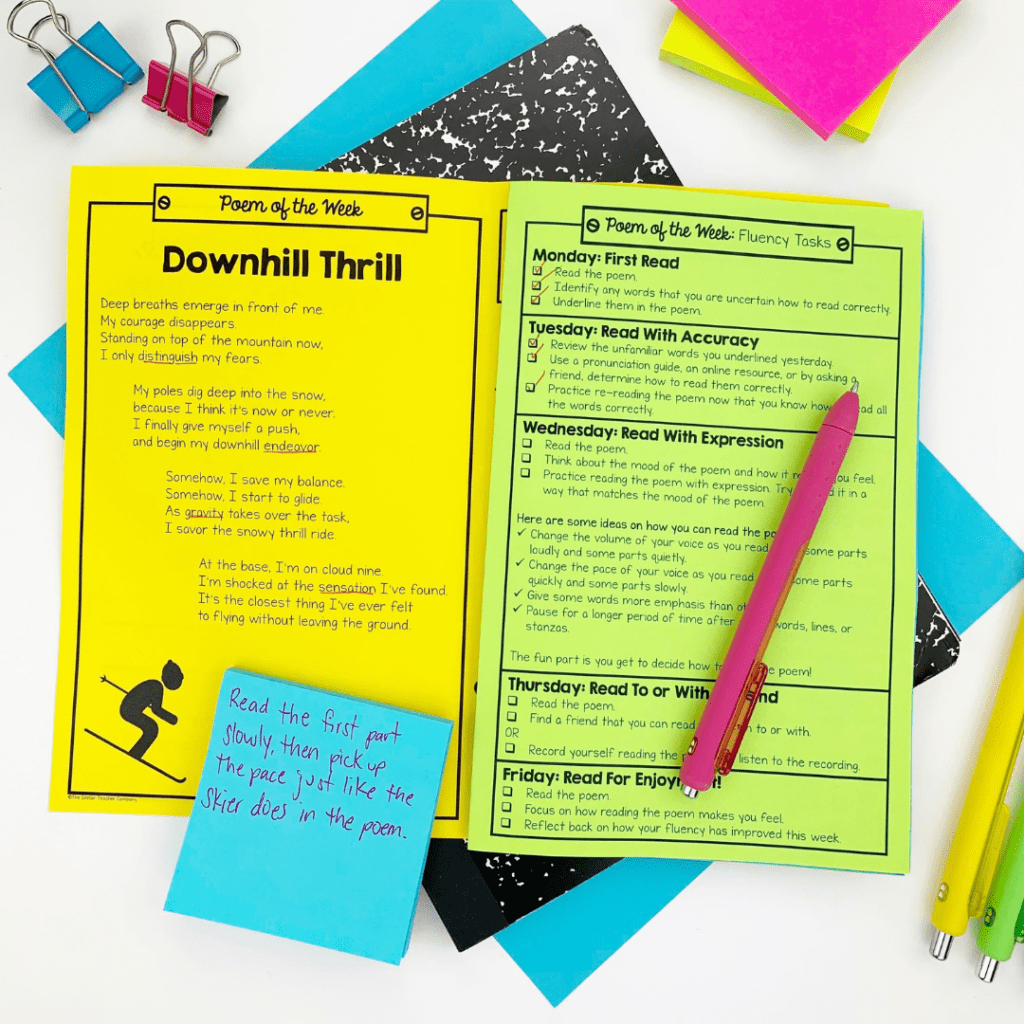 Fluency
Once you have ruled out accuracy, you want to consider fluency. If you have a student who is struggling with reading, you want to make sure the student is able to read smoothly, and at an appropriate pace.
When we think of fluency, we often think of speed. But fluency is really so much more than that. Fluency is the automatic application of word recognition and language comprehension skills. Fluency happens when students read a text quickly, automatically, and with understanding.
If fluency is a struggle for your students, you can try the following:
Model fluency to your students by reading aloud every single day.
Have students record and listen to themselves read.
Incorporate different moods, expressions, or voices into dialogue while students are reading.
Have students participate in reader's theatre with their classmates and practice performing in front of an audience.
Efficacy
Efficacy isn't usually the first thing we think about when brainstorming intervention ideas. But if you have students who struggle with reading, this is a key component to consider.
Efficacy relates to a student's personal belief that they can be a successful reader. Students who have strong reading efficacy are confident in their ability to grow.
Even though this isn't usually listed in our reading standards, we still want to be intentional about helping students build their reading efficacy.
If a student struggles with their reading self-esteem, you can support them by:
Help students identify their strengths as a reader.
Celebrate the reading habits and behaviors that the student does well.
Focus on reading achievements that are not linked to standards.
Promote a growth mindset around reading

.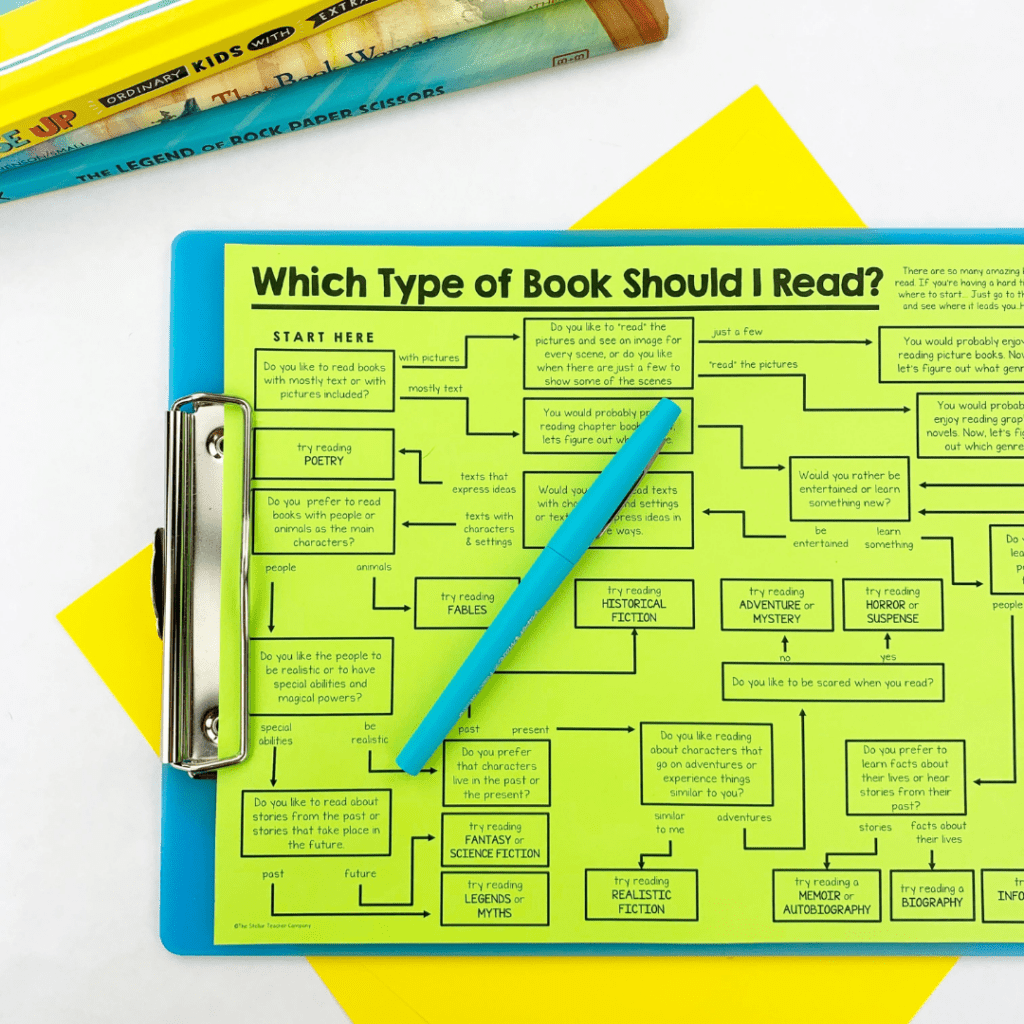 Interest
Interest is another aspect that we don't often think about when considering reading interventions. But if we are trying to support students who struggle with reading, we want to make sure that we are helping them discover their personal reading interests and fall in love with reading.
It's important to make sure that your students (especially those students who struggle with reading) are reading texts that are about topics that interest them.
A lack of interest may be related to a lack of reading exposure, so students believe that there are no books that they enjoy. Or, it may be linked to one of the other attributes listed here. If you have determined that a child has lost interest in reading, but it's not related to a lack of accuracy, fluency, or another area, try supporting them by:
Ask students to brainstorm topics that they like. Send them to the library with their list.
Introduce a wide variety of genres

to the student to give them a diverse series of reading experiences.

Incorporate fun and unique reading response activities.
Incorporate book talks

,

book clubs

, and other engaging reading routines that will excite your students.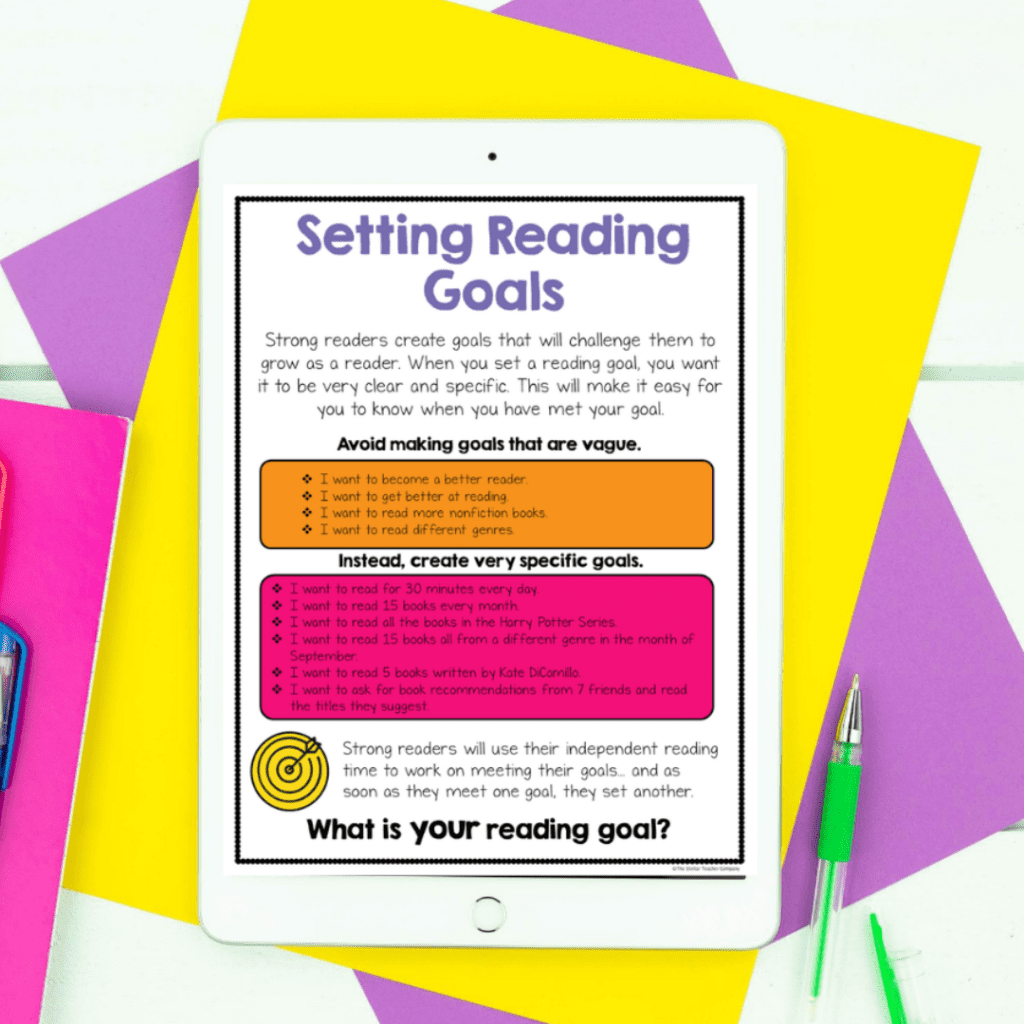 Motivation
Is the student motivated when they are reading? A lack of motivation may look like apathy, despite not struggling with reading otherwise.
If you have students who struggle with reading, take a minute to consider how motivated they are. You can try to help improve student motivation by:
Setting personal goals

for the student to work towards

Incorporate genre studies, author studies, or other project-based learning experiences to give students a purpose for reading.
Let students buddy read and create other peer-collaborative reading experiences.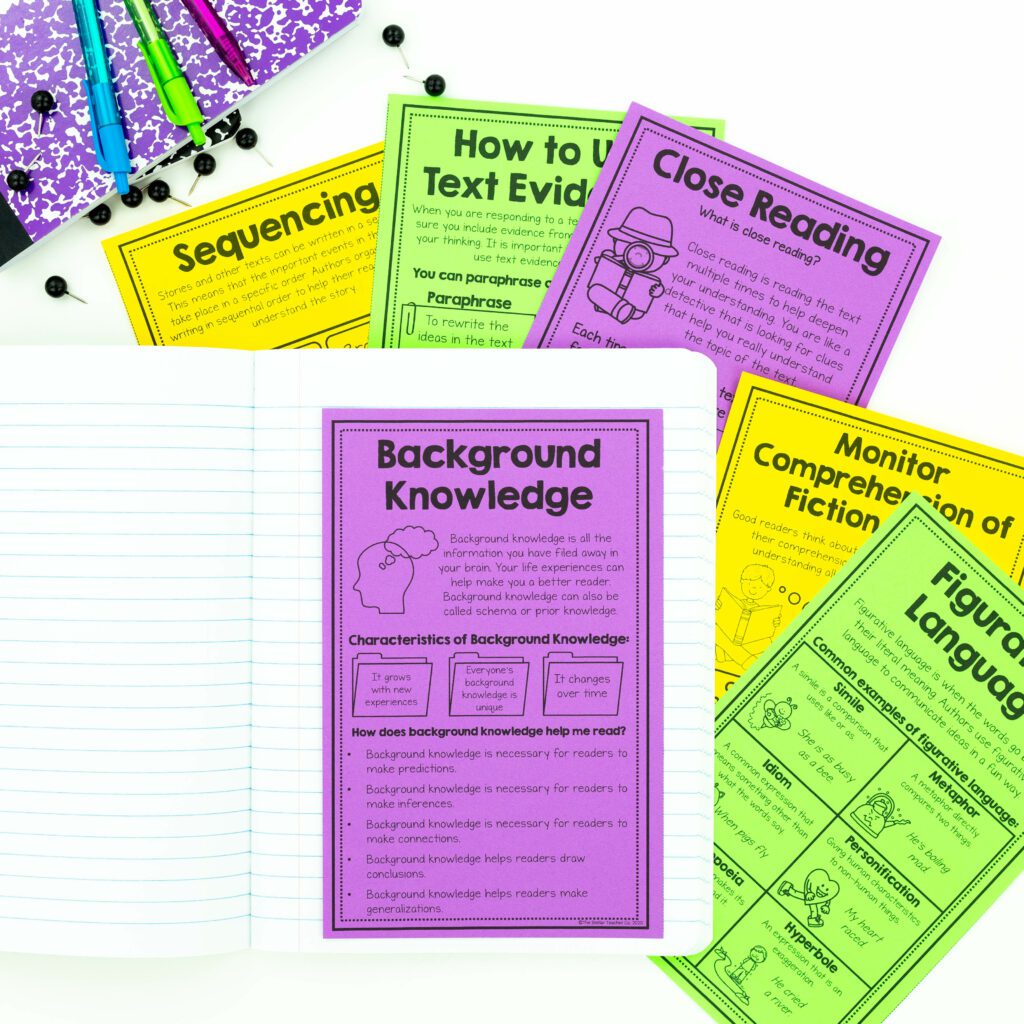 Background Knowledge
If you have students who struggle with reading, it's possible that they have the necessary reading skills in place to read the text accurately and fluently. But what they might be missing is specific background knowledge related to the topic of the text.
Depending on the life experiences of your students, they may struggle with the background knowledge they need to have to fully comprehend the text.
This might not be a struggle for all your students. And if students do lack background knowledge, it might only be for certain texts. A student can have a lack of background knowledge with one text, but have plenty of life experience with the next text.
Anytime you sit down to read a text with your students, you can do the Background Knowledge ABCs.
Activate and Assess Background Knowledge. You can do this by using a KWL chart or giving them a statement about the topic and asking if they agree or disagree.
Build Background Knowledge. You can do this before, during, and after the reading experience. You can short students images, pictures, maps, videos, and other multimedia options that will help them understand the topic. You can also pre-teach any vocabulary words they might need in order to understand the text.
Connect to Prior Knowledge. Allow students to reflect on the new knowledge they have learned. You can give students sentence stems like "I used to think, but now I think…" to connect what they have learned to any prior knowledge they have.
In addition to the Background Knowledge ABCS, if you have students who struggle with reading and you think increasing their background knowledge can help, you can try:
Incorporating thematic planning so texts and assignments across subjects are related.
Use the ABCs listed above any time you read aloud to your students.
Give students question stems

that will help them activate any prior knowledge they have about genre, author, skill, or topic, rather than simply just the topic.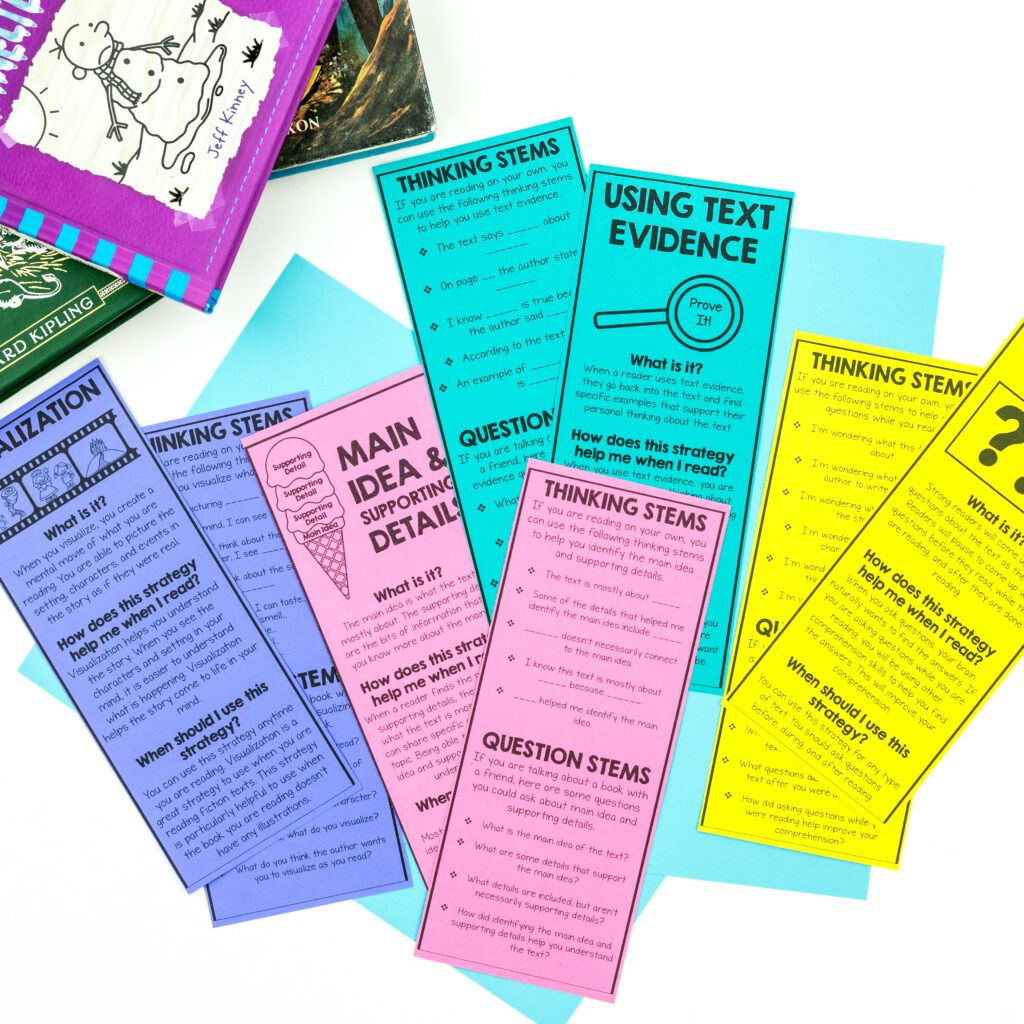 Comprehension
Ultimately we want all students to be able to comprehend what they read. We want to provide the right interventions to students who struggle with reading so they can eventually get to the point where they do understand what they read.
If you have put all of the other interventions in place, and you still have students who struggle with reading, you might want to give them some specific support with comprehension strategies.
Does the student remember what they read when they are finished reading? Do they have the tools they need to deeply comprehend texts without guidance? For students who lack comprehension when reading, support them by:
Incorporating strategy groups

into your reading block to provide targeted instruction.

Teach students a variety of comprehension strategies, so they can select the one that works best for them.
Have students talk through their understanding of a text before they write it down.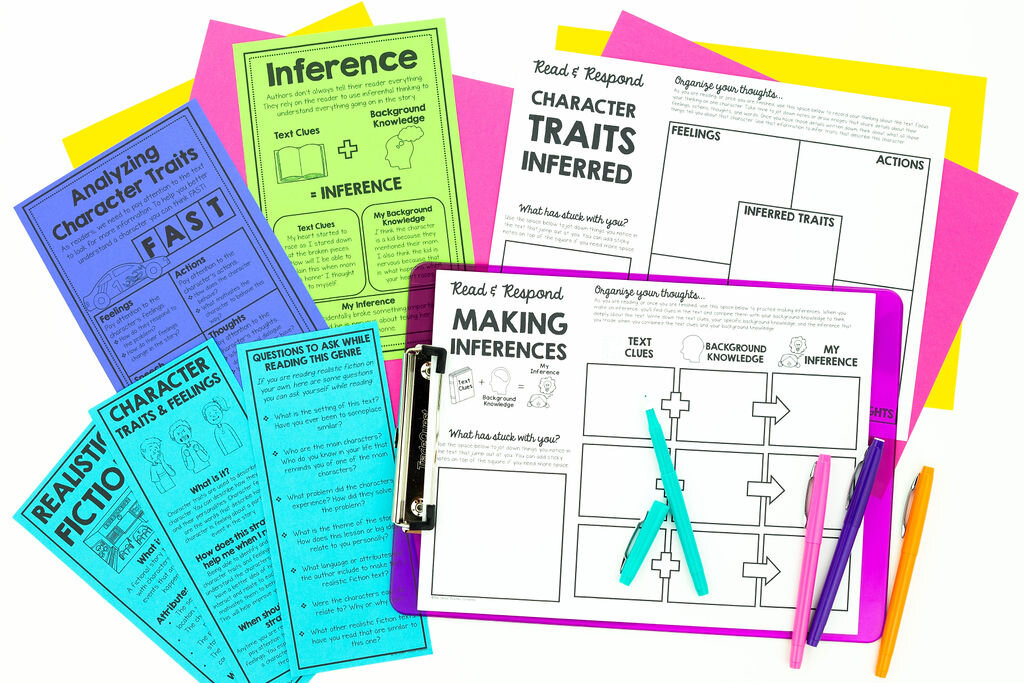 While sometimes it can feel overwhelming to figure out how to best support our students who struggle with reading, I hope the ideas in this post give you a great starting place. You know your students best, and I am confident you'll know exactly what they need in order to continue growing as readers!
Put it Into Practice:
If you have students who struggle with reading and want to get started putting some of these ideas in place in your classroom, take these steps before you leave this page.
Download my Successful Reader Checklist. It includes all the intervention ideas I mentioned in this post. You can easily keep this checklist in your teacher planner.
Listen to Episode #90 of The Stellar Teacher Podcast. In this episode, I talk about how you can use your small group lessons to support students who struggle with reading.
Come join us inside The Stellar Teacher Reading Membership. You'll get access to resources, professional development, and an amazing community that will help you support all students.
Happy Teaching!
---
I've got a free gift for you!
Favorite Genre Reading Flowchart
Help your students fall in love with reading with this fun and engaging flow chart. This flowchart is a twist on a classic reading inventory and will help students discover the type of book they should read next. Students can go through this reading flowchart several times and get different answers each time. It's such a fun way to help students explore different genres.
This is such a fun tool to share with students anytime they are in a reading rut and are looking for new genres to explore.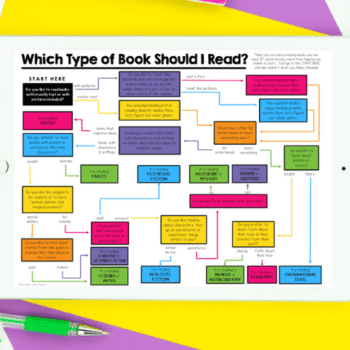 ---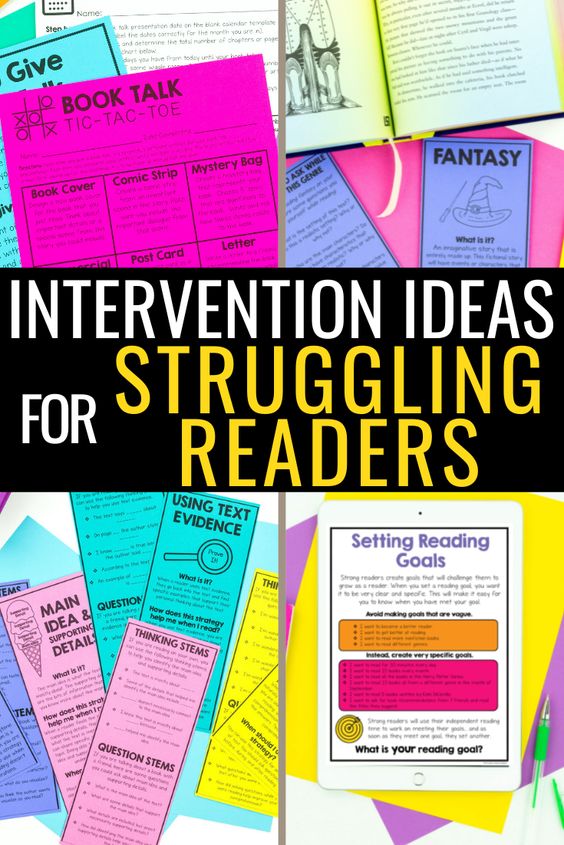 ---