Do your student's feel confident writing constructed responses? If the answer is no, you are not alone!
Constructed response (CR) questions are a part of most state tests, and they require students to write a detailed answer to a question using evidence from a text or other sources.
They are often two-part, so they might ask students to identify something or state a claim and provide reasons or evidence to back it up, or they might ask students to apply their knowledge and make a change to a model and explain how that change would impact the results. Regardless of the type of CR, they are usually something that students aren't as familiar with as they are multiple-choice (MC). This means students probably don't feel as confident writing constructed responses as they do answering multiple choice questions.
Don't forget to check out the companion Podcast Episode #124 to this blog post for more support with constructed response practice.
So, here are six things you can do during your test prep season to help students feel more confident with writing constructed responses.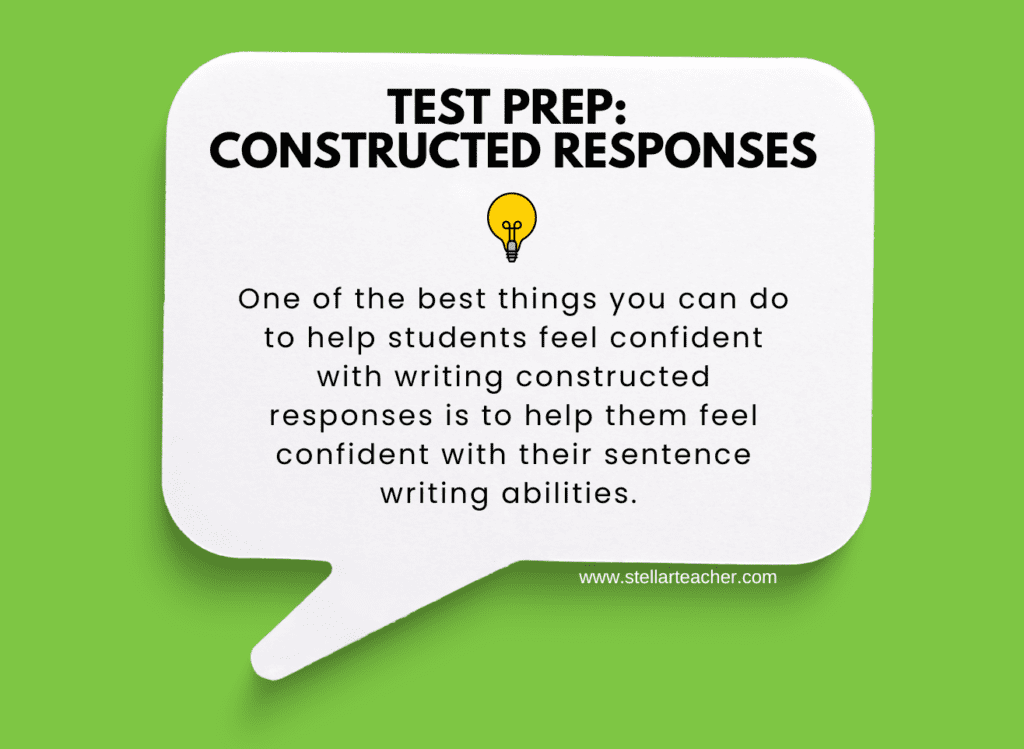 Comparing and Contrasting a CR Prompt vs. Multiple Choice Question
The first thing you can do to help students feel more comfortable with writing constructed responses is to compare and contrast the two types of questions they might see on the test.
Create a Venn diagram with your students and identify the things that are unique to constructed responses vs. multiple choice questions. Comparing and contrasting the two types of questions with your students does a few things:
Helps students understand what to expect on a test.
Helps students realize there are more similarities between multiple choice and CR questions than they realize.
Breaks down the constructed response process to make it less intimidating.
Attributes of Constructed Response:
Written response
Write in complete sentences
Have to organize a coherent paragraph
Attributes of Multiple Choice:
Answers are given for you
Have to select the best answer
Attributes of Both Types of Questions:
Requires you to use evidence from the text.
Both require you to use critical thinking.
Both require you to double check your answers
Our Science Passages resource would be great to use for comparing and contrasting different types of questions. Each passage is standard aligned with a set of multiple choice questions and written response.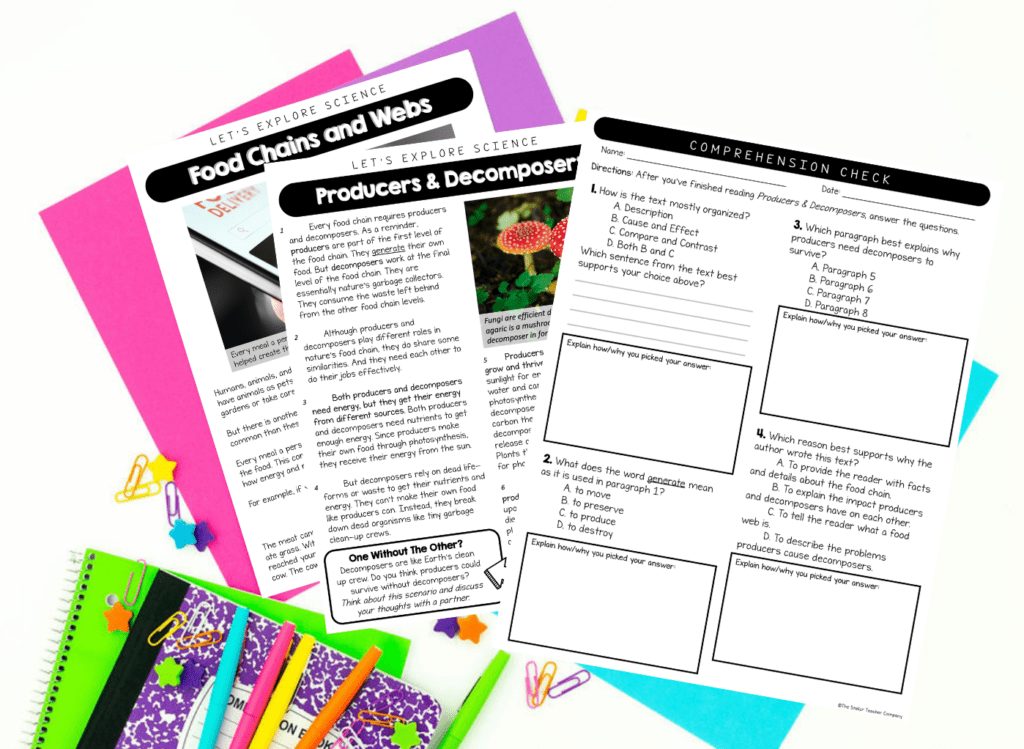 Practice Sentence Transformations
A sentence transformation is when students take a question and transform it into a statement or take a statement and transform it into a question. Sentence transformation is a quick and easy activity that your students can do every day at multiple points in the day and it is going to help students with writing constructed responses in a few ways.
When students have to do a sentence transformation, it helps them understand what the question is asking and how they need to answer it. It also will give them confidence in developing a topic sentence for their CR.
If students can come up with a sentence transformation for a question in their CR prompt, then they can use that as their topic sentence and they are much more likely to be on topic and answer the prompt correctly.
Example:
What is the first stage in a chicken's life cycle?
The first stage in a chicken's life cycle is the egg.
Don't Treat Your Constructed Response Practice Like the Actual Test
One common danger that comes up during test prep season is that we think that the best way to prepare our students for the test is to give them lots and lots of practice tests.
We don't want the bulk of our test prep season to be consumed with independent practice in a test-like atmosphere. Isolated practice isn't going to help your students become more confident or successful on a test.
What they need are opportunities to get better at writing constructed responses. This can be achieved through:
Collaboration
Modeling
Revising and Editing
seeing other examples of written responses
Focus on Constructed Response Vocabulary
Students need to understand what a constructed response prompt is asking them to do. Teach students to identify and circle the verbs in a CR, as well as other details or key vocabulary words in the prompt that are telling them what to do. This will help them understand the prompt better and help them feel more confident in answering the question.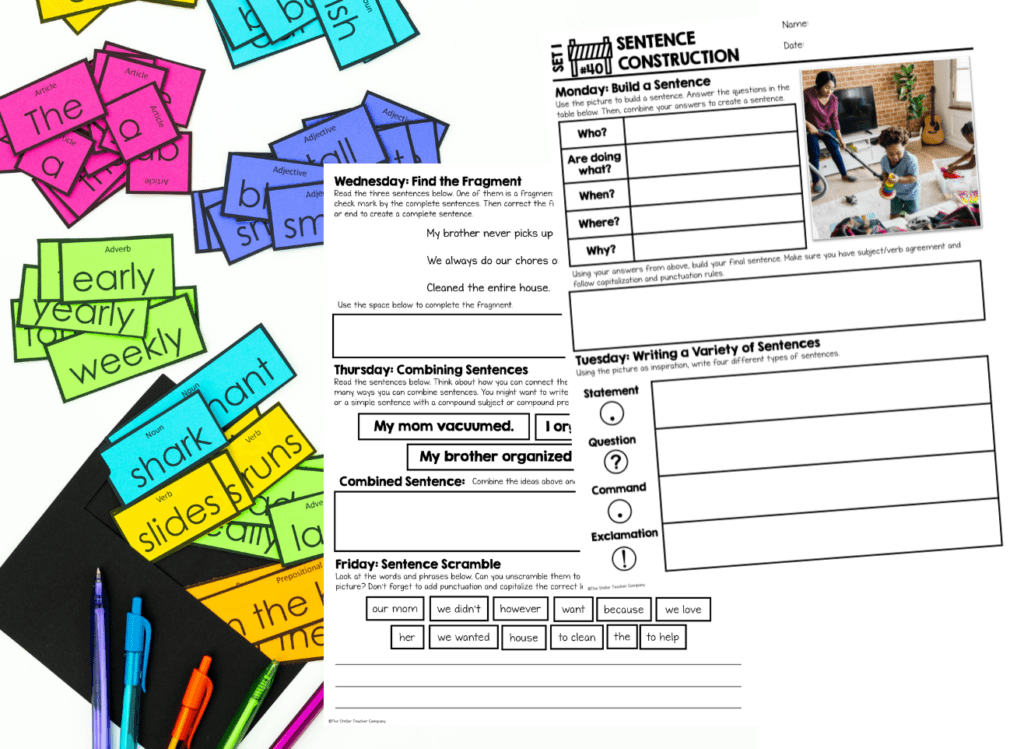 Continue to Support Students' Sentence Writing Development
One of the best things you can do to help students feel confident with writing constructed responses is to help them feel confident with their sentence writing abilities. Focus on improving their sentence writing skills.
Our Sentence Writing Routine is a great resource to help with that. If students feel confident writing complete sentences, combining sentences, and writing a variety of sentences, they will have the foundational skills in place to feel confident coming up with a constructed response.
Provide Students with a Framework for Writing Constructed Responses
Students may feel overwhelmed and unsure of how to organize their thoughts to get started writing a constructed response. That's where providing them with a process or framework can be incredibly helpful.
Give students a very simple framework for how they can organize their constructed responses:
A topic sentence
2-3 pieces of evidence from the text
Concluding sentence if applicable/appropriate
This framework can be used for any CR and gives students a clear idea of how to organize their thoughts and ideas effectively.
Supporting students' sentence writing development and providing them with a process or framework for writing a constructed response paragraph are essential steps for success in CR writing. By focusing on these foundational skills, you can help your students feel more confident and prepared to tackle any CR assessment that comes their way.
As you enter test prep season with your students, make it a point to give them tools that will help them feel more confident writing constructed responses.
Think about your next steps…
If you feel inspired by this blog, check out my other post to learn 5 strategies for taking a test that will help your students feel more confident taking a test.
Check out Episode #124 for more support on helping your students master the constructed response!
Join us inside The Stellar Teacher Reading Membership, where you will get access to a resource library filled with reading and writing resources that you can use to help your students become more confident writers.
Happy Teaching!