As educators, we know that constructed response writing is a crucial skill students need to succeed academically. Whether on a test or in response to reading, learning how to write a strong response to a prompt is essential.
A constructed response is a written assessment or task in which students must provide a thoughtful and well-crafted response to a prompt or question. In constructed response writing, students must demonstrate their understanding of a particular concept or skill by giving evidence from the text, classroom discussions, or other relevant sources.
If you feel like your students need help with constructed response writing, you are not alone! I often get requests for simple, straightforward strategies to help students better understand the constructed writing process.
In this blog post, we'll explore a five-step process for constructed response writing that you can share with your students to help them master this skill.
5-Step Process for Constructed Response Writing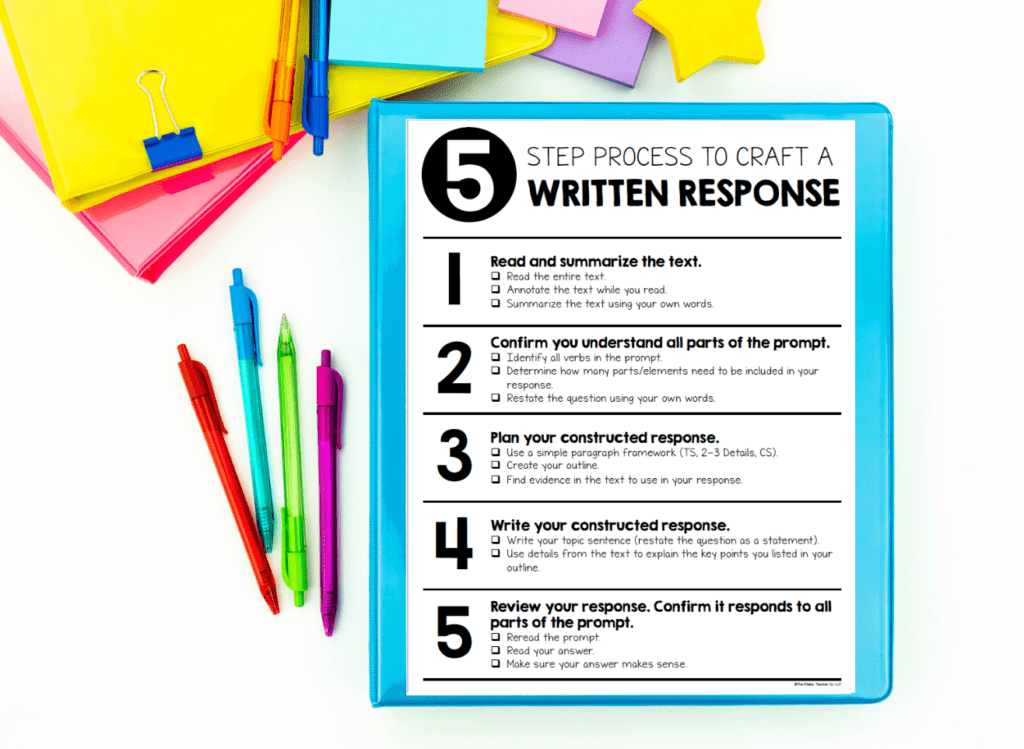 Step 1: Read and Summarize the Text
The first step in constructed response writing is to read and summarize the text.
It is essential that students have a thorough understanding of the text before they begin to respond to a prompt. To do this, have students:
Read the text.
Annotate while they read.
Summarize it using their own words.
Remember to have students practice asking and answering questions while they read. Asking questions is a beneficial reading strategy to help students understand what they are reading on a deeper level. If your students need support in this area, check out our Asking Questions Task Cards to give your students extra practice!
Step 2: Confirm Understanding of the Prompt
The next step that will help with constructed writing responses is to confirm that students understand all parts of the prompt.
Students must analyze the prompt before they begin to write to make sure they are fully responding to all parts of the prompt in their response. To do this, have students:
Identify all verbs in the prompt. This helps students know they are responding in the right way. (Identify, explain, state, provide evidence, etc.)
Determine how many elements/parts they need to include in their constructed response.
Restate the question using their own words.
If you need a resource with a variety of writing prompts, check out some of our science-based Reading Passages that include a variety of articles, multiple-choice questions, and written response questions for students to practice understanding how to answer different question types.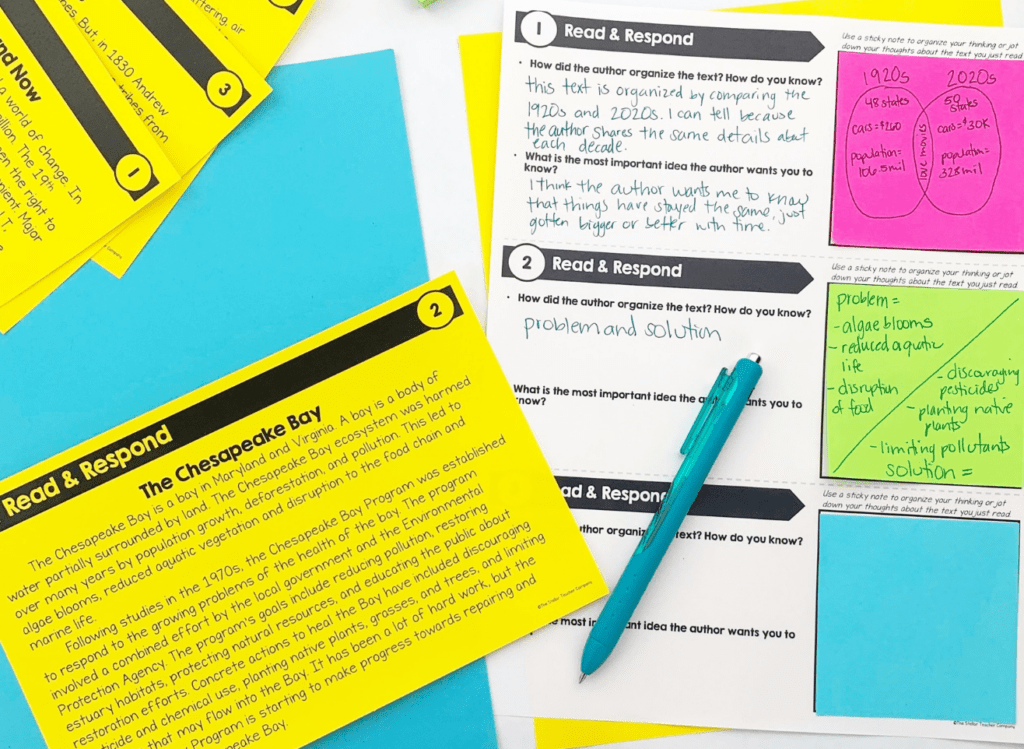 Step 3: Plan Your Constructed Response
Once students understand the prompt, they need to plan out their responses. This step is where they can use a simple paragraph organization, such as a topic sentence, 2-3 details, and a concluding sentence if needed.
It is beneficial to have students create an outline and find text evidence in the text to support their response. Planning and outlining their writing will help constructed writing responses be more intentional.
Step 4: Write Your Constructed Response
Now it's time to write the response. We usually rush to this step but notice it is Step #4. It takes time and analysis to get to the point of writing a constructed response.
If students have an outline, this should be much easier. Encourage them to write a topic sentence (restating the question as a statement) and use details from the text to write the sentences in their outline. Each detail in their outline should get at least one sentence.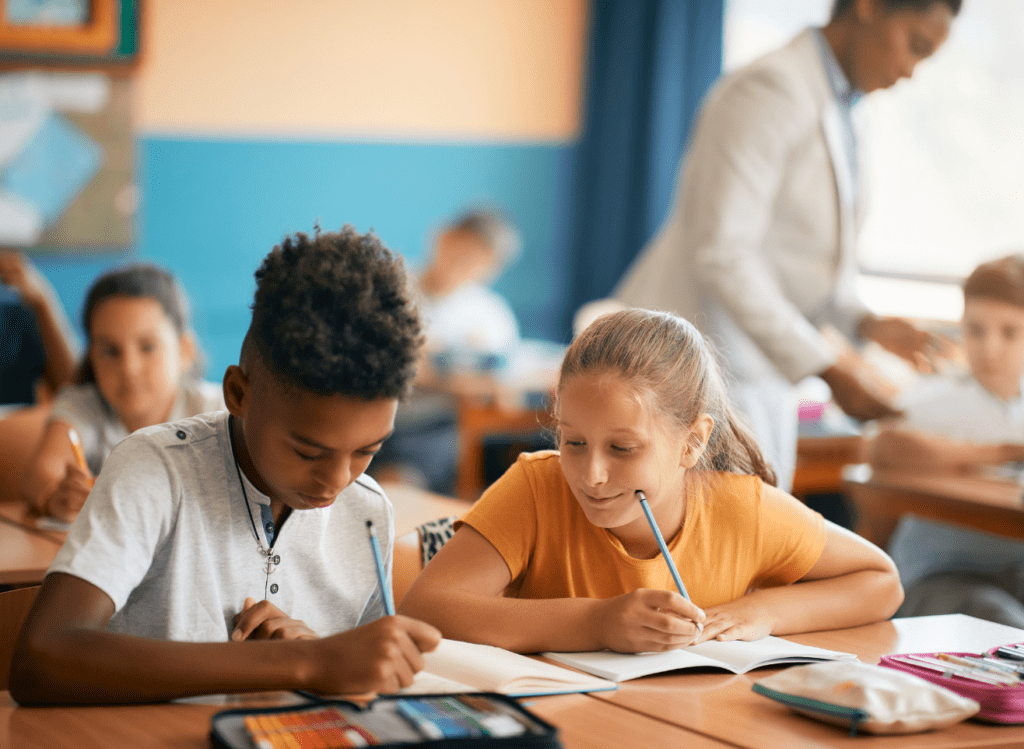 Step 5: Review Constructed Response Writing
Finally, students should review their response to ensure it fully satisfies the prompt.
They should reread the prompt, read their entire answer, and ask themselves if their response fully responds to the prompt, if they are clear and concise in their explanation, and if they have included details from the text or other pieces of evidence to support their answer.
Encourage students to ask the following:
Does my response fully respond to the prompt?
Am I clear and concise in my explanation?
Do I restate the question as a statement in my topic sentence?
Do I include details from the text or other evidence to support my answer?
By following these five steps, students can craft a constructed writing response to respond to any prompt. It's important to note that practicing this process will make it feel more automatic for students on test day.
To support your students in building confidence with writing constructed responses, download our Freebie that lists out all of these steps for them to use when they practice crafting a constructed response. While they won't have this checklist on test day, it will help them internalize the process and feel more confident in their ability to craft a strong response.
I hope you feel more confident in your ability to provide students with a process or framework to follow that will help them feel more confident in their ability to respond to any prompt.
Use this five-step process in your classroom and watch your students' writing skills improve!
Put It Into Practice:
Don't forget to check out my blog post Writing Constructed Responses: 6 Tips to Help Students Feel Confident for more ideas on how to help your students feel more equipped to write constructed responses.
Check out podcast Episode #125! To hear about the 5-step process in this blog step more in-depth. You can also listen to the podcast here!
Join us inside The Stellar Literacy Collective, where you will get access to a resource library filled with reading and writing resources that will support you and your students in reading, writing, and vocabulary skills needed to successfully write constructed responses.
Happy Teaching!