When it comes to teaching reading comprehension, there is definitely not a one-size-fits-all approach to take. This means as teachers, we need to have a toolbox filled with strategies and knowledge we can incorporate into our reading block to meet all of our student's needs.
One of my favorite ways to boost students' reading comprehension and engagement is to host an author study. Author students will appeal to your students' interest and motivation… which in turn have a direct impact on their reading comprehension.
Author's studies are a great reading project to host in your classroom! They are flexible enough to review a variety of standards, while also boosting reading comprehension. If you have never tried an author study before, the ideas below will help you run one in your classroom!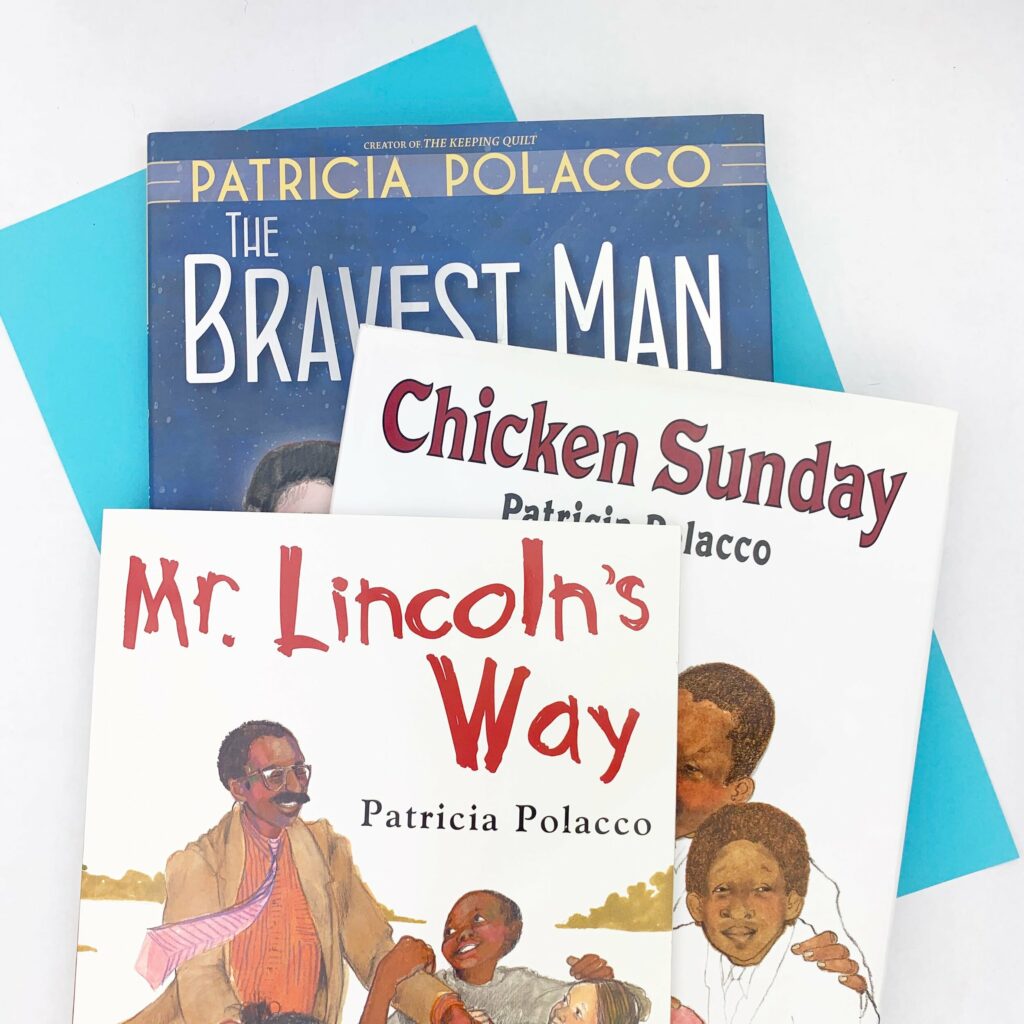 What is an author study?
An author study is a deep study of one author or illustrator's work. It takes place over a week or longer and allows students to dive deep into the life and work of one author or illustrator.
During an author study, students will:
read a variety of books by that author
critically evaluate the themes, characters, and writing style of that author
make personal connections between their own experiences, and those of the author's characters
have fun asking questions and digging deep into one of their favorite authors
If you notice your students really enjoy a story by a particular author, consider finding more books written by that same author and doing a short author study!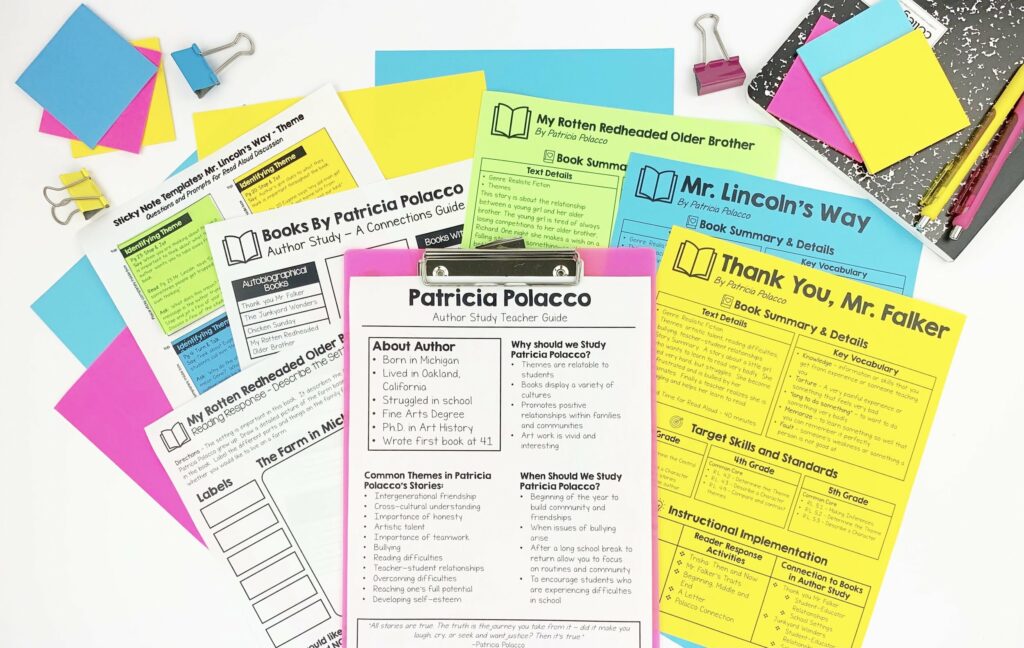 Reasons to Host an Author Study:
Author studies are a beneficial activity for readers of all ability levels. Some of my favorite reasons to host an author study are that they:
Build a students' reading ability

. This comes through the high volume of reading they must do to complete the project.

Help students critically examine texts.

One author will write with the same style, and often have the same themes across texts. This makes it easy for students to build critical thinking sills. Think about how similar one Kevin Henkes book is to another, or

Patricia Polacco

books. Using authors such as these makes it easy for students to make those text-to-text connections.

Develop a deep attachment to books.

An author study is a great way to help students determine a 'favorite author'. Often times, our elementary school readers haven't been exposed to more than one text by the same author, so they've never thought about why they do or don't like one writer's style. Author studies help them make this distinction!

Expose students to a variety of literacy experiences.

Between the texts that students read for their own author study, as well as the texts they learn about from their peers' author studies, students are exposed to dozens of texts at once. An author study encourages lots of reading, lots of reading discussions, and lots of writing about reading!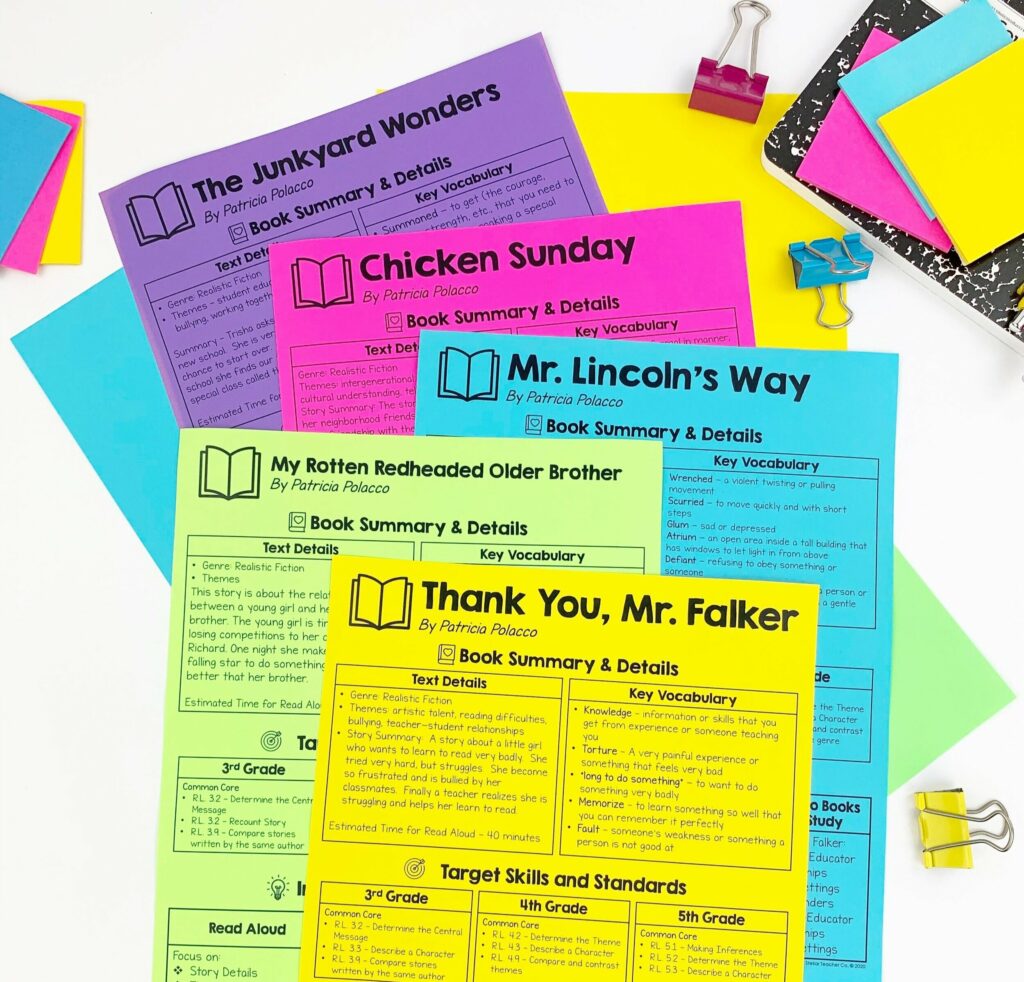 Steps for hosting an author study:
Select an author (who is widely-published) who is interesting to you and your students.
Select and read 5-10 texts by that author.
Identify themes and style characteristics of that author's writing. Each time you complete a text by that author, chart the genre, themes, and types of characters in the book.
Study the author's life and background. For an author like Cynthia Rylant or Patricia Polacco, knowing details about their lives provides a lot of insight into their writing!
Complete activities and response tasks for the books as you read them. You can tie this into skills and strategies you've already taught.
Complete a culminating activity. A poster board or Google Slides presentation reviewing everything your students learned is a great way for students to showcase all of the books they read, and all that they learned. Or, make it more creative and have students create a commercial advertising that author's books, or a brief biography about that author's life and work!
An author study is a great way to grow your students, and have fun along the way! Using these steps, you will be able to host a successful author study in your classroom!
Put it into practice…
The very first thing you need to do is pick an author to study. Some of my favorites for upper elementary are Patricia Polacco, Jaqcueline Woodson, Jory John, and Matt de la Pena. But you can really pick any author your students enjoy reading.
But really, before you exit out of this blog post, think about the author you want to study. And then the next step is to get it on your calendar. Pick a week to do the author study and write it in your lesson plans. And then as you are planning, be sure to come back to this post to get a few more ideas to prepare for your very first author study.
Happy teaching!
I've got a free gift for you!
Favorite Genre Reading Flowchart
Help your students fall in love with reading with this fun and engaging flow chart. This flowchart is a twist on a classic reading inventory and will help students discover the type of book they should read next. Students can go through this reading flowchart several times and get different answers each time. It's such a fun way to help students explore different genres.
This is such a fun tool to share with students anytime they are in a reading rut and are looking for new genres to explore.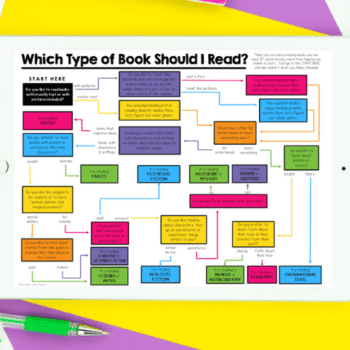 ---