What comes to mind when you think about teaching word study? Spelling tests? Word lists? These might be the strategies you have used in the past for spelling instruction. But word study is much more than that!
What is word study?
Word study instruction helps students understand how words work.
The process of learning everything about words: spelling, meaning, pronunciation, historical origin, and connection or relationship to other words.
Connects the study of words to reading and writing.
Meaningful word study moves away from memorization and focuses on helping students with word recognition and understanding. But what are some effective strategies for word study?
Although there are many strategies for teaching vocabulary, I am going to share five effective strategies for teaching vocabulary with you today!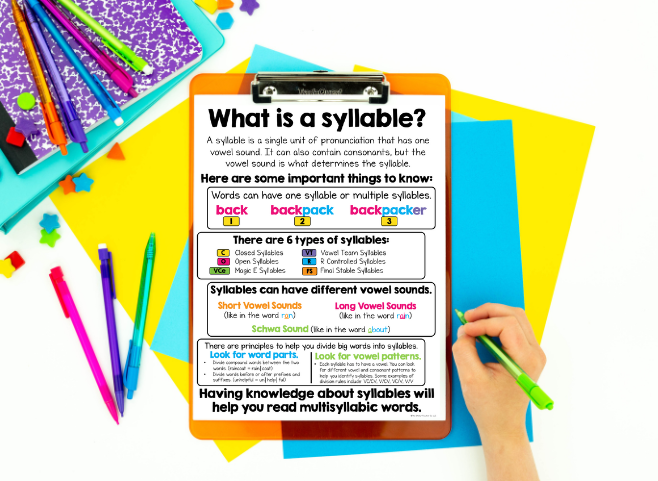 1. Do a word study activity every single day.

A word study activity doesn't always have to be long and scripted out – it can take two minutes or twenty! The most important thing to remember is the activity you choose to do should be done consistently. The activity might be a:
Whole group lesson.
Quick word sort.
Word of the day routine.
Highlighting a word in your read-aloud and analyzing it.

Look at the phonemes, graphemes, morphemes
Determine the syllables.
Talk about synonyms, antonyms, types of context clues, etc.
When you first implement these vocabulary strategies or word study concepts, they may take a little longer. You are helping your students understand the routines and expectations. But once your students become familiar with an assortment of word study routines, you can apply them more quickly – at any time!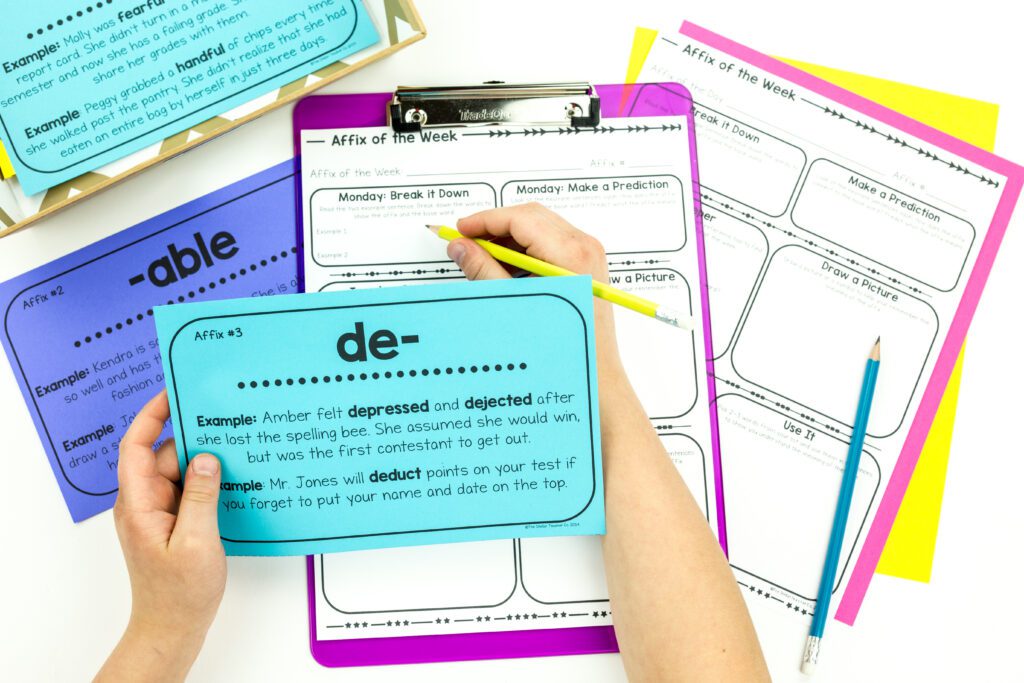 2. Teach word study concepts in other subject areas.
Sometimes we limit ourselves when it comes to teaching vocabulary. We might make the generalization that vocabulary is a reading element and should only be taught during our literacy block.
Word study activities can apply to any subject! You may want to check out my Vocab Routines Bundle for more ideas on easy, weekly vocabulary routines. You might choose to include one of these quick word study activities during your science or math block. The study of words is important in all content areas.
This means strategies for teaching vocabulary can and should be taught in every content area. For example, in math, you might teach:
A lesson on the roots connected to numbers. (uni, bi, tri, quad, etc.)
Content-specific language like quadrilateral or triangle while also focusing on the roots, syllables, and how these words might be used in other subjects.
When we take the time to teach our students the parts of a word instead of just memorizing its spelling or definition, we are helping them become stronger readers! The hope is they will take these strategies and use them in other subjects as well.
If you aren't self-contained, you might want to team up with your co-teachers in other subjects and ask them to implement strategies for teaching vocabulary. Work together to come up with quick activities like word of the day, word sorts, or word ladders that other content teachers can quickly and easily include in their lessons.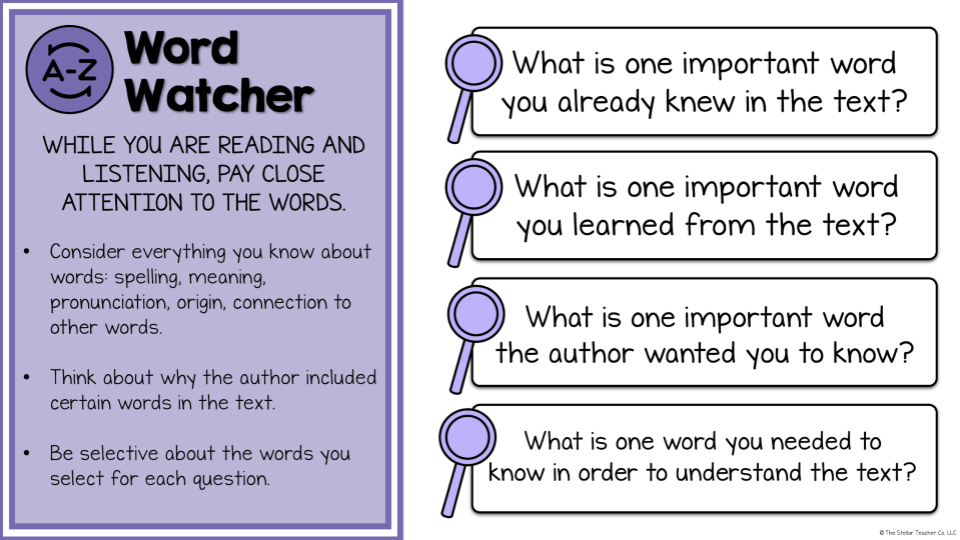 3. Connect word study instruction to reading and writing.
Encouraging your students to use word study concepts while reading and writing will help them think more critically about vocabulary.
A really easy way to help your students transfer what they are learning about vocabulary to reading is to give them four questions to consider during your next read-aloud or independent reading:
What word did I read that I knew a lot about? This question encourages students to look for words they are familiar with. They might know the spelling patterns, syllables, context clues – whatever it is – this question helps your students think more critically about what they are reading.
What is a word that I learned from this text? This question helps students build awareness around words that are content specific or have multiple meanings.
What is a word that the author wants me to know? This question can help students think more deeply about the author's purpose, main idea, theme, and topic of the text. Students will start to notice which vocabulary words are necessary for them to understand in order to make sense of the text.
What is the most interesting word I read today? Why? This question is open-ended and encourages students to share their own knowledge and observations of vocabulary. I love this question because it can give insight into what word study concepts students are understanding or might need to review.
Make these questions visible to your students! You might have them on an anchor chart, a bookmark, glued in student notebooks, or displayed on a slide during reading time.
These four questions can be reworded to be used in writing activities as well.
4. Structure lessons so all students are engaged in word study.
It is important to consider how your whole group and small group lessons are structured and if they successfully engage all of your students. Ask yourself: How am I getting all students to participate?
It can be easy to get used to asking a question and having one or two students give a response. But when we do that, we aren't actively engaging the majority of our class. And after all, that is the ultimate goal!
To strengthen the foundation of word awareness and knowledge, we want all of our students to participate actively in vocabulary instruction. A couple of strategies for teaching vocabulary that will instantly engage more of your students are:
Ask for a whole class response. This strategy can be a little noisy, but that is okay! It can be fun and less intimidating for all your students to respond verbally to a question at the same time.
Encourage students to turn-and-talk. This strategy can be used in so many ways, including talking about vocabulary. It gives more students meaningful opportunities to talk about vocabulary.
Give time for students to stop-and-jot. If your students have whiteboards, sticky notes, or a notebook, encourage them to write down their answers to a vocabulary-specific question. You might follow up with a turn-and-talk or have several students share out their responses.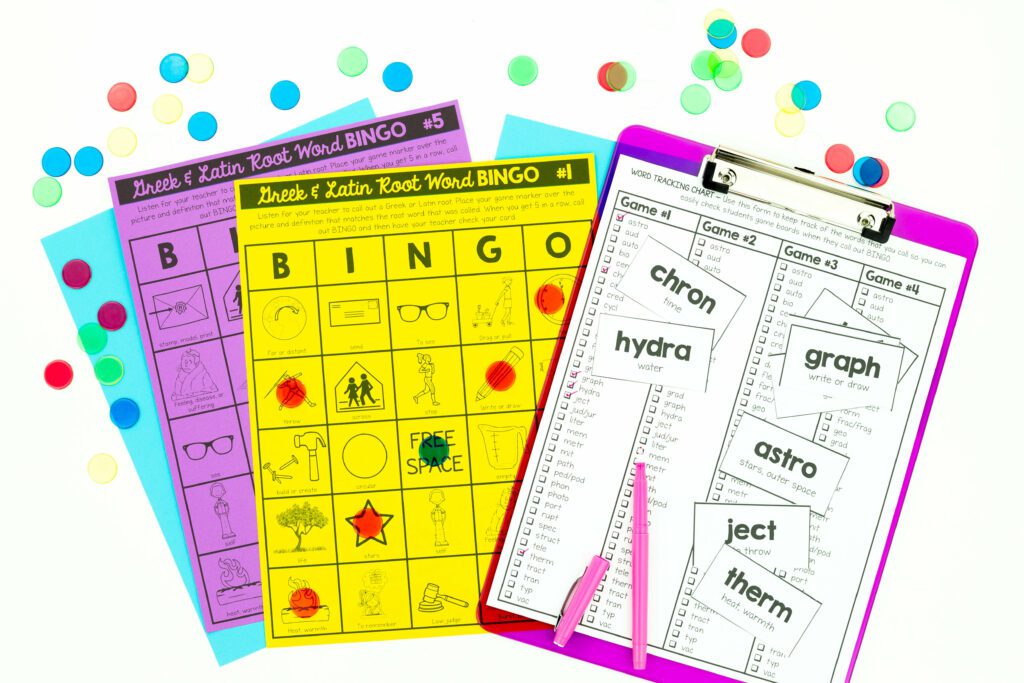 5. Make word study activities fun!
Learning more about language can be interesting and fun! Along with trying the strategies for teaching vocabulary mentioned above, bring in an element of excitement by trying something new:
Turn word study instruction into a game. The games you choose don't need to be complex – bingo, charades, or dictionary can be quick and effective strategies for teaching vocabulary!
Establish a word study club. This suggestion came from The Stellar Teacher Membership Facebook group. The club could be weekly or monthly. Give students a word that connects to what you've been teaching, and have them analyze it and apply what they have learned in a new setting.
Create a word watcher bulletin board. Another Stellar Teacher Member idea! This could be an interactive bulletin board where students add words they discover during independent reading or other subjects. This is an easy way to bring wordy study elements into your classroom quickly!
Make Word Watcher a classroom job. The word watcher would constantly be on the lookout for words that connect to current (or past) word study concepts, as well as encouraging classmates to do the same. Rotate the job assignment weekly!
Give out a word watcher award. If you have a student who is always applying word study concepts or thinking deeply about vocabulary, recognize them!
Remember, there is always more than one way to be an effective reading teacher, but these five strategies for teaching vocabulary can help you build a solid foundation for word study instruction this school year. I hope these strategies make you feel more empowered and excited for word study instruction this year!
Put it Into Practice…
If you are ready to put some of these ideas into practice in your own classroom, take the following steps before you leave.
Download my free Context Clues Word of the Day routine to help you get started implementing a consistent vocabulary routine.
Listen to Episode #93: 3 Steps to Having Effective Word Study Instruction This School Year to learn more about building a strong, effective foundation for word study instruction.
Join us inside The Stellar Teacher Reading Membership, where you will get access to a resource library filled with reading and vocabulary resources like Greek and Latin Root Word Bingo and so much more!
Happy Teaching!
Grab Your FREE Gift!
Greek & Latin Root Word Reference Sheets
This root word reference sheet will help your students remember common Greek & Latin Root Words. The reference sheet includes the definition and examples of 40 common root words as well as picture cues! It also includes customizable spaces for students to add their own root words.