It can feel overwhelming to decide where to start when planning for vocabulary instruction. Sometimes it can be helpful to think about what not to do during a vocabulary lesson before we decide what we want to do during vocabulary instruction.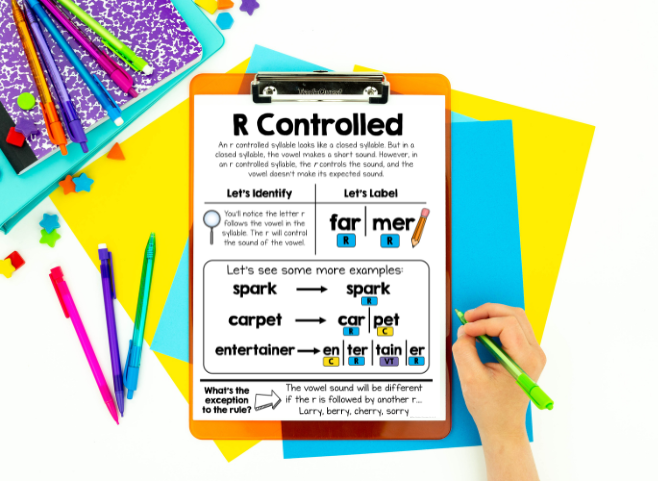 Although I usually don't like to focus on the don'ts when it comes to teaching, I think it can be beneficial to consider what ineffective strategies we want to avoid during our vocabulary instruction. If we decide what we don't want to do during word study lessons, what we want to do can become more clear.
These are the top five things to avoid during vocabulary instruction:
1. Don't teach too much at once.
The difficulty of knowing where to start with vocabulary instruction can sometimes lead to focusing on too much all at once.
When I was in the classroom, I sometimes struggled with the fear of leaving something important out during a lesson, so I taught as much as a could on a concept. But this isn't a helpful way to think about vocabulary instruction.
For example, introducing and teaching all seven syllables in a single lesson can be overwhelming for you and your students. Instead, break it down! Try introducing one syllable type at a time. The lesson will be more focused and meaningful for students. Plus hey'll have more time to grasp multiple concepts in the long term.
Breaking down larger concepts into smaller word study lessons allows students to build more confidence and tackle more difficult concepts later on.
2. Don't teach word study concepts as hard and fast rules.
During vocabulary instruction, we may introduce concepts as "rules" which can be confusing for students. When a student hears something is a rule, they might make the assumption it can never be any other way.
But when it comes to word study concepts, there are always generalizations. It is important to teach these exceptions and provide examples.
For example, uncle and under are words that both begin with -un, BUT they both aren't examples of words using the prefix -un.
Or how sometimes nouns act as adjectives, like in the sentence I ate off a paper plate. The word paper is an adjective describing what kind of plate.
It is helpful to talk about word study concepts as tools that students can use flexibly to help them figure out the pronunciation and meaning of most words. Revisiting the conversation about word study exceptions, especially during reading or writing lessons, will help your students understand word study concepts are not hard fast rules.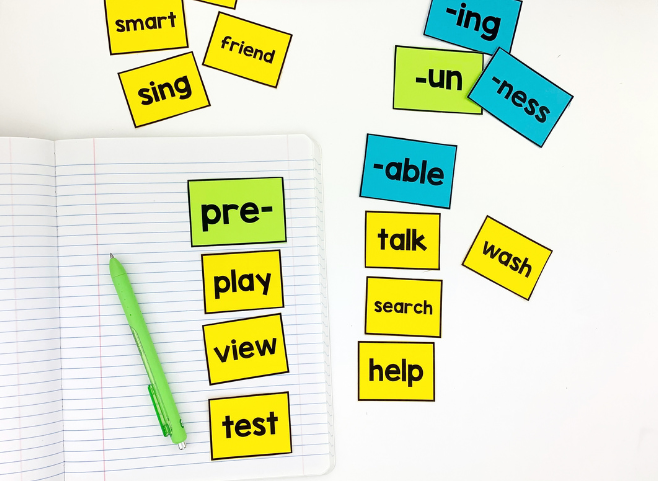 3. Don't feel like you have to introduce new word study activities every week.
There is power in consistency and routine.
There are so many fun word study games and activities. There are cute word study crafts. There are interactive journals with lots of moving parts. And although these activities can be fun and serve a purpose in your classroom, it can also be time-consuming and overwhelming to constantly change up your vocabulary lessons.
There can be great educational value in keeping things consistent. You can give your students the same types of word study activities all year long, and they will know how to complete them with little direction or guidance because they are familiar with the routine.
If you take the time to set expectations and thoroughly teach vocabulary routines upfront, your students can feel confident and learn so much during word study lessons! Here are a few ideas for simple yet effective vocabulary lessons you can try:
Word of the Day
Word of the Week
Word Sorts
Building Word Activities
4. Don't make mastery the goal.
Here me out on this one! Of course, we want our students to learn, know, and internalize everything they can about word study. But if we shift the goal from mastery to application, we may see better results.
What if we encouraged our students to apply word study knowledge to their actual reading and writing? When the end goal is to apply what they are learning, students will use word study concepts as tools.
For example, when you're teaching a vocabulary lesson on the suffix -ed you want students to understand when they add -ed to the end of a short vowel word, they need to double the consonant. Sure, it is great if our students can remember and recite the rule. But it is even better when they can apply it!
Now that they know the concept, they can spell any -ed word you give them! They know -ed indicates a word is past tense. They can take it a step further and sort words into present and past tense. And when they are reading independently, they can read -ed words (skipped, tripped, flipped) and understand their meaning. You might consider my Prefix & Suffix of the Week resource to start incorporating vocabulary instruction in your classroom.
So, ultimately, don't get hung up on giving "word study grade." Instead, look for opportunities that show how your students are actually applying what they have learned during your vocabulary instruction.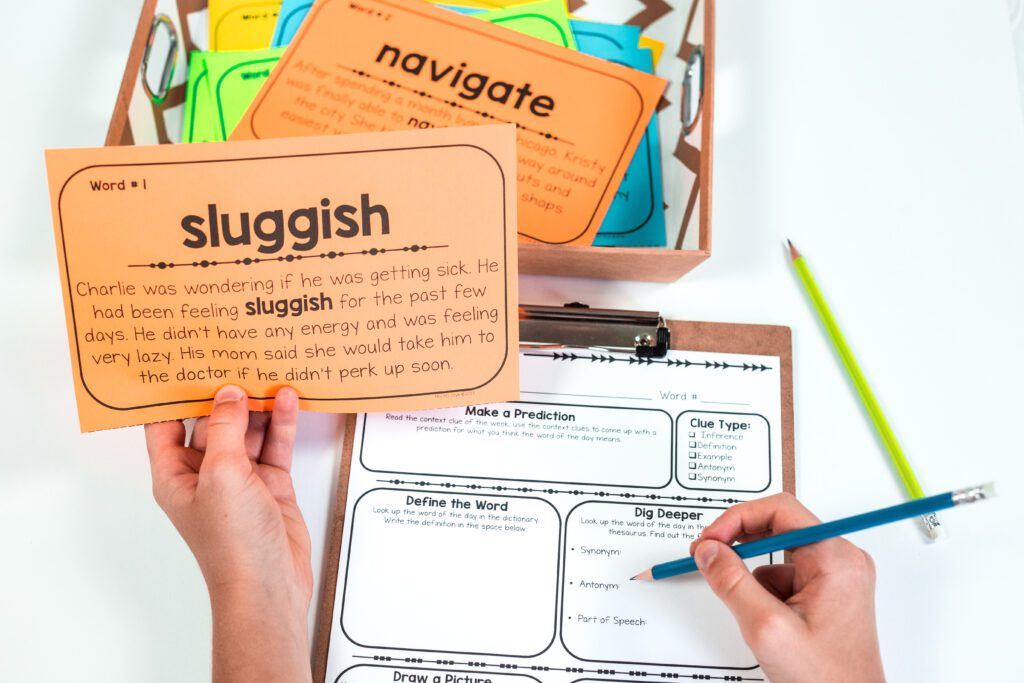 5. Don't wait until you feel like you're a word study expert to get started.
And last but not least, don't wait until you feel like a word study expert to start your vocabulary instruction! Learn along with your students.
Although it can feel scary, it can be beneficial to your students if you are honest about learning something with them! By not being an expert, you are creating an authentic learning experience for yourself and your students. You can show them the process and go through the steps of understanding a new word study concept.
Where an expert on word study concepts might not misunderstand a concept, you and your students can go through the motions of learning word study concepts together and talk through any misunderstandings or mistakes. This can also make vocabulary lessons less intimidating for your students.
Think about your next steps…
If you are ready to start planning what you'd like to teach during your vocabulary instruction, take the following steps before you leave.
Download my free Greek & Latin Root Word Reference Sheets to help your students remember common Greek & Latin Root Words. The reference sheet includes the definition and examples of 40 common root words as well as picture cues – a great supporting resource for your next word study lesson!
Check out my blog post about the 5 Engaging and Effective Strategies for Teaching Vocabulary to learn more about simple yet highly effective strategies you can use in your vocabulary instruction.
Join us inside The Stellar Literacy Collective, where you will get access to a resource library filled with reading resources, including word study activities like Word of the Week and Syllable Scramble.
Happy Teaching!
Grab Your FREE Gift!
Word Of The Day: Context Clue Routine
With this freebie, you'll get everything you need to get started with word of the day in your classroom. You'll get all the student and teacher materials for five days. Word of the day will help your students become experts at using context clues.