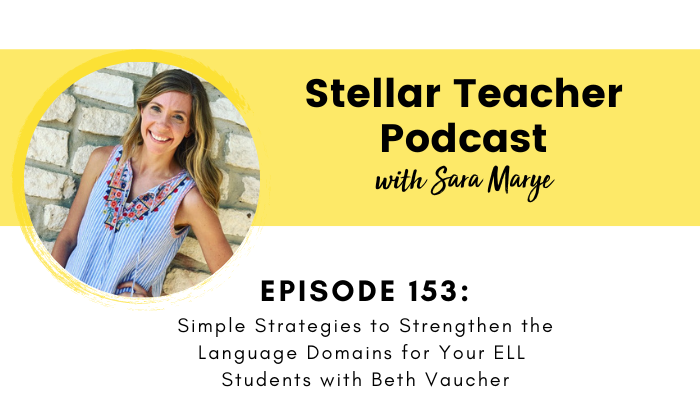 Click play below to hear ways to strengthen a student's language domains:
As you prepare for back to school and the beginning of the year, it's possible that you might have some ELL (English Language Learners) students in your classroom. Having multiple different groups of students in your class can be overwhelming and stressful to prepare for. However, my guest on today's episode, Beth Vaucher, is here to tell you how to simplify it. Beth is discussing how to strengthen the language domains for your ELL students with simple and effective strategies.
Although Beth works with ELL students and is an expert in her field, she reveals each of these strategies can be used for all students, which helps with the preparation for teachers. Beth also shares how having a mindset shift to the idea that all students are academic language learners shifts the way you improve their language domains with the various strategies and supports provided.
Being able to strengthen a student's language domains improves comprehension for all students, especially for ELL students. Beth is a wealth of knowledge, and I am so glad to have had the opportunity for her to share these simple yet effective strategies with you all so you can be mindful and incorporate them into your classroom before the school year begins!
Meet Beth
Beth Vaucher
Beth Vaucher is the founder of Inspiring Young Learners. She is an ESL-certified homeroom teacher with over 10 years of experience teaching in the US and internationally. Her background of M.Ed in ESL and Curriculum and Instruction, combined with her experience, has led her to develop a bestselling newcomer curriculum that has sold in over 90 countries around the globe.
She brings a different perspective to teaching ELLs from her years of teaching, living abroad, and working with ELLs from around the world. You can find out more resources to support ELLs on www.inspiringyounglearners.com or in her Teachers Pay Teachers store, Inspiring Young Learners.
In this episode on language domains, we discuss:
The best way to view all students as learners
Simple strategies for all four language domains
Why vocabulary is at the forefront of comprehension
How partners and collaborative learning are helpful for students
Related Resources:
Related episodes and blog posts:
Connect with me:
More About Stellar Teacher Podcast:
Welcome to the Stellar Teacher Podcast! We believe teaching literacy is a skill. It takes a lot of time, practice, and effort to be good at it. This podcast will show you how to level up your literacy instruction and make a massive impact with your students, all while having a little fun!
Your host, Sara Marye, is a literacy specialist passionate about helping elementary teachers around the world pass on their love of reading to their students. She has over a decade of experience working as a classroom teacher and school administrator. Sara has made it her mission to create high quality no-fluff resources and lesson ideas that are both meaningful and engaging for young readers.
Each week, Sara and her guests will share their knowledge, tips, and tricks so that you can feel confident in your ability to transform your students into life-long readers.
Tune in on your favorite podcast platform: Apple, Google, Amazon, Spotify, Stitcher, and more! If you're loving this podcast, please rate, review, and follow!
Podcast (stellar-teacher-podcast): Play in new window | Download
Prefer to read? Open the transcript here!
Sara
Hey there and welcome. I am so glad that you are tuning in to today's episode. So we are like in full on back to school mode, I know that there are quite a few teachers that have already gone back to school or are getting ready to start teacher in service. I know we've got some teachers over in the East Coast that still don't start until after Labor Day. So I hope you are enjoying the last few weeks of your summer.
Sara
But for those of you that have back to school on your brain, today, we have a really great episode. I have my friend Beth Vaucher, who is the host of the Equipping ELL podcast on. And Beth was actually a guest back in 2021, when in one of our very first podcast episodes, and she really is an expert in all things when it comes to supporting our ELL students.
Sara
And today she is going to talk about some really simple and easy strategies that you can put in place that are going to strengthen the language domains for your ELL students. And the really cool thing about the strategies that she shares is that they not only support your ELL students, but they support all students.
Sara
So even if you don't have ELL students, I know that you're gonna get some value out of this, because what she shares are going to help all students improve in the areas of listening, speaking, reading and writing. So I hope you enjoy today's interview. Let's go ahead and jump right in.
Sara
Hi, Beth, welcome to the podcast. I am so excited that you are joining me today.
Beth
I am absolutely thrilled to be back on your amazing podcast again. Thanks for having me.
Sara
Yeah, absolutely. So Beth was one of our first guests back in 2021, when we first started the podcast, and she is an expert in all things related to supporting our ELL students. And your podcast is actually one of our most popular podcasts. And I still get teachers that reach out to me and they say I listened to the episode with Beth, you know, I'm looking for more support.
Sara
So this is perfect to have you back on and we can really have a good conversation about how we can support our ELL students as we get ready to kick off another school year. I know you've got a lot of great things to share. But before we get into that, can you give yourself a brief introduction, so my audience knows who you are and what you do?
Beth
Sure, absolutely. So I am from Chicago, born and raised. And I was a homeroom teacher then went on to get my ESL bilingual certificate and had a high population of ELL students in my homeroom classroom and just saw, fell in love with, you know, figuring out how to reach these incredible learners.
Beth
I taught in the public school for a couple of years and then moved abroad, got married, but we live in Panama City, we have three kids are all born abroad. So that's kind of in part of my story of being in a foreign country and learning a second language and then teaching internationally and seeing students from all around the world grow in their language abilities.
Beth
So that is really my passion is helping teachers unlock the beautiful gift of these multilingual learners and really know how to support them to help them succeed. So that's what I do now I have a store on Teachers Pay Teachers, I have a membership Equipping ELLs and podcast Equipping ELLs. And that's what we're all about helping teachers empower teachers to equip their English language learners.
Beth
So I'm super excited to be here today to talk more about this and help teachers get ready for this upcoming school year and figuring out easy strategies to really help support their English language learners.
Sara
Yeah, and I always love talking with you, Beth and I are friends. And so of course, outside of the podcast, we have conversations. And I always love because you know, if I'm sharing something that is for the general education teacher, you're like, Oh, this is so good for ELL students. And I often see your resources and things I'm like, Oh my gosh, that's so good for all students.
Sara
And the thing that I think is so cool is when we are being really intentional about just being an effective language teacher, it benefits all of our students, you know, not just our ELL students, or not just our general education students. And so I'm super excited because I know you have some strategies that teachers can put in place that are going to help strengthen the language domains, but don't necessarily require a ton of extra effort or input. So it's not like they're doing these separate lessons. And it really is just how are we going to be effective teachers, so let's kind of jump in.
Beth
Yeah, so I mean, going right with that, Sara. You know, I think a big thing because I've been a homeroom teacher. I've been in that situation and I had students that were all different language levels. Most of them were Spanish speaking, which made it a little bit easier.
Beth
But it still felt really overwhelming to me as a homeroom teacher, even with experience of teaching ESL, like, how do I support these students in language and content at the same time? It can just feel so overwhelming that I think we could feel paralyzed in that and shut down and just say, Well, you know what the ESL teacher can do that. I'm gonna worry about the content.
Beth
But the reality is, I think when we make a mindset shift, there's someone in the ESL world her name's Sarah Beato, she's written some books that are really incredible to help homeroom teachers really understand more about how they can easily support English language learners in the classroom.
Beth
And so one of her big things that when I read it, I was like, Oh, this is a light bulb moment. And it's this that all of our students are academic language learners. And so when we just kind of isolate and say, Oh, well, those are the English language learners. And here's our monolingual students. And this is how we approach them. It really we, we dilute our efforts. And we really kind of make ourselves feel overwhelmed with these two different groups that we're working with.
Beth
But the reality is, all of our students are academic language learners. And when we look at that, when we are approaching students that way, it helps us to get excited about ways that we can help support the academic language learning that's happening.
Beth
And so you know, there's a quote from her new book that says, "Any student at any time is learning not just content, but the academic language of the content of your teaching." So yes, we are all teaching language, we can't teach our content without it. And I think anybody listening here is agreeing with that right there saying, You know what, yeah, I'm teaching second grade. But these students don't know the academic content and the academic language of what I'm teaching, I have to teach them that.
Beth
And so there's so many things that overlap, when we approach our students that way, and there's so many things that you're going to see, as you look at ways you can support your English language learners and incorporate these strategies, you're gonna see how that really makes an impact in all your students and really supports all your students.
Beth
Because when you have students who are maybe English speaking, but they're behind grade level, or you know that you're you have students, it's just, it helps support all of them, all of our students really thrive when we use some of these strategies.
Beth
So that's what we're gonna get into today. And I really hope that anybody listening comes away from this feeling like this is super doable. This is super practical. And this is super helpful for all of my students in my classroom.
Sara
I love that. And I think that that mindset shift, I think is so important. And I mean, I remember when I was in the classroom, I, the last school that I taught at was a big international school. And so I had a lot of ELL students, and they all spoke different languages. And I only speak one language.
Sara
And I remember that kind of like you said, that feeling of like, I felt paralyzed, because I'm like, I don't know how to help all of you students. And I remember definitely thinking of like, have my students in like buckets, right? Like, I have my, my ELL students, and I have my mana lingo, students, I have my gifted student, right, all of that.
Sara
But I think going back to what you said, is when we can eliminate putting students into these different groups, and really think about all of our students, our academic language learners, that makes it so much easier for us. But I think it also really frees us up to be so much more intentional about putting these strategies in place.
Sara
Because we have more time, you know, because we're not trying to be like, Okay, I need to have time for ELL students and time for these students. And time for these students. It's like, nope, all of my students are learning academic language, so I have time to support all of them. So I love I love that mindset shift. So what are some simple things that teachers can do to support the language domains?
Beth
Yeah, so let's get into that. Now, before we do, I want to quickly go over the language domains in case someone's listening, and they're like, I'm not sure what the language domains are.
Beth
So this is why it gets overwhelming for homeroom teachers, because you are teaching second grade content and have the standards and you have to hit them, and you have to get them through a year. And so it's like, you know, feels like this rat race from day one. And so I think when you then add in the language component of now, the second grader is supposed to be learning about this. And they are, they don't know any English. So how do I help support them in language and content at the same time, because you have these things that you have to teach.
Beth
And so when you focus on the language domains, along with content, that's where you're gonna have success. So the language domains are listening, speaking, reading and writing. We have our receptive domains, which are the listening and reading. So that's what they're taking in. And then we have our expressive domains, which is speaking and writing.
Beth
Listening is what happens first, if you've ever you know, tried to learn another language or have successfully learned another language, you realize that you start to take things in, you start to understand, you start to be able to listen and be able to hear the different words instead of it all sounding like one very fast sentence that you have no idea when it started, and when it ended. I know we've talked about on my podcast of just the importance of syntax, all these things that all goes together, which is so cool to see this.
Beth
So listening is the first domain that's developed and then we have speaking. That one is usually it takes longer. So there is a time where students will be silent, and it will take them longer to produce any language. And then reading and writing.
Beth
Now, we're going to dive into listening first. And I do think this is an area that is really overlooked, but is one of the most important pieces to unlocking the other domains. Because there's so much that's happening for them to take in all of the vocabulary they're hearing, all that they're hearing in the classroom, they're in the classroom, six, seven hours a day.
Beth
Even if you have an ESL support teacher, usually they're coming in 30 minutes in my situations, and you know if that, so they're mainly in the homeroom classroom, the rest of the day taking in what is being said. And so when we focus on strengthening the listening domain, then the other three domains come much easier.
Beth
If we overlook this domain, then they will struggle with all of them. So this is really a key domain to sit on to focus on and to really reflect. So some strategies, I'm gonna give you strategy in a second that I think is really helpful. But one thing that's really important that I want to mention for homeroom teachers, is just really monitoring your rate of speech. So as I'm saying this and talking really fast, not doing a good job.
Sara
I was gonna say I'm like, Oh, my goodness, I mean, I am. I am a very fast talker, I always have been. And I mean, I remember my first year of teaching I, I taught in an English speaking school and had English speaking students, but they looked at me and they're like, are you speaking another language? You're speaking too fast.
Beth
So that's something that's really hard for us as teachers to really just reflect on that. And kind of, I mean, even record yourself sometimes when you're teaching and see how fast am I talking? Because when you slow it down, it's giving all the students here in class to really take in the words you're saying, it's giving them that, you know, the punctuation is helping them to see when you rise and fall and your sentences, it helps them to see when a sentence begins, and when it ends, just orally.
Beth
So the oral strengthening that oral skill is really crucial to their success. And so as we go into the school year, keeping that on top of mind, maybe making a post it note, and just saying, you know, slow down your rate of speech.
Sara
I think even been too not only slowing down, but having those moments of pausing and letting students take it in and digest it. And I, I know, you have some really practical tests. But before we get into that, I think it's so important. And I mean, I get it, I was that teacher who always felt rushed, and frantic. And like, you know, I had so much to get through.
Sara
But the thing that I think is so important for for teachers, and just people in general to realize is like, there's no point of going through something if it's not going to be effective. So like if we are trying to rush through all of our content and teach our lessons, because we have to get through all of our standards. But we're doing it in such a way that our students aren't actually going to be able to master what we're teaching, then it's like, it's kind of a waste of time, you know?
Sara
So it's like, it's so important for us to know, what are the things that we can do that are going to allow us to be more effective. And as hard as it is, I think slowing down our instruction, starting with how quickly we're speaking through our lessons can have a huge impact, because it is going to allow all of our students to be successful.
Sara
There's some quote where it's like, teaching only happens if your students are learning. So it's like we can teach our lessons. But if at the end of the day, our students don't actually learn anything, then we didn't actually teach them. So we need to keep that in mind. So yeah, I love this reminder.
Beth
Yeah. I think that's what we've reflected on over the years. And you know, Sarah, and I do have a lot of these conversations. How can we change education? And you know, there's a lot of big ideas we have, but I do think it's just really reflecting on, you know, exactly that, like, don't do things to just get them done, but really looking at your students and saying, what do they need for me to in order to receive this to take this in?
Beth
So here's the strategies that really can help you do that. So let's focus on listening first. One of the things that I think is the most critical way to really help boost listening comprehension is to provide an opportunity for your students to pre listen to a text or a passage.
Beth
And I think why this is so important. So as you know, we've looked at the science of reading and the Scarborough's reading rope, and we've talked about that on my podcast as well. And we're, we're trying to intertwine those ropes. And I think a big thing when we look at how ELLs are intertwining that rope is, you know, we have our monolingual students who are starting with years of vocabulary in their brain.
Beth
A five year old enters kindergarten, who if they've been speaking English in the home with 10,000 vocabulary words, on average, and now you have a student entering that same class who has never spoken English before, has never heard it before. So they're starting at zero.
Beth
So I really think creating an opportunity for them to pick up that listening comprehension before they dive into the reading part is really critical for their language development, because we need to be giving them a lot of that that support that language support before they get into reading. And so what does this look like?
Beth
This is giving them a chance. So let's say you're teaching a fourth grade, you know, you're doing a reading passage on, let's just say, you know, an upcoming holiday, let's say it's going to be Halloween or something. So you're doing a Halloween passage. So this is going to be, you know, something that you're expecting them to read.
Beth
With your ELL students, especially those newcomers beginners, or level even two and threes, giving them an opportunity to hear that text read through one time before they dive into it. And it kind of goes, I feel like against what people suggest, but I have seen how this helps them to now have a framework to have now have an understanding in their head, they're making that picture happen.
Beth
If we do it the opposite way, where we just give them a passage to read. And they're decoding the whole thing. It's really exhausting for them, their comprehension is they have no idea what they're reading. So it's really wasting time.
Beth
So when we provide the opportunity, this is a great time where you can ask if the ESL teacher can support this, Hey, we're going to be reading this passage this week, or we're doing this novel, or I'm going to be using this read aloud this week. Can you front load this? Can you read this to them first, can you find this book on YouTube and let them listen to it first in a small group, make you let the whole classes into at one time through before you start to do your teaching points.
Beth
I think so many times we feel like we have to stop and teach and do all these things. But sometimes that choppiness for our ELL students really disrupts their comprehension and just learning that new vocabulary. So I always try to include a QR code on any, you know, close reading passage or guided reading passage that I do so that it gives them an independent way to be able to listen to the passage first. Because like I said, when we can build up that listening comprehension, the other three domains will happen much easier.
Sara
I love this suggestion. And I'm just thinking from the reading teacher's perspective, you know, you're talking about how this can be helpful for the ELL students, but really, for so many other students. Because when students have a chance to preview a text ahead of time, it helps to build their background knowledge, it helps to expose them to vocabulary, they can anticipate text structure, all of these elements of Scarborough's reading that we know are essential.
Sara
Like it gives them a chance to access those things and build upon them before they jump into reading and really digging into the analysis and the comprehension of the text. So I think this is like, like you said, great for your ELL students, but also could be great for all students.
Beth
Because I feel like sometime we feel like, oh, we have to keep this passages secret. And we need to see if they can read on their own first, you know, and obviously, there's time and place for that. But really the most of the time, that's not that's not appropriate, it's not necessary to do that.
Beth
And so providing those opportunities of that building the background of them just listening the whole thing through without seeing any pictures and just building that understanding in the brain. And that really helps to see and decipher if they're having some disconnects. You know, for those, those intermediate ELLs, that's where it can get really tricky, because you it looks like they have a lot of of language. And they're making progress. And it's hard to really see where is it that they're having some misunderstandings.
Beth
So I do I love doing something like that. Let them listen to the passage without seeing any visual support, have them draw what they're seeing, have them retell it. And then you can see, oh, they their understanding, or while they really have no idea about this topic, I'm going to need to spend more time doing some building background or doing some front loading of this vocabulary, because they really showed they are they really don't have that understanding yet for this topic.
Beth
Some other things, just a few quick tips with the same strategy. I mean, technology now is so amazing. There's some really amazing online platforms that can make this easier because I know as a homeroom teacher, you're thinking, Okay, if I have two kids at this level, and I'm trying to, you know, this can take a lot of work to do this with every passage that I'm putting out there.
Beth
Well, there's things called so one online platform is called Immersive Reader. And this is an amazing platform where you can upload a paragraph, or if you are using a paragraph that you found online, you can plug it in there, it can slow down and reads it aloud and highlights the words it can slow down the rate of speech.
Beth
Another one that I love about this is it can translate it. So it has a ton of options to translate. So sometimes that's just a really powerful way to help your students listen to something in their native language before they then work on it in English. It just helps them to build that schema to build those connections, if they're native in their in their first language, but this can do that all for you.
Beth
So it's called Immersive Reader. Google has Google Read and Write, Canva now has a translation tool. So if you upload a paragraph or a passage into Canva, you can translate it into a variety of different languages. Or like I said, I sometimes I've done with this with a lot of our close reading passages is we just record it and add it to a QR code and have it available for those students who want that extra support.
Beth
And something you could send home with the students. So maybe if you know, okay, we're going to do this passage at the end of the week, send it home with the students. And if they have a smartphone at home, they can listen to it at home, you know, one time through before they approach it in the classroom.
Sara
Yeah, I love those suggestions. And I wish I had access to these resources when I was teaching, because I'm like, That would be so awesome. Yeah, I think it's like, you know, so often we think, Oh, my gosh, I don't have time for a student to listen to this. But it's like, make that homework, you know, listening to a story at home, I feel like is great homework and very productive for your students.
Beth
So let's now move into speaking. So speaking, is something that, you know, some of our students get really intimidated by of course, if you're in a classroom of 25 3rd graders, and you aren't that strong in English, you could feel really intimidated to share in the classroom and speak out. And so this really begins by creating that welcoming environment.
Beth
You know, I think for homeroom teachers, it's really important that we just showcase the power of the superpower of knowing more than one language, instead of it being this negative thing. And so just showing different ways different using different read alouds, where children are seeing themselves in the read aloud is really important.
Beth
So with speaking, it will take some time. But this is really vital that students are speaking. And so you want to be setting up routines where they don't feel on the spot, they feel really comfortable. But this is so crucial for them to develop in their fluency, to improve their pronunciation to just move forward in their language.
Beth
I mean, my own story, I took Spanish for 10 years, I have a minor in it, and really went through the whole program without ever speaking very often. And so I could conjugate any verb all the different ways. But guess what, when I moved to Panama, I had to relearn how to communicate because it wasn't helpful in conversation.
Beth
So if we think about our students, what do we want? We want them to be ready for the real world, they need to be able to communicate. So we need to make this a part of our our weekly routines. So one of the ways that I have found that this is the easiest and best way for really all your students is to do a daily speaking and writing warmup.
Beth
And what this looks like is to have on you know, when the students come in the classroom, or whatever this looks when you start your lesson, have a picture on the board. Now, this could be a picture that relates to the content that you're learning or the novel you're reading, or just a really fun picture to get kids engaged.
Beth
And this is awesome, because you can have this easily scaffold for whatever, you know, students you're working with. So if you're in a homeroom classroom, you could have some students, you know, if you're working with newcomers, maybe they're just trying to write down one or two words or say with a partner, one or two words that they see in the picture.
Beth
For your higher level students, maybe they're writing down a few vocabulary words and creating a sentence orally with a partner, for your, you know, monolingual students, maybe they're writing down, they have five minutes to write down as many sentences as they can about the picture. So this kind of relates to our writing domain as well.
Beth
But one picture can powerfully be used to, you know, really, as a teacher, there's little prep, and it can be used in so many ways to scaffold for your students and get them speaking, I think that's the biggest thing is if you set up a routine like that, where they know, okay, as we begin this lesson, we're going to have this speak routine here. And I know what I have to do, when I see this picture on the board.
Beth
That is where then they feel that that a affective filter goes down, they feel comfortable, because they know what's expected of them. They know okay, I'm going to sit with a partner and talk about this picture. But I'm not expected to share in the class yet, or, you know, at the end, we're all going to share out and maybe I'll feel comfortable to share, but I don't know I don't have to share today yet.
Beth
So really, it's you're wanting them to apply vocabulary, you know, work on sentence structure. And in a homeroom classroom, what's really great is you're getting to use you they're getting to work with monolingual students. And so they're hearing from appear, how to use this word in a sentence correctly.
Beth
Now, you could pull out some of that vocab, and you could say, okay, here I see in this picture, you know, these three words, use that in sentence with a partner, any of those things that could take five to 10 minutes, but it's really a powerful way to just get them used to speaking and feeling comfortable in the classroom speaking.
Sara
You know, I love a routine. So I'm like, Yeah, but I love this because, you know, I can see obviously, the benefits for ELL students because it literally is like pulling out words. You know, speaking the words, writing the words or starting to use them in sentences.
Sara
But, again, going back to how this also benefits the general education student, it's like so many students in upper elementary struggle to write in complete sentences and this would give them an opportunity to you know, whether they're given the keywords or they come up with all their own, it's just that quick little opportunity to practice refining the skill that they need to benefit from.
Sara
And I feel like too even, you know, if teachers are really intentional, they can connect this photo to something they're teaching in science or social studies or their read aloud, to where then they're naturally building in vocabulary, not vocabulary, but background knowledge, before they get to another part of their instructional day.
Sara
So then when they get to their science lesson, they can say, hey, remember that photo we looked at earlier? Like, you know, that's, this is what we learned, like, we're going to build on that. So I think this is such a great routine for, obviously, for the ELL students, but I can really see how it benefits all students.
Beth
Yeah. And it's really quick and easy to do, which is really, you know, that's a big win. But, you know, a few tips with those pictures to pull up a picture. I mean, you could even do a math picture showing graphs and then talking about, you know, cause and effect, what do we see here, what's happening.
Beth
I think that's the beauty is when you can bring in that cross curriculum learning is happening, that's where you're gonna have the benefit of then now they're gonna be able to connect the vocabulary words that they learned this morning, and that five minute warm up to the lesson that's happening later on in the day. That's, that's success.
Beth
And so some quick things, if you're newer to working with ELLs, pull up that picture, and then maybe write down three words on the side, give them a word bank, for those who need a little bit more support, or give them a sentence starter. So for those who sit there, and they have a blank stare on their face, okay, here's a sentence started to get you started. Go with it now.
Beth
So that's really important with with the speaking is, is really observing and seeing, when do kids need that support. And then for those other ones, you know, maybe you get to a point where if this is a routine, and they're really getting comfortable with it, now you take away that sentence starter, and you say, Okay, this group, you guys come up with your sentence starter, and go write it on the board for the rest of the class.
Beth
So now you're passing on that need to scaffold to the students. And that's where it gets really exciting to start to see how they've gotten comfortable, and they know what to do. Because it's routine you set up.
Beth
So let's move into reading. And there's so so so many things that we could talk about with reading. But something that I think is really important, and we've hit on this a little bit, but something that's so critical for all learners is to frontload vocabulary. And we know that but I think something that specifically with your English language learners to be mindful of is, what vocabulary do you select?
Sara
I think that's hard for all like, just in general, like with there's so many vocabulary words, how do we go about selecting the right terms?
Beth
Exactly. So it's just having this in mind as you approach, you know, the reading passage or the content that you're learning, what we want to do is we want to preview before any text, and we want to choose the words that need to be front loaded, we want to keep it to a small amount.
Beth
And this is where it gets tricky, because it's like, well wait, we have all of these academic words we need to cover now we need to you know, so let's walk through this is what this looks like.
Beth
We want to look for words that have relevance, and that the frequency of the words. So a lot of times, you know, sometimes we pull one word out. But overall, it doesn't make that big of a difference to the meaning of the whole story. Or it just might be a tricky word that we know they're going to come across.
Beth
So we have to really decide is that the word that we want to focus on, because the words we want to front load, we're doing this because it builds a framework and the background that the students need to make connections, and to develop reading skills.
Beth
So as you approach a text or whatever, you know, reading passage, first you want to look at your students, and you want to decide, you know, do these students have the background that it takes to understand this text. If it's working with students from other countries, we need to be really mindful of that if we're only using texts that relate to students that have grown up in the United States, then we're really missing out on those opportunities for our multilingual students to connect.
Beth
So I want to really challenge our teachers this year, as you go back into the school year is to look for texts that really speak to all the students that are represented in your classroom. So things like you know, a birthday party in the US looks really different than a birthday party that's happening in Mexico. But guess what, if you find reading passages about a pinata, those students are going to really light up and they're going to have building background, they're going to have things to connect to and get super excited about what they're reading.
Beth
So looking at your passage, first of all, now, as you look and preview the text, we want to look for our content words, you know, our tier three words, those are the easiest to choose. And this is usually something that's pre taught to all of our students. So like we said, we're teaching academic language learners, we usually pull out those content words, and we've pre teach them with pictures and sentences and definitions and all that stuff.
Beth
But with ELLs, we really want to also focus on our tier two words. So there are going to be times with ELLs that we do need to share with them the tier one words, but the tier two words are really when they're most abstract, and the trickiest, for our ELLs and mastery of these types of words and vocabulary that they're coming across, will really increase the reading skills.
Beth
Because content is usually stand alone of they might see these words, you know, again in different in different ways. But it's really our tier two words that they're going to see over and over in different texts in different passages and different readings across different subjects. And so if we can give understanding and frontload those words, provide that visual support before they get into the reading, that's going to help them as they approach many different text.
Sara
I love that I think and just in general, like front loading vocabulary, I think it's we, as adults, I think, sometimes take for granted how our vocabulary allows us to access and understand texts that if our students don't have the same level of vocabulary, like they're going to struggle.
Sara
I read somewhere where it's like, in order to understand a text, you need to know 90 to 95% of the words. And that's, that's a lot I mean, which makes sense. It's like, you know, you put a medical journal in front of me, and I'd be like, I'm clueless, or my husband and engineer, and every now and then he'll show me things. And I'm like, this is a foreign language to me, I literally have no idea. I have no idea what you're talking about.
Sara
But I think sometimes our students, even our, you know, non ELL students, you know, if they don't have the robust vocabulary, they're going to struggle with the words. So I think this is just such a good reminder that we need to be focusing on all levels of vocabulary for our students when we're getting ready to read the text.
Beth
Yeah, and I think too, I mean, going back to the importance of that oral, when they're front loaded with these really important words that they're going to see all over the place. And you take the time to do that, you're going to start to hear that in their academic language that comes out when they're speaking. And so, you know, it's not wasted time, they're all connected, all the domains are connected. And so when you take the time to do those small things, it really you're going to see a big impact.
Beth
So let's dive into writing. Now, I know Sara has some really incredible writing routines. And so really, it's it's going off of what she's saying, too. But I think something that, you know, I see the shift happening, and I know we both for the Reading Revolution have kind of been like, wow, light bulb moment again, like, yeah, back to the sentence. And you know, so this is just kind of a strategy of just or just a tip of.
Beth
So writing is the last domain that's developed. And it's very overwhelming, there's so much that's happening in the brain to produce a sentence, and especially when it's someone who's speaking a second language. So if you think and watch your students, if they're still in the in this stage where they're translating everything they're hearing to the output, that's a lot that's happening for now, them to not just speak and output but out for them to pick up a pencil, use those fine motors, write a sentence, it's so much that's going on.
Beth
And so what I think is happening, especially when it's looking at the older kids, you know, when we have a fifth grade level two student in our homeroom classroom, and we're saying, well, he's not writing paragraphs yet, we need to get him there. He's behind. And that's the idea that we feel it's really detrimental. That student and it's not necessary, he's not behind, there's things that we can do to help him move forward. And it all begins with really strengthening that sentence.
Beth
And so doing those types of activities that, you know, Sara has given so many ideas around this, I'm not gonna go too much into that, but just doing things where you are providing opportunities for students to start at where they are, and then building on that.
Beth
So because writing is really difficult for ELLs, and because it's the last domain that's developed, doing things where they're working with partners, or working in a group, or writing one simple sentence and passing their paper, and then they have to add on to that sentence, maybe they were they remove a word and add in a new word, or maybe they added an adjective.
Beth
And you're doing this in a way that the pressure is not on the students to feel like, I have to write, I need to do this correctly. All eyes are on me for my writing and what it looks like. And I'm bad writer. So doing any type of, you know, cooperative learning strategy, where it's a shared writing experience, and you're removing that feeling of like, it needs to be a paragraph or it needs to be five sentences.
Beth
You will get there if you simplify it at the beginning. And you spend the time especially for you know, as we're going back through the school year, give it the time it takes to really teach what is a good sentence, give it the time it takes to really play around with language, play around with sentences, modeling good sentences, give that space in your classrooms, so that come March, April, they're ready for working on paragraphs and writing really awesome, great paragraphs.
Beth
But give it the time at the beginning of the year to really make it connecting to their interest. Someone's going to write more if it's something they're interested in. I mean, I remember how many times we had to give these writing prompts where it's like, second graders, you know, here, here's a prompt that we pulled out of nowhere. We've given you no background, we've given you no time to write about this now write two pages, and we're gonna grade on this. And this is our state grading.
Beth
You know, and it's just like now that I look back, I'm like, who, even adult like, could we really sit there and all of a sudden write something that we're really excited about. And so my recommendation is to see writing as a way that you're extending, everything you're doing in the classroom. Writing shouldn't just be the standalone prompt that you give them no support.
Beth
But if we look back at the other domains we've talked about today, if you've spent time front loading vocabulary, building background, listening to a passage, now you spend time having them work on their reading skills with that passage, now is a great time to extend that and have them write about it, write about it.
Beth
Because they've already they, you know, they have the vocabulary, you know, they've seen the, you know, that content in great writing. So now they're able to write something. But if we just give them this standalone, then it becomes really overwhelming, they shut down. And you're not going to have students who are willing and ready to right down the road.
Sara
You're like, you know, you're you're speaking my language here. All of these things I was like, yes. But one of the things that we've talked a lot about with the teachers in my audience this summer, through some different trainings is this idea that I think we're so tempted to teach writing in isolation, yeah, in reality, writing is necessary for all all subjects.
Sara
Like you writ in Math and science, what no matter what it's, it's a necessary part of being a successful student. And we should take advantage of all of those opportunities. So if you're doing a math lesson, you can use that as an opportunity to work on word development, or you know, word choice or sentence structure, whatever it is, if you're in science, or social studies.
Sara
Like, we don't need to limit our writing instruction to just writing time, and we don't need to limit our writing instruction to only paragraph or essay development, you know, working on sentence structure has a huge impact.
Sara
And one of the things that you mentioned, how, you know, letting students work in partnerships, especially with writing, I think, can be so helpful. And I think sometimes we're just tempted to, you know, and I understand that there's just the pressure of assessment, I think, is so stressful for teachers, sometimes, students have to practice doing it on their own, because at the end of the year, that's how they're going to be tested, which is true, but we have the whole year to get them to be ready to do it on their own.
Sara
But one of the things that I think can be so helpful is when we let students work with a partner, because it allows them to practice but also learn from their partner. And one of the things that I would do when I was in the classroom, is when students are working with a partner, they would have one pencil and one paper, but both partners were responsible for it. And the expectation was, is that at some point, both partners had to contribute to the writing.
Sara
And so you know, this means that they're both talking through what should I write? Is that a good idea? Do you like this? No, I'm gonna write okay, you wrote this sentence, I'll write this next sentence. But it eliminated that individual pressure. And it also brought in some accountability. And so doing things like that can have a huge impact on the result. And students are still getting to practice but in a much like, low pressure sort of way. So I loved your suggestion to let students use partners.
Beth
Yeah, I love I love that idea. And I think especially the beginning of the year, you know, make space for those types of things. There'll be time when they need to work independently, but build the foundation now. Give them the support, and you'll see it happen later on in the year.
Sara
Absolutely. All I mean, all the things that you shared, they're so practical. And I think, you know, it's like, I wish that I would have had this knowledge when I was in the classroom, especially on how to support my ELL students. But I think I love how everything that you shared, is going to benefit ELL students, but also, it's gonna benefit all students, like gifted students, your students in special education, your like all students benefit from working on listening, speaking, reading and writing.
Sara
So I'm so grateful that you have this knowledge and that you're willing to come on and share it with my audience. And hopefully, the teachers listening just feel a little more empowered to start the back to school season with some really concrete strategies on how to support their students.
Sara
I know you have a really great freebie that has a lot more information. Can you tell my audience a little bit more about that and where they could find it?
Beth
Yes, absolutely. So we've come up with because I know it can feel overwhelming to get started. And a lot of times just the language domains breaking it down into the different levels of language and what to expect. We have done all that work for you and really done a breakdown of how to get started with teaching ELLs and we've called it our Go To Guide for Successfully Teaching English Language Learners.
Beth
And so we've just packed a ton of information in there really helpful things that you can put in your lesson plan book that just you can refer back to and get set up for the school year but you can go and check that out. We will put a link in the show notes so you can go and grab that.
Beth
But if you are looking for more support with your English language learners, we are here to help however we can. If some of those things you know like speaking and writing cards we have the whole year already done inside our membership. If you are interested, we have close reading passages with the QR codes all of that kind of scaffolded content and reading material goes for ELL K through 12.
Beth
We have done a lot of that work for you, because teachers have a lot going on. So we want to take that load off your plate. So if you do work with a lot of ELL students, and would love to have some resources that help support them, you can find out more at equippin ells.com.
Beth
Awesome, thank you so much. And Beth, like I said, Thank you so much for joining us today, we'll be sure to include all of the links that you mentioned, as well as the link to your Instagram and your podcasts as well. So if teachers want to continue to learn more, they can tune in.
Sara
But thank you so much for joining me today. This was just such a good conversation. And it makes me so excited for the teachers in my audience to start the year with this knowledge. So thank you so much for being here.
Beth
Absolutely. Thanks for having me.