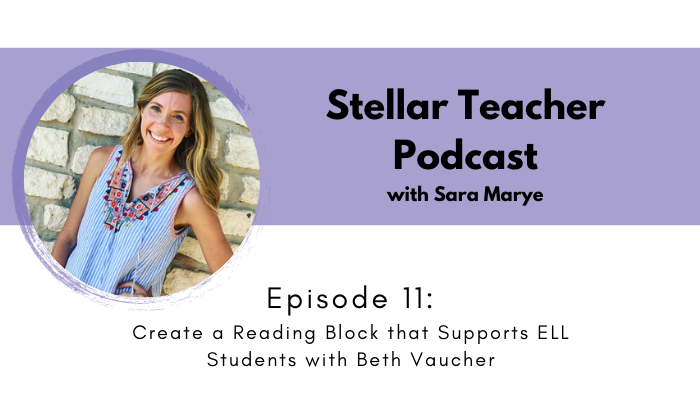 No matter where you are located, it's likely that you have students who are not native English speakers. Only about 1% of homeroom teachers have training in supporting the ELL population, even though these students are in their homeroom the majority of the day without an ELL specialist. So if you're wondering how to provide support to your English Language Learners, our guest today is sharing her favorite tips!
We're joined by ESL teacher and creator behind Inspiring Young Learners, Beth Vaucher. She is passionate about supporting and empowering teachers to equip their English Language Learners. Beth tells us why your reading block is one of the best times that you can support ELL students. Her strategies don't require a ton of extra work and preparation and they will help you learn to maximize your time so that your students get what they need while feeling more confident and successful.
In this episode we discuss:
5 strategies on how to tweak your reading block to keep language and cultural differences in mind
Why building background knowledge and using visuals is crucial for ELL students

How planning intentionally with your ELL students in mind benefits all the children in your class

The importance of giving ELLs the opportunity for collaborative work and independent work
Beth's Resources:
Connect with me:
More About Stellar Teacher Podcast:
Welcome to the Stellar Teacher Podcast! We believe teaching literacy is a skill. It takes a lot of time, practice, and effort to be good at it. This podcast will show you how to level up your literacy instruction and make a massive impact with your students, all while having a little fun!
Your host, Sara Marye, is a literacy specialist passionate about helping elementary teachers around the world pass on their love of reading to their students. She has over a decade of experience working as a classroom teacher and school administrator. Sara has made it her mission to create high quality no-fluff resources and lesson ideas that are both meaningful and engaging for young readers.
Each week, Sara and her guests will share their knowledge, tips, and tricks so that you can feel confident in your ability to transform your students into life-long readers.
Tune in on your favorite podcast platform: Apple, Google, Amazon, Spotify, Stitcher, and more! If you're loving this podcast, please rate, review, and subscribe!
Podcast (stellar-teacher-podcast): Play in new window | Download