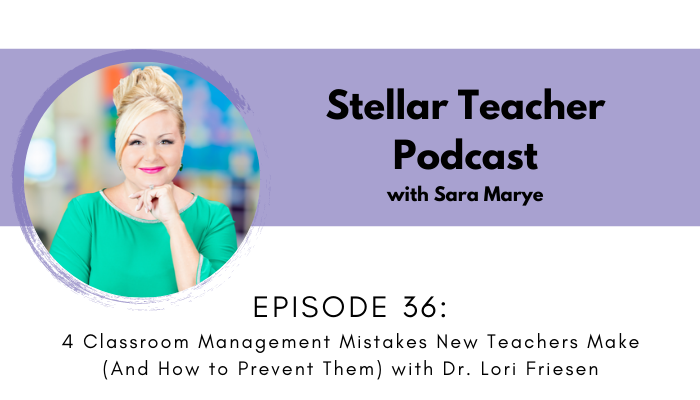 I am thrilled for you to listen to today's episode because it's geared towards first year teachers, but also a great reminder for veterans. You'll be hearing from my guest speaker, Dr. Lori Friesen, who has made it her life's work to support new teachers. I love her mission because I could totally relate to that feeling of knowing my college education was spectacular and yet when I walked into the classroom those first few years, I could have used her help!
Lori really touches upon all the different parts of teaching that may not be addressed during college. One point I wanted to focus on was classroom management. No matter how great your supervisor was during your student teaching, it's a whole new situation when you are given your roster and students arrive on that first day of school. Once you listen to these tips you'll definitely feel more prepared for the kids that walk through your door!
Host of the Beginning Teacher Talk podcast, Dr. Lori Friesen believes that just because you're a beginning elementary teacher, there is no need for you to struggle like one. Dr. Lori taught in Hong Kong, Japan, and Canada and at the University of Lethbridge in Alberta before completing her PhD and publishing the Beginning Teacher's Handbook for Elementary School, which has since expanded to become the popular R.E.A.D.Y. for School Academy.
In this episode we discuss:
Connect with Dr. Lori Friesen:
More Resources:
Connect with me:
More About Stellar Teacher Podcast:
Welcome to the Stellar Teacher Podcast! We believe teaching literacy is a skill. It takes a lot of time, practice, and effort to be good at it. This podcast will show you how to level up your literacy instruction and make a massive impact with your students, all while having a little fun!
Your host, Sara Marye, is a literacy specialist passionate about helping elementary teachers around the world pass on their love of reading to their students. She has over a decade of experience working as a classroom teacher and school administrator. Sara has made it her mission to create high quality no-fluff resources and lesson ideas that are both meaningful and engaging for young readers.
Each week, Sara and her guests will share their knowledge, tips, and tricks so that you can feel confident in your ability to transform your students into life-long readers.
Tune in on your favorite podcast platform: Apple, Google, Amazon, Spotify, Stitcher, and more! If you're loving this podcast, please rate, review, and follow!
Podcast (stellar-teacher-podcast): Play in new window | Download