Teaching reading genres is key to helping your students to become thoughtful and lifelong readers. Instead of making genre an afterthought, a passing mention, it can be introduced in a meaningful and impressionable way. I love this quote by James Patterson, "There is no such thing as a kid who hates reading. There are kids who love reading and kids who read the wrong books."
There is no such thing as a kid who hates reading. There are kids who love reading and kids who read the wrong books.

James Patterson
Teaching reading genres can support our students discover types of books they enjoy reading. Sometimes all it takes is one good story to spark the love of reading – even for the more reluctant readers.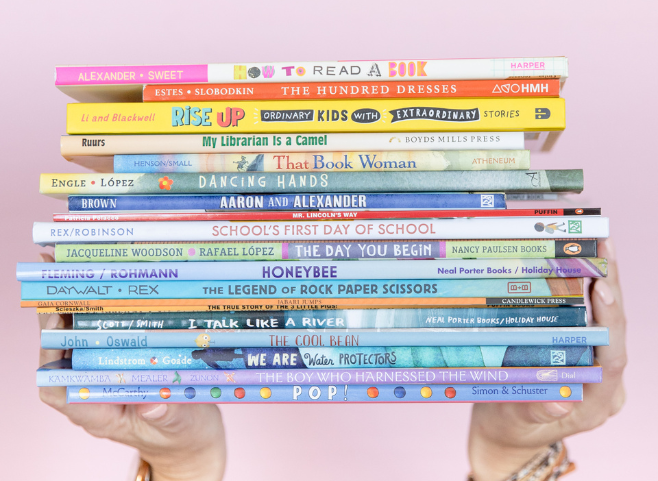 I think what often happens when we're teaching reading genres is. . .
We only focus on a few of the major genres.
We teach genre as an isolated unit.
We rarely make the connection to the educational benefits of understanding genre.
When we teach reading genres without a clear plan, our lessons and message about genre can fall flat. But there are ways we can make learning about genre more worthwhile.
We can intentionally introduce and teach a wide number of reading genres.
We should focus on genre throughout the entire year in all aspects of our literacy block.
We need to highlight the educational and engagement benefits of understanding genre.
What are the academic benefits of teaching reading genres to your students?
Academic: Understanding genre gives students a roadmap to help them understand the texts they read. It can also help students with comprehension – each genre has specific attributes unique to that genre – the more students know and understand, the easier it will be for them to understand various genres.
Engagement: Knowing about different genres empowers students to select books they will enjoy reading. I think we can all guess the power of reading a book we enjoy. When students read books they are invested in; they will be motivated to pick up another.
Community: Genre-based activities help you create a classroom community that loves reading. They are fun and help you create a common language you can use to discuss, analyze, and evaluate texts.
What is Genre?
A genre is a book/text category that is defined by a specific set of attributes.
The beginning of the year is an excellent time to dive into reading genres. Of course, you can do any of the following activities at any point in the year too. It is important to remember when teaching reading genres the goal is to help your students discover the importance of knowing and understanding genres.
Before you dive into teaching reading genres, it is important to do an introductory lesson on genre to help your students understand what genre is and its specific attributes and characteristics. Check out my First Ten Days of Reading Lesson Activities for scripted lesson plans, anchor charts, whole-group slides, and student activities that focus on building strong reading habits, including an overview of genres!
If you are above a third-grade elementary teacher, hopefully, your students will have some familiarity with genre and its definition; nevertheless, it is still essential to do an introductory lesson as a refresher for students. You can even talk to them about how your goal this year to help them find the books they will love reading.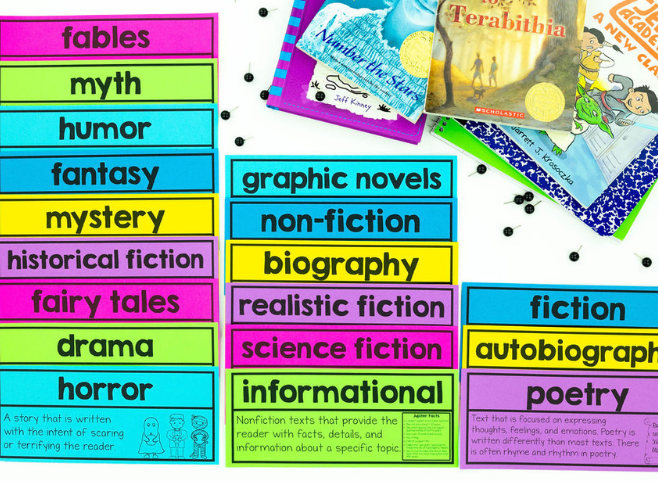 Picture Book Scoot
This activity does take a little bit of prep work, but it is fun and a great way to help your students preview a lot of reading genres at once! Here is a breakdown of the activity:
Find picture books that represent a variety of genres
Place a picture book on every student's desk
Give students a recording sheet to have them take notes on their favorite books/genres
Have students "scoot" and preview each picture book
Think of this book scoot as a book tasking for genres. The goal isn't for students to read the entire book; they are previewing to get a sense of all types of genres. Encourage students to notice what they like and don't enjoy about the different books. Students will preview a book, jot down some thoughts, and move on to the next desk/book. Discuss expectations for the scoot: how long they'll be at each book, the signal for when they move, etc.
Their recording sheet is for them to jot down what they like about the books they preview. Do they like books with facts? Or maybe they prefer a book with an unrealistic storyline? Do they feel excited when they see a book based on actual events? This reflection sheet can be as simple as a piece of paper or a notebook. You could create a reflection worksheet beforehand too. You may need to ask some questions aloud as students preview to encourage them to think about specific attributes of the different genres.
Just keep in mind this is not necessarily a quick activity. I'd suggest doing this for 45 minutes up to an hour. Or you may even want to break this activity up over 2-3 days so students stay engaged.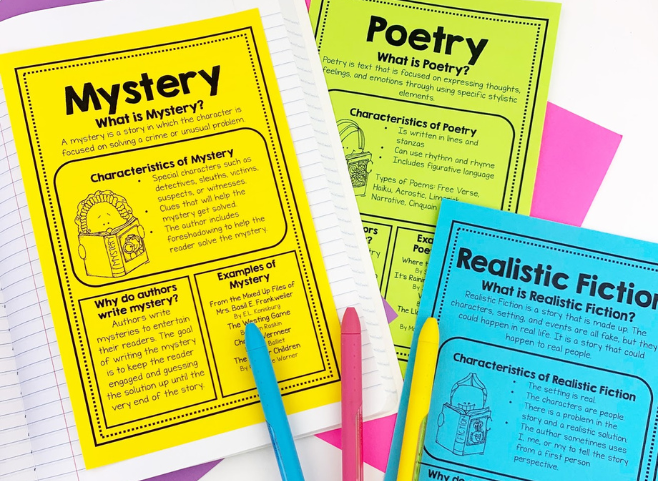 Genre Gallery Walk
This activity involves movement and can be used in many creative ways! Here is breakdown of the activity:
Create a genre gallery with genre posters created by your or students, pre-made genre anchor charts, or book covers
Provide students with a genre reflection sheet
Post the genre materials around the classroom
Allow students to walk around (like an art gallery!) and learn about each genre by viewing the various materials you've provided
Allow time for students to discuss and reflect
Discuss the expectations for students before the activity. Set the scene! Explain to students that an art gallery is meant to be a place for people to absorb information, reflect, and think. Set parameters for your students: how long they will be observing, are they working individually or together, etc. Talk to students about their role as gallery viewers. They are browsing genres to learn more about each type, asking questions and noticing what they like/dislike.
There are many ways to make this activity unique and engaging for you and your students. You could make it an ongoing project for a week. You could make it collaborative and have students work in groups to create a genre poster to hang in the gallery.
I also love that this activity is more open-ended. You could host the gallery walk for 30-minutes, once a week, or use it as an early finisher activity. There are so many ways you can have students engage in this activity!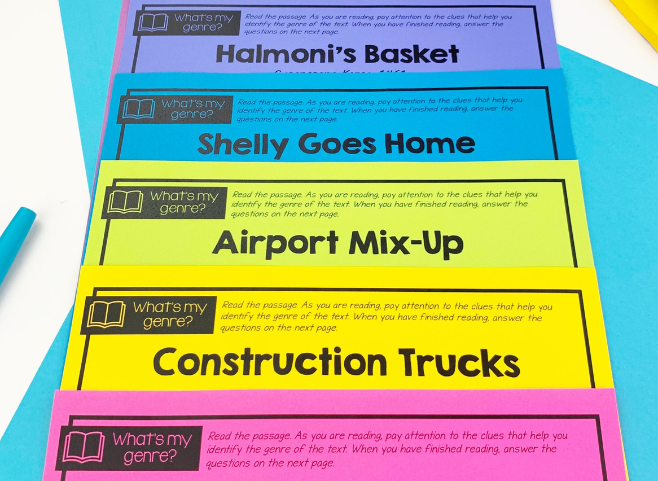 Guess the Genre
This activity does require some prep work for teachers, but there are ways you can reuse materials to get the most out of your time! Here is a breakdown of the activity:
Find short reading passages that represent a variety of genres
Have students read the passage with a partner or in small groups
Students will attempt to guess what the genre of each passage is and explain their thinking
Allow time for whole-class discussion/reflection
I love the idea of using this activity as a pre-assessment to learn what your students know about genre. It can give you insight into which genres they already know a lot about and which need revisiting. More than likely, your students will know something about genre already, so it will be fun for you and them if you study genres they haven't been introduced to yet!
To support students' guessing, you can provide a list of genres for them to choose from as they read the various passages. Providing a list can help jog their memory for genres they maybe have worked with before.
The power and impact of all three activities will come from discussion and reflection after the activities have been completed. This time is important so students can reflect on what they have learned about genres. Not only is it beneficial for students, but you can also observe and notice any misconceptions they might have and revisit any information they need.
If you make genre a cornerstone of your literacy block this next year, then I strongly believe:
Your students will experience academic growth and success in reading.
They will be able to identify and articulate their personal reading preferences.
Your classroom will become a community that loves reading.
Put It Into Practice:
Don't forget to download my free Genre Inventory! This reading inventory is a fun way to help students figure out what genre they should read next. Students can go through this "choose your own genre" inventory several times and get different answers each time. It's a fun way to help students explore different genres.
Check out my blog post How Teaching Genre Can Create Highly Engaged Readers to learn more tips on how to teach genre in the classroom all year long.
Join us inside The Stellar Teacher Reading Membership, where you will get access to a resource library filled with reading resources to support your students understanding of genres and so much more!
Happy Teaching!
Grab Your FREE Gift!
Genre Library Labels
Ready to print genre labels includes 24 different genres in 2 different sizes as well as 26 A-Z labels in 2 different sizes to organize your classroom library. Comes with an editable PowerPoint to customize and create your own library labels.