Are you ready to simplify decoding multisyllabic words for your students? I have a five-step process you can teach your students to help them read big words. I am confident you can implement this process with your students this week.
The 5 Steps to Decoding Multisyllabic Words:
Circle the prefixes.
Put a box around the suffixes.
Look at what is left – underline vowels.
Say the word parts slowly.
Say the entire word.
Now, I did say this was a simple process. . . and it is! And it looks easy, right? Even with a simplified process, it will take your students time to learn how to apply and benefit from it properly.
In order for this strategy to work in your classroom, students will need to:
Understand prefixes and suffixes and have consistent practice with them
Have ongoing, meaningful practice with syllable types
Familiarity with common roots
Have a baseline understanding of phonics rules (letter patterns)
BUT I still believe you can implement this routine in your classroom now! If you aren't doing the above, you can start, and in hand, with the 5 Steps to Decoding Multisyllabic Words, your students will be on their way to being stronger readers.
It can also serve as a diagnostic. If students aren't successful with reading big words when they use this routine, it can help you pinpoint where students need more support.
Do they need a better understanding of prefixes and suffixes?
Do they need explicit syllabication instruction?
Do they need help with blending and putting word parts together?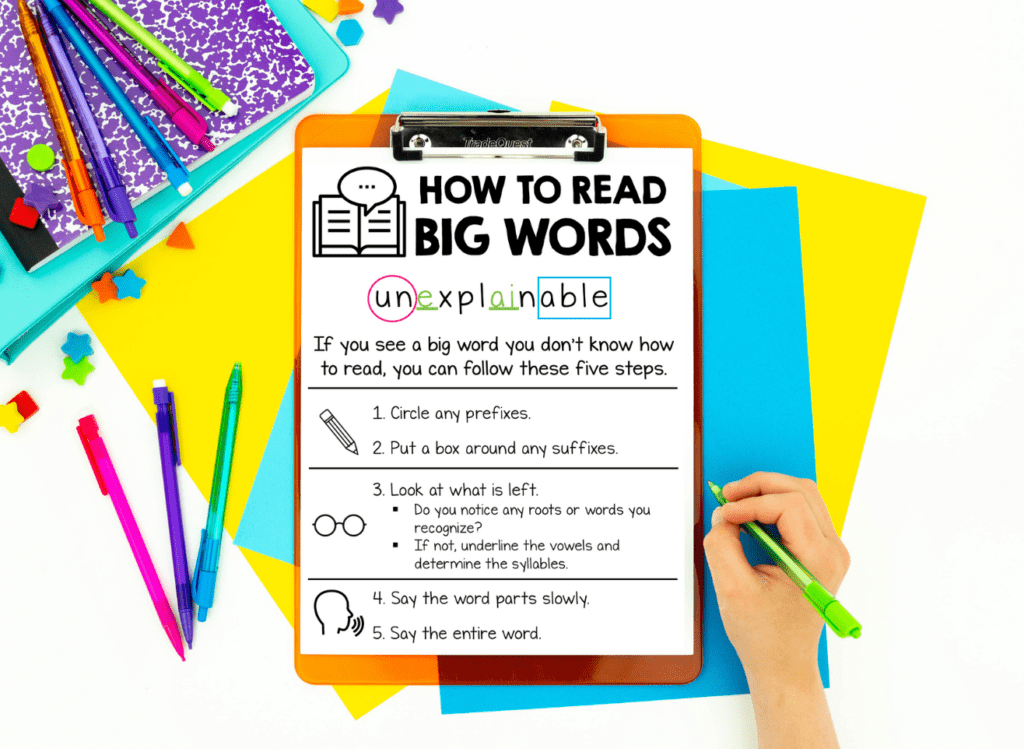 How do I set my students up for success with decoding multisyllabic words?
With any routine you implement in the classroom, you'll want to do a few things to make it as successful as possible:
Introduce and model it.
Practice it with your students.
Encourage them to practice on their own.
Be consistent and repetitive!
Provide visuals for your students.
Breaking Down the 5 Steps to Decoding Multisyllabic Words
With practice and persistence, decoding multisyllabic words can become a more automatic and natural process, leading to greater reading fluency and understanding. Intentionally teaching your students the following five steps will help set them up for success.
Step One: Circle the prefixes.
The first step to decoding multisyllabic words starts with circling the prefixes.
If students identify a prefix and know how to pronounce it, it will give them the confidence to go through the steps and read the entire word.
Additionationally, if they know the meaning of the prefix they've identified, they instantly have a clue as to what the word means.
When students circle a prefix, a second step could be to write the meaning of the prefix as well.
Step Two: Put a box around the suffixes.
This step will be similar to step one but focuses on suffixes. Drawing a box around the suffix will help students create a visual separation in the word.
This step aims to help them see the parts of the words more easily. Putting a box around the suffix of a word will help them figure out how to read the end of the word.
Suffixes often dictate the part of speech of a word, so if students can identify the suffix, they are one step closer to reading and knowing the meaning of the word.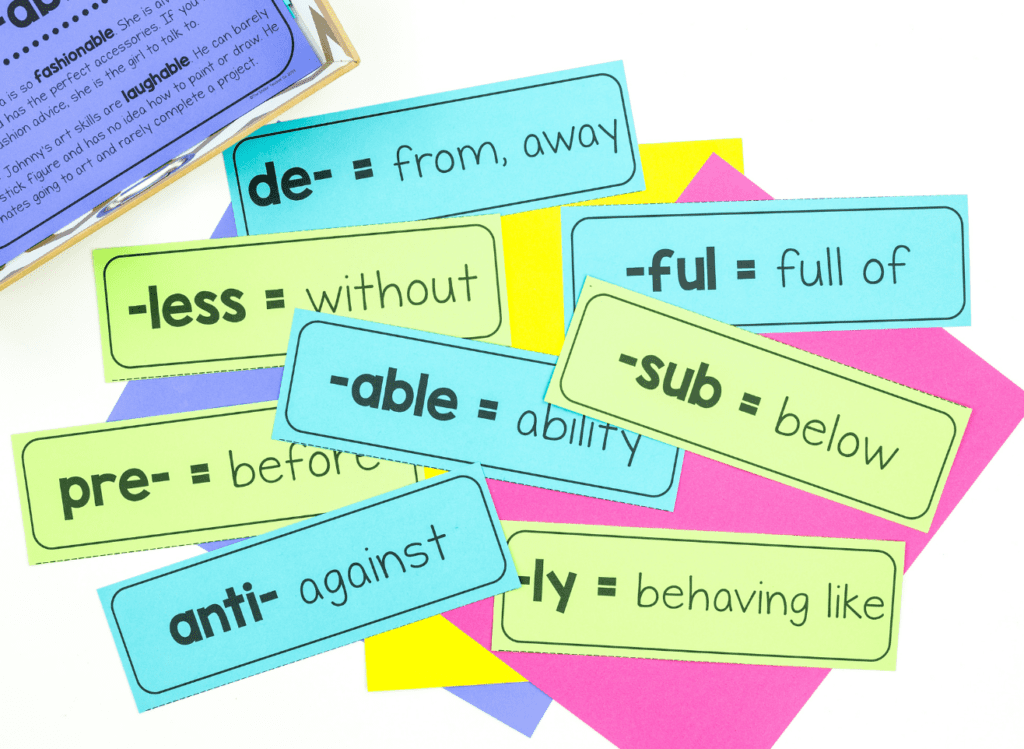 Step Three: Look at what is left and underline vowels.
After students have identified any prefixes or suffixes, some leftover letters may be in the middle of the word.
At this point, students still need to figure out how to read the entire word. There are two things students can do to help they do this:
Look for recognizable roots/bases that are familiar. If students see the word nonadjustable and have circled the prefix non- and circled the suffix –able, and they recognize adjust as being the word left… they don't need to break that word down into syllables. At this point, they should be able to put all three parts together to read the word.
Break down bases or roots into syllables. If they don't recognize the parts of the words that are left after identifying prefixes and suffixes, breaking down anything left into syllables is the next step. Since we know all syllables have to have a vowel sound, if students can figure out the vowels in the base or root, that can help them get started with correctly reading the word.
This step requires students to be familiar with a variety of syllable types. If you want to read more about what syllable types students should know for decoding multisyllabic words, check out my blog post, 7 Syllable Types to Teach in Upper Elementary.
Step Four: Slowly say the individual word parts.
Now is the time for students to attempt pronouncing all parts of the word. It can be helpful to have students rewrite the parts of the word they've circled, boxed, and underlined spaced out, so they can see the individual components.
non adjust able
Encourage your students to say the word parts 2-3 times slowly. It is also helpful if students point to each part with their pencil or finger.
After saying the parts slowly, students should speed up and move their pencils in a swooping motion to help them combine all the parts.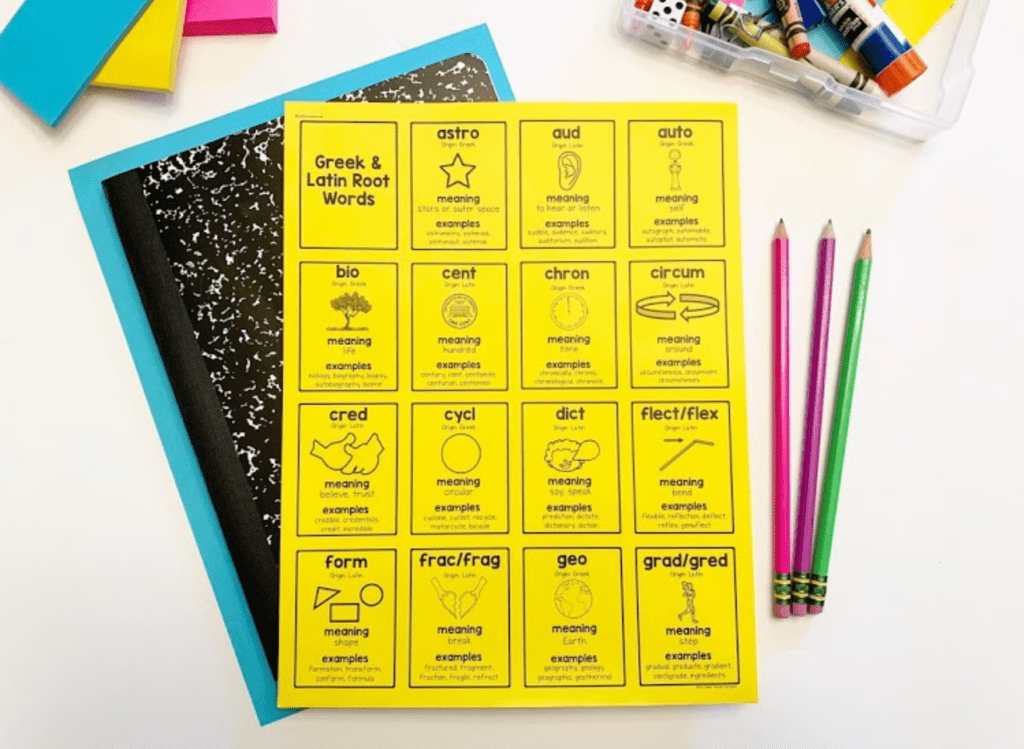 Step Five: Say the whole word.
Finally, students have done all the work to say the entire word! To help them reflect on their process and check their understanding, you can encourage students to ask a few questions:
Is this a real word?
Do I recognize this word?
Does the word make sense in the sentence?
Keep in mind these questions won't always be helpful, especially if a student doesn't recognize a word they are reading. But it is still important to help your students get into a habit of reflecting on the process of decoding multisyllabic words.
In addition to reading the steps in this blog, it will be beneficial to hear an example! Check out my podcast episode Decoding Big Words to walk through this five-step process of decoding multisyllabic words and hear an example in greater detail.
I love this process because it doesn't contain hidden tricks; you give students logical tools to help them read big words. Of course, it is most helpful if your students are familiar with and understand a variety of prefixes, suffixes, roots, and syllables.
If you want to help your students build a solid foundation of prefixes, suffixes, roots, and syllables to apply this process in their reading better, check out my Vocabulary Resources on TpT.
Put It Into Practice:
Download my How to Read Big Words Strategy anchor chart freebie!
Check out podcast Episode #122 to hear me chat more about this 5-step process and give more examples to help you feel confident when you start using the routine in your classroom.
Join us inside The Stellar Teacher Reading Membership, where you will get access to a resource library filled with reading resources, including resources to help you make sure your students have a solid understanding of affixes and syllables so they can start decoding multisyllabic words confidently.
Happy Teaching!
Download your free poster!
How to Read Big Words Strategy
Teach your students this five-step process for reading big multi-syllabic words. Students will feel much more confident knowing what steps to take when they encounter a tricky word in a text they are reading.