Whether you are just returning from a long school break and your kids have seemed to forget everything you taught, or it's a Full Moon/Friday the 13th situation and your kiddos are just acting a little crazy. It might be time to take a step back and reset your expectations for your Independent Reading Time.
Throughout the year your students will make a ton of forward progress. This is great and ultimately what you want them to do. But you also need to be prepared for those few times when you experience a setback. If you are starting to notice a lot of day dreaming, fake reading, or book switching during your independent reading time, then you might be ready to reset your expectations. You definitely want to pause and reset rather than just keep pushing ahead.
It will be better for you to take a few days to reset your expectations and get your kiddos back on the same page so you and your students can get the most out of your independent reading time.
If you feel like you are in need of an independent reading reset, here are a few things you might want to consider:
1. Reset your independent reading time stamina goal.
If you're just coming back from a long break or a major disruption in your schedule, you probably need to adjust and reset your stamina goal. If your students have been out of routine, chances are if you ask them to sit down and read for 30-40 minutes it won't be a productive use of their time.
Adjust your stamina goal and give your kids a chance to build back up to where they once were. Maybe start off with reading for just 15-20 minutes your first week back and every day add 5 minutes. You won't need to take as much time as you did during the start of the year to build their stamina, but you definitely want to start small and build.
2. Provide positive praise like crazy.
The more positive praise you provide your students the quicker your independent reading will get back on track. Students respond well when they know they are meeting expectations. Consider doing a few of the following to provide positive reinforcement:
Daily shout-outs at the end of reader's workshop to highlight students who were on task
Walking around and placing a sticker or some other small visual on the desks of students who are on task and reading
Independent and whole class stamina trackers
Whole class reward if all students are reading like they are supposed to
Send an email or a note home to the parents letting them know how their child used their independent reading time wisely
3. Let your students re-teach important mini-lessons.
The quote "tell me and I forget, teach me and I remember, Involve me and I learn" is sooooo true. If you simply tell your students your expectations for independent reading time they will likely forget. But if you let them be involved in the teaching process, they will be much more likely to remember.
If you are in need of an independent reading time reset, you probably need to review some key mini-lessons such as "Real vs. Fake Reading", "How to Turn-and-Talk", or "Write about Reading". But rather than you taking the lead on reteaching these lessons, have your students become the teachers.
Give your students a list of mini-lessons you plan on reviewing and then let them sign up in small groups to be the teachers for that mini-lesson. Give them clear expectations like they need to have an anchor chart, provide a model to the rest of the class, and have a few discussion questions planned, and then let them lead the class in reviewing the expectations.
If they are responsible for teaching the class, they will be more invested in applying those lessons to their independent reading. The time they need to prepare the lesson will be a nice break from their normal routine and their involvement in the teaching process will only increase their future investment in their own independent reading.
4.Change it up.
Change can bring in new energy and excitement to something that feels old and boring. Some students can get burned out on independent reading and might not be as excited about this part of your day as they once were. Make some changes to get them excited.
Maybe you need to introduce some new books to your library. Maybe its time to bring in some new pillows or carpet squares and let your students pick new places to sit for reader's workshop. Maybe you can introduce some new reading response activities for students to choose from. It doesn't need to be major, but incorporating some new things to your independent reading time will get your kiddos excited.
5.Give them choice.
Do not underestimate the power of choice. Giving students more choice during this time of day might be one of the easiest, yet most effective ways to reset your independent reading time. Students feel empowered and invested when they have a say in their own learning process. Let students be in control of what they need during their own independent reading time.
Let students choose what books to place in their book bin

. If you're worried about them selecting books that are too easy or too hard then give them a formula such as you can have 2 on level, 1 challenging and 1 easy book in your book bin.

Let students choose where to sit

. If you're worried about students sitting by friends or being off task you can give them the directive "You can sit anywhere you want as long as your on task and not distracting your classmates."

Let your students choose how to respond to their text.

I know accountability is important during independent reading time, but do all students have to respond in the same way? Give your students 2-3 choices on how they respond to their independent reading books.

Let your students choose how to spend their independent reading time.

The ultimate goal is for students to spend the 30-40 minutes engaged in reading. Does it matter if they spend part of this time reading their favorite picture book and part of it reading a challenging chapter book they are excited about tackling? What if they spent the whole 30 minutes writing a super detailed book report? Make sure your students know what would be an appropriate use of their time and then let them decide how to spend their independent reading time each day.
I hope you are feeling a little more hopeful now that you have five ideas on how you can reset your independent reading time. Is there one particular strategy that you think will work best for your students? You can try one or all five. And just know that it's normal to have to pause and reset your expectations from time to time. I hope that after a week or two of resetting your expectations your students are back to making the most of their independent reading time.
---
Grab Your FREE Gift!
Literacy Block Sample Schedules
Do you ever feel like you don't have enough time to teach reading the way you want? This planning guide and set of sample schedules will give you tons of ideas for how you can set up your reading block regardless of how much time you do (or don't) have.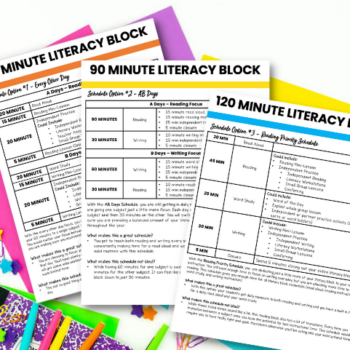 ---