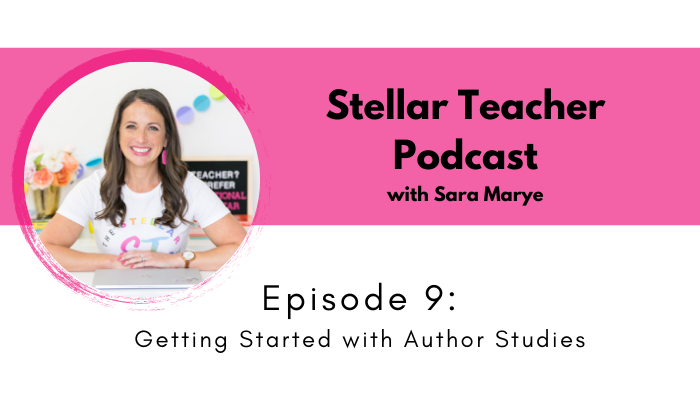 One of my favorite books, Deeper Reading, states that teachers directly influence their student's motivation and interest in reading. This, in turn, influences their reading comprehension. We may not have the power to choose the literature in the curriculum, but the way you frame their reading experiences should excite and inspire them!
One way to tap into your student's interest and motivation is through author studies. Before you assume that it will take lots of time and planning, I'm here to tell you that is not the case! I actually stumbled across this method accidently and the excitement was real among my students. It didn't feel like practice, rather it resulted in my student's requesting free reading time. Really, is there anything more rewarding than that?
In this episode I share:
How teachers influence student reading interest

Ways to disguise our reading lessons to increase motivation

3 simple steps for using author studies

Resources for building your classroom library to support author studies

Tips on how to get the maximum benefits from an author study
Resources:
Connect with me:
More About Stellar Teacher Podcast:
Welcome to the Stellar Teacher Podcast! We believe teaching literacy is a skill. It takes a lot of time, practice, and effort to be good at it. This podcast will show you how to level up your literacy instruction and make a massive impact with your students, all while having a little fun!
Your host, Sara Marye, is a literacy specialist passionate about helping elementary teachers around the world pass on their love of reading to their students. She has over a decade of experience working as a classroom teacher and school administrator. Sara has made it her mission to create high quality no-fluff resources and lesson ideas that are both meaningful and engaging for young readers.
Each week, Sara and her guests will share their knowledge, tips, and tricks so that you can feel confident in your ability to transform your students into life-long readers.
Tune in on your favorite podcast platform: Apple, Google, Amazon, Spotify, Stitcher, and more! If you're loving this podcast, please rate, review, and subscribe!
Podcast (stellar-teacher-podcast): Play in new window | Download