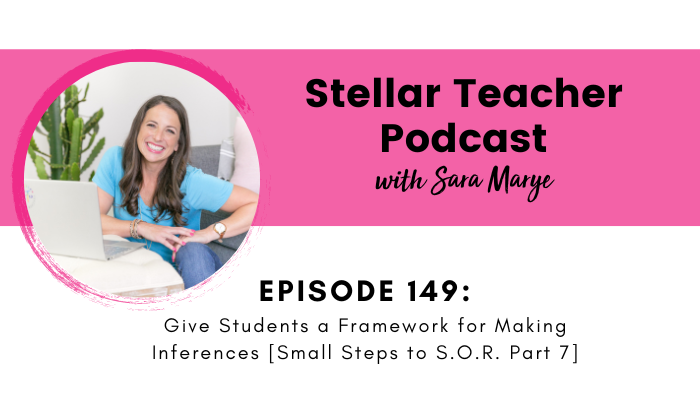 Click play below to hear a framework for inferential thinking:
Our goal as literacy teachers is to have confident and skilled readers and a way to achieve that is aligning your instruction to the science of reading. Throughout this series, I've emphasized Scarborough's reading rope and different strategies and tips that improve a students' word recognition and language comprehension skill set. The last component of the series, I'm sharing how providing a simple framework helps students with inferential thinking.
Being able to make connections with the text is important and benefits all students when it comes to reading. Since being able to make inferences shows up in standards and standardized tests, giving students tools that improve their inferential thinking is essential. Not only do I provide those tools and strategies, but share the most effective way to teach inferences.
I hope with these small steps you gained a better understanding of the science of reading and how to align it with your instruction this upcoming school year!
In this episode on inferential thinking, I share:
Don't forget to join the Stellar Literacy Collective
The 2 parts of inferential thinking
Why inference shouldn't be taught in isolation but embedded in reading experiences
A new formula to teach your students how to make inferences
How to take inferencing one step further that helps build that skill
Resources:
Related episodes and blog posts:
Connect with me:
More About Stellar Teacher Podcast:
Welcome to the Stellar Teacher Podcast! We believe teaching literacy is a skill. It takes a lot of time, practice, and effort to be good at it. This podcast will show you how to level up your literacy instruction and make a massive impact with your students, all while having a little fun!
Your host, Sara Marye, is a literacy specialist passionate about helping elementary teachers around the world pass on their love of reading to their students. She has over a decade of experience working as a classroom teacher and school administrator. Sara has made it her mission to create high quality no-fluff resources and lesson ideas that are both meaningful and engaging for young readers.
Each week, Sara and her guests will share their knowledge, tips, and tricks so that you can feel confident in your ability to transform your students into life-long readers.
Tune in on your favorite podcast platform: Apple, Google, Amazon, Spotify, Stitcher, and more! If you're loving this podcast, please rate, review, and follow!
Podcast (stellar-teacher-podcast): Play in new window | Download
Prefer to read? Open the transcript here!
Oh my goodness. This is our final episode in our small steps to SOR series. I hope that these episodes have given you a better understanding of what the science of reading really is, and how you can easily align your instruction this coming school year.
As you've noticed each episode, I've shared small steps, simple things that you can do, that will have a big impact. If you happen to miss one of the episodes go back. We started this series on June 1, and there are seven episodes total. And they will forever be available for you to listen to, you can come back to them, you can share them with your teammates with your administrators. But definitely make plans to put these small steps into action, this coming school year.
Now before we jump into our final small step, I want to give a quick reminder, for those of you that are catching this episode when it comes out live. The doors to the Stellar Literacy Collective are currently open for the 2023 2024 school year. And we are thrilled to be welcoming in just a bunch of new teachers that we get to support through our resources and professional development.
And we would love to have you join this community. So let me invite you to come and join us Let me invite you to consider being a part of our membership community. And if you've been thinking about joining, now's your chance.
And if you're just hearing about this for the first time, we have a membership site for third through fifth grade reading and writing teachers we're adding in a whole new writing component this year, which we are so excited about. And our ultimate goal with a membership is to make it easy for you to provide your students with effective engaging, rigorous and standards aligned lessons.
This means that we have created a resource library that gives you access to ready to print, whole group lessons small group lessons, graphic organizers independent practice word study activities and lessons vocabulary routines, paragraph and sentence writing routines and so much more that will help you teach reading and writing to your students. And I feel like one of our members recently shared a testimony that sums up our goal with a membership.
Tara shared in our membership Facebook group, "I saw a huge growth this year using the membership exclusively for my ELA block. I also saved hours of planning and prep since everything was ready for me at the click of a button. I love the Google slides for the mini lessons. They were so engaging and led to such authentic discussions among my students. I was excited to come to school to teach my next reading lesson."
And I want all of that for you. I want you to see huge growth with your students. I want you to save hours of planning so you can spend time with your family and friends. And I want you to be excited about going to school to teach your reading and writing. And if that is something that you also want, then go to stellarteacher.com/join and learn more about the membership or sign up today.
But don't wait too long, because the doors to the membership are closing tomorrow, Friday, July 14 at midnight. And so if you're wanting to get into the membership before the school year begins, this is your chance, we would love to have you in there.
Okay, let's jump into our final small step of the series. So our final small step is to give students a framework for making and reflecting on their inferences. So before we get into the very specific framework, which I'm going to share towards the end, let's for a minute talk about what is inferential thinking.
And there are really two parts to making inferences. First, inferencing is identifying meaningful relationships and connections between parts of the text. And this is something that we often don't explicitly teach to our students and we should we need to spend more time with this type of inferencing.
But an example is if you are reading a text and there's two sentences that are back to back, the first one says, "Katie got a new toy for her birthday. And it is followed up with she loves playing with her new baby doll." And a reader needs to be able to use inferential thinking when they connect to that in the second sentence, the she is referring to Katie and the baby doll is the new toy that she got for her birthday.
So you know the author is not going to use Katie every time they're referring to the character so the student needs to be able to infer that pronouns or other you know, descriptors can describe that character. And that you know what she's playing with this new baby doll is the toy that she got for her birthday.
And so the reader is making connections and identifying relationships between parts of the text and this type of inferencing is an actually really essential for our students to understand the text at a very basic level. And it has a lot to do with making sure that students understand, you know, pronouns and their role in the sentence and understanding, you know, text structure and the way that authors write. So we definitely want to focus on that.
But inferencing is also identifying relationships and connections between the text and our readers background knowledge. And this is usually the type of inferencing that we think of when we hear the word or the phrase making inferences. And there's the common formula, text clues, plus background knowledge equals an inference, you've probably seen it on an anchor chart, you've probably taught it to your students. And this is an OK formula to start with.
I'm going to give you some tools that is going to help you make this formula a lot more student friendly. But students use this type of inferential thinking all of the time, it is necessary if students want to understand a character's motivation for acting a certain way, it is necessary for students to be able to identify the theme or universal message and a story. It's necessary if we want our students to understand the author's purpose and their intended message.
Because usually, none of those things are directly stated in the text. And there are things that students need to infer as they are reading. And in one of the science of reading books that I have been reading, I read a quote that said, "Teaching inference generation is effective for the skilled and struggling reader strategy instruction that focused on identifying text clues questioning and using advanced graphic organizers individually and in combination has yielded positive results for students in kindergarten through 12th grade."
So we know that inferencing is important, we know that it benefits all students when it comes to reading. But let's talk about how it connects specifically to the science of reading. And again, I bet you can anticipate what I'm about to say if you've been listening to this entire series.
So the end goal of having a science of reading aligned instruction is to help our students become skilled readers. And really part of that is becoming independent and confident readers as well. And we do that by regularly focusing our literacy instruction on two main areas, word recognition, and language comprehension.
Students need to have strong skills in both of these areas if we want them to become skilled readers, and each of these larger categories has smaller sub skills underneath it. This is what we see in the model of Scarborough's reading rope. If we want students to grow in the area of word recognition, then we need to focus on things like phonological awareness, phonics, and sight word recognition.
And if we want our students to grow in the areas of language comprehension, we need to focus on things like background knowledge, vocabulary, syntax, literacy knowledge. And the last one is verbal reasoning. And verbal reasoning includes the ability to make inferences, and it refers to a student's ability to make sense of spoken and written language. And we know that inferential thinking is part of that.
So we know that inferencing is essential if we want our students to have a deep understanding of the text. And we know that teaching inferencing is aligned with the science of reading, and will help our students become skilled readers. So let's make it a priority in our classroom.
So let's talk about how we can help our students become stronger with this very important reading skill. First of all, I think it's important to note that inferential thinking shows up in many of our state standards, and is heavily tested on standardized tests. I remember when I taught fourth grade in Texas, it was figure 19 D. I don't remember exactly what it said. But I remember it was the standard that addressed inferencing and it came up all over.
The problem is though, because we see it in individual standards, and because it shows up on specific standardized test questions, we sometimes are tempted to teach it in isolation in the same way that we would teach plot structure or text features. However, inferencing is not something that is ever done in isolation. Like I mentioned earlier, inferential thinking is necessary for our students to understand and apply so many other standards, or skills that they need to be able to apply to a text.
So understanding a character's motivation for acting a certain way means that students need to focus on inferencing when you're teaching character analysis, and if we want students to understand the theme or universal message, this means that you need to also focus on inferencing when you're teaching theme, and if we want our students to understand author's purpose and the intended message, you need to focus on inferencing when you're teaching author's purpose because all of those skills require inferential thinking.
So inferential thinking is not something that we teach on its own. It's something that we teach in connection and conjunction with other reading skills. So, like I said, we don't want to teach it in isolation, and then move on to another standard, but instead we want to focus on inference thinking pretty much anytime we are reading, it should be something that we embed into the majority of our reading experiences.
And there are some things that you're probably already doing that if you just give a little more attention to that can really help your students focus on making inferences. There are quite a few instructional strategies that support inferential thinking and can lead to a deeper level of understanding.
One of those is questioning I bet you always ask your students questions when you're reading. And you can use this strategy by really focusing on the why type questions when we ask our students why questions, we are naturally getting them to use inferential thinking because most of the time the why questions can't directly be answered in the text, and students need to bring in some of their own personal world knowledge in order to answer it.
The use of graphic organizers is also a great instructional strategy that can support inferential thinking. When we use graphic organizers, we are helping students visually see and represent ideas and connections in the text, especially if they are more advanced graphic organizers that again, bring or show connections between the text and students have to bring in their own knowledge to complete the graphic organizers.
Think aloud are a great way to support inferential thinking. So anytime that you're reading aloud to your students, and you are modeling to students and showing them how you are applying your own inferential thinking to the text, that is a great instructional strategy. And combining these into multiple lessons and in reading experiences is a great way.
So knowing that these instructional strategies of questioning graphic organizers and think aloud can naturally lead students to make inferences. This is one of the reasons why we embed these things into pretty much every lesson inside the Stellar Literacy Collective. If you've been using our mini lessons or our small group lessons, you notice that there's graphic organizers that there's questions that we usually include at least one why question.
We want to make it easy for students to make inferences. We want to point out opportunities where teachers can either model think aloud or ask why questions. And so we want, like I said, we want to make it easy for students to naturally be making inferences with their reading experiences.
And I often get teachers who asked because they see that we've got lessons on text structure and lessons on character analysis and lessons on plot structure. And so I get teachers who ask hey, do you have any resources or lessons for making inferences?
And I think that sometimes my answer usually disappoints them because I usually respond by saying yes, all of our lessons, because the reality of it is is that inferential thinking is a natural part of the reading process. And the way we structure our questions and graphic organizers and lessons naturally prompt students to make inferences.
Now we do within our units like within our characters unit, we've got a specific lesson on how to infer character trait. And within text evidence, we've got a specific lesson that focuses on you know how to make an inference using text clues. And so we do have some very specific lessons. And even though we want inferencing, to be a natural part of the reading process, and we want students to do it, every time we read, it is okay to do some very specific and focused lessons on how to make inferences.
We just don't want to teach those focus and specific lessons and then forget about inferencing, we want it to be a part of the reading process. So one of the things that you can do if you are giving your students a very focused lesson on how to make an inference is to give your students a framework that is going to help them make an inference.
And anytime we give our students a framework or a structure for doing something, it is meant to be a support system to help them get started with that process. And then slowly over time, the more automatic they become with it, they don't have to rely on it as often and it just naturally becomes something that they do.
So a framework that you can give your students for making inferences. If they are answering a question, or responding to a prompt, then they are going to follow it up by completing the sentence stems. And the first one is the text says dot dot dot. I know that dot dot, therefore I think dot dot dot.
And you'll notice that this framework is very similar to the common formula text clues plus background knowledge equals inference. If they're looking at a question, and the first thing they're doing is the text says they're going to the text clues. So what is the text say that is going to help me answer this question?
And then the next sentence stem they need to complete is I know, and if they're answering that sentence stem, they're bringing in their own background knowledge, their own personal knowledge that connects to that topic. And then therefore I think this is the inference that they are making.
The problem with that original formula is text clues plus background knowledge equals and inference is students don't usually know what text clues to focus on or what background knowledge is relevant. But when we give them this sentence stems that are a little bit more student friendly. The text says I know therefore I think those sentence stems are so much easier and so much more natural for students to respond to that it's going to make it easier for them to make a relevant inference.
So that is a super simple framework that you can teach your students from making inferences. And this can be something that you can regularly model to students while reading aloud. This can be something that you can have your students do during a small group discussion on a specific why question. This can be something that you can have your students do during independent reading.
And then if you want to take it one step further, you can have students regularly reflect on the inferences that they make. And we often talk about how we want students to monitor their comprehension and their thinking about a text. But that is a very vague process, like this idea of monitoring our thinking. And students don't always know what they can do to monitor their thinking.
Well, reflecting on their inferences is one thing that they can do. And to help students reflect on their inferences, you can give them a set of questions that will help them really pay attention to their inferential thinking. Questions like, What is the inference that I made? What information did I use to make the inference? How strong was my thinking? Do I need to change my thinking in any way?
And these questions will just help students pause and reflect on their thinking, which is a habit that we want students to build. We sometimes rush through our instruction, and we're so focused on the quantity of what our students do. We want them to read more, we want them to write more. We want them to answer more questions to complete more reading passages, that we forget that the quality of their thinking and responses is just as important.
So maybe once a week during your whole group read aloud, you're going to slow down and you're going to have students answer and inferential thinking using the framework that I shared with you and then you're going to follow it up by giving them those reflecting questions to have them reflect on the quality of their inference.
Okay, so this is our final, small step. But if you give your students a framework for making and reflecting on their inferences, you will be aligning your instruction to the science of reading. And like I said earlier, I really hope that you found these small steps to SOR helpful, and hopefully they give you confidence as you think about teaching reading this next year.
Okay, don't forget, if you are thinking about joining us inside the Stellar Literacy Collective, go to stellarteacher.com/join. Doors are open until tomorrow, Friday, July 14 at midnight. And I hope you've enjoyed the small steps to science of reading series. All of the episodes will still continue to be available in our regular podcast feed. And I do hope that you'll join us next Monday for our regular episode.
I have one of my favorite recurring guests back on and she has got a great episode that I think you guys are going to love. We're going to be talking all about how to create a classroom library without spending a ton of money. So I hope to see you back here next Monday, and have a stellar week.