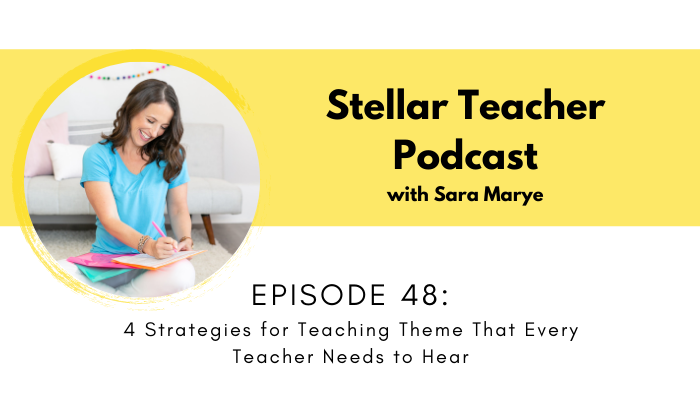 Have you ever gone to Google for insight on how to teach a certain topic? You're not the only one! Although it is convenient, I started to consider why I wasn't going straight to the source and asking other colleagues how they tackled those topics that are difficult to teach. I hope this reading comprehension mini-series provides quick, actionable steps you can incorporate immediately!
This week's reading skill that we will be focusing on is identifying the theme of a story. I've come to realize that there are many ways that "theme" can be interpreted. Since everyone has different backgrounds, teaching the abstract concept of theme can be increasingly more difficult especially as you get into higher grades. I hope these strategies I share are helpful and that you'll join me next week for the last episode of the reading comprehension mini-series!
In this episode I share:
Related Resources:
Related episodes and blog posts:
Connect with me:
More About Stellar Teacher Podcast:
Welcome to the Stellar Teacher Podcast! We believe teaching literacy is a skill. It takes a lot of time, practice, and effort to be good at it. This podcast will show you how to level up your literacy instruction and make a massive impact with your students, all while having a little fun!
Your host, Sara Marye, is a literacy specialist passionate about helping elementary teachers around the world pass on their love of reading to their students. She has over a decade of experience working as a classroom teacher and school administrator. Sara has made it her mission to create high quality no-fluff resources and lesson ideas that are both meaningful and engaging for young readers.
Each week, Sara and her guests will share their knowledge, tips, and tricks so that you can feel confident in your ability to transform your students into life-long readers.
Tune in on your favorite podcast platform: Apple, Google, Amazon, Spotify, Stitcher, and more! If you're loving this podcast, please rate, review, and follow!
Podcast (stellar-teacher-podcast): Play in new window | Download