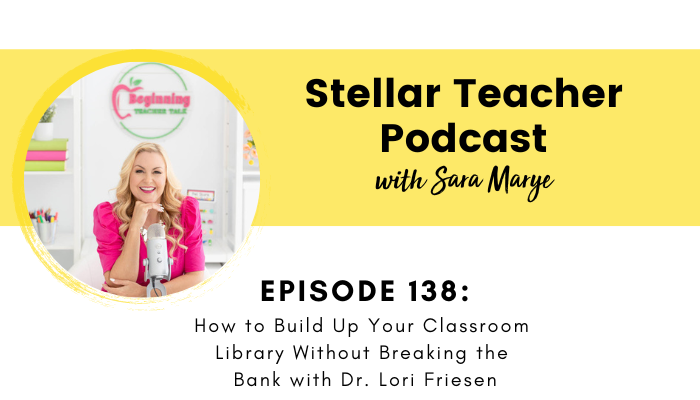 Click play below to hear ideas and strategies on how to build your classroom library:
An important aspect of being a literacy teacher is cultivating a classroom full of students who love reading. And one way to do that is by having engaging books for your students to read. While that sounds simple, having a robust classroom library, especially as a beginning teacher, can be overwhelming and can cost a lot. To help you build your classroom library without breaking the bank, my guest, Dr. Lori Friesen, is sharing tips and resources for you.
Every time Dr. Lori is on the podcast, she always brings amazing strategies and tips to share with you all and today's episode is no different. All of the ideas and resources she shares are ones she's done and had success with. Many ideas involve you asking for or accepting help from others, which can be uncomfortable for you, but can actually be the biggest benefit towards your classroom library.
Whether you're a teacher just starting out or a veteran teacher switching grades, having a classroom library with books that students are interested in assists in their love for reading. These are tools and resources I wish I had and knew about when I was starting to build my classroom library, so I know they're going to be useful for you!
Meet Dr. Lori
Dr. Lori Friesen
Dr. Lori Friesen taught for 10 years in Canada and overseas in Hong Kong and Japan before completing her PhD in Elementary Education with a specialization in Language and Literacy. She taught pre-service teachers at the University of Lethbridge and published The Beginning Teacher's Handbook for Elementary School as the culminating project for her M.Ed. Dr. Lori completed her PhD at the University of Alberta and has been inducted into the Golden Key International Honor Society in recognition of her outstanding academic achievement and excellence.
Dr. Lori's work has been published in numerous peer-reviewed journals, including The International Journal of Learning and Childhood Educational International as well as the popular online Edutopia. Host of the popular Beginning Teacher Talk podcast with more than a quarter of a million downloads and creator of the R.E.A.D.Y. for School Academy with 1,600+ students, Dr. Lori is dedicated to supporting and inspiring educators around the world.
In this episode on building a classroom library, we discuss:
Two general tips when developing your classroom library
Tips and resources for building classroom library without breaking the bank
The benefits of asking for and accepting help from others
How to find other professionals, parents, and family members to support your classroom library
Why quality books over quantity is the most important for your library
Related Resources:
Related episodes and blog posts:
Connect with me:
More About Stellar Teacher Podcast:
Welcome to the Stellar Teacher Podcast! We believe teaching literacy is a skill. It takes a lot of time, practice, and effort to be good at it. This podcast will show you how to level up your literacy instruction and make a massive impact with your students, all while having a little fun!
Your host, Sara Marye, is a literacy specialist passionate about helping elementary teachers around the world pass on their love of reading to their students. She has over a decade of experience working as a classroom teacher and school administrator. Sara has made it her mission to create high quality no-fluff resources and lesson ideas that are both meaningful and engaging for young readers.
Each week, Sara and her guests will share their knowledge, tips, and tricks so that you can feel confident in your ability to transform your students into life-long readers.
Tune in on your favorite podcast platform: Apple, Google, Amazon, Spotify, Stitcher, and more! If you're loving this podcast, please rate, review, and follow!
Podcast (stellar-teacher-podcast): Play in new window | Download
Prefer to read? Open the transcript here!
Sara
Hey there friends and welcome back to another episode of the podcast. I am excited because today we are having one of my favorite guests back on the podcast and that is Dr. Lori Friesen, who is the host of the Beginning Teacher Talk podcast, but she has tips and strategies that are for more than just beginning teachers.
Sara
She's been on the podcast in the past to share classroom management hacks and classroom management strategies. And anytime she's on the podcast, you guys just love her episodes. And today, she is actually going to be sharing some really practical tips and strategies that will help you create a classroom library without having to break your bank.
Sara
If you're anything like me, then especially your first couple years of teaching, you probably spent or were tempted to spend a lot of money building your own classroom library. But the good news is, is that Lori has a lot of resources and ideas on how you can find high quality books without having to spend a ton of your own money.
Sara
So I am super excited to have her on the podcast and can't wait for you guys to listen to this conversation.
Sara
Hi, Lori, welcome back to the podcast. I am as always thrilled to have you on.
Dr. Lori
Hi, Sara. I can't wait to be here with you today. I love our time together every single time I get to come on your podcast, I'm so excited.
Sara
So I think you are like my most recurring guest on the podcast, which I love. And my audience loves it too because every every time you come on, we get a spike in downloads and a spike and listen. So you just I feel like have tips and suggestions and strategies that really resonate with all teachers, and especially my audience. So I am super excited about today's episode.
Dr. Lori
Oh, I'm so excited to be here. Thank you so much for having me.
Sara
Yeah, absolutely. So today, we are going to be talking about something that I feel like is incredibly important for classroom teachers. Yet at the same time, it causes a little bit of stress and overwhelm, especially if you are a new or beginning teacher. And that is figuring out how to build up your classroom library without going broke.
Sara
I mean, I think back to my first year of teaching, and I, I spent so much of my own money on my classroom library on classroom supplies, and of course, it came from the best place. But then when I think about it, I'm like, Okay, I needed to have a much better like sense of like, what is financially okay, in terms of investing in your classroom.
Sara
And I know you have a ton of really practical like tips and sources that you can share with teachers on how they can build up their classroom library without having to spend their own money, which I'm super excited for us to get into.
Sara
But before we get into those really specific tips, can you kind of share just some general information about how teachers can be strategic with developing their classroom library?
Dr. Lori
Yes, of course. So just to piggyback on what you said, Yes, this can be one of the most stressful parts of setting up your first classroom, especially if you're a new teacher. But even if you're changing grades, I found even when I went from second grade to fourth grade, suddenly my classroom library was not what I wanted it to be.
Dr. Lori
And my books were too low. They weren't, you know, adult ish enough. My fourth graders thought they were so mature. So it got really stressful because I did not want to spend a ton of money. And so I got really scrappy, I love getting scrappy, and I'm going to share with you a lot of my really fun, scrappy, easy ways that you can start building up your classroom library seriously without breaking the bank.
Dr. Lori
And these are all things that I've done. So if you are like no way I'm like, Yes, you can, I'm going to show you. But before we dive in two things that I want you to think about in terms of being strategic about developing our classroom library, because there's, it's this is not just about quantity of books, this is about quality of books.
Dr. Lori
So when I first started teaching, I made the mistake of like taking any books, any free books I could get from anywhere. I just took them I'm like great, another book, another book, another book, and they were dog eared and they were missing pages, and they were falling apart. And they were quite frankly some of them inappropriate for my classroom. But it was a book so I was like, awesome.
Sara
I did the exact same thing. Like I remember just getting boxes that I'm like, I can't use this. I shouldn't use this but like, I have no other options. So it's like sure we'll put them in a library.
Dr. Lori
And I didn't didn't even occur to me that some of these books might not be like they might be banned at my school, like there were literally a lot of books that came to my classroom that I should not have even had in there.
Dr. Lori
So my first recommendation to you is to be discerning in terms of what you bring into your classroom. Even though you are anxious to get a huge library of books, I'm going to share with you a lot of things that you can do throughout your first year, if you're a new teacher, that will help to build up your library, they don't all have to be in your library on the very first day of school.
Dr. Lori
So my first general tip for you is to be sure you build your library with books that your students will actually be interested in reading. So again, lots of books is not nearly as important as having books that your students will actually want to read.
Dr. Lori
So the second tip I have for you is if you aren't sure what kinds of books to collect for your class library, you can ask other teachers at your grade level which authors or titles are most popular at their age group, you can go in and take a look at some of their books, see how they've organized their classroom libraries.
Dr. Lori
I'm going to share with you a free masterclass that I have for you at the end that you can join, where I walk through all of the different ways you can organize your class library and how I recommend you do it. But you can ask inside Facebook groups for your specific grade level, know which titles and authors are most popular for your grade.
Dr. Lori
Even doing a quick Google search for best books for third grade or must read books for third grade or whatever grade you're going to be teaching can give you a pretty good idea of the titles you might want to start with.
Dr. Lori
And if you go on to we are teachers, if you go on to their blog, they have a great book list for each grade level, you can just type in best third grade books to share with with students, all recommended by other third grade teachers. So resources like that are a little more, you know, you want to be discerning about which website you go on for that. But we are teachers has some great book lists.
Sara
I love that recommendation. And I think that is so important, like this idea that we want to focus on the quality of our books versus the quantity. Because it's like if you have hundreds of books in your classroom library, but your students aren't interested in reading them, they're not going to serve the purpose.
Sara
And so I think really realizing that it's not just about you know, having books in your classroom library, but actually having the right books and the books that are going to get your students excited about reading. So I love that reminder.
Sara
Okay, so I'm super excited to hear some of your really specific strategies. So let's get into the nitty gritty What are things that teachers can do to build up their classroom libraries without breaking their own bank?
Dr. Lori
So the first thing that is super popular for a lot of new teachers, I want to remind you again, that you do not need to spend a lot of your own money on books right now we're going to be talking about ways you can do this, but out spending a ton of your own money. So books that you really want for your new classroom should be added to a teacher Amazon wishlist.
Dr. Lori
If you haven't already started your teacher Amazon wishlist, I'm going to strongly encourage you to start building one right now. And if you're wondering what kinds of books again, to add to your wish list, if you want to go to my website at drlorifriesen.com, I have curated lists of some of my recommended books for the first weeks of school for kindergarten to fifth grade, as well as my list of books that I recommend for social and emotional learning to help like kids up, keep them inspired and build that community at the beginning of the school year.
Dr. Lori
But again, start thinking about creating your teacher Amazon wishlist. And once you do that, secondly, be bold. I know this is scary, but invite your friends and family to purchase some of the books on your wish list. I know this is scary, because once you've created this wish list, you're thinking, oh my gosh, like I don't want to ask for help.
Dr. Lori
We have a hard time as teachers asking for help. We feel nervous about asking friends and family. But you would be amazed how many new teachers I always ask my ready for school academy graduates to do this. And they always come back into the group and go, Oh my gosh, I did not think anybody was going to donate.
Dr. Lori
And then they show their boxes of Amazon books that have come from friends and family and grandmothers and neighbors and people that they hadn't ever expected would donate a book. And one of the things I love to do when I got books donated to my classroom was I would put a donated by sticker on the inside. And so my kids could see who had donated the books for our classroom, which was so much fun.
Sara
I love that and I so I feel like I started teaching before Amazon existed but I I definitely did not have a teacher Amazon wishlist. But I can confirm that family and friends love to support you. I do remember when I started teaching, I I granted I come from a family of educators but my my family, my aunts and my uncles, my close family friends, they were so excited for me to start my teaching profession.
Sara
And you know, they all felt that teaching was such a noble career that they were happy to donate a book or two or three. And so I think I love that. It's like, yeah, we just need to like be okay with asking. So I wish that I had a teacher Amazon wishlist. But for those of you that have access to it, take advantage of that.
Dr. Lori
Yes, because we have, we do have technology and social media on our side now and there's ways that we can really take advantage of that. I don't know if take advantage is the right word, but.
Sara
Leverage. We want to leverage.
Dr. Lori
Leverage these tools. That's a great way to put it. The third thing that you you can do is start a GoFundMe campaign. Now this does also Donors Choose whichever one you want to use. I'm more familiar with GoFundMe because we just actually started one for my husband, he's going through a major surgery. And we were hesitant to do this, first of all, because I thought it's gonna be really hard.
Dr. Lori
And secondly, like, you probably, I don't want to ask for money from people, I think I felt very uncomfortable doing that. I'm proud, we're private, we don't do that. But we did it. And I cannot tell you what an amazing experience it has been, to be able to feel the support and the love and the care from friends and family, but also from complete strangers who we didn't even know were there wanting to support our cause.
Dr. Lori
And there are so many people out there who want to support new teachers, they want to support as someone who's just starting out their classroom library, especially retired educators might be out there, if they see your GoFundMe campaign, they may actually reach out to you and donate a whole bunch of books.
Dr. Lori
There's been a lot of teachers who have said, you know, I was surprised someone saw my social media posts, or my GoFundMe campaign, and they literally shipped books to my doorstep. So so many different ways that this can really benefit you. And we've already amazingly met our our goal for our GoFundMe campaign. And I've seen so many teachers get great support with this as well.
Sara
I love that you have experience with GoFundMe because I actually remember using a Donors Choose campaign when I was in the classroom, I did and I, I was shocked at like, the response that I got, because it was mostly from strangers. But I, on a couple different occasions would create a Donors Choose campaign for books for my classroom library.
Sara
I think one year I did like a trying to, you know, beef up the chapter books that I had, and I wanted, like group like small group sets for chapter books. So we could do them for book clubs. And then I remember on another occasion, I wanted to get like a math library. So it's like picture books that connected to math, and I created these, you know, scholarships or these campaigns, whatever they're called. And I got both of those projects funded.
Sara
And I remember, one of them was when I lived in Baton Rouge, and another teacher at my school said, if you get your campaign posted by October, the local, like Chevron was a local company, and they would come in and match anything like any project that you had funded, they would come up and match it.
Sara
And so I think like for teachers being aware that oftentimes there's local companies that want to give back to schools, and they will use, whether it's platforms like GoFundMe, or Donors Choose to help do that and extend their dollar to make it go further. So yeah, I think both of those are great suggestions for teachers that want to build up their library.
Dr. Lori
Yeah. And you can make even more of your Amazon wishlist by keeping the love going throughout the year. So my fourth tip for you is your share your Amazon teacher book wish list, or your GoFundMe campaign, whatever you'd like with the parents of your students. And here's what I mean by this.
Dr. Lori
On that very important back to school night, when you first meet the parents of your students and they get to see your classroom for the first time. One of the things I always teach my ready for school academy students to do is to have a display, where you ask parents if they'd be willing to purchase one or two books for your new classroom as part of your classroom tour, or your scavenger hunt, on meet the teacher night.
Dr. Lori
And then number five to follow up after that night. When I was in my classroom, one of my favorite things to do was every month I sent home a newsletter to the parents of my students, I would include a list of books that I really wanted for our classroom to support the next unit of study that we were doing inside our classroom.
Dr. Lori
I know a lot of teachers are nervous about doing this, right. But I want you to think about this, from the perspective of your students parents, many parents are super busy these days, they may not have time to spend in your classroom in terms of volunteering or going on field trips or doing a lot of the things that they'd like to do for their child throughout the school year, many parents are working right and they just don't have that time to be volunteering in your classroom.
Dr. Lori
One way that a lot of the parents in my classroom loved to contribute was to and to feel like they were involved in their child's education was to be purchasing books for our classroom. So in my classroom, I had like a couple of doctors and dentists and their families had quite a bit of money and extra income. They started buying books for my classroom pretty much every month because it was their way for them to support our classroom because they didn't have that time.
Dr. Lori
But here's the thing, you're not going to get them if you don't ask. And you never know what kind of also this is kind of a related tangent, but you never know what kind of related supports they might have as well. Some of them may be working for Target or Walmart or other companies. And they may have ways of getting free books for you that you would never have known about if you hadn't let them know that you're looking for books.
Dr. Lori
And what's super valuable and an easy way of doing this also is if you choose books that are included in the next Scholastic Book order, then it's really easy for parents to just add on the cost of one or two books for your classroom for their child's next order. And so something like I mentioned before, I'd love to do was put that donated by sticker inside each of the books in my classroom, so that every month I could say look at our new books that were donated this month.
Dr. Lori
And here's a parent who donated and Jason's mom bought us this book or so it was a really fun way for students to see which books were donated by different parents in our classroom when they took books out of our classroom library. And then keep it going, like on Christmas or on your birthday or end of the year, send home your wish list again, as a suggestion for end of the year teacher gifts, right?
Dr. Lori
Like for birthday gifts or Christmas gifts, or parents are always asking, What can we do for you? I would always say purchase books for our classroom library, here's the list, we would love that. And they loved that because then it was something that their child was going to enjoy as well. It wasn't, you know, something that was just gonna go home with me bubble bath or something like that, right?
Sara
I think that's such a good reminder. It's like the parents, like parents want to be collaborative, and they want to form partnerships with their teachers. And some parents can do that best by volunteering and some parents can do that best by, you know, cutting and sorting things for you. And some parents can do that best by donating books.
Sara
My like my brothers and sisters and my sister in law's everybody who has got kids in school, they're constantly asking me, okay, how can I best support the teacher? How can I best like be involved in my students classroom? And always like, ask them like, like, what supplies do they need? You know, so I think parents in general are probably just as nervous to ask how they can support classroom teachers, as classroom teachers are just as nervous to ask for the support.
Sara
But I think, you know, put that out there because even if, like the worst they can say is no, and then you're no different position. But even if you had one or two parents that are like, Yeah, I'll donate a book or two, then you have a high quality book to add to your library. So love those suggestions. What else you got?
Dr. Lori
Well, I was just gonna say also, it's really fun if the parents are really into a certain topic, too, like every spring, I would, I did a small crawling and flying animals unit. And I had parents who were scientists who I didn't know were scientists, and they're like, oh, my gosh, this is our field, we wanted to be able to contribute.
Dr. Lori
And so they donated tons of books, both fiction and nonfiction, to my classroom library during that phase of our of our years. So that was really fun, too.
Dr. Lori
Okay, number six, watch out for the Scholastic warehouse sales. Now, these happen a few times each year. And it's scholastics way really of clearing out old inventory. And it's heaven for us teachers. So these sales are usually exclusively for librarians, and teachers or district and school employees and volunteers.
Dr. Lori
And so during those warehouse sales, teachers can buy all of the selected titles for 50% off, which is amazing. And I can give you the link for that too Sara, if you don't have it.
Sara
For sure, I will include that in the show notes. So please do.
Dr. Lori
Awesome. And related to that, number seven, make sure you make friends with the librarian at your school. Because if you're a new teacher, especially, you're going to be spending a lot of time at your new school over the summer. So find out who your school librarian is, and find out when they're planning to be there and make connections with them.
Dr. Lori
Because you'd be surprised by over the summer, especially how much they might be getting rid of some books or get extra copies of free books. And they have discretion over who they might give them to sometimes. So that's a really good relationship to start to develop.
Dr. Lori
And then as you develop this relationship, this is number eight, ask them about any local library book sales that are going on in your community, sometimes they've been the inside track on this thing, these things and you can get some fantastic deals at the local book sale. So find out when they happen, find out if they know if schools get any kind of special discounts.
Dr. Lori
And your librarian might get a special discount as well that you didn't even know about ours did. And so she would sometimes invite me with her when she went, and I would get this very special, you know, loads of new books that I wouldn't have gotten for the same price. If I had gone by myself, you just never know.
Sara
I love that reminder. And I think it's like, you know, we always talk about like, you know, teaching is all about relationships. And, you know, I feel like we teachers here, like the most important relationships you have in the building are that with the secretary and that with the custodian, and those are important.
Sara
But I love that you're like, No, wait a minute, the school librarian is also an important relationship to have. And I think it again, just being reminded that like, the more connections that we have outside of our classroom, the more support we're going to have in helping our students achieve their goals. And in this case, that means having a library filled with books that they want to read.
Sara
So I never had even thought about like getting, you know, really close with my school librarian, but just even thinking it's like, the recommendations that they could provide, or even like, you know, the books. So yeah, I think that's a super smart sort of relationship to leverage.
Dr. Lori
Yeah. And it's really interesting. I had a very special relationship with my librarian. Her name is Laura Morton, I'll never forget her. I hope she ever Oh, she listens to this podcast, she probably never will know about it. But I remember her taking me under her wing as a first year teacher because I felt completely lost. You know, I just, I needed a lot of help.
Dr. Lori
And she said, Here's what I can do for you. This is what she did for me, this is amazing. She said, You let me know at the beginning of each month, you send me a list of books that you need for your classroom. And you send me one of your little special sweethearts who needs a break from the classroom, which was thrilling for me.
Dr. Lori
And for my student Max, usually his name is Max. He would come down to the library who very hands on kinesthetic needed to move. He would hop around that library finding books for her with her and he'd come back you'd be so proud. But every month she would do that for me and then he cart the other ones back in his little wagon and we do that every month.
Dr. Lori
So you you just never know, I'm not saying your librarian is gonna pull books for you every month. That was a very special case. But developing those relationships genuinely and being willing to ask for help and accept help is something that I think we all need to work on a little more, myself included. So that was very cool. I love that.
Dr. Lori
So we can't have this conversation, though about building up your classroom library without breaking the bank without talking about number nine, garage sales.
Sara
Yes, I feel like this was this was me my first year of teaching, I was a professional like, let me find the garage sales that had books like all this, how I funded my library.
Dr. Lori
Yeah, you can find some incredible treasures at garage sales. And in my case, at least, so many times empty nesters whose kids have gone off to college, for example, they're finally ready to give away their children's books they've been holding on for years. And they're often in fantastic shape, right? Because they haven't been touched in years. So there's some of the best titles because they've held on to them because the kids loved them.
Dr. Lori
And I remember one garage sale. This was a summer of my first year teaching. A young mom told me she just gave away all of the books from the previous year because she didn't have space for them in her house. And she bought all new ones every year as her kids got older. I'm like, Oh my gosh. And she started giving them to me because she realized I was at her son's school.
Dr. Lori
So she would literally bring me all of her books each year. I mean, just because I was at a garage sale. And she knew I was a new teacher. And you know, we developed a friendship. So again, you just never know what could happen from these serendipitous relationships that can develop.
Sara
I can just like I can't imagine how robust your classroom library it was. Because all of these sources, I'm like, Oh my gosh, she must have had like just an amazing selection of books.
Dr. Lori
You know what's amazing is when I retired from teaching, I mean only taught for 10 years, I had a leveled library because at our school, we were doing found to some Manal, we had leveled library, I had hundreds in the district bought my, my library. That's awesome.
Dr. Lori
Anyway, okay, so number 10. The other thing that you can do is ask teachers at other grade levels, especially higher grade levels, if you're in a lower grade level, if they have any books that they aren't using in their classroom that they might want to donate to your library.
Dr. Lori
It's also a great way to get to know some of the other teachers at your school, especially if you're new to the school gives you a reason to knock on their door and make conversation. And that's how I got to know some of the most amazing teachers that I met.
Dr. Lori
Because the moment I reached out, and they became really good friends to me, and let them know that I needed something she would always pop in, you know, either her or someone else would pop in and give me something that they knew I might need. So, again, it's just about asking for help.
Sara
And that actually is I offloaded a bunch of books for a first year teacher because I started my teaching career in first and second grade. And so I had a very lower level library, you know, with a lot of decodable books and picture books and easy to read books, easy readers.
Sara
And then when I moved to fourth grade, I had to get more complex picture books and chapter books, and I basically rebuilt my classroom library, but I had all of these extra books. And there was a first year teacher that took over my classroom. And she was just like, hey, you know, I'm a first year teacher Do you happen to have?
Sara
And I was like, actually, yes, I have an entire library that I'm not you know, and I kept some for my struggling readers in fourth grade. But for the majority of my books, it's just like, great if you're going to use them with your students like have at them so yeah, it never, it never hurts to ask.
Dr. Lori
And helpful for you. I mean, it helps everybody. Right? Yeah. The other thing along with that is to, I'm on number 11 now is to enlist the help of your principal. So even though you might think that there's no money, ask if they have a budget for books for new teachers, or if they know of any money that might be available for these, this purpose.
Dr. Lori
You're nodding your head, those of you can't see Sara right now. But she knows she was a principal. And the more people in your immediate vicinity that you can let know that you want help with developing your library, the better chance you have for small contributions from different sources to add up to a fantastic classroom library. So do talk to your principal.
Sara
I 100% agree with that, because, you know, I get it schools are crunched for like their budgets can be tight. But at the same time, a lot of times there's money that exists that has to be spent on certain things. And you never know.
Sara
But at the at the very least you approaching your principal and saying hey, I really want to develop, you know, a robust classroom library, is there any way that the school can support me in that? Like you are letting your principal know that you're very invested. And that this is something that you're thinking about. Like if anything that just puts off a really good vibe of Oh, yeah, this teacher is working to like, make sure that the library is perfect for the students.
Dr. Lori
Yeah, you're prepared, you're engaged, you're wanting to be, you know, the best teacher that you can be. And you know, it's important. So that's, I mean, already such a good message for the principal to hear.
Dr. Lori
Number 12. This is a really good one if 50% or more of your students are living at or below the national poverty line, kids need to read might be another option for you to get free books. So they start accepting applications, I think it's every July, so when you're listening to this podcast, it should be coming out soon. And applying early will definitely help you to have a better chance of being selected as a participant.
Dr. Lori
So mark your calendars because it's coming up soon. You can also check out the First Book Marketplace for free books. And again, I can give you all these links Sara if you want.
Sara
Yes, absolutely. Please do.
Dr. Lori
Yeah. So first book. I don't know if you've heard of this before, but it's a nonprofit. And their mission is to help educators get access to everything they need, and you pay just a nominal fee for the shipping. So again, another great option for you if you want if your students are 50% or more of them are living below the poverty line.
Dr. Lori
Now you also can check out Bargain Booksellers like thrift books, or the book outlet or better world books. These are all online places, but you can also check your local thrift bookstores. I mean, there's plenty of them around. So that's another option for you.
Dr. Lori
And then number 14, my favorite This is a last one. Did you want to say something you look like you're about to say something? No,
Sara
No, I was gonna say that I personally love going to like thrift bookstores or you know, but it's like in Houston, there was Half Price Books, and I recently moved to Tennessee. And they have the most amazing bookstores called McKay's. They have them in both Nashville and Knoxville.
Sara
And it is just they're so cheap, like, you can get picture books for $1. But like really good picture books. So yeah, it's like don't even if you have to spend money, there's ways to spend a smaller amount of money to get high quality books. So yeah, love, love the thrift bookstores.
Dr. Lori
And I'm a super creative. So this number, this last one number 14 is probably my favorite. And that's to create a class fundraiser. And one of the things we did in our classroom, if you want to get creative and do something a little different outside the box was we created a class art sale.
Dr. Lori
All of my students created original art and we invited parents to come and purchase art with a suggested retail price, we even put a little sticker on it with a suggested retail price. Or you can charge admission to your art exhibit up to you, with all proceeds going to your class library or a class, you could do a class science fair, right? You could do a reader's theater presentation, whatever it is that you want to do in your classroom.
Dr. Lori
Maybe a writer's, you know, maybe they're selling their books in your classroom. But you'd have the donation box available. And all proceeds go to your class library as a class fundraiser. And you can also create thank you cards from your students, and let them thank all of the parents after just to make sure that they're kind of more involved in the process with you from beginning to end.
Dr. Lori
Just be sure to ask your principal about rules around creating class fundraisers, and specifically what you're allowed and not allowed to do if you choose to do this option.
Sara
I love that. And I think that's such a great way even to get the kids involved and make this like, Okay, this is not just about me building my library, kut kids, these are books for you. Like let's, you know, let's get creative here. So I love that.
Sara
I love all of these suggestions. And a lot of these I obviously use when I was in the classroom, but so many of them I'm like, Oh man, I wish that somebody had given me these tips and strategies, especially when I first started teaching because you know, it is building a classroom library is something that is so important to teachers like we want, we want students to love reading and part of that is having access to books that kids are going to be excited about.
Sara
And that means having a plethora of books in our library. So I am so excited for the teachers to have access to these tips. You know, hopefully during the summer they can find some good garage sales or connects with their school librarian and really form some good relationships. So thank you so much for sharing these. I know you had mentioned a masterclass that you have coming up. Can you tell our audience a little bit more about that?
Dr. Lori
Yes. So it's coming up on June 6, 7, 8, and 10th. And inside that masterclass, I'm going to teach you the four proven steps to set up and organize your classroom. Of course, a classroom library is one piece of that, but it's only one small piece.
Dr. Lori
And I'm also going to teach you how to create a solid classroom management plan that works so you can finally feel confident and truly prepared for that first day of school without wasting time over your summer or missing anything important. Because I know one of the biggest things I was worried about as a new teacher was, am I going to miss something important am I going to make some big mistakes that I didn't even realize I was making?
Dr. Lori
So come join me it's four proven steps. I've done this for years for new teachers. And I really want to make sure that you have the roadmap so that you don't have to make the mistakes that that we did when we first started. And you can streamline this and make it as easy as possible.
Sara
I love that. And I know you mentioned that these are things that you've shared with new teachers. But I know I mean, I struggled with classroom management probably up until year five when I was in the classroom. So I know even if you've been in the classroom for a while and you just find yourself wishing that there was a better way to you know, manage your students, I know that the tips that Lori has are going to be amazing.
Sara
So we will for sure include the links to that in our show notes. So Lori, thank you so much. Again, I just love it when you can come on the podcast. I know you've got such such good ideas and strategies and tips and really practical things to share with teachers. And I'm just so grateful that I get to share you with my audience. So thank you so much for coming on today.
Dr. Lori
Likewise, thanks very much for the opportunity, Sara.