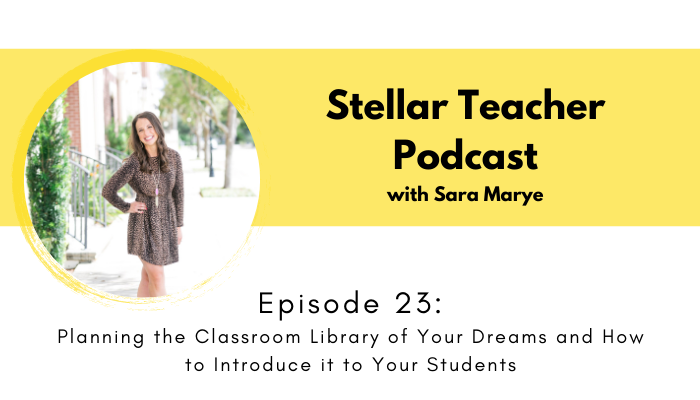 It's that time of the year again! You're probably doing a lot of sorting, packing, and disposing, but it is also the time of year to also reflect on what needs to be changed. This applies not only to lesson plans, but also to the classroom environment. Today's episode will focus specifically on the classroom library and how to maximize your time now so that you'll save time later.
As always, my main goal is to provide you with organizational tips that will provide students with independence when it comes to book selection. There is so much variety when it comes to classroom libraries and the way books are displayed plays a huge role in how students choose their next novel. That's why if you incorporate these ideas into your library, the accessibility will allow even the most timid reader the opportunity to find a book they enjoy.
In this episode I share:
Two factors to consider when setting up your classroom library

Tips for making your library student-friendly

Ways to create an inventory for your book collection

Dos and don'ts of a featured book section

How to introduce your library to your students
Which tip is your favorite? Send me an email at [email protected] or send me a DM on Instagram @thestellarteachercompany!
Resources From This Episode:
Connect with me:
More About Stellar Teacher Podcast:
Welcome to the Stellar Teacher Podcast! We believe teaching literacy is a skill. It takes a lot of time, practice, and effort to be good at it. This podcast will show you how to level up your literacy instruction and make a massive impact with your students, all while having a little fun!
Your host, Sara Marye, is a literacy specialist passionate about helping elementary teachers around the world pass on their love of reading to their students. She has over a decade of experience working as a classroom teacher and school administrator. Sara has made it her mission to create high quality no-fluff resources and lesson ideas that are both meaningful and engaging for young readers.
Each week, Sara and her guests will share their knowledge, tips, and tricks so that you can feel confident in your ability to transform your students into life-long readers.
Tune in on your favorite podcast platform: Apple, Google, Amazon, Spotify, Stitcher, and more! If you're loving this podcast, please rate, review, and follow!
Podcast (stellar-teacher-podcast): Play in new window | Download