Today I am sharing five (plus a bonus!) of my favorite centers for reading that you can use all year long and take little to no prep!
When deciding which activities you want as reading centers, always consider:
The value of the activity – what will students get from the activity?
Is it meaningful? Does the activity have purpose?
Do the activities support your students' overall goal of becoming a more intentional reader (and writer!)?
There are some challenges that can come up when you use centers for reading, so if you haven't already, be sure to check out my podcast Episode 29: The Problem with Reading Centers and How to Fix It to learn solutions that will help you have more successful centers for reading!
The activities in this post are going to bring your centers for reading to the next level. But before we got to the. . . don't forget about the importance of independent reading during center time. I believe providing opportunities for students to grow and improve their reading skills independently is so important! Although it may not seem as exciting as a game or activity, independent reading helps students learn to apply skills on their own.
Alright, now let's dive into some of my favorite centers for reading –
Writing About Reading Center
Writing as a center is a great way to help your students practice comprehension, reading, and writing skills all in one. This could look like providing your students with:
Thinking Stems
Sentence Stems
Reading Response Journal
My Reading Response Worksheets & Activities Bundle focuses on 12 reading skills and includes creative, fun activities that your students could work on during centers. These ready to print activities will save you tons of time and provide your students with meaningful activities to help them respond to a variety of texts.
Vocabulary-Focused Center
Providing a vocabulary-focused center provides students with the opportunity to build necessary skills (and confidence!) to become stronger readers. Word study is the process of learning everything about words: spelling, meaning, pronunciation, historical origin, and connection or relationship to other words. Building in more opportunities for your students to practice these skills is so important. Creating a word study center where students can work on:
Context Clues
Root Words
Prefixes/Suffixes
Sentence Writing
Figurative Language
To keep this super low-prep check out my Vocabulary Routines on TpT for resources that will support your students with word study concepts and vocabulary-focused skills.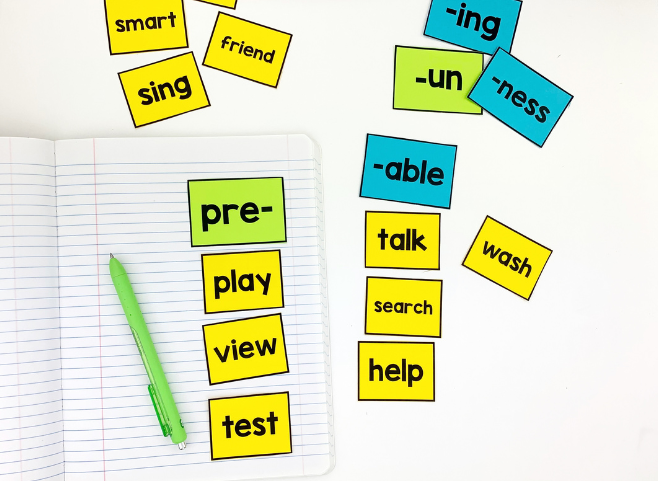 Skill-Focused Centers for Reading
I often used Task Cards as a center during my reading block when I wanted my students to focus on a specific skill. Sometimes it was a skill they needed extra practice with or a skill we were working on as a class. Task cards are a great way to pick a specific skill or even topic-specific passage to give to your students. Task cards allow you to:
Pick and choose what skill students focus on
Expose students to a variety of genres
Set up as an independent center or allow for collaboration
For example, if you are teaching text features and your student's independent reading texts don't have text features. . . this is going to be difficult for them to deepen their understanding of features! Task cards allow you to give students focused practice.
Fluency Center
Yes, even in upper elementary! A center focused on fluency practice can help students improve fluency, comprehension, and word recognition. A few ideas for fluency centers for you to try:
Buddy Reading is a great fluency activity – let students take turns reading to a peer and then listening. This gives your students more opportunities to read aloud as well as improve their listening skills. To keep them accountable during buddy reading, you could give them a response sheet to reflect on their experience or set goals.
Listening to audiobooks can help students improve reading, accuracy, speed, and pronunciation. There is something so special about listening to an audiobook while following along with the physical book in hand! Especially with so many read alouds available on websites like YouTube this center takes little to no prep work but still makes a big impact.
Poetry activities are a fun way to support students with fluency and expression. My students loved reading poetry so they were always excited when a poetry center would pop up as reading center!
Research Center
Including a research center during your reading block will help your students strengthen their questioning, writing, and reading skills. Students could research:
Authors – Encourage your students to pick an author from their independent reading or a book you've read in class to learn more about them. This would be a great time for students to learn about the genre type biographies/autobiographies as well!
Illustrators – Have students pick an illustrator they are drawn to and find out more about their life, career, and other books they have illustrated.
Specific Topics – This might be a student selected topic or something you have been learning about as a class.
BONUS: Book Club
Book clubs are my favorite way to encourage collaboration and help students improve their reading skills. I believe book clubs are for the students! And don't require months and months of prep work from you.
A student-led book club is a shared reading experience among a small group of students. The goal is for students to facilitate the discussion. If you want to learn more about how to successfully set up a book club in your classroom check out my blogpost Book Clubs in the Classroom: 5 Tips for Success.
Grab Your FREE Gift!
Book Club Agendas
These book club agendas will keep your student discussions focused and on-track with these book club agendas! These are great to use to keep your students accountable during book talks.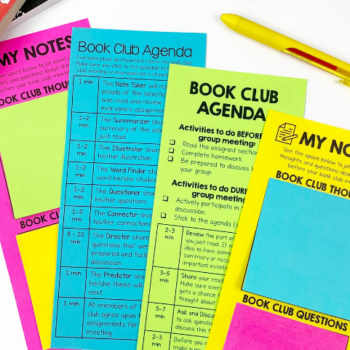 Put it Into Practice…
If you are ready to put some of these ideas into practice in your own classroom, take the following steps before you leave.
Download my Book Club Agendas to keep your student's discussions focused and on-track. These are great to use to keep your students accountable during book club.
Check out my blog post Reading Response: 5 Tips to Support Student's Writing About Reading to read up on ways you can support your students in having a success writing about reading experience during centers.
Come join us inside The Stellar Teacher Reading Membership. You'll get access to a resource library filled with reading and writing activities to incorporating in your reading black and centers.
Happy Teaching!