Raise your hand if you have ever said, "I wish I had more time for _________." If you have, it is time to declutter your schedule and fit in meaningful and impactful things for you and your students!
Scheduling is so important, and it is something I love talking about! If you have a schedule you and your students like, you are more likely to maximize that time and most of your instructional day.
If you don't like your schedule or feel like you can't fit the essential things in, it is time to declutter your schedule.
Some of the most common questions I get asked over the summer are related to decluttering your scheduling: 
How do you find time to squeeze it all in?
I only have a 70-minute literacy block. How can I make it all fit?
I never seem to have enough time for a read-aloud. How can I make more time for read-alouds?
I only have time for one small group daily; how can I make more time for small-group instruction?
Can you relate? Scheduling is one of the most challenging parts of teaching – for many! Often we can have the perfect schedule on paper, but when we implement it, it looks like something else.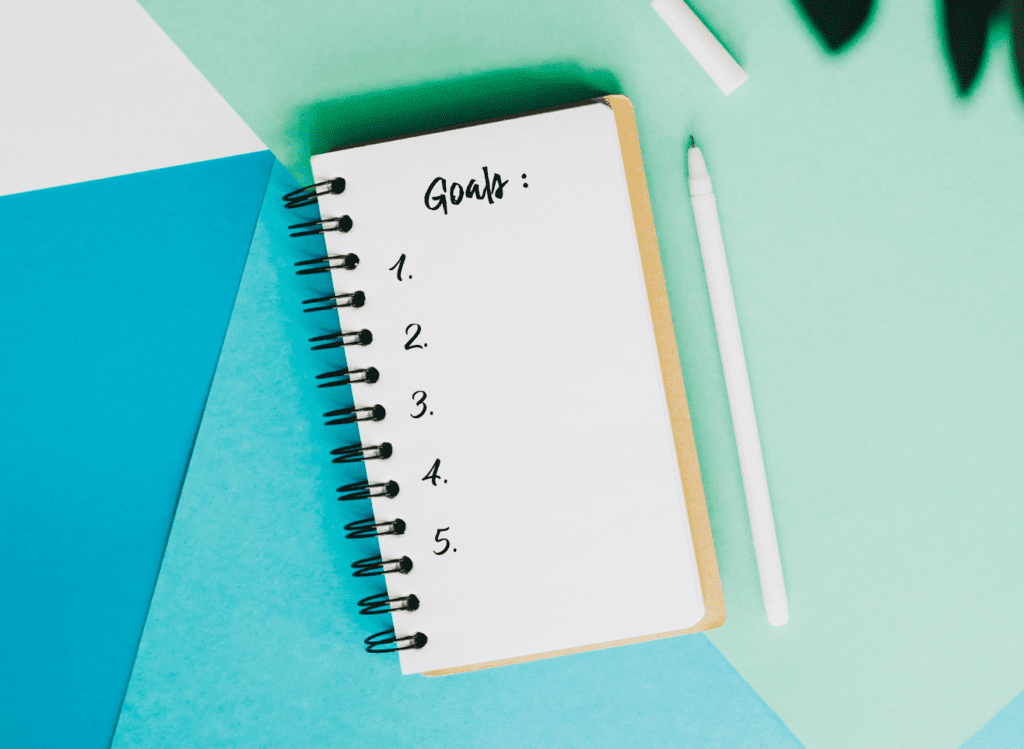 So, today, I want to share with you 5 steps you can take to declutter your schedule and bring you closer to the schedule you have on paper!
Spend time dreaming up your literacy block wish list.
The first thing you need to do to declutter your schedule is figure out what you want your schedule to look like.
If you're unhappy with your current schedule, changing it will only help if you know what you want to use your instructional time for. Decluttering your schedule starts with a vision!
Write down everything you WISH you had time to include in your literacy block. The more specific you can be, the better. Here is an example of a dream literacy block:
Daily read aloud for at least 15 minutes
2 small groups a day
Independent reading
Writing mini-lessons
Centers or workstations
2 daily reading conferences
Daily book talk
First five Fridays
Word of the Week or other routine
Try conducting a time audit.
Before you declutter your schedule, you need to get a baseline for what your current literacy schedule looks like to know what needs to be improved for next year.
What is a time audit? A time audit will help you get a more accurate picture of how you are currently spending your time. It is ultimately committing to track and time the work you do for a specific period of time.
Steps to conducting a time audit to help declutter your schedule: 
Commit to tracking your time 2-3 days or a week.
Jot down and take note of how you ACTUALLY spend your time, not what is on your plans, but what gets accomplished. . . This is always very eye-opening for me!
Include transition times, directions, interruptions, and anything that happened during your literacy block.
The easiest way is to have a clipboard with a piece of paper and pen and jot down the time and task anytime you start something new.
This also works well during your plan time and any other area of your life! I suggest doing a time audit in all areas; you won't regret it.
It might seem tedious, but the more specific and detailed you can be, the easier it will be to see how you're using your time and what adjustments you need to make.
Also, this is an inquiry activity. There is no judgment or shame attached to this! So, don't feel bad if your time audit reveals your transitions take 20 minutes and you never pull a small group. . . the goal is to know exactly how you're spending your time so you can take control of it.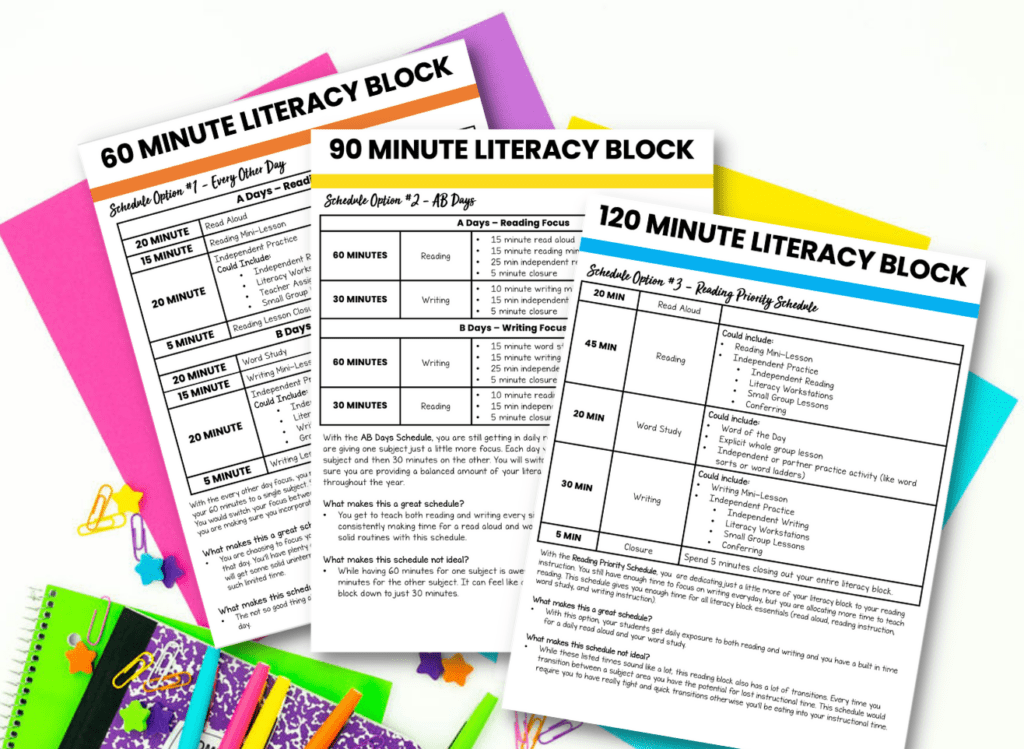 Reflect and consider how you are spending your time.
Now it is time to review the findings of your time audit. Look closely at what was completed and how long it took within your literacy block. This step is crucial to decluttering your schedule.
This stage can feel overwhelming, but be patient with yourself as you categorize your instructional activities into three groups: 
Keep – Example Thought Process: We do word of the day. It takes 5 minutes a day. It's effective. It's quick. My students like it. I want to keep it.
Improve – Example Thought Process: Small groups. They are effective and important, but they are currently 25 minutes long, and our transition time to small groups is 5-7 minutes. So this is a beneficial instructional activity; you need to tighten up your implementation.
Eliminate – Example Thought Process: One of our center activities doesn't keep students engaged the whole time and is a lot of work to prep.
Reflection questions to think about after your time audit:
Are you getting through all your content?
Do you enjoy what and how you're teaching?
Do your students enjoy the activities included in your literacy block?
Do you feel confident?
If you said yes to all of those, then you probably have the right instructional activities in place, and it might just be a matter of improving their implementation.
But if you said NO to any of those questions, then that might be an indication there is something in your reading block you could eliminate.
Try making some changes!
Now you should have a pretty solid list of items you want to keep and put into your schedule.
Congratulations! You've accomplished the first stage of decluttering your schedule.
Look at your keep list and plug those things into your schedule. Ensure you give enough time to the things you have decided are valuable enough to keep.
Look at your improvement list and decide what actions to take to make these areas of your schedule more efficient.
Try tackling one thing at a time to avoid becoming overwhelmed.
If you need to improve your transitions, work on that before you try working on anything else. Then take the next step and work on improving something else.
Don't second guess yourself on your elimination list! If it needs to go, let it go! And see time in your schedule free up for more useful and meaningful things.
Last but not least. . . testing out your new schedule!
Trust in your decisions to declutter your schedule and test out your new schedule to see if the changes you've made will help the overall quality of your literacy block.
Remember it's okay to test out your schedule (at any point in the school year!) and realize it wasn't what you thought. Now you have the tools to go back, reassess, and make any other changes necessary to make your schedule more effective. 
Grab Your FREE Gift!
Literacy Block Sample Schedules
Do you ever feel like you don't have enough time to teach reading the way you want? This planning guide and set of sample schedules will give you tons of ideas for how you can set up your reading block regardless of how much time you do (or don't) have.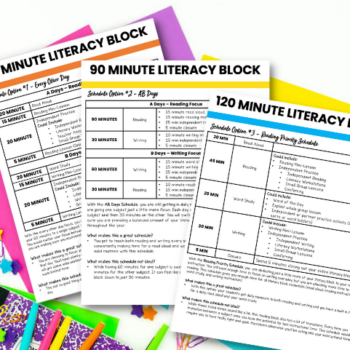 Think about your next steps…
If you feel inspired to declutter your schedule, download my free Literacy Block Sample Schedules to help you get started.
Check out Episode #81 of the podcast to learn more about how to master your time and declutter your schedule.
Join us inside The Stellar Teacher Reading Membership, where you will get access to a resource library filled with reading and writing resources that you can use to help you make the most out of your literacy block.
Happy Teaching!