Pinterest wasn't a thing when I started teaching. I know right – for all you new teachers I bet you can hardly imagine a teaching life without Pinterest – I have no idea how I survived my first few years. The good news is that Pinterest did show up pretty early on in my teaching career.
One of the best things that came as a result of Pinterest was the arrival of anchor charts. At least the super cute anchor charts with adorable pictures and perfectly written text. They were so incredibly inspiring, and I had such high hopes for my hand made anchor charts for reading.
Unfortunately, I was not blessed with awesome teacher handwriting. I would spend my ENTIRE weekend trying to make all my anchor charts for reading for the next week and end up with nothing that was Pinterest worthy. In addition to spending the whole weekend trying to make something usable, I would waste so much chart paper and go through markers like it was my job.
It didn't take me long to realize that making anchor charts for reading was not one of my giftings. But I loved using them, and I loved having the content available for my students to see after the lesson. I needed to find an alternative to making my anchor charts.
Once I realized that people made fonts and clipart for a living, I decided it was time to say goodbye to my chart paper and hello to digital anchor charts. It didn't take me long to learn how to create cute and readable (dare I say Pinterest worthy) anchor charts in PowerPoint. I loved that I could create something cute and student friendly, but didn't have to spend all weekend doing so… and I felt much better about not wasting so much chart paper.
I eventually got to the point where all my anchor charts for reading were created on the computer and then printed and to be honest, I was really surprised at how many benefits there were to printing my anchor charts.
Consider the following benefits of printable anchor charts for reading: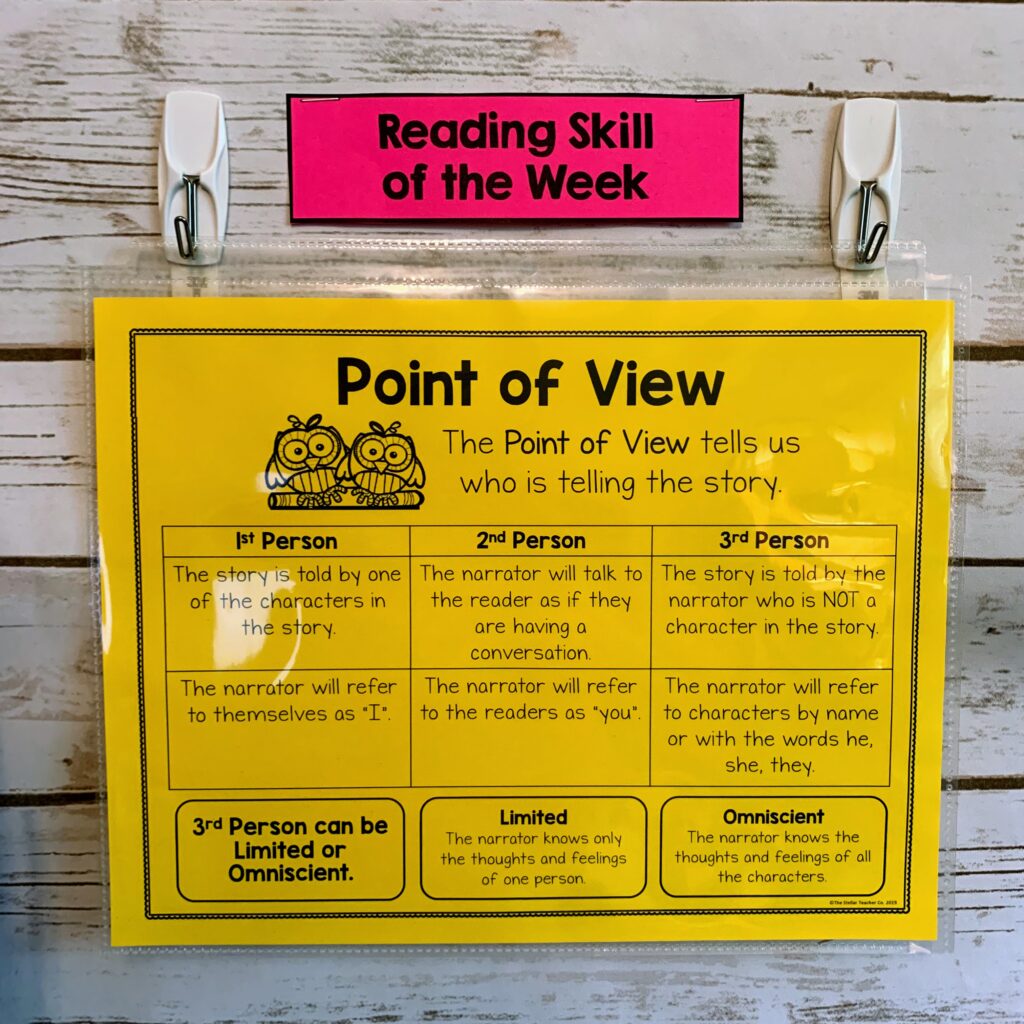 1. Easily add to Strategy or Focus Wall
Sometimes anchor charts for reading can take over our classrooms. By having a set bulletin board or reading focus wall for anchor charts prevents your classroom from being filled with chart paper. You can print a full page anchor chart that contains all the important information without taking up too much precious wall space.
Not to mention, when you print them, they are easy to swap out once your students have mastered the skill. This allows your students to only focus on the most important reading skills you are teaching.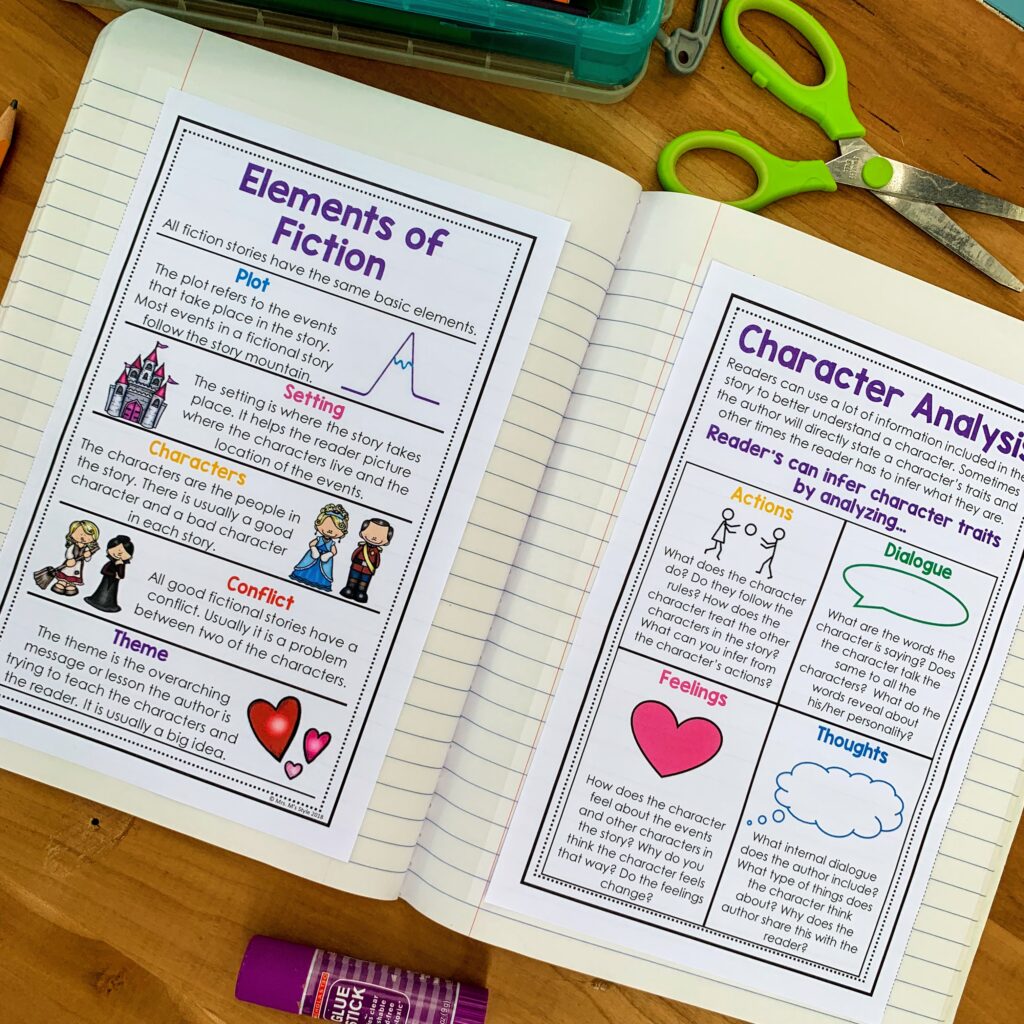 2. Make Copies for Student Notebooks
Most teachers give their students composition notebooks for each subject. Rather than having your students take notes, you can give them a smaller version of the anchor chart to glue in their interactive notebook. Having the pre-made anchor charts saves tons of class time. Students don't have to copy the information down, and you can guarantee they have accurate content in their notebooks. . I'm always so surprised at how often my students reference back to these charts.
3. Attach to Lesson Plans
Anchor charts are just as helpful for teachers as they are for students. Take a picture of your anchor chart or attach a copy to your lesson plans. This will help you keep your lesson focused and make sure you address important key points of the skill or strategy you are teaching. It's also a great way to save content from year to year. Not to mention, it is a good visual for your principal to see what you are teaching in your classroom.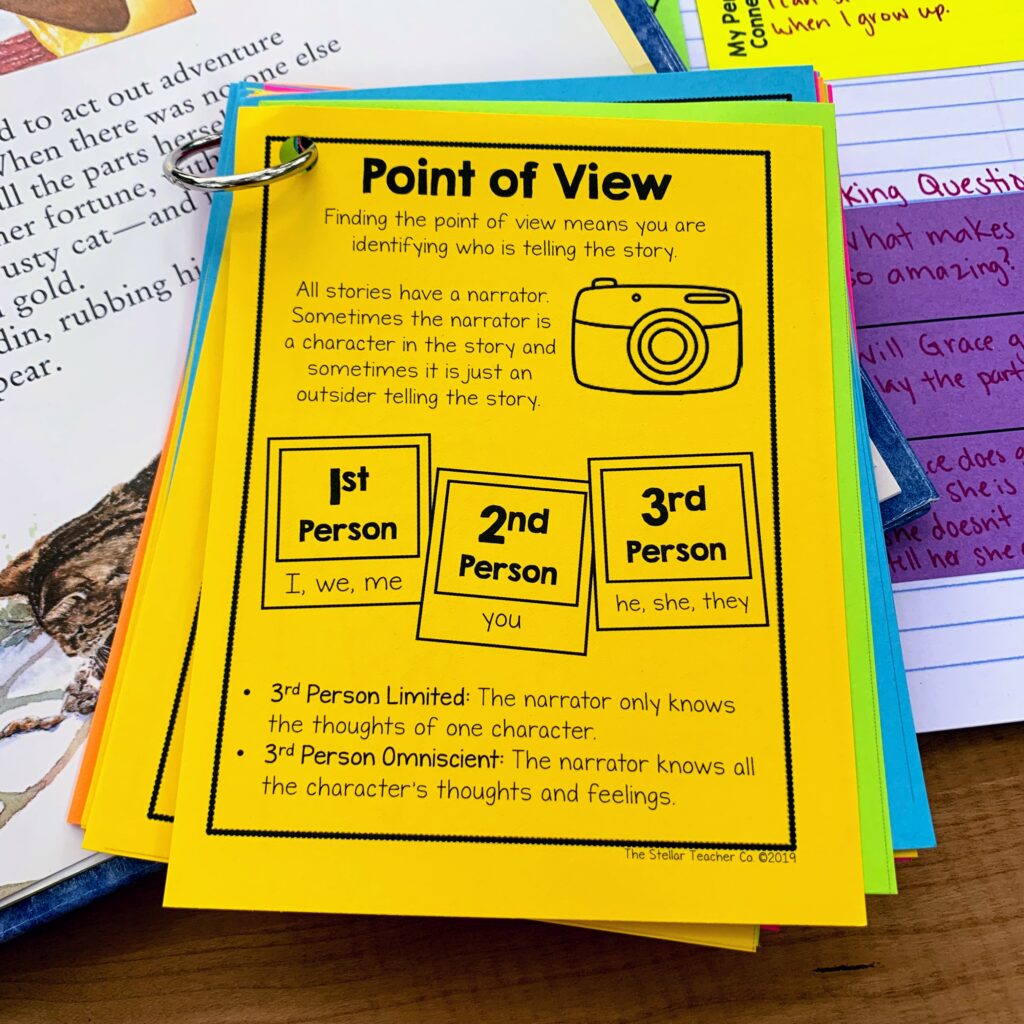 4. Create a Strategy Ring
If your digital anchor charts are on a full page you can shrink them down to create a strategy ring. I always make sure my anchor charts are printable as a full page or a half page. I like to use all my anchor charts to create strategy rings for reading, math, writing, grammar, and science. I like to keep 4-5 rings of each subject at my teacher table to use during small group instruction.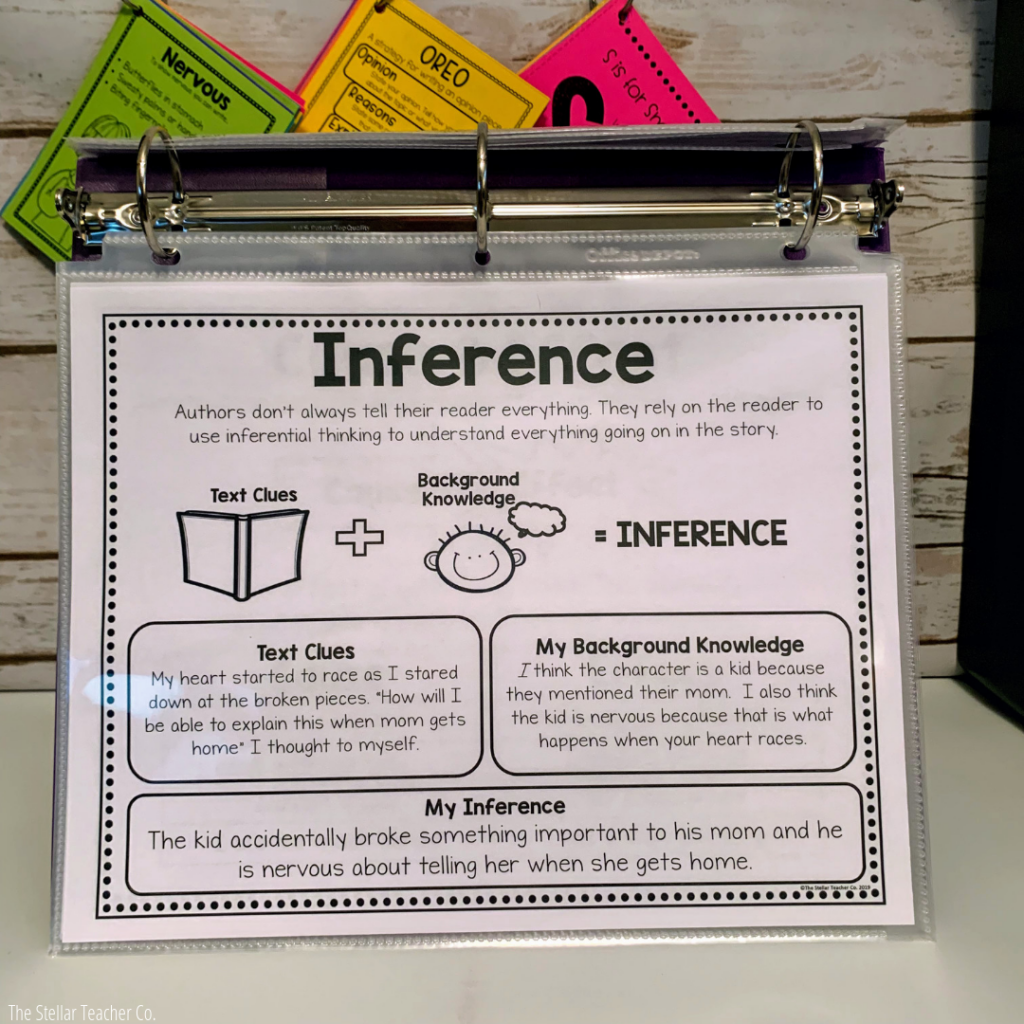 5. Make a Reference Binder
If you have a digital copy of your anchor charts, you can print them off on a full size sheet of paper and place them in a sheet protector of a three ring binder. You can add to the reference binder as the year goes on. This reference binder works as a great resource to give to students during workstations or to keep in the classroom library. Add one next to your dictionaries and other reference materials.
6. Send Home to Parents
I have found anchor charts to be an awesome resource to send home to parents. If you have a digital copy of your anchor charts you can easily send to parents in e-mails or on Remind or Dojo. If you're old school and send home a paper newsletter you can attach a copy of the anchor chart to your weekly homework sheet so parents have a visual of what their students are learning. I find that if parents know what exactly their kids are working on, they are more likely to support them at home.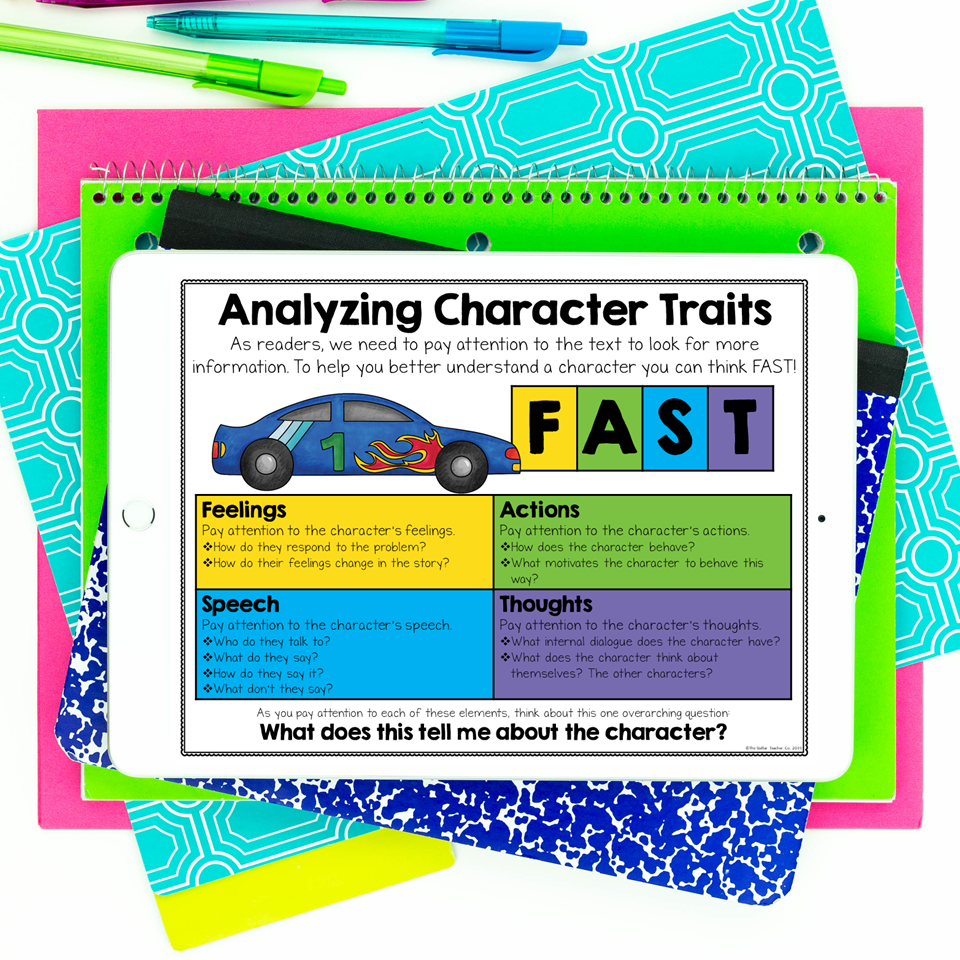 7. Make Them Google Friendly
If your class has gone digital, then you want to make sure that your anchor charts are available to your students when they are online or at home. If you already have your anchor charts on your computer, it can be really simple to share them with your entire class. You can send them in e-mails or attach them to Google Slides.
8. Use in a Workstation or Center
The goal of workstations or centers is for students to get independent practice. What better way to remind them of the skill they are focusing on then with a copy of the anchor chart from the lesson. When you have digital anchor charts you can easily print and include with any center materials. They are a great reminder to the students what they should be focusing on during workstation time.
If you're tired of having anchor chart envy every time you log in to Pinterest… or if you're just tired of making new anchor charts every week, then maybe you should consider making your anchor charts printable. I do not miss the days of having to make my anchor charts by hand.
My anchor charts for reading are some of my best-selling TPT products. One of the reasons I love them so much is because they have saved me tons of time over the years, and I hope they have done the same for you. If you want to check out the anchor charts that thousands of other teachers use in their classroom each year, you can find my anchor chart bundle here.
If you use any of my anchor charts in your classroom, I'd love to see them in action! Tag me on Instagram at @thestellarteachercompany! I love seeing how teachers are using my products in their classrooms.
Happy Teaching!
---
Grab Your FREE Gift!
Book Talk Anchor Charts
I have 5 anchor charts that I'd love to share with you. These anchor charts will help you teach your students how to plan for, present, and listen to book talks given in your classroom.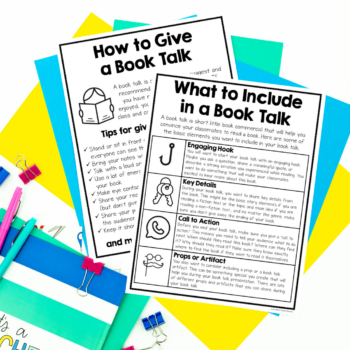 ---