⏳Let the countdown begin.
🎉You are just a few weeks away from a nice long holiday break.
😱But also, let's be honest. The 2-3 weeks leading up to a long break can be some of the most challenging weeks of the year.
Both you and your students are probably tired and ready for a break from school. Knowing that engagement is going to be a must-have leading up to winter break (or any break), you can be intentional about incorporating fun reading activities, events, and routines into your reading block that will spark just a little extra joy for both you and your students.
Here are 5 easy to implement reading activities that will keep your students engaged in reading up until (and through) winter break… but also, these ideas will work anytime of year 🙂
1. Give your students a fun and exciting reading challenge.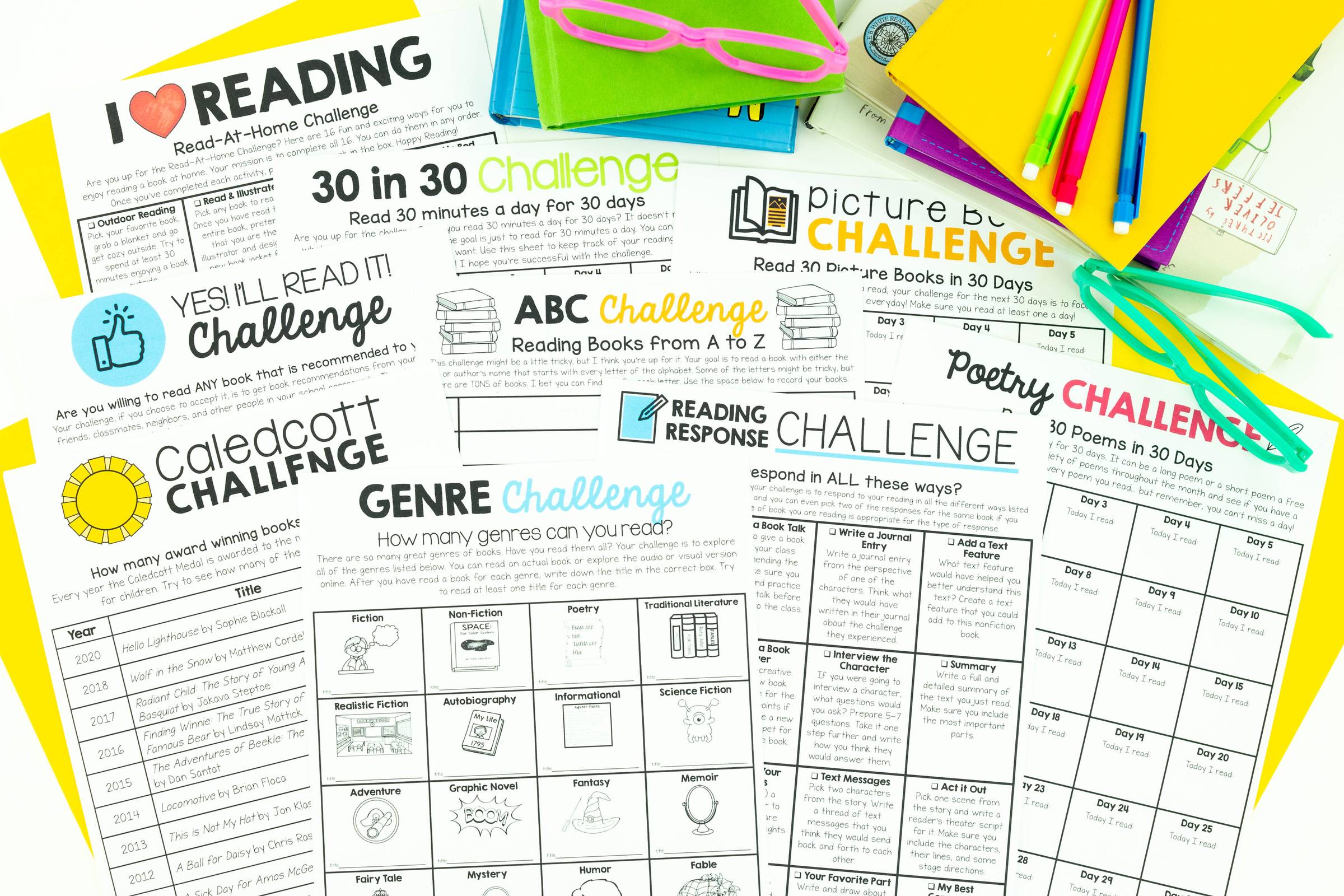 This is a super simple reading activity that will spice up your independent reading time during the month of December. You can easily "gamify" your reading block by creating a reading challenge for your students to participate in. The nice thing about a reading challenge is that you can make it as easy or as complicated as you want. No matter how fancy you get with your challenge boards, your students will still be reading – which is the important thing.
Here are some of my favorite reading challenges to do with upper elementary students:
A Genre Challenge – challenge your students to read 5 (or any number) of new genres during the few weeks leading up to winter break. They can pick any genre and any type of text (picture book, chapter book, article, audio book). The important thing is they are exploring new genres. And you never know, maybe this challenge will help them discover their new favorite genre.
ABC Challenge – This one is fun for students and is perfect to do for the entire month of December – it could even stretch into their winter break. Students need to read a book that either has a title or is written by an author for every letter of the alphabet. This challenge will really push them to search for books that will help them get every letter in the alphabet. This is a super simple reading activity, but the challenge can be really exciting for students.
Poetry Challenge – Another super simple reading challenge and gets your students reading something out of their norm. The goal for this challenge is to simply read a new poem every single day. You could even challenge them to read a holiday or winter themed poem. Students don't necessarily need to do anything in response to reading the poem, just read it and enjoy it. But the simple act of being "challenged" can make it more fun to explore a new genre. Another benefit of doing a poetry challenge is your students will get plenty of experience reading this genre before you begin teaching your full poetry unit in the spring semester.
You could even let your students create a reading challenge of their own. They can set the terms and the length of the challenge which could make it even more fun for them to participate in during the month of December.
The great thing about reading challenges is that the focus is still on students reading and enjoying books… we are just giving them a little extra incentive!
If you want some help getting started with a genre challenge or a 30-in-30 challenge, grab the free set of reading challenges I have linked below.
Grab your free reading challenges!
Reading Challenges
Reading challenges are such a fun way to motivate and encourage students to read. With this free download, you'll get three of my favorite reading challenges: Read-At-Home Challenge, Genre Challenge & 30-in-30 Challenge. Are you and your students up for the challenge?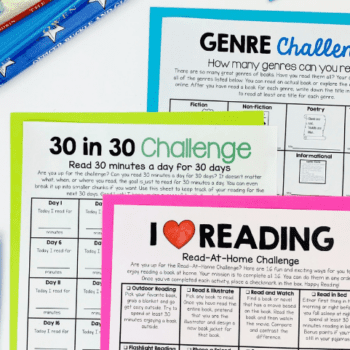 2. Let your students share a holiday or seasonal book talk.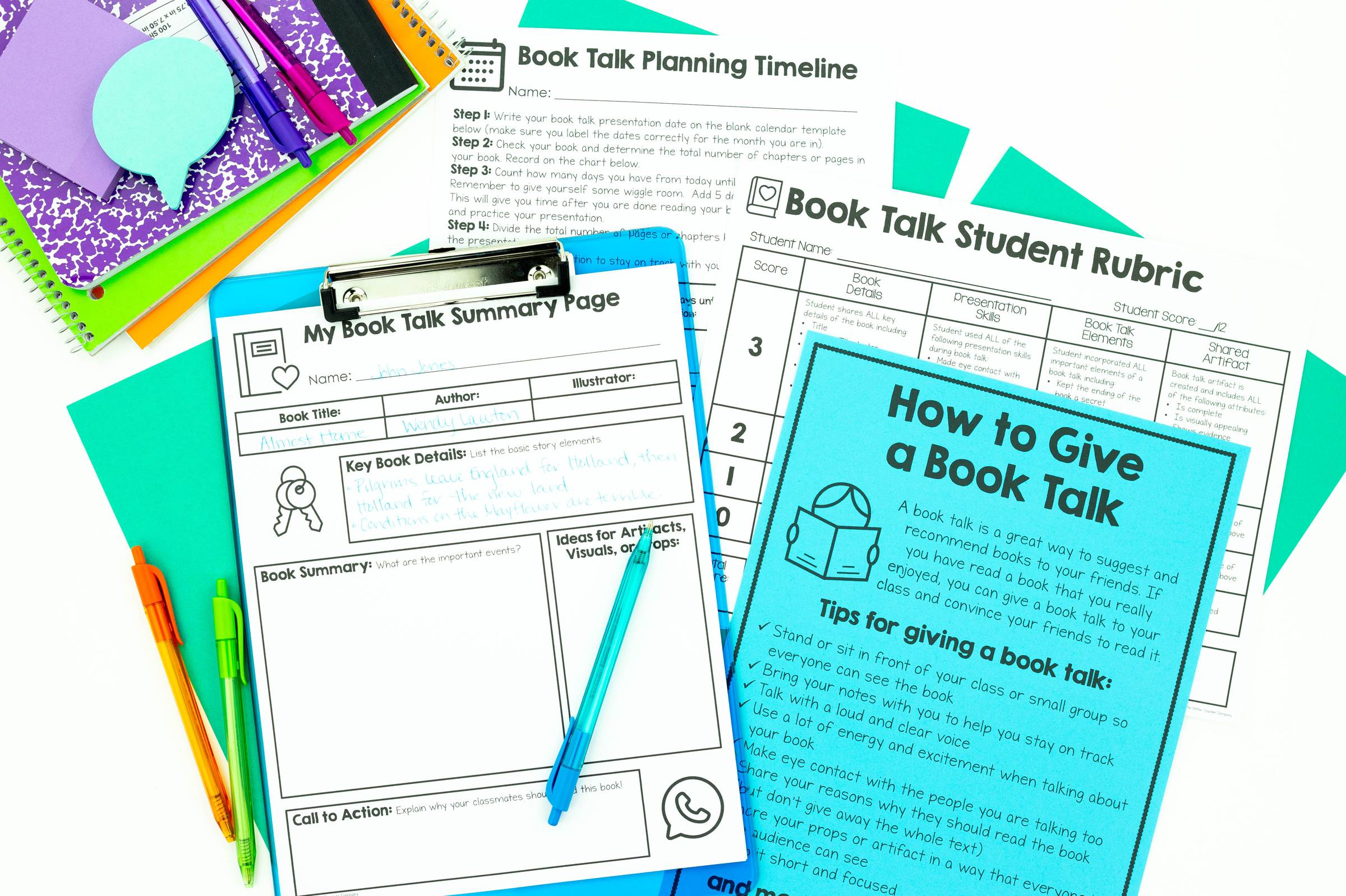 If you haven't started doing book talks in your classroom yet, then December is a great month to start…. AND if you have been doing them, then let your students put a little holiday twist on this fun reading actvitity.
A book talk is simply a book commercial your students give for a book they are reading. You can let your students share their favorite holiday picture book from home, or even have them research a holiday from another country and share a book from their research.
I like incorporating book talks as part of our morning meeting or even doing them at the very end of the day before dismissal. They only take a few minutes and giving students an opportunity to share about a special holiday book they read with their families at home is one way you can let them share about the holidays they celebrate with their families.
Book talks are a great reading activity that really brings books front and center into your classroom community.
If you have never done a book talk before, you can learn all about them in this blog post I wrote. They are a great way to boost engagement during your reading block any time of the year.
3. Do an Author Study over the next few weeks.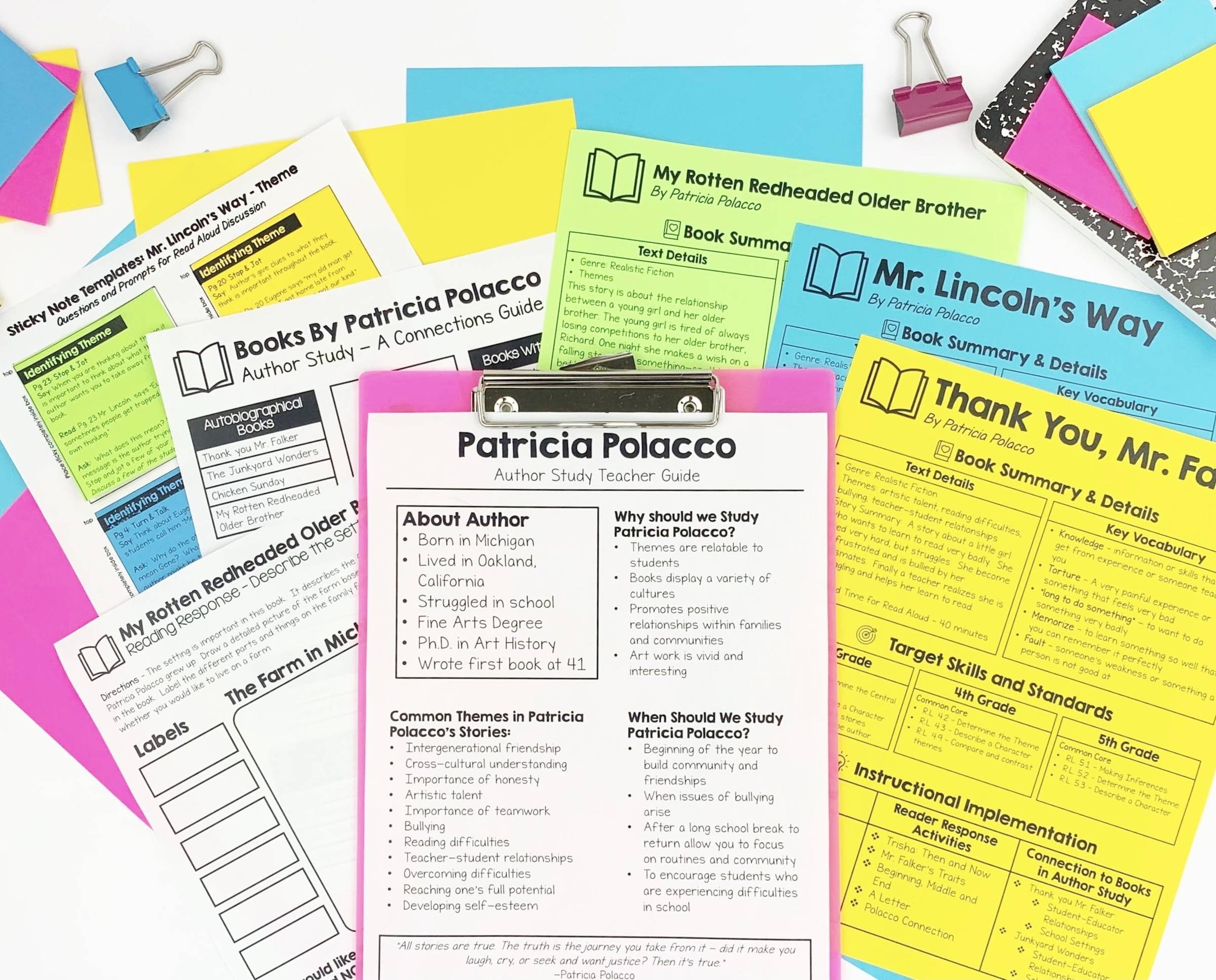 Do you or your students have a favorite author? Is there an author that you've been wanting to learn more about? Author studies are one of my favorite reading activities and they can be a really easy way to switch up your read aloud routine during the month of December.
Author studies are pretty simple and don't have to be incredibly formal. Pick an author. Find multiple picture books written by that author. Read the books to your students over a few days or weeks. Look for similarities in characters, themes, story lines. Discuss what you've discovered about the author.
Some of my favorite author studies to do in upper elementary include the following authors:
Patricia Polacco
Jacqueline Woodson
Jory John
Keven Henkes
Matt De La Pena
But really, you can pick any author that you and your students are interested in learning more about. And don't worry, if you don't already have several books by the same author in your classroom library, go check out your school library, public library, or even see if you can find examples of the picture books being read aloud on Youtube.
More than likely you're going to be reading aloud do your students during the month of December, AND you might as well switch up your read aloud routine just a little bit and incorporate an author study.
If you've never done an author study, I have an entire study already planned and prepped for you to study one of my favorite authors – Patricia Polacco.
4. Read about topics or themes related to the season.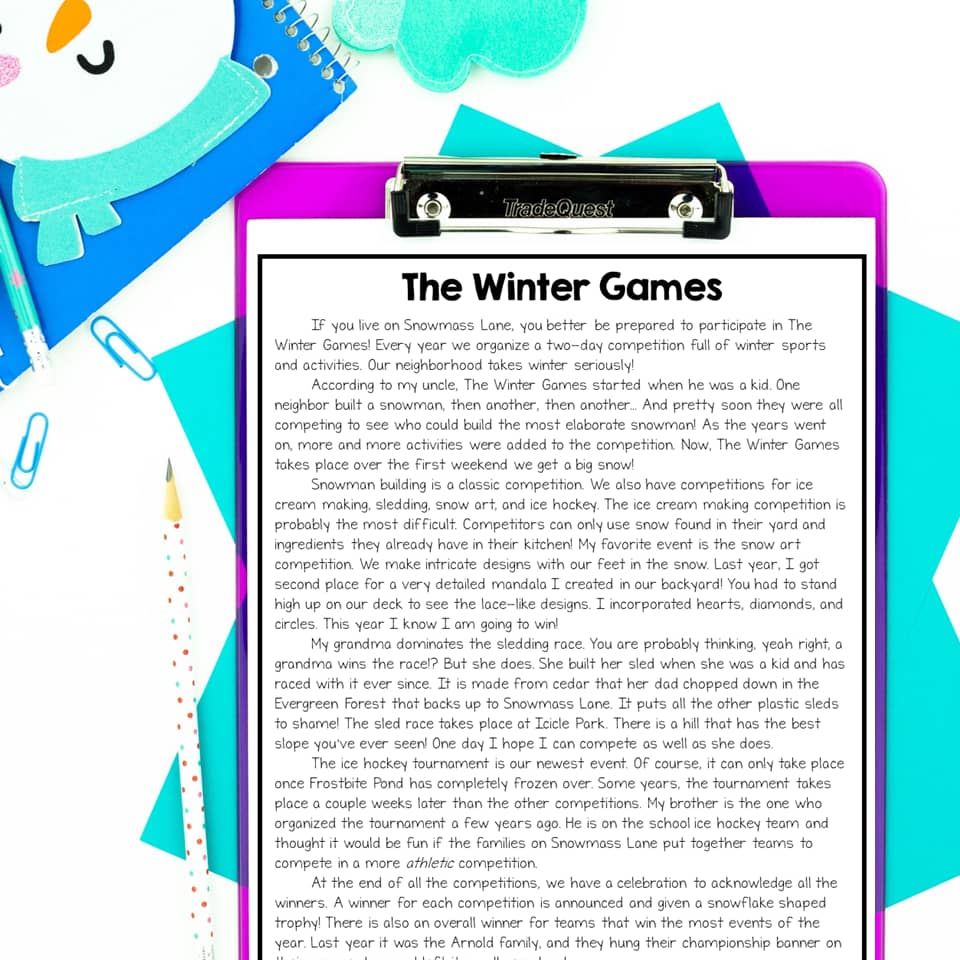 Reading about topics that are related to the current season or holiday is a really easy way to keep kids interested and engaged in reading… So many of our students will be distracted by upcoming holidays or new winter sports or even the appearance of snow depending on where you live. You might was well lean in to the season and let them explore texts that are related to winter holidays or topics.
You can look for read alouds that focus on different holidays around the world or you can dig into the season of winter and all the sports and activities and unique weather patterns that comes with it.
One of my favorite topics to explore with students is the winter solstice – which happens to be my least favorite day. It's an interesting topic and allows you to connect to some science topics related to the tilt of the earth and how we get the four seasons. Students might naturally be observing the decrease in daylight and you might as well use your reading time to help them understand why that is.
You can incorporate seasonal and holiday themed texts into all parts of your reading block. Look for holiday picture books for your read alouds and mentor texts, and seek out reading passages with a holiday or seasonal twist to assign for independent reading or homework. This slight shift in focus might be just the thing for your students to stay interested in reading.
5. Let your students participate in a free choice book club.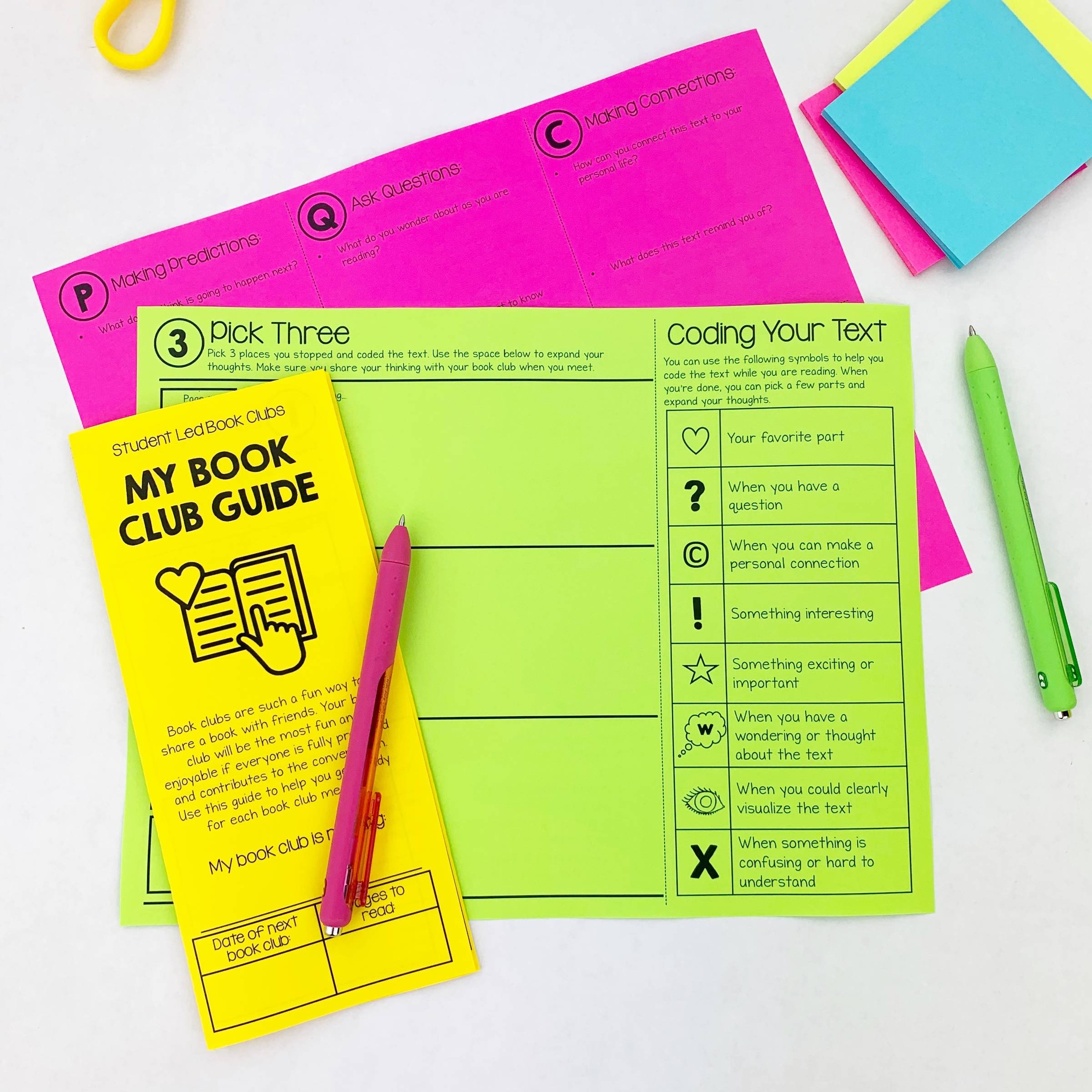 Book clubs are one of those reading activities that my students always love participating in no matter the time of year. But they especially loved participating in them during the month of December because I usually let them have a "free choice" book club.
A free choice book club is exactly what it sounds like. It is a book club where my students got to select the book, select their groups, they even got to make up their own reading schedule and assignments. My students were the driving force behind everything with the book club.
I found that giving them a few weeks to CHOOSE everything about the book club made it way more fun and engaging for them.
Now if you haven't yet set up book clubs in your classroom, you might not want to give your students complete free choice during the month of December. But if you haven't yet started book clubs then just the addition of a new book club could be enough to get your students excited about reading.
If you need some ideas and strategies that will help you successfully launch book clubs in your classroom, you can learn more about how I set up book clubs in my classroom in this blog post.
And don't worry, If you're new to book clubs, you can easily get them started during the next few weeks. I also have a set of book club response pages that will take a little bit of the planning off your plate.
Now remember that you don't have to try all five activities, just pick the 1 or 2 that you think you and your students will enjoy the most!
Happy Teaching!
---