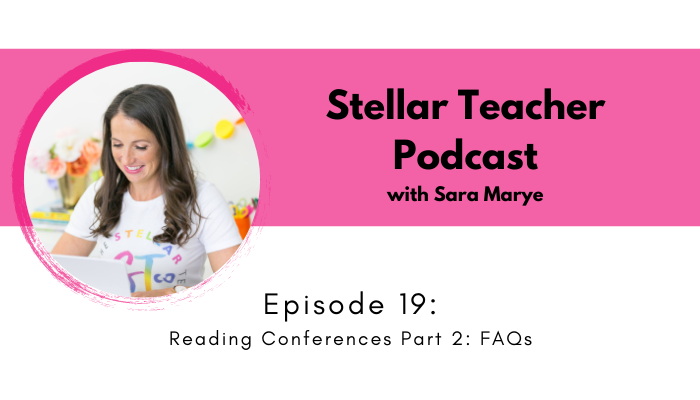 This week is a continuation of last week's episode all about reading conferences! I just love reading conferences for so many reasons. It's the perfect time to give our students that one-on-one time that they desperately crave.
When I first started implementing reading conferences, I noticed something interesting. Some of my students would get anxiety when we had a conference. I realized that they were having trouble distinguishing between a reading conference and an assessment. Today I'm sharing my tips on how to avoid this confusion by taking the time to explain and model conferences. Then, I'm answering the most common questions I receive about reading conferences.
In this episode I answer:
How often should I hold reading conferences?

What is the best time to do a reading conference?

How do I confer with students if I've never read the book they're reading?

What are the rest of my students doing while I'm in a reading conference?

How do reading conferences fit into the other elements of readers workshop?
If you have more questions about reading conferences, send me an email at [email protected] or send me a DM on Instagram @thestellarteachercompany!
Resources From This Episode:
Connect with me:
More About Stellar Teacher Podcast:
Welcome to the Stellar Teacher Podcast! We believe teaching literacy is a skill. It takes a lot of time, practice, and effort to be good at it. This podcast will show you how to level up your literacy instruction and make a massive impact with your students, all while having a little fun!
Your host, Sara Marye, is a literacy specialist passionate about helping elementary teachers around the world pass on their love of reading to their students. She has over a decade of experience working as a classroom teacher and school administrator. Sara has made it her mission to create high quality no-fluff resources and lesson ideas that are both meaningful and engaging for young readers.
Each week, Sara and her guests will share their knowledge, tips, and tricks so that you can feel confident in your ability to transform your students into life-long readers.
Tune in on your favorite podcast platform: Apple, Google, Amazon, Spotify, Stitcher, and more! If you're loving this podcast, please rate, review, and follow!
Podcast (stellar-teacher-podcast): Play in new window | Download