With the recent outbreak of the coronavirus, many schools are shutting down for the next few weeks, months, and some for the rest of the school year. Trying to navigate distance learning is something that is new for all of us.
I've been chatting with some of my teacher friends and I keep on hearing how overwhelmed and stressed they feel. I get it.
Teaching is challenging to begin with, and now you have the added pressure of figuring out how to teach remotely. This means having to find new digital resources, learn new online platforms, figure out effective assessment and accountability tools… and on top of all of these professional changes, you are also having to figure out how to manage a household under quarantine.
It's ok if you are feeling overwhelmed….and stressed…and frustrated.
And while I can't eliminate ALL of your overwhelm (I promise I would if I could). I do have a few tips that might take some of the stress out of your reading instruction during these next few months of distance learning.
So, if you're willing to let me help you lighten the load with at least one part of your life, here is what I suggest you consider when it comes to teaching reading during distance learning.
Keep your reading routine the same.
One of the things I have heard over and over and over again is how overwhelmed teachers are with all of the NEW options and resources for distance learning. While there are so many great resources, tools, and programs being shared, having to learn and navigate so many new platforms can just add to the stress. So my first suggestion is to keep as much of your reading instruction the same as it was when you were in the classroom.
If you typically do a read aloud every day for 20 minutes, then still do that same read aloud, but now you are just recording it rather than doing it face to face.

If you typically start your reading block with a mini-lesson using a favorite mentor text to model and introduce a new reading skill, then do that same mini-lesson, just over zoom or another recording platform.

If you usually let your kids read for 45 minutes independently during independent reading and then respond in their journals, they can still do that exact same reading assignment, just have them take a picture of their response journal and text it to you when they are done.
Only change the parts of your reading block that no longer work with distance learning. If you have been using the reader's workshop model for your reading block, then it's pretty safe to say that you should be able to carry on with instruction as usual for most of your reading block. I promise that you and your students will feel so much better if you are able to keep your reading block as close to normal as possible.
Put some extra focus on independent reading.
We know that the best way to help students become stronger readers is by giving them more time to actually read… and if I'm being honest, this might be one of the silver linings to this whole distance learning thing. Your kids have soooo much more time to focus on what is really important – independent reading. The best thing you could do for your students during this season of distance learning is to assign them daily independent reading time. And you might want to consider making it longer than when you were in the classroom. This time of independent reading also doesn't need to be something that you micromanage or formally assess. It is ok for your students to read without the pressure of having to complete an assignment every time they sit down to read a book. With that being said, you do want to provide some accountability to make sure your students are actually reading everyday. Here are some easy ideas to help your students stay accountable to reading at home.
Have them keep a reading log and track the books they read

Have students send you a daily reading selfie after they have finished their reading.

Give students a reading challenge board and have them cross off each reading task they complete.

Assign simple reading response assignments such as graphic organizers, response questions, or even have students write a daily book review of the text they read.
Independent reading time should be the bulk of your reading block whether you are in the classroom or during distance learning. If your students need help accessing books at home, check out THIS blog post I wrote where I share some online options students can use to access texts.
Don't stop small group instruction.
Small group instruction is an essential part of every reading block and while it might be a little more challenging to do during distance learning, this is definitely not something you want to stop doing. You can easily conduct small group lessons with your students on zoom or other online platforms. You might have to change your guided reading lessons into strategy lessons or be a little more flexible with your groupings, but you still want to find a way to meet with your students in small group. Small group instruction will be a great time for you to reinforce reading skills and strategies that you have taught as well as check in with your students about their independent reading and answer any questions they might have. Small group instruction might look a little different, but don't give it up if possible.
Host Office Hours.
I know your work day is probably just as busy as it was when you were teaching in a physical classroom, but I also know how much your students benefit from just a few minutes of one-on-one time. If possible, try to set aside 30-40 minutes a day as open office hours. Think about how much teaching and support happens in the classroom in between lessons or before and after the school day actually begins. So much of our teaching happens outside of our structured lessons and that is one huge thing your students are missing out on right now. To increase the effectiveness of your distance learning instruction, try to find some time to be available to your students if they have a question or need help on an assignment. Let them know what time of day you are available, and how they can reach you.
Make it Fun.
While I'm pretty sure it's safe to say that this isn't how anyone expected their school year to go, this whole distance learning thing doesn't have to be a lost cause. You can make these next few weeks/months for your students so fun and memorable. Think about one thing you can do each week to make this time special for your students. Maybe you provide them with a fun reading assignment, do an interesting author study, or give them a reading challenge. Try to find ways to make reading fun and enjoyable for your students – I promise those small things are what they will remember when all of this is behind us.
Bonus Tip – Accept the fact that you aren't superman.
In my mind, teachers are pretty darn close to being real life superheros, but even with all our super powers we are still human and we are limited. Our reality is that teaching and learning are going to look completely different for the remainder of this year. You are human and I know that you are doing the very best you can. Remind yourself that none of this is your fault and it is not your responsibility to fix all of the problems and challenges that arise as a result of this. Be kind to yourself and your students… and don't forget how amazing you truly are.
---
Grab your free reading challenges!
Reading Challenges
Reading challenges are such a fun way to motivate and encourage students to read. With this free download, you'll get three of my favorite reading challenges: Read-At-Home Challenge, Genre Challenge & 30-in-30 Challenge. Are you and your students up for the challenge?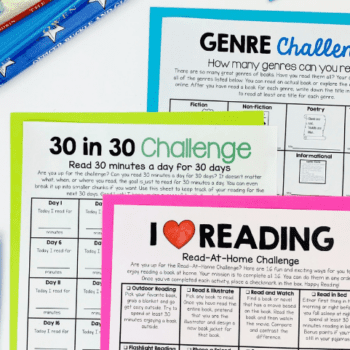 ---