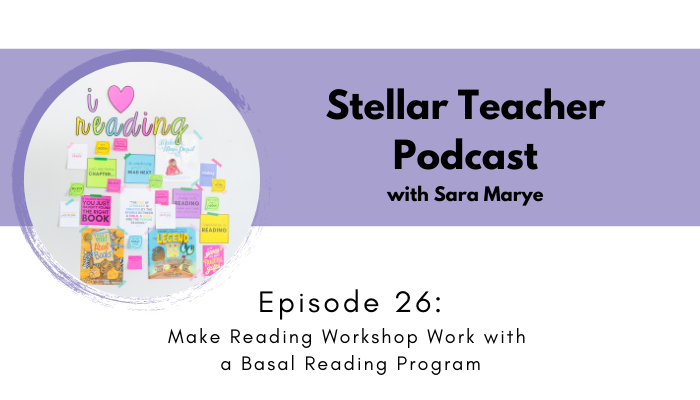 Welcome to our very first Quick Tip Thursday episode! In episode 25, I talked all about reading workshop and why you should consider implementing it into your literacy block.
Whenever I discuss reading workshop, I often get asked the question, "my school is required to use a basal reading program, but I am really interested in using the reading workshop framework. Can I use this model even if I HAVE to use the basal?" Guess what? YES, you absolutely can! Tune in to hear my top tips on how you can incorporate reading workshop even with a basal reader.
Stellar Teacher Summer Series:
I am SO excited to give you a bit of extra support with the Stellar Teacher Summer Series. Don't forget to join our new and FREE Facebook group, Upper Elementary Reading Teachers to enjoy all the new content! Here is what you can look forward to each week:
Monday: Tune into a new Stellar Teacher Podcast episode

Workshop Wednesday: FREE training inside my Facebook group that will teach you about each part of the Reading Workshop Model

Quick Tip Thursday: BONUS podcast episodes

First Look Fridays: Previews of new reading product line
Resources From This Episode:
Connect with me:
More About Stellar Teacher Podcast:
Welcome to the Stellar Teacher Podcast! We believe teaching literacy is a skill. It takes a lot of time, practice, and effort to be good at it. This podcast will show you how to level up your literacy instruction and make a massive impact with your students, all while having a little fun!
Your host, Sara Marye, is a literacy specialist passionate about helping elementary teachers around the world pass on their love of reading to their students. She has over a decade of experience working as a classroom teacher and school administrator. Sara has made it her mission to create high quality no-fluff resources and lesson ideas that are both meaningful and engaging for young readers.
Each week, Sara and her guests will share their knowledge, tips, and tricks so that you can feel confident in your ability to transform your students into life-long readers.
Tune in on your favorite podcast platform: Apple, Google, Amazon, Spotify, Stitcher, and more! If you're loving this podcast, please rate, review, and follow!
Podcast (stellar-teacher-podcast): Play in new window | Download