Non-fiction text structure provides students with a roadmap for understanding the texts they are reading. Text structure is also a key element we want to teach our students to help them build a solid foundation of literacy knowledge.
Non-fiction text structure is connected to so many other key comprehension skills. If students understand how to identify non-fiction text structure, they will be well on their way to mastering the following reading skills:
Understanding Author's Purpose
Identifying Main Idea
Identifying Key Details
Making Inferences
Summarizing the text
Explaining Relationships
And many more.
If you want to feel more confident when you teach non-fiction text structure, keep reading. I've got seven tips to share with you.
My Top Seven Tips to Help You Teach Non-Fiction Text Structure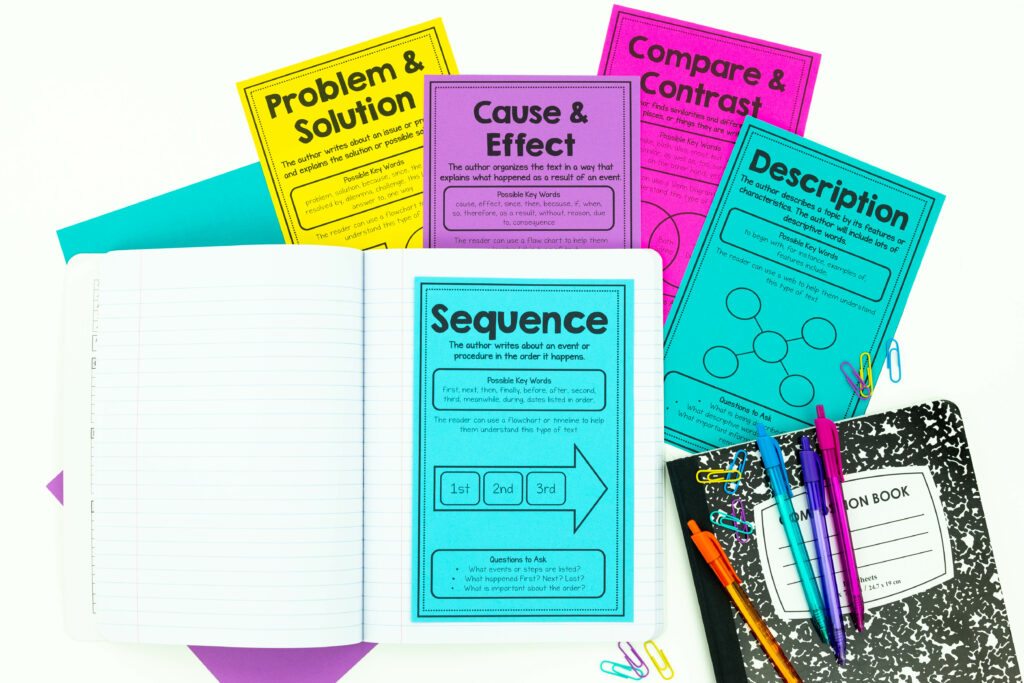 Tip #1: Explicitly Introduce Each Type of Text Structure
I typically introduce the general idea of text structure as organization. When I first start my unit on text structure, I will do an introductory lesson that introduces all five types of non-fiction text structure to my students, but then I'll go on and introduce each individual text structure as a separate lesson.
Each text structure has it's own organizational structure, purpose, and set of keywords. It can be a lot of information if you try to teach them all at the same time.
You can spend one day teaching each type of text structure and then teach a variety of lessons that will help your students really understand how to use text structure as a roadmap to improve their understanding of nonfiction texts.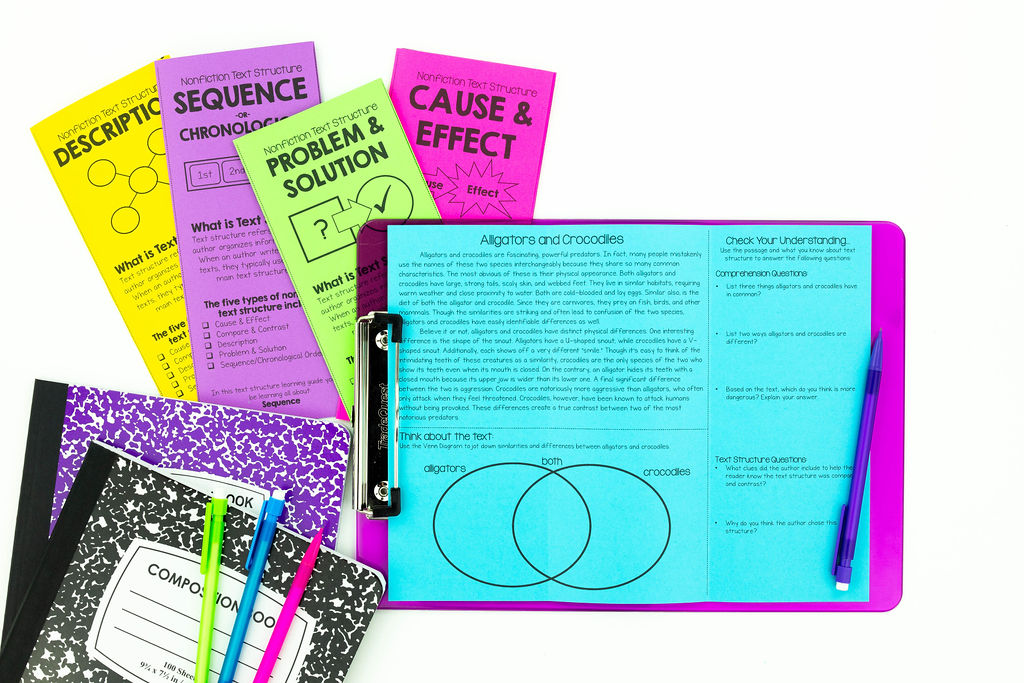 Tip #2: Use shorter texts or excerpts when you first introduce each type
It's always a good idea to show students an actual text when you introduce each specific text structure. This helps students develop a concrete understanding of each text structure. When they see a real example, they can start to identify attributes that make up each text structure.
You can use a picture book, a nonfiction article, a task card, or even a reading passage.
I have a set of nonfiction task cards that include short passages for each text structure that work great for introducing each type.
I also have a set of text structure mini-lessons that include lesson plans, anchor charts, and text examples to help you teach each type of nonfiction text structure.
Using short texts will make it easy for you to get through your introductory lessons on text structure.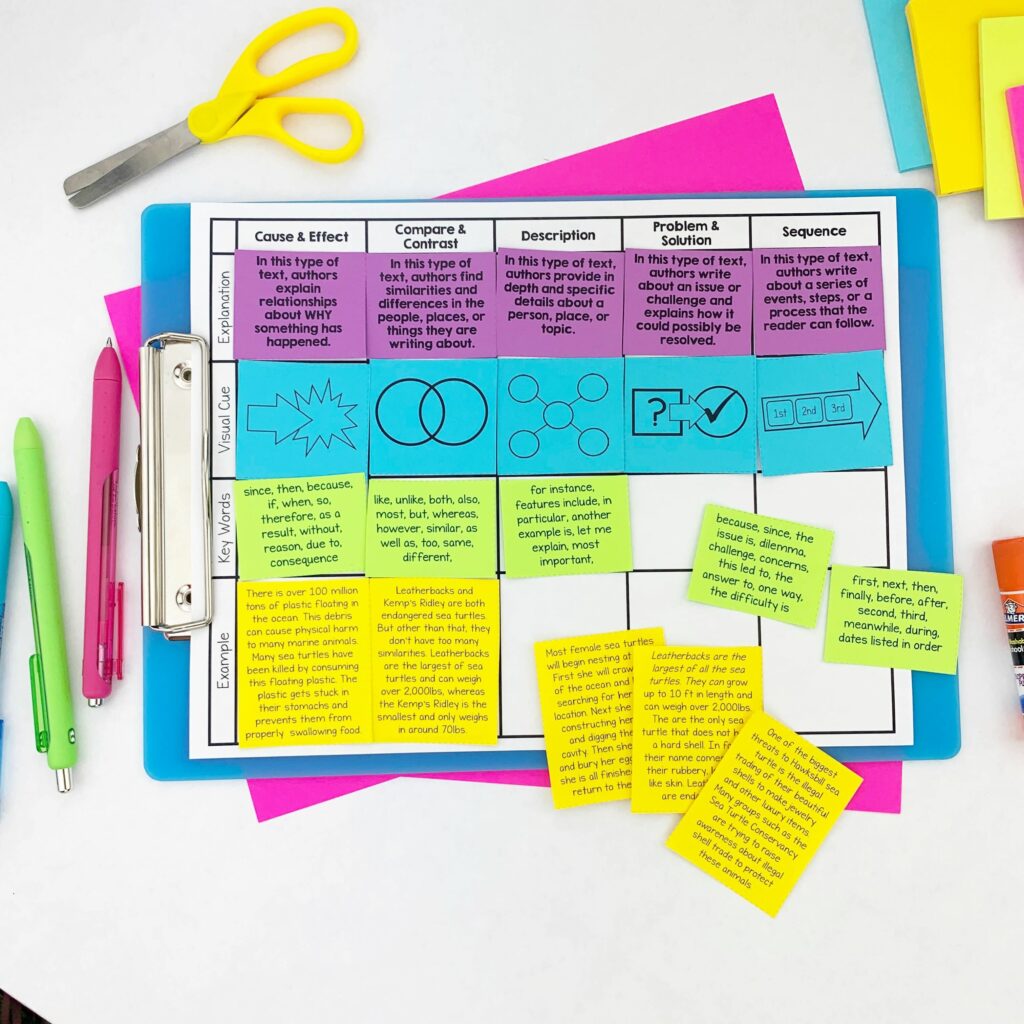 Tip #3: Find texts on the same topic, but written with different structures.
If you show students multiple texts on the same topic but written in a different organizational structure, students will start to understand the difference between the different text structures.
This can also be helpful when you want to start teaching your students how to compare and contrast text structures.
One of the activities you can use is a nonfiction text structure sort. In the one pictured above, there is a short paragraph for each of the text structures. Each paragraph is written about sea turtles, but since the organization is different, the details included in the text are different. Even though they are all written about sea turtles, the main idea and details are different for each text.
Showing students texts on the same topic (but with different text structures) helps them understand how text structure is connected to the author's purpose and main idea.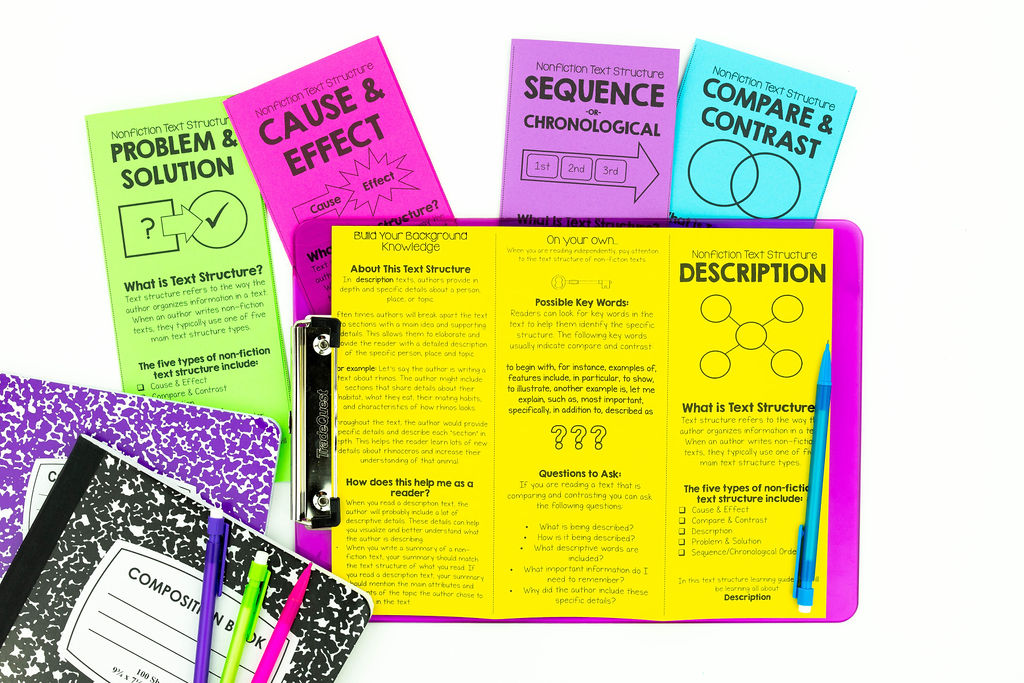 Tip #4: Teach students to rely on more than just keywords.
When we teach our students about text structure, we usually teach them keywords associated with each text structure. And while this is one strategy students can use to identify each text structure, we don't want it to be the only strategy.
Sometimes authors won't include any keywords in the text.
If students don't have additional tools to help them identify the text structure, then they will struggle to identify it.
Here are some things you can teach students to help them identify text structure (even without keywords).
Understand the connection between the author's purpose and text structure.
Understand the connection between the main idea and text structure.
Identify specific types of text for each text structure. For example, how-to manuals or recipes are often sequential.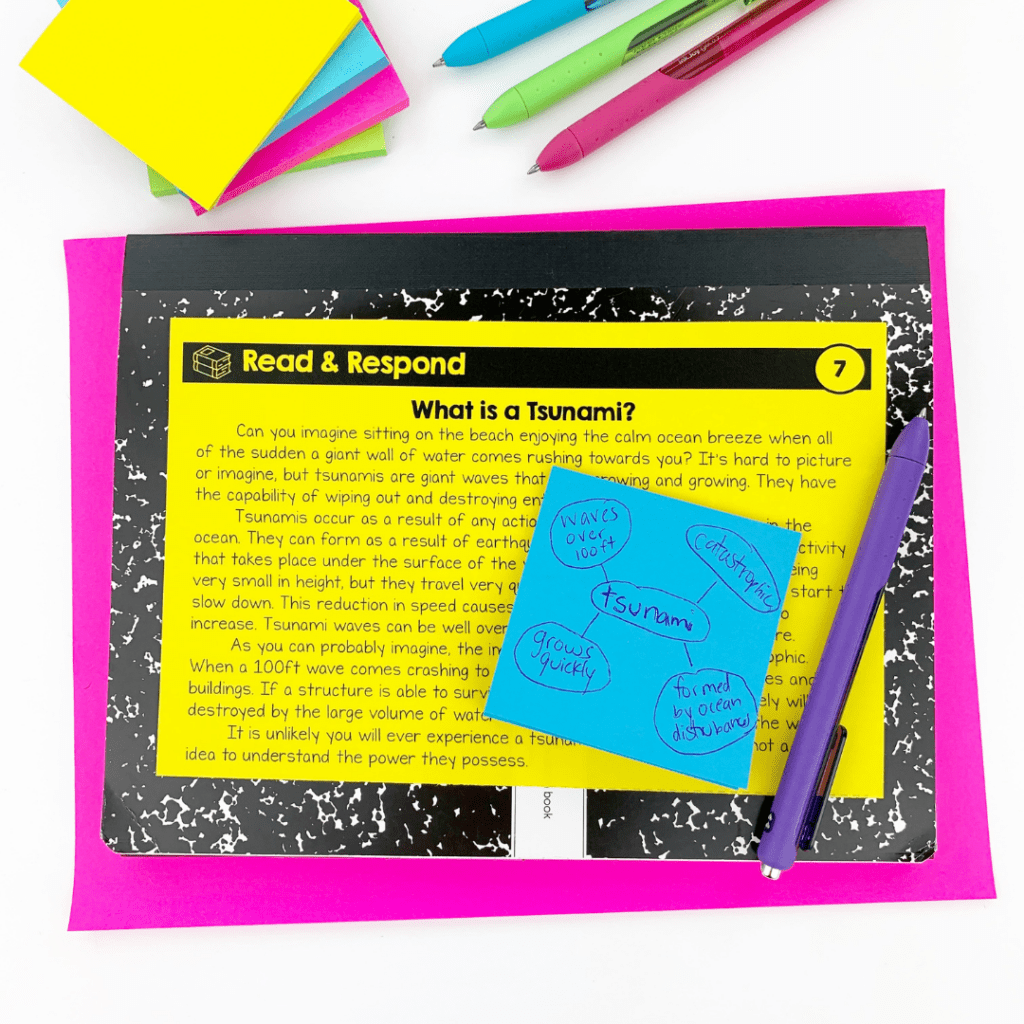 Tip #5: Teach students to create their own text structure graphic organizers
This is one of my favorite tips. Teach students to create a graphic organizer for each of the five organizational text structures. When you do this, you will be giving students a tool they can use when they read any nonfiction text independently.
When students use a graphic organizer, they are able to identify the main idea and key details in the text.
And since we know that the main idea and key details are strongly connected to text structure, creating a graphic organizer is a great way to help students see that connection.
Here are some ideas for graphic organizers you could have your students create:
Compare and Contrast: Venn Diagram
Description: Idea Web
Sequence: Timeline
Cause & Effect: Flow Chart
Problem & Solution: Flow Chart or Timeline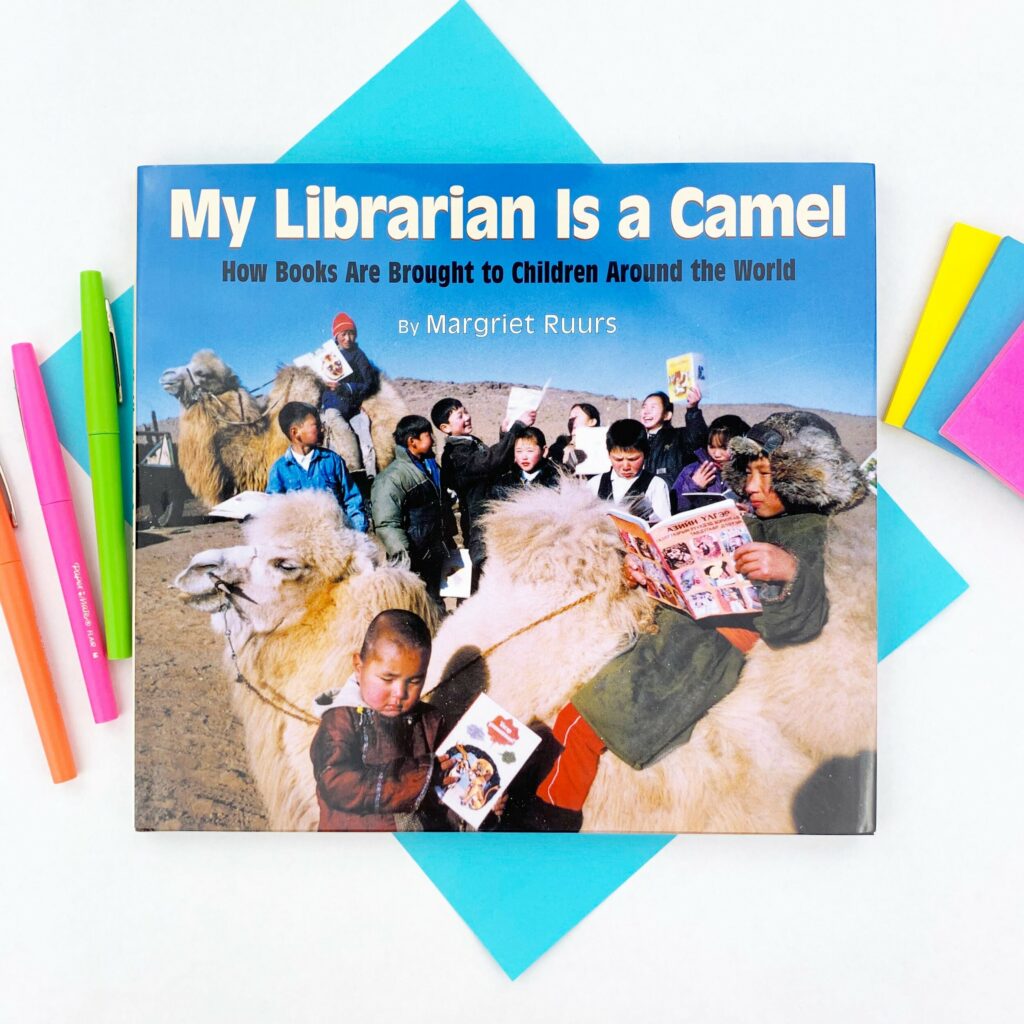 Tip #6: Make sure your read alouds include a variety of text structures.
If we really want our students to understand text structure, we need to give them plenty of opportunities to read it and listen to it. Be sure to intentionally incorporate a variety of nonfiction read-alouds that hit each of the five text structures.
Here are some of my favorites:
My Librarian is a Camel by Margriet Ruurs – Description
Owen & Mzee by Isabella Hatkoff & Craig Hatkoff – Sequence
Lincoln & Kenedy: A Pair to Compare by Gene Baretta – Compare and Contrast
Nurse, Soldier, Spy: A Story of Sarah Edmonds – A Civil War Hero by John Hendrix – Cause and Effect
Ada's Violin: The Story of the Recycled Orchestra of Paraguay by Susan Hood – Problem and Solution
Tip #7: Have students re-write the text using a different text structure
This is a great way to extend your lessons on text structure into your writing lessons. Once students have a solid understanding of text structure, challenge them to write in the different text structures.
One thing you can do is see if students can re-write a nonfiction text they have read but using a different text structure. This will challenge the to consider the attributes of each text structure and make sure the main idea and details are organized in a way that matches the text structure they are attempting to write with.
Whether you decide to use one of these tips or all seven, digging deep into text structure will give your students the tools to comprehend any informational text.
Put it Into Practice…
If you are ready to put some of these ideas into practice in your own classroom, take the following steps before you leave.
Listen to Episode #49 of The Stellar Teacher Podcast, where you'll learn more about how text structure is the ultimate road map for student success.
Check out my Text Structure Bundle on TPT. It has everything you need to successfully introduce and teach non-fiction text structure. You'll get mini-lessons, anchor charts, reading passages, a sorting activity, and so much more!
Come join us inside The Stellar Teacher Reading Membership. You'll get access to all the resources included in the Text Structure Bundle and a huge resource library to help you teach all your reading standards.
Happy Teaching!
---
Grab Your FREE Gift!
Greek & Latin Root Word Reference Sheets
This root word reference sheet will help your students remember common Greek & Latin Root Words. The reference sheet includes the definition and examples of 40 common root words as well as picture cues! It also includes customizable spaces for students to add their own root words.