I know teachers are always looking for resources for effective reading instruction that will also save time and be engaging for their students. I am all about teaching reading in a way that is both effective and engaging and sometimes it can be hard to know exactly what resources will help us create a student-centered reading block.
I also know that searching for (or even creating) resources for effective reading instruction can be time consuming. So, today I want to help guide you by sharing my top 5 must-have resources for your upper elementary reading classroom!
In general when you are looking to buy reading resources to use in your classroom there are several things I suggest you consider:
Does it encourage students to read authentic texts?
Will it help students deepen their understanding of reading?
Is the student response piece open-ended?
Can you envision it being both effective and engaging?
Alright, let's dive into my top 5 must-have resources for your upper elementary reading classroom!
Anchor charts are visual aids used in the classroom to support instruction and reinforce concepts. Anchor charts serve as a visual reminder of key information, strategies, vocabulary, or processes related to a specific topic or skill. These charts can take various forms, such as posters, large pieces of chart paper, or interactive digital displays.
Why are anchor charts a must-have in your classroom?
Helpful during mini-lessons
Provides focused, concise information
Flexible, adaptable
How can you use them for effective reading instruction?
Use during mini-lessons to reinforce instruction
Give a printed copy to students for their notebooks!
Post on reading focus wall/bulletin board
Put in a binder to use as an easel for small groups
These visual aids are powerful tools for effective reading instruction. Anchor charts can enhance students' understanding, independence, and overall reading proficiency.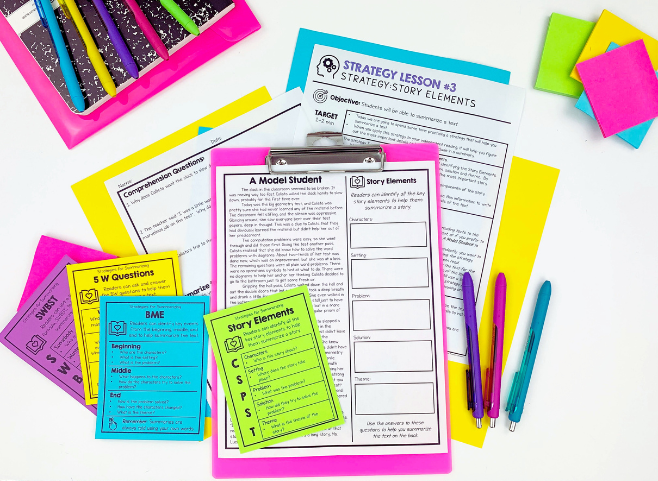 Strategy cards are compact, portable tools that provide students with quick access to reading strategies and prompts to support their comprehension, decoding, and overall reading skills. These cards are typically small in size, often resembling index cards or bookmarks, and can be easily carried or stored in a student's book or reading materials.

Strategy cards are designed to be user-friendly and accessible, enabling students to use them independently during reading activities. They serve as handy reminders that empower students to apply specific strategies as needed, promoting independence and metacognitive awareness.
Why are strategy cards a must-have in your classroom?
Promote independence by giving students accessible reminders of effective reading strategies
Reinforce key concepts by visually summarizing important information and prompts
Allow for differentiated instruction by being personalized to meet the individual needs of students.
How can you use them for effective reading instruction?
Print a mini-version and put them on a ring
Let students build the ring throughout the year. After you teach a lesson, give students a strategy card to add to their own ring. Encourage them to use during lessons and independent practice.
Post next to reading centers/computers/libraries – anywhere students might need to reinforce a skill
Strategy cards are valuable resources that support students in applying targeted reading strategies and developing strong reading habits. They serve as portable aids that enable students to become more active, engaged, and strategic readers.
Graphic organizers are visual tools that help students organize and represent information in a structured and meaningful way. They provide a visual framework for students to organize their thoughts, make connections, and analyze concepts or relationships. Graphic organizers can take various forms, such as diagrams, charts, tables, maps, or webs, and are used across various subjects and learning activities.
Why are graphic organizers a must-have in your classroom?
Enhance understanding by helping students organize information visually, facilitating comprehension and retention of key concepts
Promote critical thinking by encouraging students to analyze and synthesize information
Can be adapted to meet the needs of diverse learners and support differentiation
How can you use them for effective reading instruction?
Print on sticky notes to use during independent reading
Use full-size graphic organizers during whole group or small group lessons
Assign as homework
ANYTIME STUDENTS ARE READING
Graphic organizers are powerful visual tools for effective reading instruction. They support students with organizing and understanding information across various subjects. Another great tool for effective reading instruction!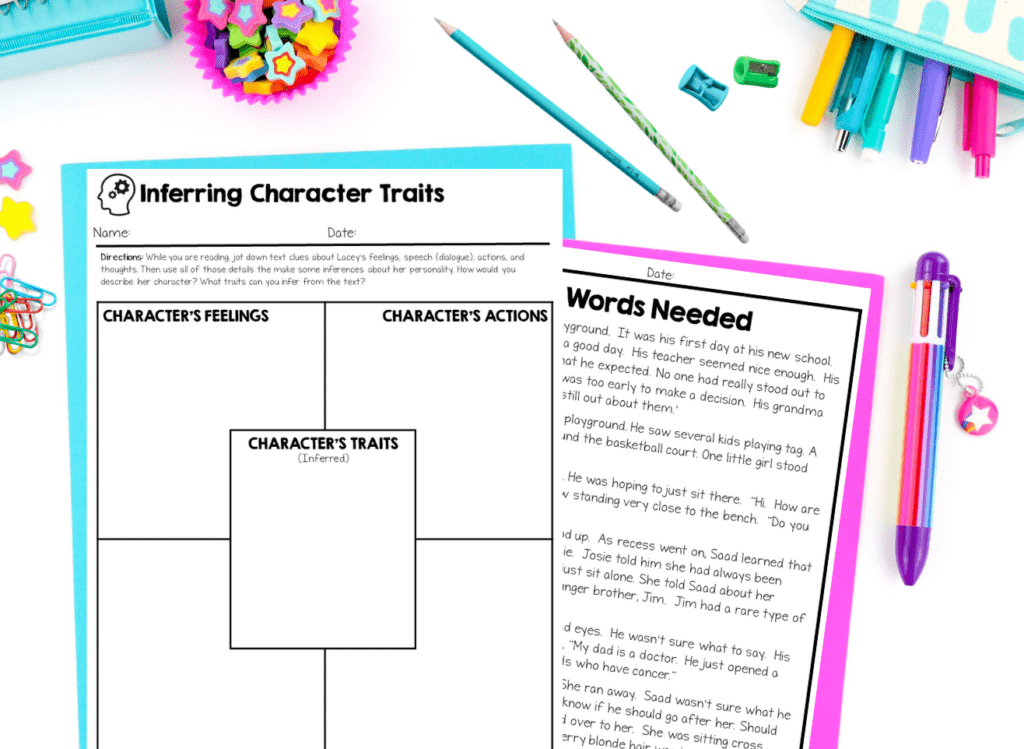 Thinking stems are short sentence starters or phrases that provide a scaffold for students to begin their thinking or discussion. These stems can be used across various subjects and disciplines to support students in articulating their thoughts and engaging in meaningful dialogue.
Question prompts are thought-provoking questions designed to challenge students' thinking and prompt deeper analysis. These prompts can be open-ended or specific, requiring students to consider different angles, weigh evidence, solve problems, or evaluate arguments.
Why are thinking stems and question prompts a must-have in your classroom?
Foster critical thinking by prompting students to think deeply, analyze information, and develop critical thinking skills
Encourage reflection by helping students articulate their thoughts and evaluate their own understanding
Enhance communication by supporting students in expressing their ideas clearly and engaging in meaningful discussions
How can you use them for effective reading instruction?
During Independent reading
Provide support with homework assignments
Use during read-aloud discussions
Use during small group discussions
Use during book clubs to foster discussion
These tools promote a classroom environment that values inquiry, reflection, and active engagement in learning.
Skill-based reading task cards are educational resources that provide students with focused reading practice and reinforcement of specific reading skills. These task cards typically consist of individual cards, each containing a reading passage or a short text accompanied by a related question or task.
Each task card targets a particular reading skill or strategy, such as inferencing, summarizing, making predictions, identifying main ideas, analyzing character traits, determining cause and effect, or drawing conclusions. The passages or texts on the task cards can vary in length and complexity, depending on the grade level and reading proficiency of the students.
Why are skill-based reading task cards a must-have in your classroom?
Provide targeted skill development by providing focused practice and reinforcement of specific reading skills, helping students strengthen their abilities in key areas
Differentiate instruction by offering varying levels of complexity and providing opportunities for students to work on skills at their own pace
Keep students engaged through interactive activities
How can you use them for effective reading instruction?
Use during small groups
Use as a reading center
Assign as homework
Use as an assessment
These task cards support the development of essential reading skills and promote comprehension, fluency, vocabulary acquisition, and higher-order thinking abilities.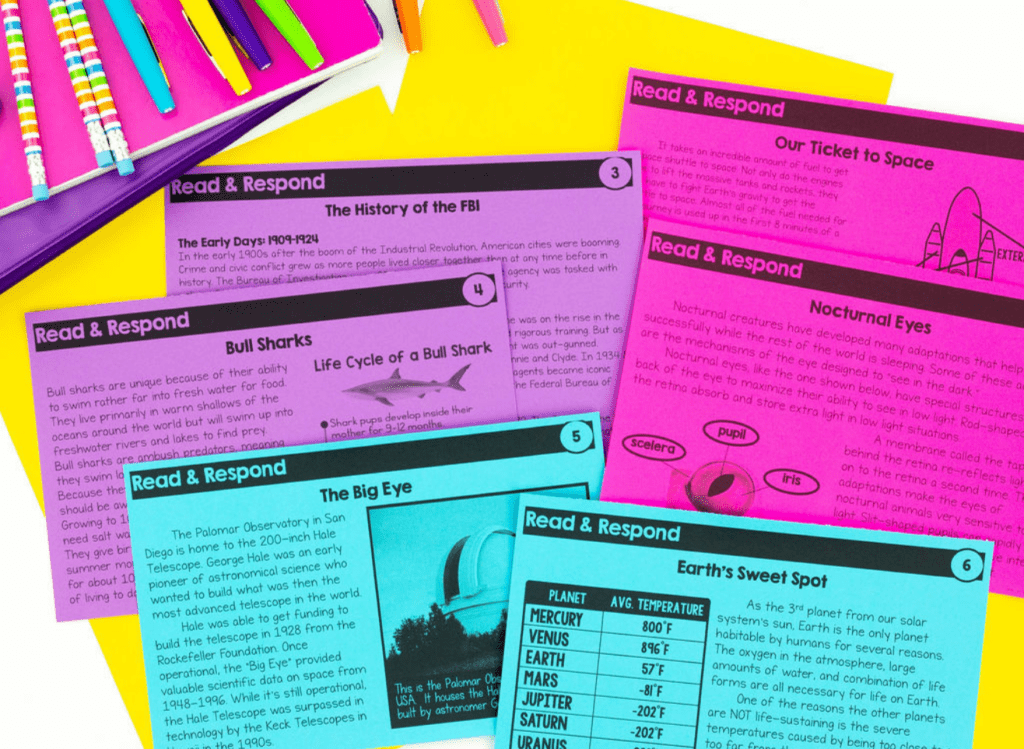 Think about your next steps…
If you feel inspired by this blog, I encourage you to check out The Stellar Teacher Reading Membership, where you will get access to a resource library filled with reading and writing resources for effective reading instruction + coaching support and a collaborative community!
Check out The Stellar Teacher Podcast where I (and guests!) share literacy strategies, tips, and tricks so that you can feel confident in your ability to transform your students into life-long reader.
Shop The Stellar Teacher Company TPT to find more resources for effective reading instruction.
Happy Teaching!