I know this school year has taken an unexpected turn for many of you. There are so many schools that are closing for extended periods of time due to the coronavirus. One would think that having 2-3 weeks away from work would be a dream, but this global pandemic doesn't really feel that dreamy.
My heart felt so heavy this week as I heard from so many of my teacher friends who told me that their schools were closing for 2-5 weeks. I can't imagine all of the emotions that come with that news.
Many of you have been asked to prepare 2-3 weeks of "at home learning" materials to send home to your students. Planning for lessons that take place in your classroom is challenging enough. I can't imagine the burden of trying to put together lessons, resources, and directions to help your students be successful at home.
While I don't think I can fix all of your planning challenges, I do want you to know that I am here for you. I am starting to pull together resources from my TPT store that could easily be implemented and used by your students during this time. I will continue to add to this list as the weeks go on. Regardless of your school situation, I hope these resources can ease a bit of stress.
If there is anything I can do to help, please reach out to me – [email protected]
Click the link below to download each resource. Check back often as I will be adding to this list.
---
Grab Your FREE Gift!
Literacy Block Sample Schedules
Do you ever feel like you don't have enough time to teach reading the way you want? This planning guide and set of sample schedules will give you tons of ideas for how you can set up your reading block regardless of how much time you do (or don't) have.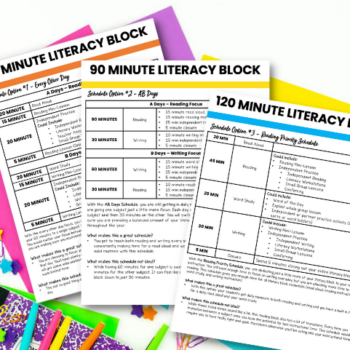 ---