Reading workshop is a common (and awesome) model to use for reading instruction. One of the things I love about the workshop model is that teachers can customize their lessons to ensure they are meeting their students' needs.
While I know that there isn't an exact science to what lessons you teach when, I have learned that when you are launching your workshop at the start of the year, you want to make sure that you don't rush the process.
During your first few weeks of reader's workshop you will be establishing reading habits and behaviors for the entire year.
It's a marathon, not a sprint.
How to Launch Reading Workshop:
One of the biggest challenges with launching reading workshop is that you can feel the need to teach too much too quickly. I remember planning out my mini-lessons and thinking – man, I really need to teach this the first week. I would try to combine and skip lessons only to realize that rushing the process of establishing good reading habits was hurting my kids in the long run.
Be patient.

Take your time.

Launch it slowly and the right way the first time.
Mini-Lesson Overview:
In my fourth grade classroom, I would take about three weeks to launch reading workshop. This means the first three weeks of the school year, my number one priority during my reading mini-lessons is to get students to develop the habits and behaviors that will make them a strong reader.
Character analysis, inferencing, and summarizing can all wait. If your students don't know what is expected of them as readers they will fail to implement any skill you teach.
Here are the overarching goals of my first three weeks.
Week 1: Help your students establish independent reading habits.

Week 2: Teach your students how to select the right books.

Week 3: Implement routines focused on writing and talking about texts
---
Week 1: Help your students establish independent reading habits
Day 1: All About Reading Workshop – I always launch reading workshop on the very first day of school. I want my students to see that we make reading a priority in our classroom. My mini-lesson for the first day is all about introducing the reading workshop routine. I tell my students how we will spend our time each day and let them know what they can expect. I always tell them that reader's workshop is my favorite part of the day. I usually use this time to read aloud one of my favorite back to school read alouds.

Day 2: Independent Reading – I always introduce this to my students as the best part of our day. I let students know they are so lucky to be able to read independently while at school. During this mini-lesson we talk about what independent reading looks like and sounds like, and what it doesn't look like or sound like. You want your students to be crystal clear on what they can and cannot do during independent reading time. But most importantly, you want them to realize they are so lucky to be able to read during the day. This will be the first day that my students get to experience independent reading – but I keep it pretty short. Maybe 5-7 minutes max. I want them to feel slightly disappointed when I tell them we need to move on. This will help them build anticipation and excitement for the next day.

Day 3: Building Stamina -The number one goal of reading workshop is to get kids reading. My goal in fourth grade was always to get my kids reading for 45 minutes a day. There is no way you can do this on the first day of school so you have to work on building their stamina. My suggestion is that you start reading for 10 minutes each day and add on 1 minute every day after that. It might not seem like a lot, but trust me. You don't want to rush this process. Teaching reading is a marathon, not a sprint, and you want your kids to be set up for success.

Day 4: Real vs. Fake Reading – Now that your kids are actually engaged in independent reading and are working on building their stamina, you need to teach them what real reading looks like. Make sure they know the difference between real reading vs fake reading and that sitting there with a book open for 45 min occasionally flipping the pages isn't going to cut it. During this lesson I like to have students model what real reading looks like and of course what fake reading looks like – they love to be the volunteers to model fake reading. We have a great conversation about the hazards of fake reading. This will definitely be a mini-lesson you will have to revisit as the year goes on.

Day 5: Strong Readers – I like using this lesson to end our first week of reading workshop. I like to do a mini-lesson on it because it's a good chance to reinforce a lot of the habits and behaviors we worked on this week. During this lesson I affirm all the things they are already doing – reading every day, building stamina, REALLY reading – I also let them know they should get excited because next week we will learn even more habits that will make them strong readers.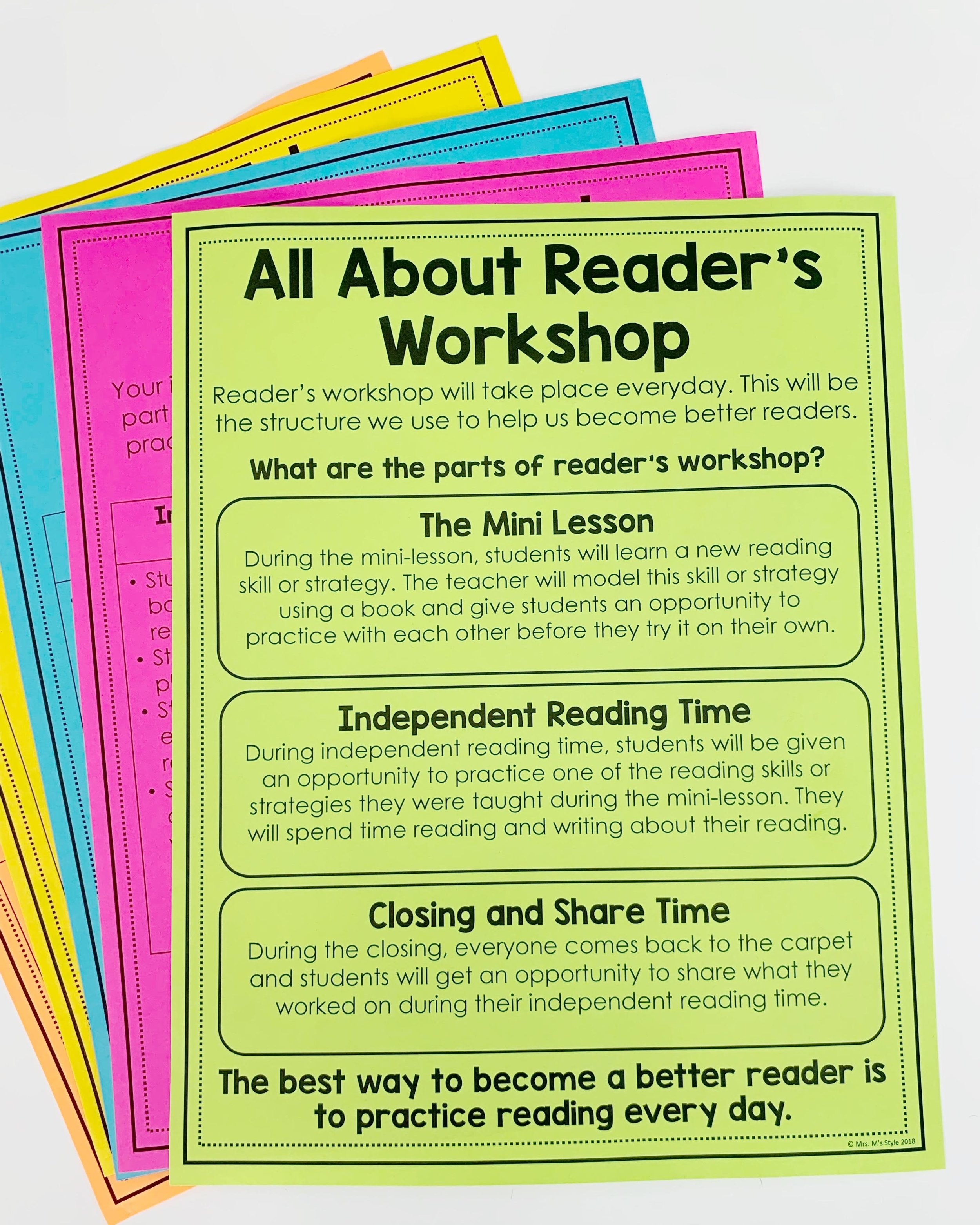 Week 2: Teach your students how to select the right books.
Day 6: How do Readers Choose Books? – if you want your students to be real readers, you need to make sure that they are choosing the right books. It's amazing how many kids in fourth grade don't know how to go about selecting accurate books. During this lesson we talk about all the things students should consider when selecting a book. Is it a genre they are interested in? Is it a topic or story that would appeal to their interests? Do they have any background knowledge they can use? Is it a text they can comprehend? It's important for students to realize that a huge part of reading is making sure they are selecting books they enjoy reading.

Day 7: Just Right Books – This is a continuation of yesterday's lesson. I find that sometimes my students need to hear things a few times before it sinks in. By the time students get to fourth grade, they feel like they should be reading chapter books and are hesitant to grab anything else. It is extremely important that they realize they need to be reading books at their level regardless of what it is. I encourage my students to have a variety of books in their book bins/bags. It's ok to have one book that might be a little challenging, and it's ok to have one book that is too easy, but the majority of their books should be in the just right category. I also like to encourage ALL my students to have both picture books and chapter books in their book boxes.

Day 8: Abandoning Books – I used to be nervous to teach this lesson, but I find when students have the choice to abandon a book, they feel so much more empowered as readers. Make sure your students know how to decide when it's time to let a book go. During this lesson we talk about how sometimes we start a book and after reading it for awhile it might not appeal to our interests or it might be more challenging than we thought it would be. We also talk about how it's important not to abandon every single book you read. Students love knowing that they are in charge of their own reading life.

Day 9: Reading Is Thinking – I like to throw in this lesson towards the end of this week. We just spent the last three days talking about how to select the right books to be reading, now I'm reminding them that whatever it is they are reading, they need to make sure they are thinking about the text at the same time. This is the fist lesson where I mention different reading skills. Most of them will be a review for my students. We talk about how as they are reading they also want to be doing things like making inferences, making connections, and asking questions about what they read. We connect it back to the idea of, if they are selecting the right types of books it will be easier for them to apply these reading skills.

Day 10: Buddy Reading – My kids LOVE buddy reading, even in fourth grade they think it is fun. We don't do it that often, but when we do, they love it. It is important to teach them not only how to read with a Buddy, but what books are appropriate for buddy reading. I always tell my students that they should have some books in their book box that are just for them (chapterbooks etc) and other books they can share with a buddy (picture books or poetry). This is a great mini-lesson to use at the end of the second week. Students are usually pretty tired and might not be as excited about independent reading so for today I let them read with a buddy.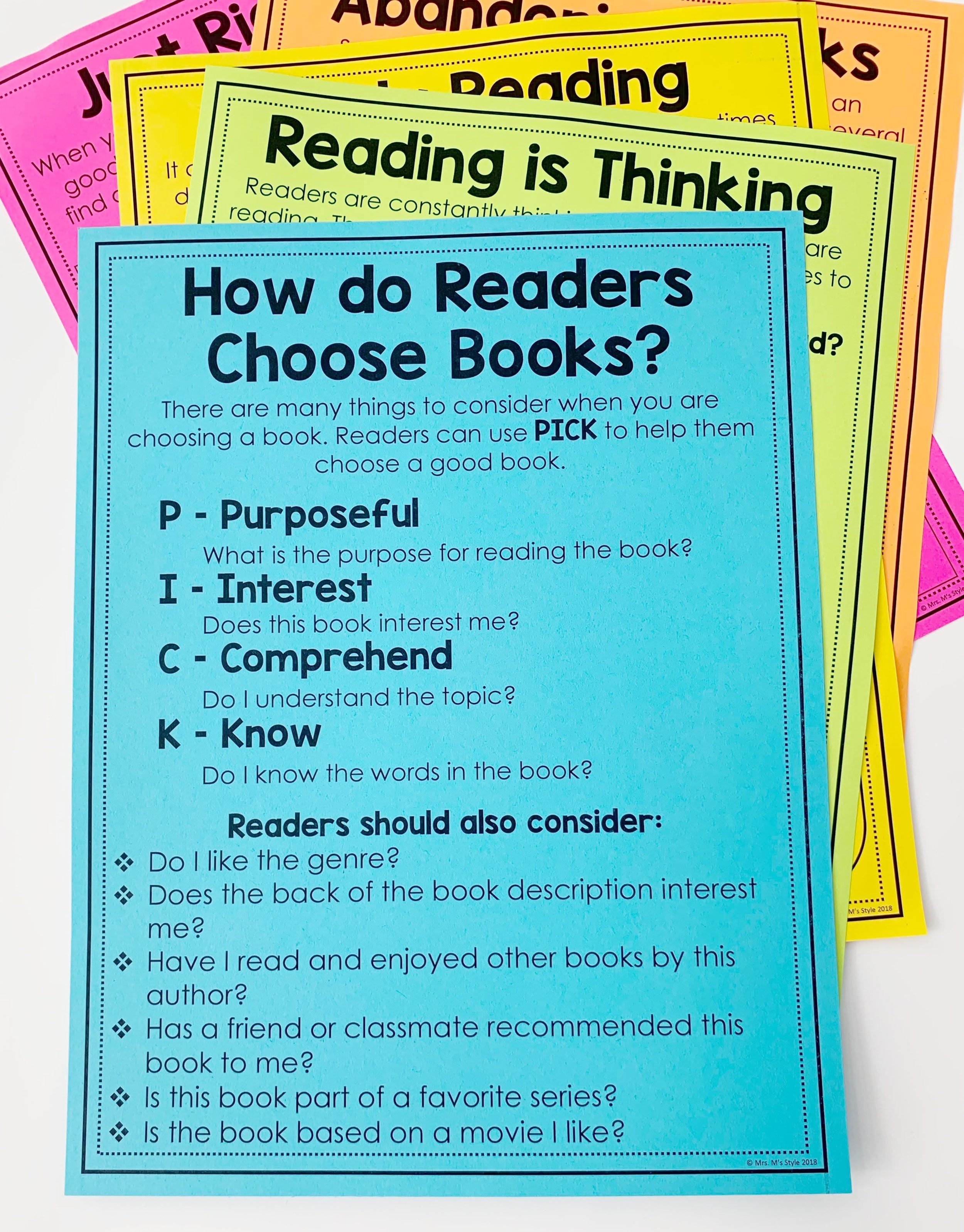 Week 3: Implement routines focused on writing and talking about texts
Day 11: Write about Reading – Part of the way I hold my students accountable to their reading is getting them to write about it. There are a million and one ways you can get students to write about their reading. You can have them use a sticky note, a graphic organizer, or write in a journal. But, they aren't going to know how to do this on their own so you need to take the time to teach them how to write a meaningful response. During this mini-lesson I introduce these ideas at the very basic level. We will revisit this lesson over time, but I want them to at least start writing about their books on a daily basis.

Day 12: Turn & Talk – This is by far my favorite routine I teach my students. We use it every day. I have learned that if I don't teach my students to turn and talk appropriately, then it becomes a waste of time. I use this mini-lesson to teach them how to find a partner, how to decide who goes first, how to face your partner so they can hear you, how to ask questions in case your partner is shy, and how to respond so you are staying on topic. This is one of those mini-lessons that will have a huge impact on the rest of your day.

Day 13: Strong Listeners – This lesson is valuable for a few reasons. I want my students to be good listeners while I am teaching or reading to them, but I also want them to be good listeners when their classmates are speaking. I use this lesson to highlight what it means to listen with your whole body. I let some students model the right way and the wrong way, and then we spend some time talking about how it makes them feel if someone isn't being a good listener and they are trying to talk to them.

Day 14: Talking About Reading – Everyday my students will talk about reading in some capacity. Sometimes it will be a turn and talk at the end of my read aloud, or it might be them sharing about their book after independent reading. In either case, they need to know how to have a meaningful conversation about a book. During this mini-lesson I share with them some sentence stems that will help them start a conversation about a book they are reading.

Day 15: Accountable Talk – Not every student will come to you with the enthusiasm about books. And I've found that some kids are so painfully shy they don't have the confidence to begin a conversation about something they are reading. I love giving them sentence stems or conversation starters to empower them to talk about books. This lesson is a continuation of the previous day, except I go a little deeper and give students specific sentence starters for various objectives.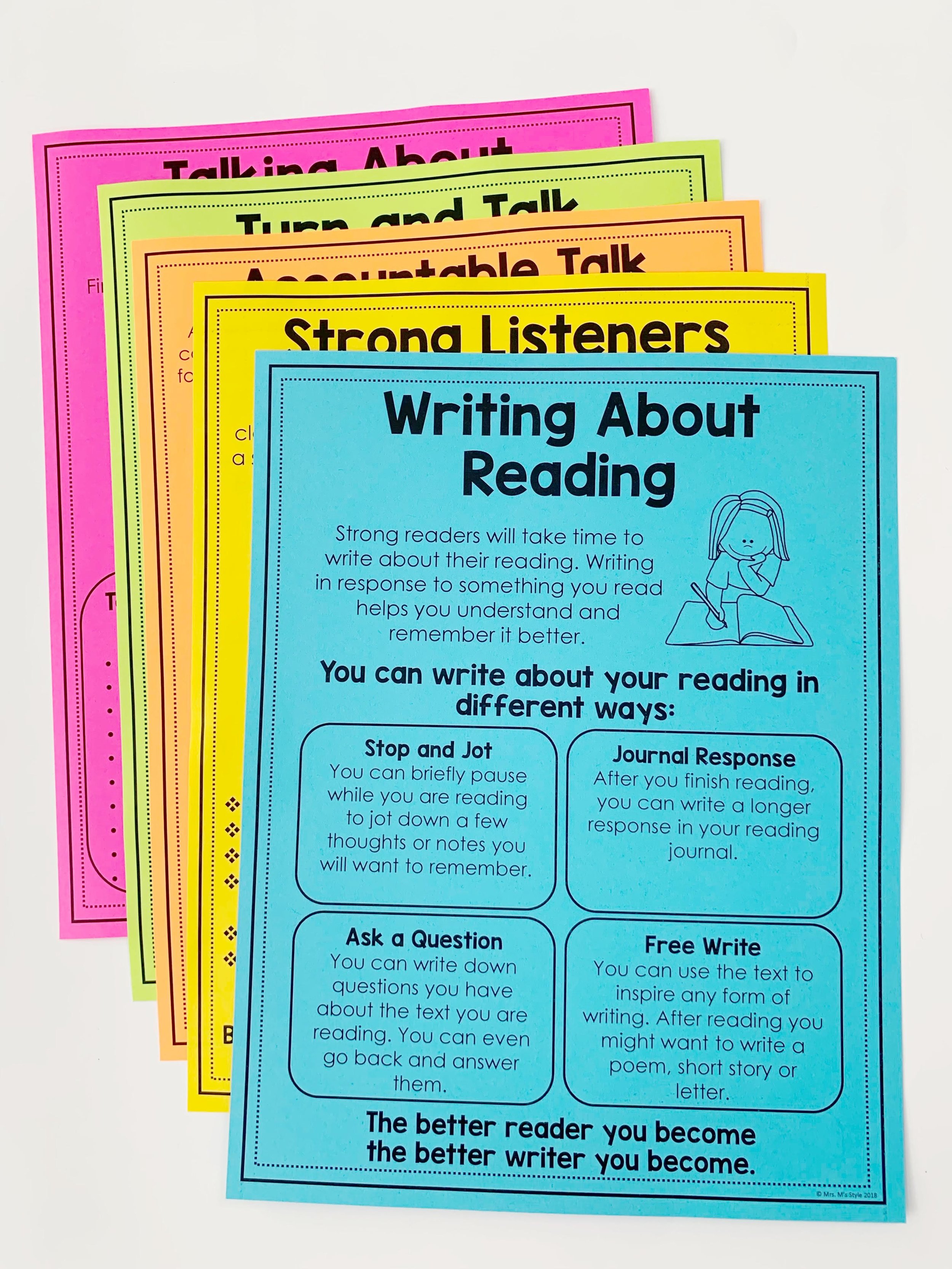 So, what comes next?
The start of the fourth week is usually the time I like to start pulling small groups, or finish up all of my BOY (beginning of year) reading assessments.
At this point, my students are usually able to read for 30 minutes independently, which gives me ample time to pull a small group or read with kids one-on-one.
I usually start this week by reviewing student and teacher roles and then that's it. We have launched Reader's Workshop and my mini-lessons begin focusing on reading strategies and skills.
Every now and then, I'll have to dedicate a mini-lesson to review or remind my students of their job during reader's workshop. But I have found that by taking 3 weeks to properly launch reader's workshop my students are much more prepared to be successful readers for the year.
Ok – Let's check in.
How are you feeling about launching reading workshop? Do you know what your first few weeks will look like? Just remember that you know your students best. You know exactly what they need as readers. Don't be afraid to create your own plan for launching reader's workshop. If you need a little extra help getting started, you can check out my TPT store. I have a set of Reading Workshop anchor charts that will help you teach all of the lessons outlined in this blog post.
---
Grab Your FREE Gift!
Literacy Block Sample Schedules
Do you ever feel like you don't have enough time to teach reading the way you want? This planning guide and set of sample schedules will give you tons of ideas for how you can set up your reading block regardless of how much time you do (or don't) have.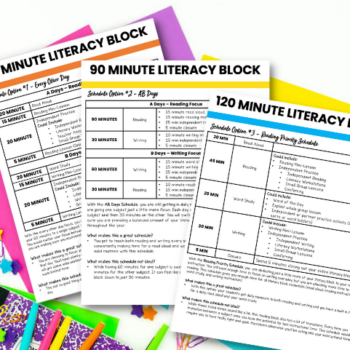 ---