One day this past semester one of my students came up to me and said "Mrs. Marye, I love writing Poetry. It's the easiest thing to write because I don't have to worry about following any of the normal rules and I can just write what my heart is feeling."
I feel like I get a response like this from students every year. Kids love writing poetry. It's fun, it's freeing, and like my student said, it gives them a chance to focus more on expressing themselves vs. making sure they used the right spelling or punctuation.
The other thing that I've noticed is that my students actually become better writers when they frequently read and write poetry. Reading and writing poetry helps them improve their voice, word choice, connecting to their readers, writing a clear message, incorporating figurative language…and the list goes on.
If you are a lover of poetry, or even if your a hater of poetry but want to expose your students to more of it, here are some quick and easy strategies that will get your students reading and writing more poetry.
Read Alouds
Our read aloud time is always one of our favorite times of the day. I try to incorporate multiple read alouds into our schedule. I think it is an excellent transition tool and can really help students quiet down after we come back from recess or lunch. Considering how busy and jam packed our schedule us, using poetry as one of our daily read alouds is a quick way to transition and expose students to a variety of poetry. I always try to have a poetry anthology or two displayed on the board or next to my read aloud chair. Anytime we have a spare minute or two or need to quickly transition from one subject to the next I'll read a few poems to the students. It is done purely for enjoyment and is a great way to expose students to this genre.
Mentor Texts & Writing Projects
I love having a variety of Poetry Mentor Texts available in my writing center. We talk a lot about how we can be inspired by other authors, and I want students to see that poetry is always an option for their independent writing. When we do writing projects throughout the year, I encourage my students to write a poem to accompany their other writing pieces. If they have written a personal narrative about a time they faced a challenge then I have them write a poem to go with their personal narrative. If they have written a biography on Walt Disney, then I have them write a poem about his life as well. My students who struggle with writing love having the addition of poetry to their writing assignments because it's something they feel they can do successfully.
Poetry Writing Guides
I created these Poetry Writing Guides to make poetry writing so much easier. I wanted to effectively (and quickly) teach my students how to write different types of poetry… AND I wanted them to be able to do it independently after our mini-lesson. These poetry writing guides were awesome to use. I would model and write some examples with my students whole group. After the lesson, these writing guides go into our writing center. Students can pick and choose which poetry writing guides they want to use. It is fun to see all the creative ideas that come out in their poetry.
Poetry Challenge
I usually give my students a poetry writing challenge during the month of April (which happens to be National Poetry Writing Month). I challenge my students to write a poem a day. Those are the only guidelines that I give them. I let them pick and choose what they want to write about and what style of poetry they want to write. I make this an optional challenge so it takes up NO class time at all, but the majority of my students end up participating in it. I give a reward like "lunch in the classroom" for any student that successfully completes the challenge. To encourage students to keep writing, I usually have a bulletin board or space in our classroom to display poems and will let a few students share each morning during our morning meeting. Quick. Easy. Students LOVE it!
Poetry does not have to be taught in isolation. It is easy to incorporate in your instruction on a daily basis and there are so many instructional benefits that come from a daily dose of poetry. Hopefully you are already starting to think about how you can incorporate poetry into your class today!
---
Grab Your FREE Gift!
Literacy Block Sample Schedules
Do you ever feel like you don't have enough time to teach reading the way you want? This planning guide and set of sample schedules will give you tons of ideas for how you can set up your reading block regardless of how much time you do (or don't) have.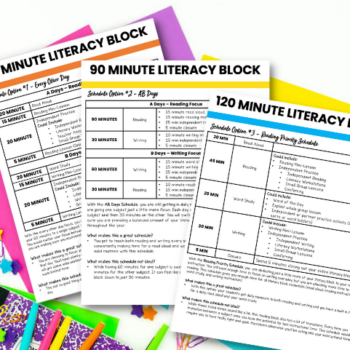 ---